Have you ever considered investing via an app on your mobile device?
If you start looking for an investment app there seems to be a whole range of options and it can be a little confusing to work out what's what, let alone which are the best.
I've broken down the various types and homed in on the key features to be aware of and highlighted the advantages and disadvantages of each.   Because not only do you want to invest via a reliable and respected app, you want the best investment returns over the long run without losing out to all kinds of fees.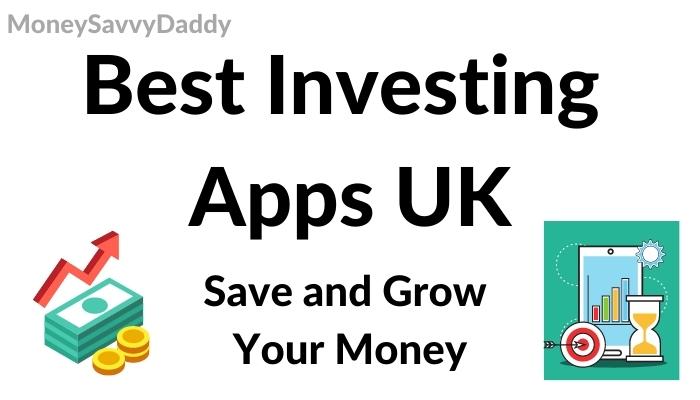 Disclaimer: This post may contain affiliate or referral links that earn me some commission if you sign up through them.  However, this is at no extra cost to you.  Read more here. Thank you if you do use them as they help to support my blog.
Best Investment Apps UK – For Beginners to Investing
I've split the best investments apps up into one of 3 category types because they are all quite different.  This will help you compare similar investment apps more easily as well as see the advantages and disadvantages of app types.
Types of Investing Apps
DIY Investing apps allow you to choose your own investments.  When it comes to fees these are generally the cheapest way to invest.
Combined Saving and Investing Apps are a good option for those who struggle to save in the first place.  They use a range of strategies to put money aside without you barely noticing.  You can then opt to invest those savings accordingly.
Robo Advisors investing apps do all the work for you.  However, they come with higher fees which will eat considerably into any gains over time.
DIY Investing Apps
When it comes to fees and keeping them low these DIY investing apps are some of my favourites.
Freetrade – Best Investing App for Beginners
Freetrade is a simple commission-free investing app.  With a minimum investment of £2.00, it's ideal for beginners starting with a small pot.
Freetrade offers:
Unlimited free trading and no platform fee on the Investment Account.
Fractional Shares
Customer support from real humans
While it's totally feasible to stick to the free Investment account, Freetrade is expanding its options and offering a range of accounts, some of which do incur charges.
Here's the list of current Freetrade account types:
General Investment Account – Free
Stocks and Shares Isa – £3 a month
Freetrade Plus £9.99 a month
Freetrade Sipp £9.99 a month (forthcoming)
Check out my Freetrade Review and Free Share Offer for more information on the General Investment Account and the opportunity to qualify for a free share worth between £2 -£200.
Freetrade Minimum Investment: £2.00
Freetrade Fees: Commission-free share trading.  Charges 0.45% forex fee.
Tax-free Options: ISA account with a £3 a month monthly fee.  The waiting list for forthcoming SIPP will be £9.99 a month.
Money Safety: FCA Authorised.  FSCS Protected funds up to £85,000.
Advantages: No fee share trading.  Low minimum investment. Free share incentive if you recommend to friends and family.  No CFD's options.
Disadvantages: Monthly charge for the ISA account.
App Stores: Apple review rating 4.7.  Google Play 4.4
Trustpilot Review score: 4.2
Trading 212 – Best Trading App for Beginners UK (and Free Shares)
Trading 212 is another excellent choice for investing beginners who want to choose their own investments.
It's great for beginners who want to be a little more active in where they invest their money. Easy to use with lots of features.
Unlimited commission-free trading
10,000+ stocks and ETF's to choose from
Fractional Shares
No foreign exchange fees
Auto invest and Pies
With no trading fees, the ability to buy fractional shares and the offering of a wide range of funds to invest in, it makes it easy for even the smallest of investors to start off cost-effectively diversifying their investments.
Create Pies
Additional Trading212 offer the option for you to set up investment pies.  The pie is basically a pie chart visual representation of your investments.  You can create multiple pies and invest in up to 100 investments in each one.  Each one representing a slice of the pie.
Configure your own investment plan for each pie and you'll be provided with projections for the growth of the pie based on its historical returns (which can vary in the future).
You can easily change the pie settings at any time.
Autoinvest
Decide how much and how often you'd like to Autoinvest into any given pie you have created.
How Autoivest works is by splitting your deposits and allocating the % of the investment to each preset target you have set for each slice of the pie.  So, if you have a 10 slice pie, with all slices at 10%, your deposit will be split 10 ways.
You can turn the auto-invest feature off anytime.
However, there is an element of risk with Trading 212, in that it also offers CFD trading.
CFD's stand for "contracts of difference" and is considered a form of gambling, especially for beginners, which is why you'll see the following warning "76% of retail CFD accounts lose money when trading with this provider".
Avoid the CFD account and focus purely on the Invest Account and this won't be an issue.
Full Trading 212 Invest Account review   for more information and see how much I made from my 20 free shares, plus use my referral if you would like to start with a free share of your own.
Minimum Investment: £1.00
Fees: No commission or foreign exchange fees.
Tax-free Options: ISA Account with no fees.
Money Safety: FCA Authorised.  FSCS Protected funds up to £85,000.
Advantages: Ideal for beginners, invest from as little as £1 with no fees.  Offers free share incentive if you recommend to friends and family.
Disadvantages: Offers CFD account which it may market to customers.  Just avoid it.
App Stores Ratings:  Apple review rating 4.7.  Google Play 4.4
Trustpilot Review Score: 4.3
Combined Saving and Investing Apps
To invest, you need to have saved some money first.  This is where this breed of combined saving and investing apps come in because they help you save and then assist you in investing those savings, that you might not have otherwise managed to save.
Plum – Best Savings into Investing App
*Plum is primarily a free savings app first which offers the extra option to invest some or all of those savings.
It's one of the best savings apps for beginners because it creates the habit of saving first in various ways without you having to think about it.  So if you struggle to invest because you first struggle to save anything, it's a good option to consider.
The investing part of the app is known as Plum Plus.  It charges £1 a month after the first 30 days free.
Like the savings aspect of the app, Investing is all passive too.
The app states that investing in a single company is risky, so they offer a range of funds made up of a mix of thousands of companies and other assets.
So, for example, you can choose from:
Balanced Bundle
Tech Giants
Growth stack
Slow & Steady
And many more.
These are effectively beginner-friendly representational names of what the funds contain and who they might be suited to.  When you click through for more detail on each one you
will see further fund details and the actual fund name.
For example, Balance Bundle was actually Vanguard LifeStrategy 60% Equity Fund – Accumulation.    Chances are, the real fund name would be meaningless to a beginner.
Plum charges a management fee of 0.15% on top of the individual fund fees which you can view within the app. These range from 0.06 – 0.90%, something to be very aware of when choosing your funds,
Minimum Investment: £1.00
Fees: £1 monthly fee. A 0.15% management fee on top of the individual fund's fees vary.  The average overall is 0.51%.   More on fees here.
Tax-free Options:
Money Safety: FCA Authorised.  Funds are not FSCS protected, but your money is protected by e-money safeguarding.
Advantages: Beginner friendly.  Easy to set up and use.
Disadvantages: Small number of funds to choose from.
Robo Advisor apps are generally higher price in fees, so although low for a Robo Advisor, fees are high compared to the other best investment apps on this page.  Monthly £1 charge on top of other fees.
App Stores: Apple Review Rating 4.7 Google Play 4.3
Trustpilot Review Score: 4.4
>>You can Sign up to *Plum here.
MoneyBox – Best Spare Change Investing App
Moneybox is also rated one of my best savings apps, which also offers you the opportunity to invest those savings.
It works by round up your expenses and saving spare change.  So for example, if you spend £4.24 it will round up to £5.00 and save the 76p.  This is a great way to save because you barely notice and over time the savings quickly add up.
Aside from the various savings options, Moneybox offers a range of investment options.
You can invest your spare change in a choice of accounts:
General Investment Account
ISA
Junior ISA
Lifetime ISA
Pension
Social Responsible Investing Account
All accounts charge a £1 monthly fee, excluding the Pension account which has no monthly charge
For all accounts, there's a platform fee of 0.45% which is on the high side compared to other best investments apps I've covered above on this page.
You also have to pay additional fund fees depending on the fund you choose and these currently range from 0.12-0.30%.
You can choose to put your savings into one of 3 investment options:
Cautious
Balanced
Adventurous
You can see what each option invests in here:
Minimum Investment: £1
Fees: Monthly £1 charge.  0.45% platform fee plus individual fund fees on top.
Tax-free Options:
Money Safety: FCA Authorised.  FSCS Protected funds up to £85,000.
Advantages: Offers more investing account types than Plum, with the LISA, Junior ISA and pension options.  FSCS Protection
Disadvantages: Higher platform fee than Plum.
Robo Advisor apps are generally higher price in fees, so although low for a Robo Advisor, fees are high compared to the other best investment apps on this page.
App Stores: Apple Rating 4.7 Google Play 4.7
Trustpilot Review Score: 4.3
Best Robo Advisor Investing Apps
When it comes to Robo Advisor investing apps, it comes down to fees.
In comparison to the other best investments apps, the fees are way higher and this will cost you in the long run.  If you don't understand how and why this is check the fees heading and links to the tools above.
However, if the other aspects of Robo Advisor investing really appeal to you and the benefits outweigh the negative impact of the fees I have selected the best one.
Which if you haven't guessed, has the lowest fees.
Wealthify

– Best Automated Investing UK App 
Wealthify is an outright Robo Advisor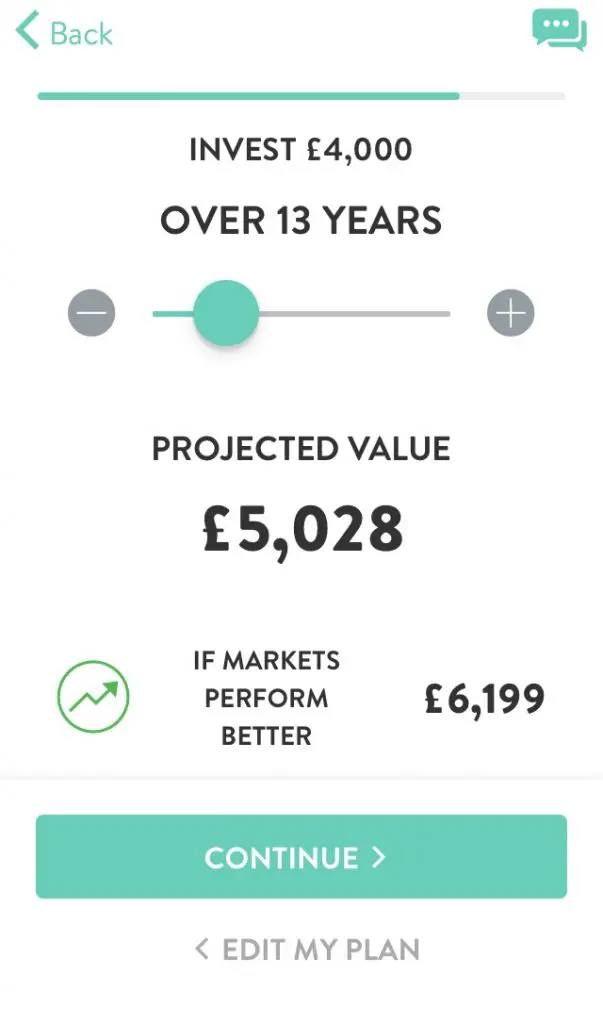 offering a really quick and easy way to get started investing.
They invest in a range of ETF's which they put together based on investors basic risk profiles.
To get started you'll need to confirm
how much you'd like to invest upfront, from £1 upwards
How much you'd like to invest monthly
Next, you'll have to choose from 1 of 5 different investment styles from the following options:
Cautious
Tentative
Confident
Ambitious
Adventurous
Finally, indicate via the slider over how many years you intend to invest and you will be presented with your Project Value in £'s.  Plus 2 indicators as to how much you will end up with if Markets perform better or worse.
It's as quick and simple as that.
Wealthify Minimum Investment: £1 for except the SIPP which has a minimum of £50.
Wealthify Fees: 0.60% + 0.22% average fund fee on top for 0.82%
Tax-free Options: Stocks and Shares & Junior ISA's plus pension
Advantages: Lowest platform fees of the Robo Advisor apps.
Disadvantages: Platform fees are higher than other apps on this page.
Available in App Stores: Apple Rating 4.5 Google Play 4.4
Read our full sign up review and claim a Wealthify sign up bonus to get you start.
Or just click to sign up to Wealthify here.
Alternative Robo Advisor Apps to Wealthify
If you are specifically interested in Robo Advisor apps, here are some of the alternatives.
The below didn't make my "best list" purely because the fees were too high and that for me is one of the key factors.
However, if you would like to do some further research and make more comparisons with other Robo Advisor investing apps, here's a list of alternatives in order of fees.
Robo App
Platform
Fees
Trustpilot
Rating
App Store
Rating
Google Play
Rating
Wealthify
0.82%
4.6
4.5
4.4
Wealthsimple
0.90%
4.4
4.4
4.4
Scalable Capital
0.91%
3.1
4.6
4.4
Nutmeg
0.94%
4.1
4.8
4.5
Moneyfarm
0.95%
4.6
4.7
4.8
True Potential
1.16%
4.2
4.4
4.4
As you can see, going by the review ratings, perhaps only Nutmeg and Moneyfarm stand out as other potential options.  Moneyfarm's review rating is high across all review platforms.
For the record, from time to time some of these Robo Advisors have special offers for 6 -12 months with no fees.  I discard these offers when it comes to rating the best investment apps, because when it comes to investing it's the long term that matters.  These offers are purely to get your custom, after which it's highly unlikely you'll remember or even be bothered to change platform and therefore be losing money in fees for the rest of the investment term.
If you feel differently
Notice: Please note this post or blog is not giving any financial advice.  The information in this post is not in any way considered financial advice.  If any of these investment apps interest you please do your own research before making any decisions.   Fees and terms are subject to change.
Related Posts: Should I overpay mortgage or pension?
Things to Consider when Choosing the Best Investment App for Beginners UK
Investing apps are becoming ever more popular and many of the best investment apps are ideal for beginners totally new to investing, mainly because they offer the ease of starting and doing so from very low amounts.
Many of the apps allow you to start investing from as little as £1.  Some have no-fee trading and even the ability to buy fractional shares of companies that might otherwise be too expensive to otherwise even buy one share of.
When it comes to the best investment apps, especially if you are a beginner it's important to be aware of the key aspects that make a good app.  If you are totally new to investing, it can be easy to get confused by the jargon and I aim to keep it simple.
Quick Jargon Buster for Investing Beginners
Here are some terms you might commonly see mentioned once you begin choosing your investments:
Bonds – are a loan from a company or government.  They provide a fixed income in the form of interest and don't fluctuate in price.  Bonds are considered lower risk and a more stable part of an investment.  (See Nerdwallets Stocks v Bonds for more info)
ETF – Exchange Traded Funds are typically for a specific market index, e.g the Ftse 100 which you can buy and sell at any time.
Fractional Shares – offer the ability to buy less than 1 whole share, effectively buy a part of a share.  For example, would allow you to invest £5 in Admiral even though it's £28 per share.  Some US shares are a lot higher, Warren Buffets Berkshire Hathaway share price is over US$340,000.00.
Investing Goals
Remember the goal of investing is to grow your wealth over time.  Therefore the more of this money we keep and the less that goes to others in fees, the better.
Therefore key factors to consider in choosing the best investment apps for you:
Fees
Does it offer tax-advantageous investing – ISA / Pension
Diversification
Induce the habit of investing – Actually, help you to invest
Users reviews
Importance of Investing Fees
Types of investment app fees:
Platform fee – (ideally keep below 0.2%)
Fund fees – (aim keep below 0.2%)
Trading fees (cost of buying and selling shares, funds and bonds)
Beware of deals that offer no or very low-cost investment fees for the first year, as it's the fees you'll be paying thereafter that matter and which will eat into your returns, potentially until retirement.
Although the numbers may seem small, at less than 1%, over many years the fees can have a huge impact on your investment returns.
Using this great tool called a T-Rex Score, illustrates the point perfectly.
Take these 2 examples of investing £10,000 at fees of 0.20% and 0.82% (the lowest Robo Advisor App fees)
£10,000 invested at 10% annual return over 25 years and annual fees of 0.20% will result in:
Total Gain of £98,347
Lost in fees

-£4819

Gain you keep £93,528
Total Value £103,528
£10,000 invest at 10% annual return over 25 years and annual fees of 0.82% will result in:
Total Gain of £98,347
Lost in fees

-£18,485

Gain you keep £79,862
Total Value £89,862
Both fee figures are under 1%, and still on a relatively modest starting investment of £10,000 a difference of £13,666 lost in fees.
Therefore, when it comes to selecting the best investment apps, fees matter.
It's all well and good having loads of great visual features, but what matters when it comes to investing are your returns.
(If there are any other terms you don't understand in the post, please feel free to drop me a message so I can for add to help future readers. Thanks).
Investing in Tax-free Wrappers
Depending on how much you have to invest you will want to consider what type of investing account you want in order to keep your investing profits free from tax.
Do the apps offer tax-free account options:
Not having to pay tax also has the advantage of not needing to keep records of your investing transaction records which makes it nice and simple.
Most beginning investors won't even need an ISA, because they won't make the capital gains or reach the dividend income thresholds for tax, bear this in mind when it comes to fees and choosing your Account type.
A capital gain is when you sell an asset for more than you paid for it.  It's the profit that is taxed if it goes over the tax-free allowance.
Dividends are a portion of the profits paid out periodically by some companies.
Annual Tax Allowances:
Capital Gains Tax allowance 2020/21: £12,000.
Dividend tax allowance 2020/21: £2000 a year.
You don't pay either of these taxes on investments within tax-free wrappers, ISA's and pensions.
Making Saving and Investing a Habit
Create an investing habit is potentially a key feature of any investment app.  The more you invest for your future the wealthier you can expect to be, or bigger retirement pot you can expect to have.  So if you forget to invest for any period of time, which could turn into years, it will set you back.
Therefore any app that is investing on your behalf, consistently over time and in a way you barely notice is potentially ideal for some people.
Users Reviews and Guide to Customer Service
Although review ratings aren't a foolproof way of judging an app, they generally give a good guide.  I've used review ratings and comments from relevant app stores and also Trustpilot reviews as a guide to the apps performance and general level of customer satisfaction.  No contender had particularly bad reviews, but they might help you in deciding which is best for you.
Conclusion – Best Investment App for you
As you can see there's a range of investing apps types to suit you as a potential investor.
Which ones appeal to you? Do you like to manage your investments for low fees or prefer to pay more in fees and set and leave to the Robo Advisor?