The wealthify app is one of the top rated robo advisor apps in the UK and are currently offering a £50 sign up bonus when you sign up and invest £250 for at least 3 months.
If you already know of the offer and are looking for a link you can use this Wealthify £50 refer a friend link.
If you are new to the offer read on and Ill show you exactly how to claim as well as more info on the app itself if you are interested.

Disclaimer: This post may contain affiliate or referral links that earn me some commission if you sign up through them.  However, this is at no extra cost to you.  Read more here. Thank you if you do use them as they help to support my blog.   No financial advice given.  Post for educational purposes only.  Also do your own research.
Wealthify is a popular robo advisor app and was highly rated in my best investment apps for beginners.
How to Claim Wealthify £50 Sign Up Bonus
Here Ive put the basic instructions first, its a pretty easy sign up process.  Beneath those Ive put more in-depth instructions and screenshots so you can understand the choices involved.
Sign up to Wealthify here
Open and verify your new account (Choose Wealthify Plan and investment risk level)
Deposit £250 into your new investment plan
Leave £250 invested for 3 months
Receive £50 bonus in your account
Withdraw your original £250 plus your £50 bonus back to your bank account (if you don't wish to carry on investing)
If you want to take advantage of more lucrative free money sign ups make sure you subscriber to my dedicated free money mailing list, so you never miss one again.
Sign Up
To get started simply click this Wealthify £50 refer a friend link:
Fill in your personal details:
Name
Address
Mobile Number
Choose Account Type
When it comes to choosing a Wealthify account just go for a "General Investment Account" or GIA for short.
If you are just looking to invest the £250 to claim £50 sign up bonus, its not worth considering any form of ISA or SIPP.  These are tax efficient forms of saving and much more consideration should be given as to where you open them.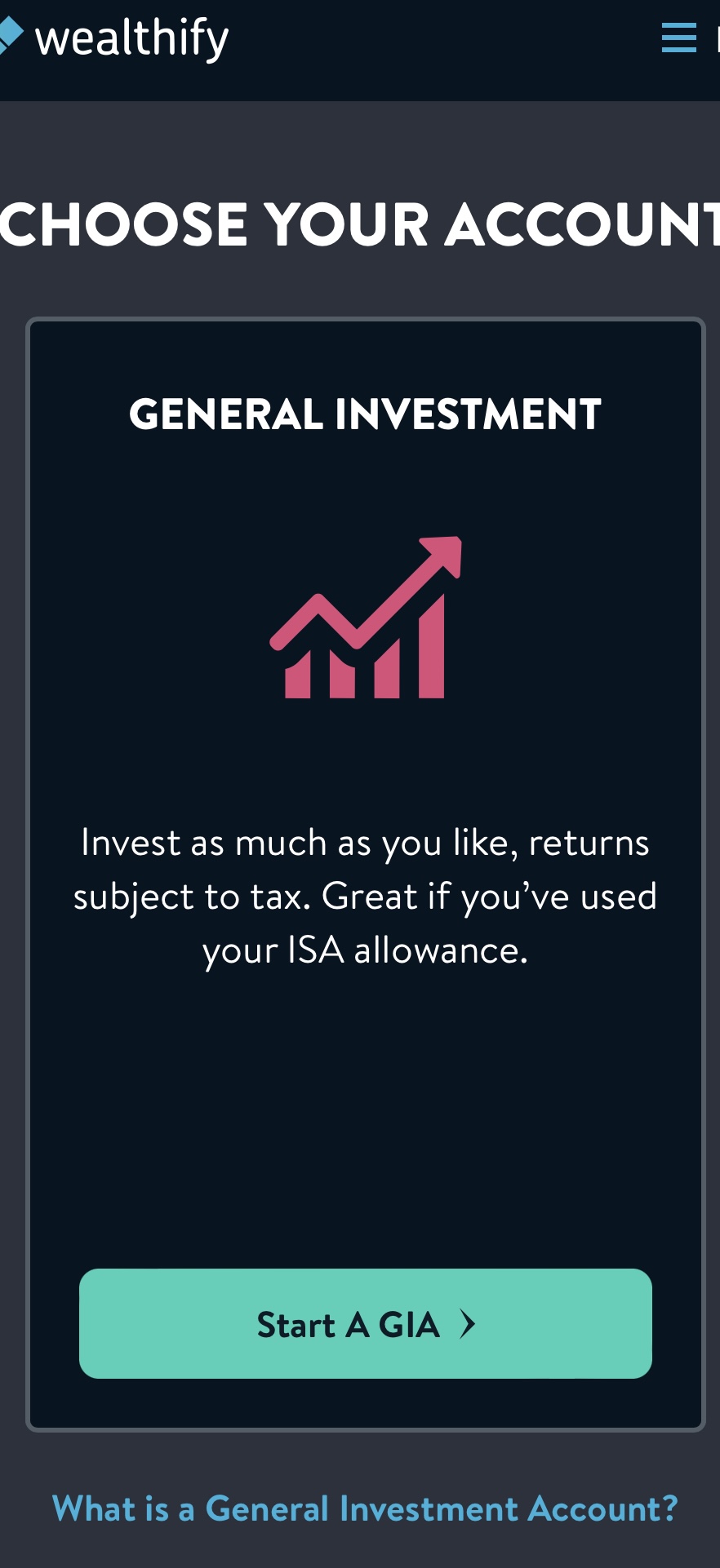 Choose Investment Amount
To qualify for the Wealthify £50 sign up bonus you will need to invest a minimum of £250 for 3 months.
Below you can see I simply selected £250 for my first deposit.
You do not need to make any further monthly contributions to qualify for the Wealthify £50 bonus.   So you can leave empty, but the choice is yours.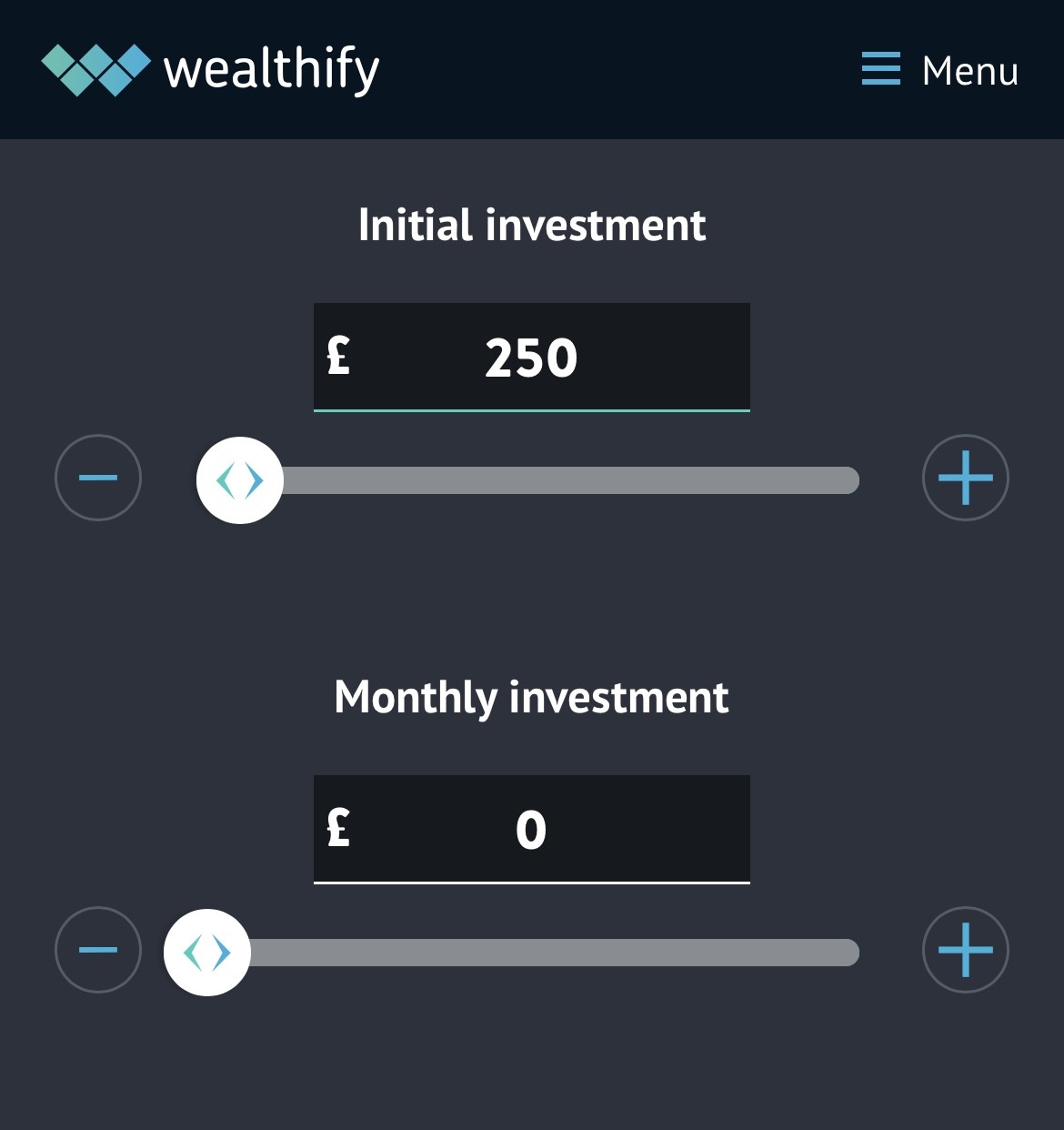 Choose Investment Style
Purely for claiming the sign up bonus I chose the lowest risk option Level 1, the Cautious plan.  Here's more info so you understand the choices yourself.
Choosing an investment style with Wealthify is an essential part of setting up your portfolio and shapes the way your money is invested.
This choice is determined by your risk tolerance – how much risk you're willing to take on in the pursuit of potential returns.
Wealthify offers five investment styles:
Cautious
Tentative
Confident
Ambitious
Adventurous.
Each style represents a different level of risk and potential return.
For instance, a Cautious style would include a higher proportion of lower-risk investments such as bonds, while an Adventurous style would be more heavily weighted towards higher-risk investments such as stocks.
This customization allows you to invest in a manner that aligns with your comfort level, financial goals, and investment horizon.
It's important to remember that all investments carry risk and you may get back less than you put in.
Here are examples of the goals of 3 of the investment plan choices:
1. Cautious – Minimising loss is the priority small movements up and down in plan value are acceptable and aim of beating inflation
3. Confident – Minimizing losses is as important as making gains. Movements up and down in plant value are acceptable with the aim of achieving good growth.
5. Adventurous – Maximising Returns is the priority. The risk of substantial losses and substantial movement up and down in plan value are acceptable with the aim of achieving the highest growth possible.
You'll notice as you change a selection the projected returns will also change.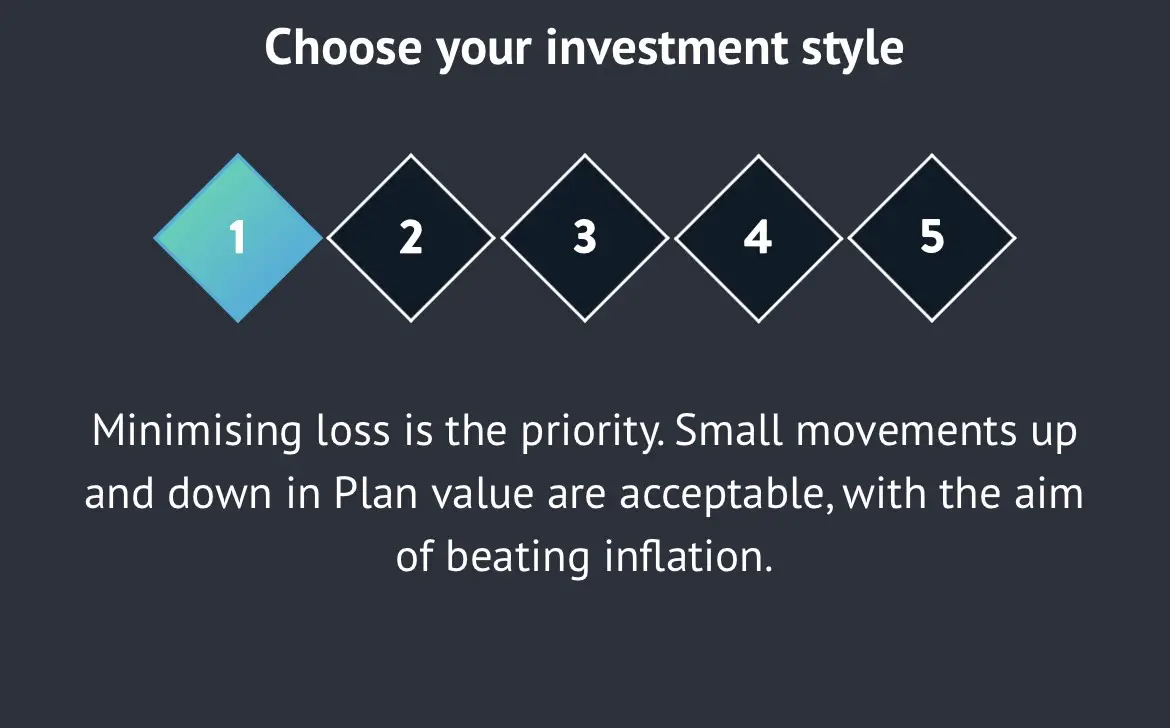 Choose an Investment Theme
In addition to the risk level you can also choose a theme.  Personally, I just left mine on "Orginal".
The two choices are:
Original – This is Wealthify's standard investment approach. If you select this theme, your money will be invested in a diverse range of investments, including shares, bonds, property, and commodities, across various markets and sectors.
Ethical – If you want to make a positive impact with your investments, the Ethical theme may be for you. Here, your money is invested in funds that hold companies to higher ethical standards. This can include companies with strong environmental, social, and governance (ESG) practices or those contributing to positive societal change.
These themes allow you to align your investments with your personal values or preferences. It's important to note that the risk levels (Cautious, Tentative, Confident, Ambitious, Adventurous) apply to both themes.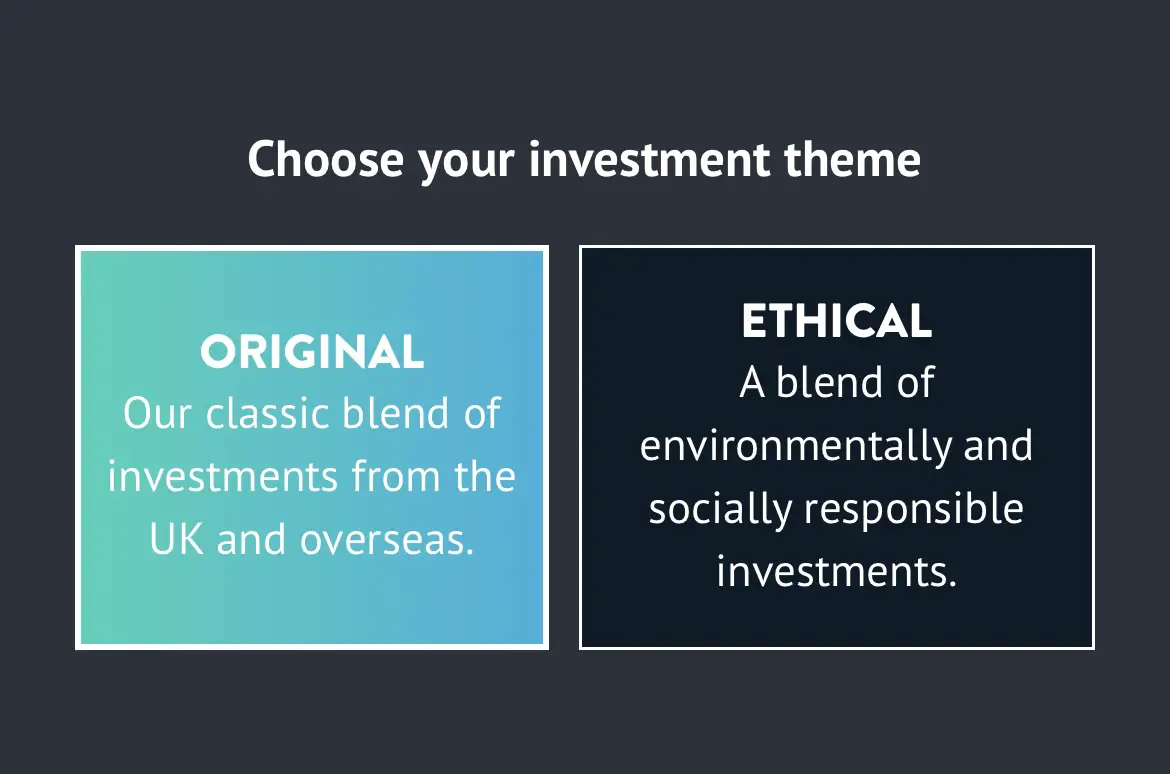 Projected Values
These are much more relevant to long term investors than if you are just looking to take advantage of the £50 sign-up bonus.
Projected values on Wealthify represent an estimate of what your portfolio could be worth in the future based on your selected timelines.
It's based on the amount you plan to invest, the investment style you've chosen (from Cautious to Adventurous), and industry-standard projections for market performance.
It's important to understand that these projections are not guarantees of future performance. They are educated estimates meant to give you a sense of potential outcomes. The actual performance of your investments can be higher or lower than the projections, due to factors like market fluctuations, changes in economic conditions, and the performance of individual investments in your portfolio.
Always remember that investing carries risk, and it's possible to get back less than you put in. It's advisable to think of investing as a long-term commitment.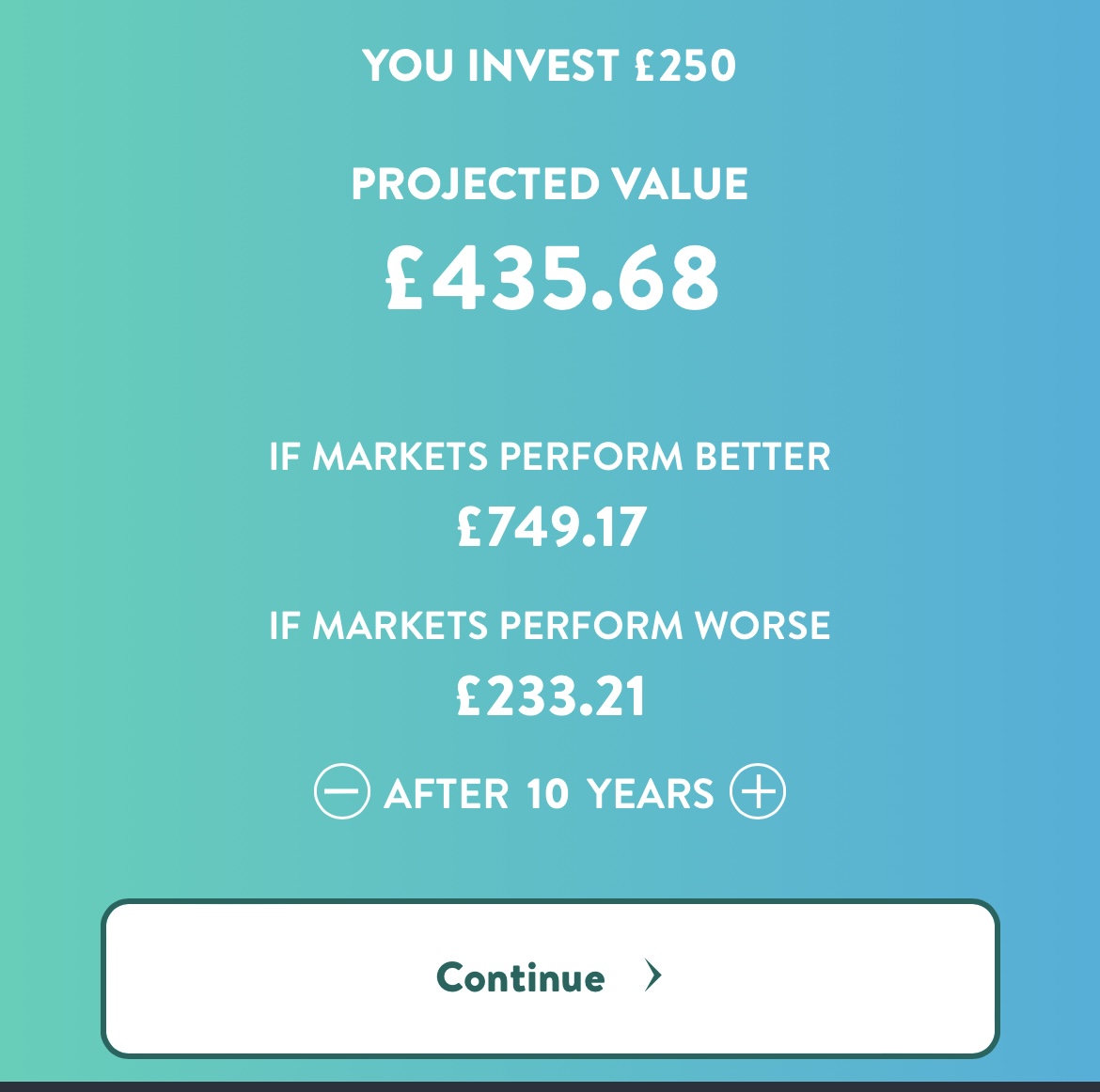 Set a Reminder
Set a reminder for 3 months time, I would set it a few days or a week after as sometimes depending on weekends, bank holidays these things are slightly delayed.
Once you have received your £50 cashback you can choose to withdraw it along with all your funds or keep the account open.
Wealthify Refer a Friend
Wealthify offers an enticing "Refer a Friend" programme that not only benefits existing users but also welcomes newcomers to the platform. It's an opportunity to help your friends start their investment journey while also benefiting from it yourself and making another £50.
Once you have signed up you can find your unique Wealthify referral link by clicking "Rewards".
From the Rewards page, you'll see the current terms of the and offer and then you can copy your referral link or start sharing directly with friends and family.
You can also track referrals from this page too.
The rules of the 'Refer a Friend' programme are subject to change, so it's a good idea to check Wealthify's terms and conditions for the most current information.
What is Wealthify?
Wealthify is a revolutionary digital investment service, also known as a robo-advisor, designed to simplify the investing process.
 It's aimed at demystifying the often complex world of investments and making it accessible to everyone, regardless of their financial knowledge or experience.
Headquartered in the United Kingdom and majority-owned by the well-established Aviva, Wealthify is part of a new wave of financial technology firms that harness the power of technology and data to offer automated, low-cost investment solutions. 
It caters to investors who seek a hands-off approach to growing their wealth. 
How Does Wealthify Work?
Unlike traditional investment platforms, Wealthify doesn't require users to pick and choose their investments. 
Instead, you choose a risk level that suits your financial goals and tolerance to risk, and Wealthify's team of experts, aided by smart algorithms, do the rest. 
The platform constructs diversified portfolios using various investment types, including shares, bonds, property, and commodities across multiple regions and sectors. 
This approach helps spread risk and offers the potential for more stable returns.
Wealthify offers a variety of investment plans, including: 
General Investment Accounts

Individual Savings Accounts (ISAs)

Junior ISAs. 
Flexible
The platform is also flexible, allowing you to invest with as little as £1, and there are no penalties or charges for withdrawing your money. 
In addition to its investment offerings, Wealthify's interface provides an intuitive and clear visual display of your investments, with updates on performance and projections for the future. 
This transparency helps to keep users informed and engaged with their investments. 
Is Wealthify Legit?
Wealthify is a legit robo investing app, now owned by multi-billion UK company, Aviva Group.
In terms of being legit in regards to performance and satisfying users we can look at reviews.
Trustpilot Reviews
Wealthify is a very highly rated 4 stars on Trustpilot, with 85% of reviews being 4 stars or above, 74% of those 5 stars.

App Store Reviews
Similarly Apple app stores are a 4.5 out of 5 rating.
Is Wealthify Safe?
When it comes to your funds being safe, you can rest assured that investments with Wealthify are protected up to £85,000 by the Financial Services Compensation Scheme (FSCS), the UK's statutory compensation scheme for customers of authorised financial services firms.
The Origin of Wealthify
Founded in the UK in 2016 Wealthify Wealthify was designed to make investing straightforward and affordable.
In 2018, British multinational insurance company Aviva acquired a majority stake in Wealthify. This move fortified the company's financial standing and gave it access to a broader customer base, all while maintaining the ethos of simplicity that Wealthify was built on.
What Are Robo-Advisors?
Before delving further into the specifics of Wealthify, it's important to understand what a robo-advisor is. 
Robo-advisors are digital platforms that use algorithms to provide financial advice and manage your investments. They offer the benefit of reduced costs compared to traditional financial advisors, as well as round-the-clock service.
The advent of robo-advisors has opened up investing to a wider audience, making it possible for more people to grow their wealth and work towards financial stability.
Getting Started with Wealthify
Getting started with Wealthify is a straightforward process. 
After downloading the app and setting up an account, you define your investment goal and risk level. 
Wealthify offers five investment styles, each representing a different level of risk and potential return: cautious, tentative, confident, ambitious, and adventurous.
Investment Options with Wealthify
Once you've chosen your risk level, Wealthify builds and manages a diversified portfolio for you. 
Your portfolio can contain a mix of investments, including shares, bonds, property, and commodities. 
The specific mix is determined by Wealthify's sophisticated algorithms, which take into account factors such as market conditions, your risk level, and your investment timeline.
Understanding the Costs
Wealthify prides itself on its transparent, affordable fee structure. 
Fees are determined based on the amount you have invested and are designed to be lower than those of traditional investment management services.
 When comparing Wealthify to other robo-advisors, it's important to consider both the fees and the types of services offered.
Remember, even though fee percentages may appear small and insignifant the effect they can have on your investments overtime can be quite astounding,
The User Experience
Wealthify's user-friendly app is designed to make managing your investments as simple as possible. 
The intuitive interface allows you to track your investments, add funds, and withdraw money at your convenience. 
Additionally, Wealthify offers customer service support to assist with any questions or concerns.
Security and Trust
Security is a paramount concern when investing, and Wealthify has robust measures in place to protect your investments. 
The app uses secure encryption technology to keep your personal information safe.
Additionally, as a company majority-owned by Aviva, Wealthify operates under the regulations of the UK's Financial Conduct Authority (FCA), providing an extra layer of security for users.
The Pros and Cons of Using Wealthify
As with any financial service, Wealthify has its distinct advantages and limitations. Here's an analysis of the pros and cons:
Pros
Simplicity and Ease of Use
Wealthify has a straightforward and intuitive interface. This design allows individuals, even those with no prior investing experience, to easily navigate the platform and manage their investments.
Affordable Entry Point
You can start investing with as little as £1. Wealthify's low barrier to entry makes the platform accessible to a wide range of investors.
Automated Portfolio Management
Your portfolio is automatically managed by Wealthify's team and algorithms. They monitor market conditions and your chosen risk level, rebalancing your investments as necessary.
Diversification
Wealthify spreads your money across various asset classes and sectors. This approach can help to manage risk and potentially optimize returns.
Transparency
Wealthify is committed to clarity. The platform provides clear insights into what you're invested in and why. Additionally, its fee structure is straightforward and competitive.
Cons
Depending mostly on your own personal preferences here are some what some people might consider cons of the Wealthify app.
Lack of Direct Control
Some investors prefer to have more control over individual investment decisions. With robo-advisors like Wealthify, the investments are selected and managed for you.
Limited Personalization
While Wealthify allows you to choose your risk level, the degree of personalization might not be sufficient for some. For example, you can't choose specific sectors or companies to invest in.
Variable Returns
As with all investments, returns are not guaranteed. The performance of your portfolio depends on the market and the risk level you've chosen.
Lack of Face-to-Face Interaction
Some investors prefer more direct, face-to-face interaction with their financial advisors. Wealthify primarily interacts with users through its website and app as a digital platform.
Remember, choosing to invest with Wealthify, like any financial decision, should be based on individual financial goals, risk tolerance, and investment preferences. It's also crucial to understand that all investing involves risks, including the possible loss of capital.
Conclusion
Wealthify is an excellent tool for those interested in dipping their toes into investing. Its user-friendly design, transparent fee structure, and robust security measures make it a viable choice for individuals new to the investing landscape. 
As we move into a future where financial technology continues to evolve, platforms like Wealthify represent a promising and accessible pathway towards personal financial growth.
Overtime keep an eye on fees to make sure they remain competitive.