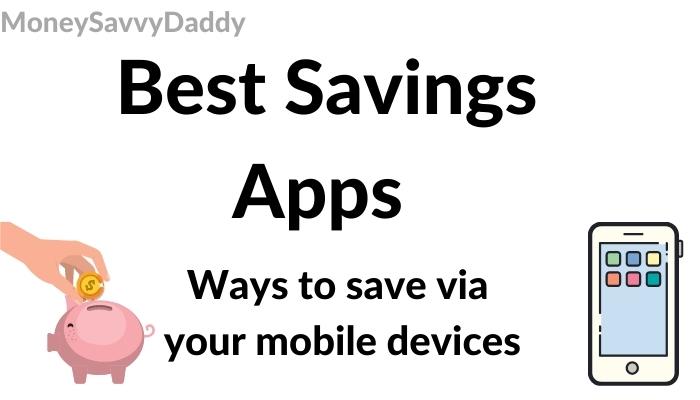 Imagine if you could save money without even noticing?  Enter digital savings apps to do the hard work for you.
However, with so many to choose from, it can be difficult to decide which one is the best for you.
Whether you're looking to invest in your future, just want to save for a rainy day, or need a banking app to track everything for you, here's a round-up of the best savings apps in the UK.
One of the most important things you can save for is an emergency fund.  The foundation of good solid finances.
For more information see my post how much emergency fund do I need and how to build it.
Disclaimer: This post may contain affiliate or referral links that earn me some commission if you sign up through them.  However, this is at no extra cost to you.  Read more here. Thank you if you do use them as they help to support my blog.
Top Savings Apps UK
These days you don't even need to know the differences between a bank or building society to help you save and earn interest, because you don't need either.
There's a whole range of saving apps available, which can help you save in a wide variety of ways and in some cases even earn you interest and friend referral bonuses.
Before we break down which saving app is best for you based on your circumstances, here's an overview of some of the more popular savings apps available today: 
Plum – "The AI Assistant That Grows Your Money"
Plum can automatically skim away savings for you by using clever algorithms. You link your bank account through Open Banking, and it works out what you can afford to put away by analysing your income and spending. You can change how often you want it to skim this money within the settings. 
You can also set up Round-Ups. The app rounds up your spending through your connected bank account to the nearest pound and transfers the spare change. While Plum analyses your transactions, it's not one for budgeting. So, if you want this feature as well, it might not be the best one for you.
Your money is held in an e-wallet, so while Plum is regulated by the Financial Conduct Authority.  The money isn't covered by the FSCS (Financial Services Compensation Scheme). It is, however, protected by e-money safeguarding rules. 
Plum is free to use unless you want your money to earn interest, or want to start investing.
Paid plans start with Plum Plus, which costs £1 per month giving access to 0.6% AER savings rate and opens up investing opportunities.
Money you've saved in an account earning interest is protected by the FSCS up to £85,000.
If you'd link to download plum please consider using my Plum referral link.
Moneybox – "Save and Invest For Your Future"
Moneybox is a great app for serious savers, and was crowned "Best for Beginners" in the Times and Boring Money Consumer Investment Awards in 2019. You can make a one-off deposit and weekly deposits, or round-up your purchases to the nearest pound, saving the spare change. 
Moneybox allows you to invest the money as well as save.
Savings accounts available include a Cash LISA, (Lifetime ISA) offering variable interest of 1.1% AER, 45-day notice (0.45% AER) and 95-day notice (0.6% AER) savings accounts.
There are plenty of investment options, too, which are covered later on. 
Cleo – "It's Your Money. Own it"
Great for tracking spending, Cleo has a chatbot that keeps you up to date with your spending.
Similar to Plum, it uses an algorithm to monitor your outgoings and income and works out what you can afford to put away. It then collects the money and puts it into your Cleo "wallet".
As with Plum's free version of the app, you can also set savings goals. But with Cleo, you can also set up a budget to help you stay on top of your spending.
The Cleo wallet isn't actually a savings account, so it's not FSCS protected and won't earn interest.
Like Plum though, your money is protected by the e-money safeguarding rules.  The money is ringfenced with Barclays Bank by Plum's FCA-regulated partner, MangoPay.
Chip – "The Future of Savings"
Just like Plum and Cleo, Chip works out what you can afford using its (yes, you guessed it) algorithm. It will then transfer small amounts across to your Chip account.
You can set goals for your Chip savings account, which allows you to decide on a percentage you want to allocate to that goal from your overall savings. 
The app is free to use, however, if Chip manages to automatically save you more than £100 in 28 days, you'll be charged £1.  Also, your money doesn't earn interest in Chip. They are introducing a new interest account though, which is currently being rolled out. At the time of writing, you'll be able to earn up to 1% with these new accounts which will be made up of 0.5% AER and 0.5% bonus from Chip. 
You can read my full Chip App review here.
Monzo – "Banking Made Easy"
As indicated by its motto, Monzo is a bank, rather than a savings app. However, it is possible to save with Monzo using pots, which you can also "lock". If you want to save automatically, you can choose to "round up your spending" and then Monzo will put that money in the pot for you. 
You can have more than one savings pot, but you can only choose to round up your spending for one pot. Any other saving will have to be done manually.
Additionally, there's no interest earned on Monzo pots. However, you can open a Monzo Easy Access account offering 0.25% AER, or a Fixed Term savings account paying 0.25% – 0.58% AER. 
Monzo can also help you set up a budget, so if you want an app that helps you manage your money, save AND doubles as a bank, it's a great one to choose. 
Starling Bank – "Changing Banking for Good"
Starling is also a banking app with which you can save money. Like Monzo, you can put money away in different pots, called "spaces".
The app also breaks down your spending, sorting payments by categories and by merchants. Unlike Monzo however, Starling offers 0.5% interest on in-credit balances up to £85,000. And while your money is kept in Starling spaces, you'll still earn interest, as it's calculated based on your entire balance. 
There aren't any additional savings options with Starling Bank, but you can open more than one account. The simplicity of the account quite probably makes up for the limit on savings. And these days, interest on your current account balance is definitely a perk.
Plus, it's been crowned the winner for Best British Bank account three years in a row. As it's a bank, your money's covered by the FSCS up to £85,000.
Other Options
Best App for Tracking Spending 
If you want to save but also want a breakdown of your spending, Cleo's chatbot service is on hand to tell you everything you need to know. It gives you a breakdown of where your money is going by category or by merchant.
When showing you your monthly spend by category, it's displayed from high to low, so you can see if there are any areas you might need to cut back on to help you with your saving. 
Best Apps for Automatic Savings
While automatic savings are a brilliant feature, if you're a frequent spender, you might find that any one of these apps which manage automatic savings could take you into your overdraft. While some apps claim they won't take you into your overdraft with automatic saving (although with some apps, you can request this), they won't necessarily be aligned with your true balance. 
This means it's entirely possible that you could end up overdrawn if the automatic saving feature is too aggressive. Fortunately, you can adjust the savings speed in the majority of them. With Cleo, for example, you can adapt your savings mood to Chilled, Normal or Aggressive. 
Plum also offers a choice of moods through the "brain" part of the chat-bot, where you can click on the Automatic tab. You can adjust savings "moods" from Shy, Chilled, and Normal, through to Eager, Ambitious, or Beast Mode. The algorithm will then adjust accordingly. 
If you want to save hard but don't necessarily want the hassle of having to check your bank account every day, Plum Pro is an option that shows your 'true balance'. It's £2.99 a month, but it also gives you access to 0.6% interest on your savings. 
>>If you sign up consider using my Plum referral link.
Best Savings App for Couples
Starling and Monzo offer the ability to open a joint account alongside your personal account, which makes these banking apps a great option for couples wanting to save. You can link your personal accounts to your joint account, and easily work towards joint goals, such as saving for a house. 
However, as Starling offers a 0.5% interest rate on your credit balance regardless of whether it's in a pot, it's the winner as a super-easy way to save together and still earn interest. Of course, you could always open a Fixed Term savings account with Monzo and earn up to 0.58% on your savings. 
Best App for Investing
As Moneybox focuses solely on saving, this one gets the vote for making investing simple thanks to its "Best for Beginners" title in the Times and Boring Money Consumer Investment Awards. 
In addition to easy savings options, investment opportunities include:
Stocks and Shares ISA

Stocks and Shares Lifetime ISA
Junior ISA
Personal Pension
General Investment Account
There are three simple savings options; cautious, balanced, and adventurous, with a minimum investment of £1.
Best App for Round-Ups
With the exception of Chip, all of the apps mentioned here offer round ups. However, as previously mentioned with Automatic Savings, the free versions of each app may not show your real bank balance. 
In which case, Monzo or Starling would perhaps be your best bet for roundups, especially if you're using the bank as your current account. As long as you have round-ups enabled, each spending transaction will result in a deposit into your chosen savings pot. With them both being challenger banks, you'll always be able to see your balance in real-time. 
Bear in mind that round-ups (though you can choose to turn them off), and any automatic savings, may take you into your overdraft and result in bank charges. 
Best App by Interest Rate
Moneybox currently offers the highest interest rate of 1.1% with their Lifetime ISA account. However, a LISA is only available to 18-39-year-olds to save for their first home, or for retirement. For other savings accounts, Moneybox comes top again with 0.6% AER on their 95-day access account. 
Plum also offers 0.6% AER interest, however, this is only available through Plum Plus, which costs £2.99 per month.
However, if you'd rather have instant access to your savings through a free account, Starling comes top again with their 0.5% interest, paid across your entire balance, savings pots included. 
It's important to note that this information applies only to savings apps, not all bank accounts. If you want to make the most of your money, you could consider using one of these apps to quietly save in the background. Then, once a month, transfer it to a higher interest rate savings account. 
Boost Your Savings
If you are actively looking to boost your savings by earning money from home, I have categorised the best money making apps for people in the Uk.  Together the apps offer you the potential to make £100-£200+ a month.
Conclusion
As you can see there's a wide range of app options to help you save with ease from your mobile devices.
Hopefully the app overviews and re-enforced pointers to which apps are best for what, will help you decide.
Have you already tried any of these savings apps?
How did it work out for you?
Would you recommend it? I'd love to hear.