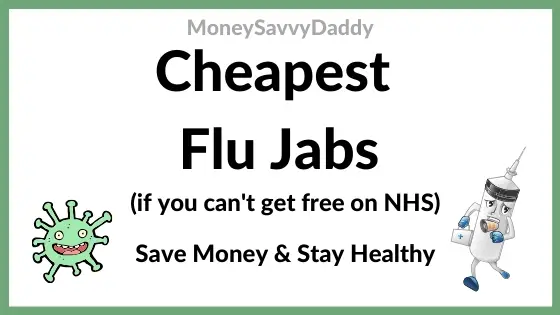 A free or relatively low-cost flu jab could save you from an extremely unpleasant couple of weeks of illness as well as time off work, which could be even more costly.  Even worse with flu being so highly contagious is if it spreads to other family members. 
In the past, I've thought I've had flu a few times until I actually had real flu.  It's certainly something I will increase my chances of avoiding every year from now on, especially as millions of UK citizens I'm entitled to a free NHS flu jab.
It's quite possible you are entitled to a free flu jab too and I outline the eligibility and options on the high street chemists where you can get one or free, as well as if you have to pay, how and where you can get the cheapest flu vaccine.
Can You Get a Free NHS Flu Jab 2021
Before you consider paying, it's worth double-checking whether you're eligible for a free NHS flu jab.
This year with the additional threat of Coronavirus, the government are widening their range of who's entitled to a free NHS flu jab, which will now cover over 30 million of the population.
Typically I have mine at my local doctors, given to me by one of the nurses and it was one of the quickest appointments I've ever had.  However, many well known high street chemists also provide the free NHS flu jab.
In 2021/22, the flu vaccination will be freely offered to:
Persons aged 50+ (in past years was 65+)
Persons aged 6 months to under 65 years in clinical risk groups
Pregnant women
Persons living in residential or nursing homes
The main carer of an older or disabled person
Frontline workers in health and social care
Plus certain other health conditions
Check for further eligibility NHS: Who should have the flu vaccine?
Most children can get a free nasal spray vaccine via GP surgeries or schools
children aged 2 or 3 years on 31 August 2021 – born between 1 September 2017 and 31 August 2019
Primary and secondary school children (reception to year 11)
children aged 2 to 17 years with long-term health conditions
For more information see NHS child flu vaccine.
I will update when more information is released for 2021.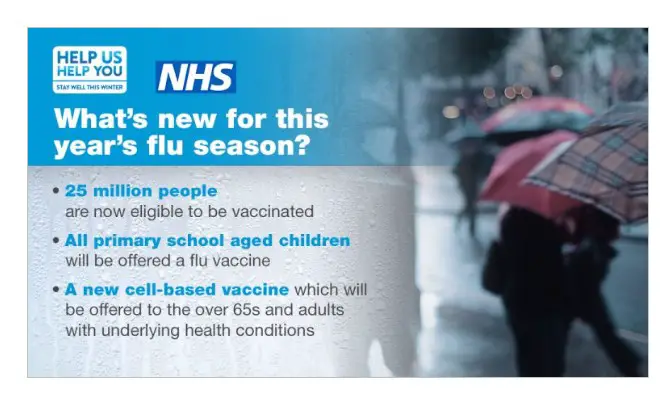 Not only is a flu jab worth having to avoid the chance of getting flu, it will also prevent you from passing to possible family and friends.  Plus saves the NHS money by avoiding people being admitted with severe symptoms, let alone possible death.
Best Time to Get Vaccinated
Flu season is considered to be from September to March.  The earlier you get vaccinated the better, but the typical advice is to aim to have it between September and early November.
The flu strains are constantly changing so it's important to consider getting vaccinated every year.
Having a flu jab early is encouraged at times even by some of the retailers, however this year I haven't seen any early bird offer.
Even if you've had the flu, there are more than one strains of flu in any season so it's possible to get it again.
It can take 2-3 weeks for the flu jab to protect you from flu so another reason to get it early.
How Much Is the Flu Jab? 
If you do have to pay for your flu jab, I've highlighted 5-6 major retailers who provide the flu vaccine via their in-store pharmacy.
I've included details as to whether they offer the free NHS flu jab as well as the cost of the privately paid vaccine.  Also, links are provided so you can double-check any info and find and book an appointment at a local store near you.
If you do opt to have your flu jab at a pharmacy, you don't need to inform your GP because the pharmacist should do that for you.
Asda Flu Jab Costs 

£8.00 (Cheapest)
The NHS free flu jab is available to over 18's who meet the eligibility criteria in England and Wales.
The private flu jab option is available without a prescription to over 12's in good health.
As stated on the Asda website they always aim to have a market-leading price on flu jabs and that's certainly the case this year.
If you are a regular customer make sure you are getting the most out of the Asda loyalty scheme.
Asda Free Flu Jab:  Yes to over 18's.
Asda Pharmacy Cost: Private flu jab for over 12's is £8.  Info here.
Booking at Asda Pharmacy Near you: Use the Asda store locator to findest their nearest pharmacy.
Tesco Flu Jab Costs

£9.00
The NHS free flu jab is available to eligible over 18's in England and Wales.
Vaccinations are available from early October.  You can either book an appointment or turn up and use the walk-in service.
You will be asked to complete a short questionnaire before the flu jab.
If you are a regular Tesco shopper be sure to take full advantage of the Tesco Clubcard points and how to boost their value.
Tesco Free Flu Jab: Yes to eligible over 18's.
Tesco Pharmacy Cost: £9.00.  Info here.
Booking at Tesco Near you: You can use the Tesco Store Locator to find your local Tesco pharmacy and either use the walk-in service or book an appointment with them in advance.
Superdrug Flu Vaccine Costs

£13.99
A free NHS flu jab is available to eligible persons in England and Wales.
Superdrug provides a walk-in service to have your flu vaccination.   You will first have a consultation with one of their healthcare professionals.
Up until November 5th, Superdrug offered a 30% discount to Health and Beautycard holders which can be obtained for free instantly in-store at the clinic or pharmacy and online.
Superdrug Flu Jab Cost: £13.99.  An increase of £1 on last year.   Info here.
Booking Flu Jab Superdrug Pharmacy Near you: You can find your local Superdrug clinic here to call to book an appointment or just turn up and use the walk-in service.
Boots Costs

£14.99
Boots one of the largest retailers in the UK.  They offer the free NHS flu jab to over 18's in England and Wales.  Specially-trained pharmacists will check eligibility following short consultation and questionnaire.
The private flu jab is available to over 16's in most stores and over 11's in selected stores.
Remember to use your Boots Advantage card whenever shopping in Boots.
Boots NHS Free Flu Jab:  Yes if eligible, in most stores.
Boots Pharmacy Cost: Private Winter Flu Jab £14.99. A £1 increase on last year.  More
Booking: More info & to book Winter flu jab at Boots near you.
LloydsPharmacy / Sainsburys Costs

£14.99
Residents of England and Wales can have to free NHS flu jab subject to eligibility.
LloydsPharmacy advises you to book an appointment in advance, although they do offer a walk-in service if you want to try your luck.  You have to be over 16 for the private flu jab.
Many LloydsPharmacy can be found within your Sainsburys stores.
LloydsPharmacy Free Flu Jab: Yes to eligible over 18's.
LloydsPharmacy Flu Jab Cost: £14.99 at the time of writing, an increase of £2 on last years price.  Info here.
Booking at LloydsPharmacy Near you: Find your local LloydsPharmacy even without making an appointment if you are opting for the walk-in it's best to ring and check availability in advance.
Conclusion
Hopefully, if you wish to have a flu jab you find you can get one for free without having to book a doctor's appointment.  You can simply combine as part of your everyday shopping at one of the above major retailers with an in-store pharmacy.
If you do have to pay, at least above you can see where the cheapest price is available and ultimately it will likely depend on which stores are in your locality.