In this post, we look at one of the Uk's most generous loyalty card schemes, the Boots Advantage Card, which rewards holders' boots points for every £1 they spend both in stores and online.
Find out how to boost points further by joining the free clubs which can more than double the points you earn.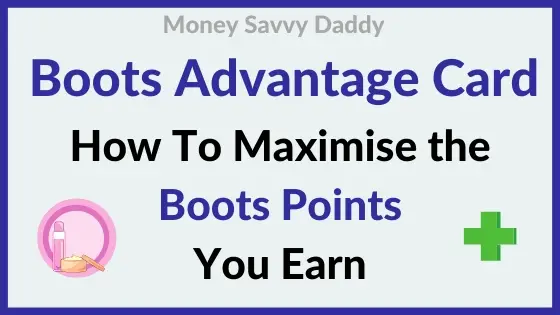 As a regular customer, you may also be interested in a 5% cashback reward that can also be combined with other cashback options for both in-store and online purchases!
As always I highlight to you how to make the most of promotions and other methods to save on your Boots shop.
Plus finally, how you can claim 200 free boots points without even making a purchase.
First lets answer one of the most common questions, "What are Boots Points worth?".
Here we provide some examples and a calculator so you can work out exactly what your points balance is worth in UK pounds and pence.
How Much Are Boots Points Worth 2023?
It's pretty easy to work your Boots points value because each Boots point is worth 1p.
So for every £1 you spend and 4 points that you receive you are basically getting 4p in points, which is a pretty decent rate at 4% compared to other loyalty card schemes.
Here are some more examples of Boots points worth in real money £'s:
1 Boots point is worth 1p
100 Boots points are worth £1.00
200 Boots points are worth £2.00
500 Boots points are worth £5.00
1000 Boots points are worth £10.00
2000 Boots points are worth £20.00
5000 Boots points are worth £50.00
How Much is 500 Boots Points Worth?
500 Boots points are worth £5.00.  Each point is worth 1 pence.   500 x £0.01 equates to £5.00.
How Much is 1,000 Boots Points Worth?
1000 Boots points are worth £10.00.  Each point is worth 1 pence.   1000 x £0.01 equates to £10.00.
How Much is 2,000 Advantage Points Worth?
2000 Boots points are worth £20.00.  Each point is worth 1 pence.   2000 x £0.01 equates to £20.00.
Use our Boots points converter below to work out other point's values.
Boots Points Calculator
To calculate the value of your Boots Points simply multiply the number of points you have by 0.01p.
Use our Boots Advantage Points calculator to work out the value of your points easily.
Where to Check Boots Points Balance
You can keep track of your Boots Points balance by checking in the following ways:
Log in to your online account
Via the Boots app
At the bottom of instore receipts
How Do Boots Advantage Card Points Work?
It's totally free to apply for a Boots Advantage Card, either in-store or online.
Once you have your Boots card, you can use it to collect points on every purchase you make.  If in-store just hand it to the checkout assistant when you are paying your bill so it can be scanned.
You can also link the card to your online account and to the Boots app so points are added with every purchase you make.
How to Add Boots Points from Receipt
If in store, you forget your Boots loyalty card you will need to get the cashier to validate your receipt, which gives you 30 days to have the points added to your card on a future visit.
Tip: Did you know you can scan your shopping receipts for cash and other rewards?  Check out the best receipt apps here.
How to Get a Boots Advantage Card
You can get your Boots points card if you just sign up to the Boots Advantage Club quickly and easily online.  All you need to get started is your email address.
How To Earn Boots Advantage Points
You receive 4 points per £1 you spend in Boots, both online and in-stores.   However, there are a few exemptions including baby and infant milk NHS prescriptions, postage stamps, gift cards and vouchers, and mobile phone top-up cards.
So if you spend the following amounts you will earn the following points:
Spend £10 get 40 points
Spend £20 get 80 points
Spend £50 get 200 points
Spend £100 get 400 points
There are also a number of ways you can quite significantly increase the number of points you earn.
Boots Points Events
Look out for Boost Weekend offers when instead of 4 points per £1 you spend you get 20 points per £1.
Subject to a minimum spend amounts, for example, if you spent the instore minimum of £50 you'd get 1000 points.
Online it was £60, which would get you 1200 points.   A very nice 20% discount, assuming the products you are buying aren't available a lot cheaper elsewhere.
If you are spending much more than £50-£60 you can try splitting the purchases into smaller £50-£60 chunks and see if you get the free points per spend.  This has been possible in the past.
You will usually be notified of these kinds of Boots points events via email.
You can also keep up to date via our Boots Points Events dates page.
Boots Points Promos
Look out for decent Boots Points Promos on certain product ranges.
For example, they have been known to do Triple Points weekends, so you'd get 12 points per £1, which works out the equivalent to a 12% discount.
Or for example, £10 in points per £60 you spend.
A 1000 points dividend by £60 equates to approximately 16 points per £1.  So a 16% discount.
Email Promos
Once you sign up for the Advantage Card, as well as being informed of the above offer types you'll also be sent points promos and other offers in your emails.
FAQ Boots Points Questions:
Boots Opticians
Do you get points on the glasses?  Yes, Advantage Cardholders qualify Boots Opticians you qualify for 1 point per £1 spent for on your glasses, contact lenses and eye tests.
Boots Hearingcare
Do you get Boots points on hearing aids? Yes, you'll get 1 point per £1 you spend on Bootshearingcare purchases such as hearing aids, batteries and ear wax removal.    This is less than the typical 4 points per £1, but they do offer extra discounts and points to members of the More Treats for Over 60s club.
Boots Advantage Card Clubs to Boost Points
As a Boots Advantage Cardholder, you can also join some Boots Clubs which offer extra points bonuses 2 of which double the points you earn.
Boots Parenting Club
Is for women from the moment they are pregnant through to when their child turns five years of age.
As a member you qualify for 8 points per £1 you spend on baby products.
Plus you'll get extra offers from the club within the Boots app.
You might even get some free gifts at key stages of your baby's development.
More Treats for Over 60's Rewards Club
The More Treats for Over 60's reward club is for anyone over 60 years of age.
Members get 8 points for every £1 they spend on Boots brands:
Boots Expert
Boots Extracts
Boots Lift
Boots Staydry
Botanics
CYO
Natural Collection
No7
Smooth Care
Soap & Glory
Soltan
Tea Tree & Witch Hazel
Your Good Skin
Worth mentioning too if you are over 60 you also qualify for 25% off glasses and sunglasses at Boots Opticians.
Members are also entitled to an annual free hearing health check and 150 Boots points when you attend.
10% Student Discount
Once you are an Advantage Card member you can activate your student discount with your NUS/TOTUM card or student ID at any instore Boots till.
You will need to reactivate every year from 1st September.
From thereafter you just need to take your Boots Advantage card an individual shop to activate the discount.
How to Spend Boots Points
When you have saved up enough Boots Points you can spend them whenever you shop at Boots in stores or online.
You have to have enough points to fully pay for the product or service you wish to purchase, you can't part pay in points.
When spending Boots points in-stores just hand the Advantage card to the cashier and let them know you'd like to pay in points.
Online select the Boots Advantage Card icon as you checkout.
You can't spend the points at third party online retailer Boots Kitchen Appliances.
Boots Advantage Card App
Current Bonus Points Offer: Currently, once you have your Boots Advantage Card, if you then download the Boots App for the first time and make an in-store transaction you will receive 200 Boots Points for doing so (offer correct at the time of writing).
As this short 1-minute 25-second video highlights, the Boots App is a great option to combine with your Boots Advantage Card.
The video shows the option of adding the Boots Advantage Card to personalize your app.  It will allow you to unlock offers solely for you, plus check your boots points balance.
See how you simply load offers to your Advantage card, which is then all you need to take with you when you go shopping at Boots and the offers will be redeemed at the checkout when your card is scanned.
You can find the Boots mobile app on the following platforms:
Apple Boots App for iPhones, highly rated 4.8
Google Play Boots App for Android users a high rated 4.6
You can now add the Digital Advantage card to your mobile wallet so you don't miss out on boots points.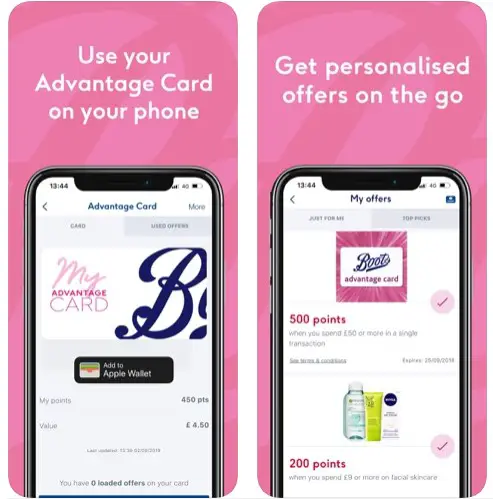 The app has plenty of other uses such as finding your nearest store or to book an appointment for something like a free or cheap Boots flu jab in the pharmacy.  Plus you can use it to customize and print photos in Boots.
Boots Cashback
If you shop online at Boots, another great way to save is to use one of the best cashback websites.
The 2 I always check are Topcashback and Quidco.
If you haven't used either of these cashback sites, they are well worth joining for free.
Once a member, in the case of Boots, all you would do is visit the cashback site first, search for "Boots", go to the Boots page on the cashback site and from there click through to the Boots website.  Your visit is tracked and you earn cashback on whatever you spend.  Easy.
At the time of writing the cashback sites were offering:
These rates can change at any time, and it's good to see a decent percentage of cashback available for existing customers too.
5% Cashback Reward Towards Your Phone Bill
A great option for Boots cashback is Airtime Rewards, which at the time of writing was offering 5% cashback rewards on Boots purchases excluding Boots Opticians and Boots Kitchen Appliances.
All you need to do is sign up for free, input your Visa and Mastercards details and from then on every time you use the cards in a Reward Partners store you will earn cashback towards your phone bills.
Note, the reward rate may change at any time, but it's been 5% for 2 years at the time of writing which is a considerable saving for a regular customer.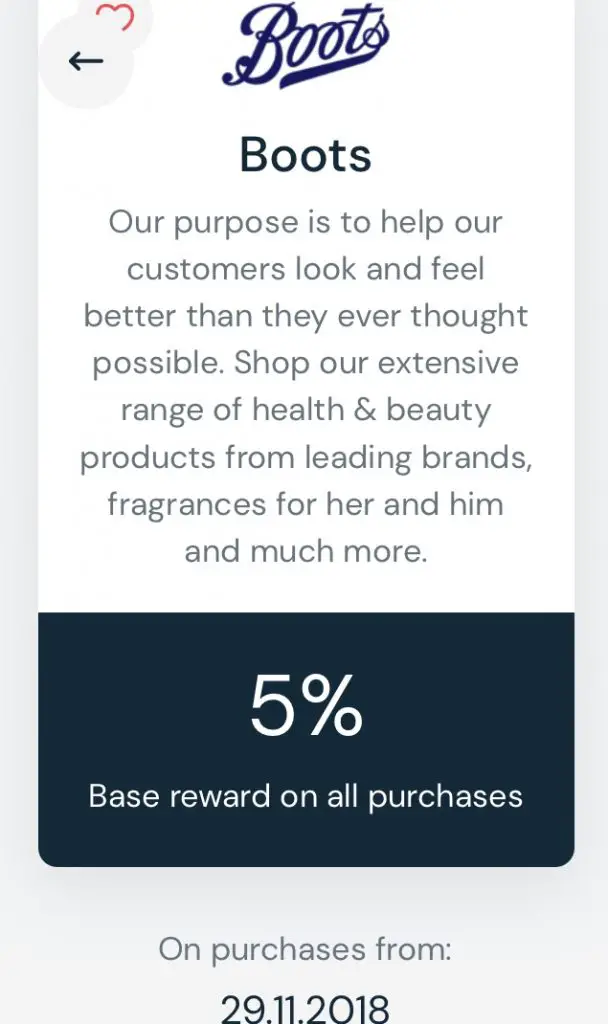 Stack Your Boots Points and Cashback
You can combine the Airtime Rewards option with any cashback options.
So you could stack your Boots points and cashback purchases as follows:
Use Advantage Card for Boots Points
Visit via cashback site Topcashback for 2% cashback
Pay with a cashback card if you have one (Typically 1-1.25%)
Use card registered with Airtime Rewards for 5% towards mobile bill
*Figures correct at the time of writing but subject to change at any time.
As you can see, adds up to quite a saving.
Read my full review and claim the bonus Airtime Rewards Promo Code to get you started.
Frequently Asked Questions
How Many Boots Points for £100?
You would need 10,000 Boots Advantage points to have £100 worth.   Each point is worth 1 pence, and there are 10,000 pennies in £100.
Conclusion
Boots Advantage Card is one of the best loyalty card schemes, both in terms of points you earn on your spending and the actual points redeemable worth.
Just be sure the products you are purchasing can't be purchased a lot cheaper elsewhere.
How do you find Boots in general in terms of offering value?
Do you think the seemingly generous points are worthwhile?
I'd love to hear your opinions.