Are you interested in passively earning cashback rewards that go towards paying off your mobile phone bills?
Use my Airtime Rewards promo code HFRVKYUJ to get you started with extra free credit up to £1.50.
Rewards can be used to pay off various mobile network bills, including EE, Three, O2 and Vodafone.
Read on to find out more from my personal experience in this Airtime Rewards review including how easy it is to set up and start earning money back by simply using your bank cards as normal with many well-known reward partners.
You can make savings at many well-known brands including Primark, Morrisons Boots, Argos as well as many restaurant chains including Pizza Express, Papa Johns and many more.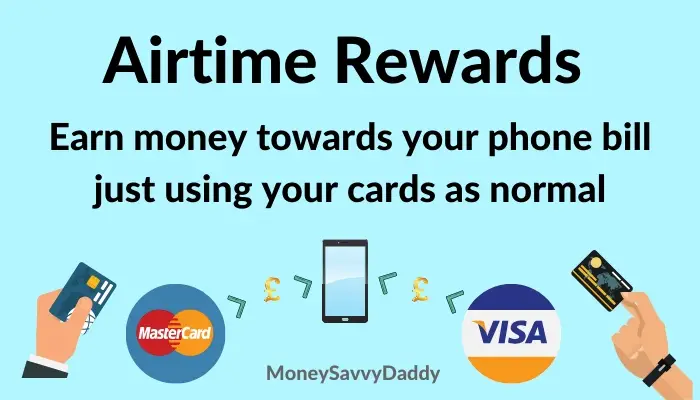 Disclaimer: This post may contain affiliate or referral code links that earn me some commission if you sign up through them.  However, this is at no extra cost to you.  Read more here. Thank you if you do use them as they help to support my blog.
Airtime Rewards Promo Code 2023
When you sign up to the app you can use an airtime rewards referral code for a 50p credit plus an extra £1 bonus if you use the app for a cashback purchase within the first 7 days.   
If you would like to use my Airtime Rewards Promo Code its: HFRVKYUJ
Thank you if you do use it, as I get a bonus credit too.

Download the App to Get Started
Download the App & read more Airtime Reward Reviews at the App stores:
Airtime Rewards Review 2023
I love earning cashback on autopilot and Airtime Rewards sure fits the bill.  I've tried and tested this passive cashback app and below are my findings.
In short, it is now one of my favourite money-saving apps.  Simple and easy to set up and from then on works passively.  All you have to remember to do is periodically redeem your earnings/cashback against your mobile phone bill.
What Is Airtime Rewards?
Airtime Rewards is a form of cashback app that rewards you a set percentage of the value of your transactions you make at selected retail partners via your VISA and Mastercards.  You can then redeem the rewards in the form of free credits or direct money off your mobile phone bills.
Is Airtime Rewards Legit?
Airtime Rewards is a legitimate app in terms of it accurately tracking rewards on your purchases and subsequently redeeming them upon request against a wide range of mobile network phone bills.
I've personally earned rewards and redeemed them towards my mobile phone bill with no issues at all.
In terms of other users experiences the Airtime Rewards app is very highly rated.
On Trustpilot reviews, it currently scores a rating of 4.8

Broken down you can see 93% of people rate it Excellent and 4% Great.  All in all very highly rated.

The app also has excellent reviews in both the Apple and Google Play stores, as outlined earlier.
How Does Airtime Rewards Work?
Airtime Rewards works by allowing you to link your Visa and Mastercard bank cards to the app and tracking and rewarding you for your normal spending at a range of well-known retail and other partners.
One of the best things about this app is how easy it is to benefit.
To get started:
Simply download the app (for free)
Input your mobile phone number
You'll receive a 6 digit PIN number, input that
Choose Mobile Account Type  & Select Network
Enter your name
Enter Promo Code – my promo code is: HFRVKYUJ
Input card number and expiry date
You are now all set.   Allow, 24 hours, and from then on every time you spend money on that card with one of the reward partners you will earn money towards paying off your monthly mobile phone costs.    If you allow them should get a push notification to confirm when your account is active.
Individual transactions may take a few days up to 2 weeks to show up within the app.
PAYG and Monthly Bills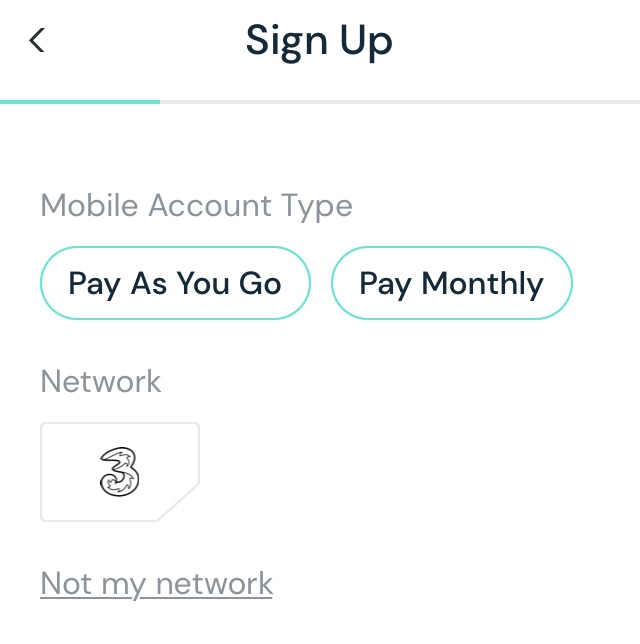 Airtime Rewards works for both Pay As You Go and Pay monthly bill types.
Select which bill type you are currently using during the sign-up process.
If you are Pay As You Go you will be rewarded with free credit.
Mobile Networks
The app should know your network after you've downloaded it and given it your mobile number.
If it doesn't, select the correct network, just click on "Not my network".
Networks that can be selected are:
Three
Asda Mobile
EE
giffgaff
Lebara Mobile
Lycamobile
Now PAYG
O2
Vodafone
Mastercards and Visa
If you have multiple bank cards you can input as many card details as you want.  Both debit and credit cards.
From then on, every time you use those cards at one of the registered Airtime Rewards Partners you will earn cashback.
There's no need to remember to visit Airtime rewards first, or login.  Just use the debit and credit cards as normal.
Once it's all set up you simple earn cashback on your normal spending at the Reward Partners.
Bank cards from outside the UK and UK prepaid cards do not qualify.
How to Redeem Airtime Rewards
When you reach the reward threshold you can select how much to redeem so that it is taken off a future monthly bill.
In my experience, it took a few weeks for the redemption to reach my mobile account.
I was able to opt for between £10-£20.
In May 2020 I redeemed £20 of credit as you can see below.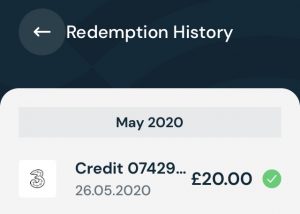 Unchanged: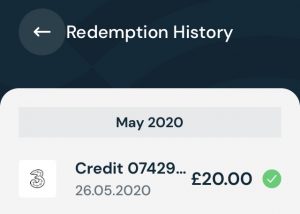 Unchanged: Although it takes a few weeks, the £20 was credited to my Three mobile phone account in August. Unchanged: Although it takes a few weeks, the £20 was credited to my Three mobile phone account in August.
Unchanged: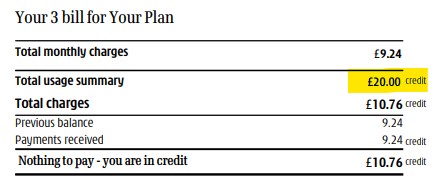 The  £20 was credited to my Three mobile phone accounts in August.
As you can probably tell, I'm on a good value monthly Sim-Card rate, so the credit effectively earns me 2 months free.
I've since redeemed a few more times.  It's effectively a small source of passive income.
Airtime Rewards Retailers List 2023
New partners are added to the airtime rewards retailer's list every month.
Cashback rates may change, but at the time of writing they were as follows for some of the most well known:
Here's a selection of shops on Airtime Rewards retailers:
Argos 2%
Boots 5%
Clarks 5%
Debenhams 6%
Foot Locker 3%
Halfords 4%
Primark 3.5%
New Look 3%
Topshop 5%
Waitrose 2%
Wilko 4.5%
At times I've seen 10% at Morrisons, which is 100 times more rewarding than the Morrisons More points loyalty scheme.   At the time of writing it had been out of the reward program for a little while and came back offering 7% on purchases over £30.  This is an awesome saving if you do your weekly shop at Morrisons.
Food & Drink Partners from 5%
There are particularly good deals for food retailers and general eating out, all offering at least 5% cashback:
Ask Italian
Cafe Nero
Chef and Brewer
Farmhouse Inns
Greggs 10%
gousto (10%)
Hungry Horse
Nandos
Papa Johns
Pizza Express 5%
TGI Fridays
Thorntons
Whittard
Yo! Sushi
Zizza
and more.
Sports and Fitness 5%
There's a sports and fitness category mostly offering 5% cashback:
The Protein Works
Nike,
Halfords
Holland and Barett
Footlocker (3%)
and more.
Other Examples:
Butlins 2% (ideal for a larger holiday purchase)
Groupon 3%
Bloom and Wild 16%
Plus many more reward partners, which are all clearly visible under the "Retailers" option in the base menu of the app.
Is Airtime Rewards Safe?
Airtime Rewards state that "our member's security is our top priority".
They are PCI compliant and our card details are encrypted and stored securely with Visa and Mastercard.
You can remove all your card data from the app at any time, simply by deleting your card.
How Much Can You Earn or Save?
Average monthly rewards are reported to be saving around £10 a month.
Obviously, it will totally depend on your individual spending as to how much cashback you get.
There are no monthly limits on what you can earn.
Remember, it's only a saving if you don't spend more than you otherwise would.
As you can see below I have earned over £140 in just over 1 year.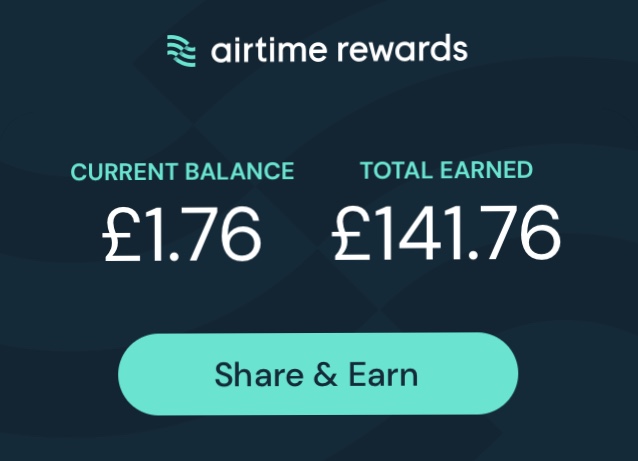 Refer A Friend
Earn a little extra by simply sharing this money-saving app with your friends along with your  own Airtime referral code.
You might only get 50p to a £1 each but you'll potentially be saving your friends way more.
Bonus Email Rewards
If you stay subscribed to the email list, you will be informed of opportunities to earn extra bonuses.
For example, I was emailed a promo code I could input which would earn me an extra £2.00 if I was spending £25 or more with the next 2 days.
Stack the Cashback (for BIGGER savings!)
I love stacking cashback.  It's simply utilising multiple ways to save on a single transaction.
So as an example you could do all of the following if they are possible, on a single transaction:
Multiple savings one after the other on a single transaction.
Frequently Asked Questions
Below are some answers to the most commonly asked questions regarding Airtime Rewards.   If you have any specific questions or concerns you can email them directly at support@airtimerewards.com. They are typically very responsive.
Is Airtime Rewards Just for O2?
Airtime Rewards can be used on a wide range of mobile networks other than O2, including Three, Asda mobile, EE, giffgaff, Lebara Mobile, Lycamobile, Virgin Mobile and Vodafone.
What Does Airtime Rewards do with my Data?
Airtime Rewards state they only see the transactions you make with the retailers in order that they can pass on the reward credit to your account.
Can I add More Than One Card?
Yes, you can add multiple cards to your account.  Simply click "Wallet" in the menu and then "Add new card".  You can even add the cards of other members of your household if you wanted to keep all earnings together on one Airtime Rewards account.  This has the advantage of being able to redeem rewards quicker, but you can only redeem against one mobile bill.  Although it is possible to change the phone number to redeem against, you can only do this once every 30 days.
What About Returned Purchases?
Any qualifying purchases you make that are subsequently returned will have the rewards deducted from your balance with immediate effect.  It so happens you haven't yet been rewarded the credit, possibly because it's within 14 days, just wait and expect them to arrive and balance everything out.
Conclusion
A great money-saving app, which you can just set up and in the large forget about and just let it earns you the rewards based on where you naturally spend.
What's your experience with the Airtime Rewards app?  How much have you earned?
Feel free to share your referral code along with any other comments 🙂