Find out the next Boots Points events to get even more Advantage points on your shopping.
The event is a great opportunity to take advantage of triple points offers or the popular £10 worth of free points when you spend £50 instore it £60 online.
In addition to extra points, we have also found some excellent ways for you to save even more on all your Boots shopping with the minimum of ease.
The Boots Advantage Card loyalty scheme is one of the most generous and unlike some schemes the points do have some value.
Read to find out the next Boots Triple points event dates as well as other Boots points promotions.
Plus various ways to save pounds on all your Boots shopping.
When Is The Next Boots Points Event 2023
As of yet, we are still awaiting the dates and promotional details of the first Boots Points event for 2023.
We will update this page as soon as details are released.
Reminder: Each Boots point is worth 1p, or £0.01.
Quickly and easily use our Boots Points Value Calculator to work out the total value of your points.
Past Boots Points Dates 
As a guide to future Boots points dates we keep a record of past sales dates and promotions as follows.
2022
Friday 11th November 2022 to Monday 14th November (£10 of points on every £60 spend instore and online).
 2021
In 2021 Boots held 4 main Boots Points events:
Wednesday 17th November to  Sunday 28th November 2021 (11 day event 200 or 400 points on £20+ spend)
Thursday 14th October to Sunday 17th October 2021 (£10 of points on £60 spend)
Wednesday 7th April to Tuesday 4th May 2021 (200 advantage points on any and in-store or online spend)
Monday 12th April to Sunday 18th May 2021 (Boots app promo for instore –

£10 worth of points for every £50 spend )
2020
Boots Points events in stores and online unless otherwise stated.
Thursday 12th November  to Monday 16th November 2020 (5-day in-store only event)
Friday 16th October to Sunday 18th October 2020 (3-day  event)
Thursday 25th June to Monday 29th June 2020 (5-day event)
Thursday 30th January to Monday 3rd February 2020 (5-day event online only)
Boots Points Events to Look Out For
There are various Boots Advantage card points events you can look out for over the course of the year.
Here are some of the most popular:
Boots Triple Points
Boots Double Points
Boots spend £50 get £12 in points
Boots £10 points event – £10 worth of boots Points with every £60 Spend instore or online
200 points on the next shop
400 points when you spend £40+
400 points when you spend £20+
Also, expect Boots Christmas shopping events during the festive shopping season.
Save More on Boots Shopping
Even during the main Boots points sales events, there are little known methods you can use to save even more on your Boots shopping.
You can use both of these methods at the same time for every Boots shop.
Cashback
I use all the best cashback apps for every purchase I make and the savings add up to £100's a year.
Topcashback is rated my best cashback site for 2 reasons, and it's the cashback option I use for Boots purchases.
Generally highest cashback rates on offer
Boost cashback amount if taken as vouchers.
Currently, at the time of writing, they are offering 2% cashback on all purchases as well as much higher amounts on specific departments.
However, note, that cashback rates change on a regular basis so may be different.
If you arent signed up already, you can join Topcashback for free here.
Or if you are not sure check out my Topcashback review and see how I've passive made £600+.
Airtime Rewards for 5% Boots Reward
Airtime Rewards is a great way to save on your Boots shopping because it's consistently been offering 5% cashback reward for a good couple of years now.
You can also combine it with the Topcashback option above.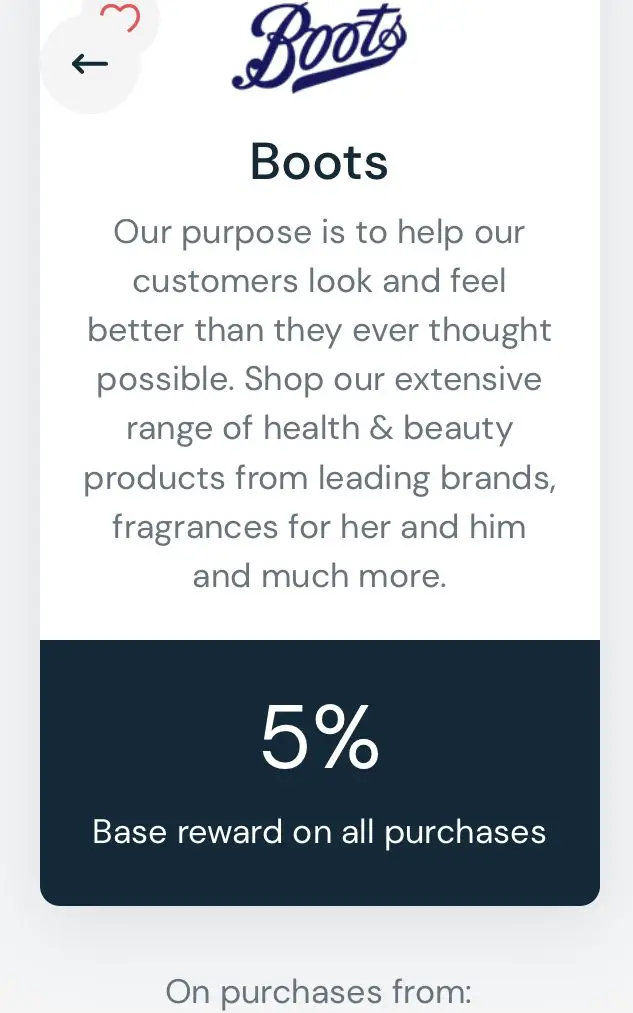 Even though the above image has dated the rewards offer from 2018, Airtime Rewards were still offering 5% rewards in 2022.
In short, you simply link your spending debit and cards within the Airtime Rewards app and every time you use to spend on them at a qualifying retailer you earn rewards you can redeem against your mobile bill.
It's a totally free app and you can even get started with a 50p to £1.50 promo code: HFRVKYUJ
I have the download links on my Airtime Rewards review page.
Current Deals
You can also look out for specific product and department special offers that really stand out.  I check MSE Boots deals.  They highlight some real bargains, which could make good gifts even if not for myself.
Conclusion
If you spot any great Boots Points events we miss please feel free to mention them in the comments.
Hopefully, you can also utilise some of our Boots money-saving tips to save even more.
Again if you have other ways or hacks to make even better savings please feel free to share in the comments.