In my hands-on Chip App review, I look at one of the new breeds of savings apps in the UK.  The key idea behind the Chip App is that it automatically saves small regular amounts from your bank account in a way that you barely notice.
Get started with a free £20 promo code and earn market-leading rates of interest on your money.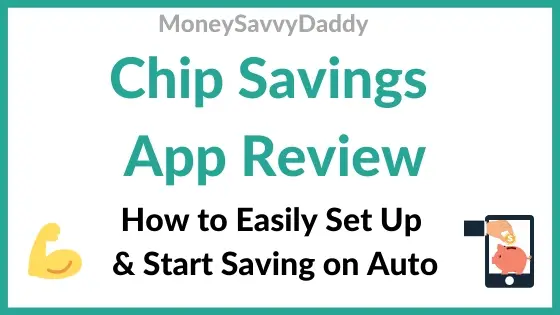 The Chip app claims to use AI-powered algorithms to know how much to take from your account and put into a separate Chip Savings wallet on your behalf.
I've taken a look at how to get started as well as the pros and cons to see who this App might be best suited to and whether our money and data is considered safe.
Chip Promo Code 2023: CHIP-PYE956
To claim a free £20, deposit £5000 into your Chip Instant Access account.
Download Chip App using this promo code link here.  The link will track, but if you need Chip Promo Code: CHIP-PYE956
Open a Chip Instant Access Savings account
Deposit a minimum of £5000
Maintain a minimum balance of £5000  180 days  (while earning 4.84% interest at the time of writing)
Get £20 reward
This chip promo has ended and even though there is still the option to enter a promo code within the app there is no current offer.
Join my free money offers mailing list to be informed as soon as the next promo is released.
In the meantime check out these £100's worth of free money offers.
You can then use your own Chip referral code to refer others and make another £20.
You'll need to maintain a minimum of £5000 for the 180 days.  After that you can make unlimited withdrawals from the Chip Instant Access Savings account.
Your money is safe.   Chip Savings are protected by the Financial Services Compensation Scheme (FSCS) up to £85,000.
You can read here how your money is protected.
If you are looking for ways to make extra cash we also  have lots more ways to make free money from offers (£100's worth).
Chip App Review
(review below needs updating, in the meaningtime check out the up to date moneytothemasses chip review)
The Chip mobile app is effectively a tool to help you save little and often from your current account on an automatic basis.  Hopefully making it easier to save larger sums towards whatever goals you wish to save for in your life.
It is free to use and there are no fees for savers under £2000 via its ChipLite version.
New fee-charging accounts have been added Chip+1 and ChipX which we have covered below.
In this 2 minutes 49-second overview of Chip video below, Alex Latham, Chip's Chief Marketing Office, quickly and simply answers several common questions regarding the App.
The info regarding interest rates is out of date, as the Chip App does not currently pay interest on new customer accounts.
Is the Chip App Safe?
Should anything happen to Chip or Prepaid Financial Services the money is recoverable from Barclays Bank.
However, if Barclays Bank went bust, your money wouldn't be protected because it's in an e-wallet, which isn't covered by the Financial Services Compensation Scheme.
Chip is an electronic money institution.  Much like when we deposit money into Paypal it becomes electronic money.
The e-money issuer with whom Chip is partnered, Prepaid Financial Services,  provides the digital wallet and safeguards the money, which is ring-fenced and held with a major retail bank, in this case, Barclays.
This means the money is safe and not used for any financial activity.
Is Chip Secure?
Chip claims to always act in full compliance with the Data Protection Act.
Our personal online banking details are protected with 256-bit encryption.  Chip doesn't store the banking data.
As in the video I linked to above, the Chip representative stated "data protection was at the heart of everything we do" and that they are committed to never selling that data.
Chip Account Types
The original Chip E-Wallet account is now closing. Chip has new accounts for 2021.
ChipLite
ChipLite is a free account that allows you to save up to £2000 and earn an interest rate of 1.25%.
You can manually deposit funds, but automatic savings are no longer available on free accounts.
ChipLite Account Summary:
1.25% bonus on funds up to £2000
Ability to create and track goals
Unlimted manual deposits and withdrawals
FSCS protection up to £85,000
Chip+1
Chip+1 accounts charge a fee of £1.50 every 28 days and allow you to earn interest of 1.25% on balances up to £10,000.
Chip+1 Account Summary:
£1.50 monthly fee
1.25% bonus on funds up to £10,000
Automatic Savings
Payday Putaway
Ability to create and track goals
Unlimted manual deposits and withdrawals
FSCS protection up to £85,000
Plus Investment Account Features:
Choice of 3 Blackrock funds to invest in – Cautious, Balanced and Adventurous
0.75% platform fee
(Note: When it comes to investing fees can have a huge impact on your returns over the years.  I look to keep below 0.20%, so 0.75 is high by my standards).
ChipX
Chipx charges £3 a month for investment opportunities in a range of managed and thematic funds.  They also advertise offering funds actively managed by Blackrock.
There's also the option to hold your investments in a tax-free Stocks and Shares ISA.  Although remember you can only hold one Stocks and Shares ISA at a time, so always check first which is the best option for you.
There is also a 0.25% annual platform fee.
ChipX Account Summary:
£3 fee every 28 days
Full Range of actively managed funds, e.g Ethical, Healthcare, Clean Energy
Stocks and Shares ISA
Choice of Actively Managed by Blackrock
0.25% platform fee
Priority Beta Access to new features
Automatic Savings
Payday Putaway
Ability to create and track goals
Unlimted manual deposits and withdrawals
FSCS protection up to £85,000
The investing focus of Chipx is on the long term, 5-10 years via diversified funds rather than individual stock picking.
As with all investing your capital is at risk.
If you are interested in the investing side of things also check out the best investment apps for beginners in the UK.
How to Quickly & Easily Set Up The Chip App
It is really quick and easy to get started with Chip and have it start saving your money literally within a couple of minutes or so of opening the app.
To start with simply download the Chip App to your Smartphone.
As you'll be pleased to see, on both platforms for iPhones and Android mobiles, the Chip app is highly rated.
Below I outline the full process to get started which took just a couple of minutes for me to set up and connect my bank card to the Chip App:
Download App
Tap "Get started" – a chatbot box opens up
Tap "Sign Me Up"
Type in my mobile number (to prove I'm not a robot)
Receive pin code via text
Enter code
Enter first and last name
Input DOB
Enter email
Enter postcode
Select address
Agree to terms of use
App verifies ID
Select Bank
Enter debit card number
Chat type message pops up with a recommended first save, which you can stop or adjust
It's really as simple as that.  There's also the option to take a photo of your bank card, which might be quicker, but by habit, I went the old school route of typing the card info in.
How the Chip Savings App Works
Initially, you can get started by just connecting your bank card to the Chip App.
However to fully benefit from the AI algorithm of Chip you would need to connect your bank account.  This allows Chip to see your bank balance and transactions.
Connect Bank Card
Firstly, I connected my debit card.
Choose your bank from the list, for example: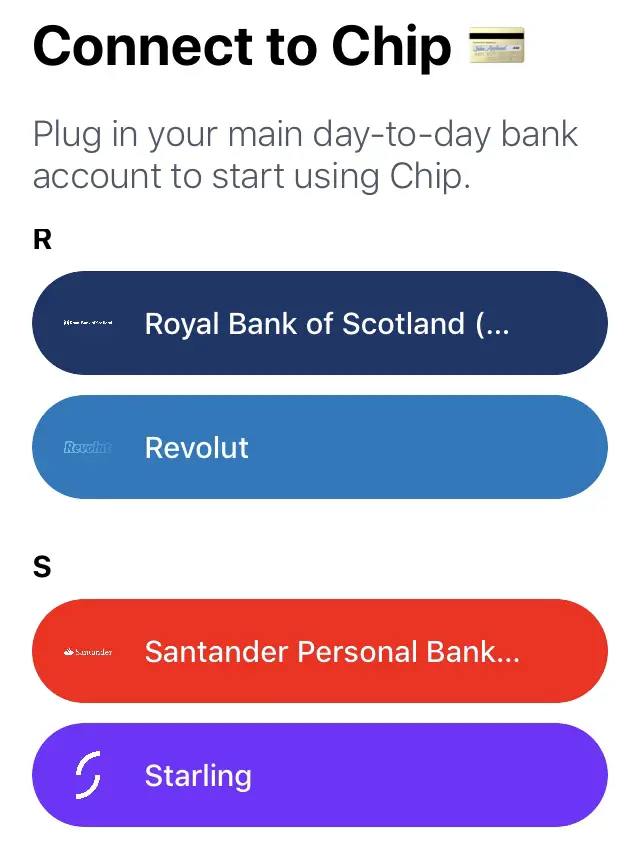 As you might notice, you can connect your bank card to the full range of High street banks and also the new breed of Challenger banks, although they are only an option for connecting via card and not a full bank account connection.
High Street Banks you can connect:
Co-operative Bank
Barclays
First Direct
Halifax
Lloyds
Metro Bank
Nationwide
Santander
TSB
Challenger Banks you can connect your card:
Monzo
N26
Revolut
Starling
Have your banks debit card to hand and choose your bank from the list.
Next, simply enter:
Card number
Expiry Date
Security number (3 digit number on the back of card).
Once you are connected the Chip App will start saving straight away.
The Chip App communicates in a very friendly chatbot like format using emojis and gifs which you can see within the initial welcome messages below: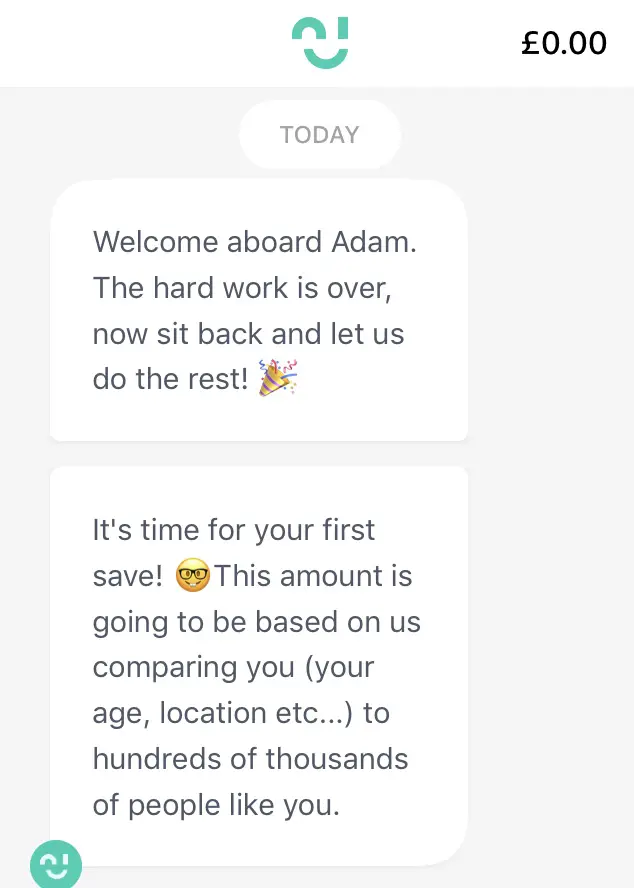 Followed promptly with Chip making your first saving.
As you can see, my first saving was £6.83.
This balance is then scheduled to be transferred from my bank account to Chip by 3 pm.  It may take a couple of days to show up in the Chip balance but you'll see it as still pending.
If I wanted to stop the payment, I just needed to tap the "View" button you can see in the image to the right of the amount.
How to Adjust the Chip Saving
If you click "View" as seen in the above image, you will be presented with the following screen:
Firstly you can see the recommend saving is still pending, so no money has yet moved.
This screen gives you the option of adjusting the suggested saving amount.  Just click "Adjust" and toggle the amount to whatever you are comfortable with.
You also have 2 more options, "Manual Save" and "Withdraw".
The Manual Save option allows you to "turbocharge your savings" and inputting any amount you like.
The Chip Ap will now continue to save from your bank account currently at the rate of every few days.
How to Connect Chip to Bank Account
To reap the full benefit of Chip it works best if you fully connect your main high street bank account.
This way the technology behind the app can analyze your personal account data, the balance, every income, and outgoing.
You can do this by tapping the bottom right "Account" logo and then tapping the "Connected account".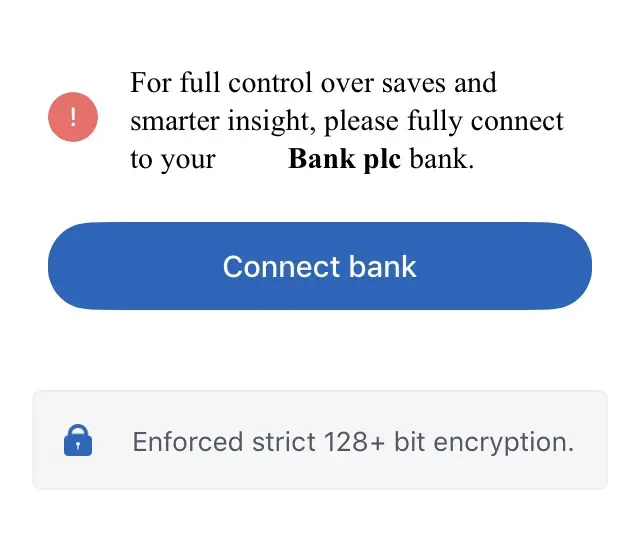 As you can see in the image above, it does this with "Enforced strict 128+ bit encryption.
You will then have to connect to your bank account using your actual internet banking details:
Username
Password
Memorable info (or similar)
Click "Next" and allow the connection, which says it can take a few minutes, and certainly did so for me.
Once connected, tap the correct bank details which appear on the screen and you are finished.
How to Contact Chip
If you want to contact Chip simply tap "Account" and then "Help" and you'll be giving the option to view the help centre or select "Live chat" to start a conversation with one of the team.  Although the responses are not immediate, drop a message and check back for a response at a later time.
What if You Go Overdrawn?
If you have fully connected your bank account (not just a debit card) Chip claims never to take you into your overdraft.  If however, they did, their overdraft guarantee you would pay you £10 and you'd be refunded any overdraft fees.
There's an "Overdraft Saves" option in the Settings, which if you enable will enable Chip to save if you are in overdraft.  Not that I see the point of saving if in overdraft as it kind of defeats the objective of the app, which is to save money and avoid debt.   You would also be responsible for any fees incurred once this is enabled.
Irregular Income
Chip mobile app works best when it can see a pattern to your income and expenditure.
If however, like myself, your income is irregular, Chip believes it can still serve its purpose well.
If you disagree or are uncomfortable with the saving you can simply adjust the saves or pause them.
How to Withdraw from Chip
To withdraw from Chip, click on "Accounts" in the main menu at the base of the app.  Click on your Account type and you will see your balance as well as the options to Deposit or Withdraw.
Click Withdraw, enter the amount you wish to withdraw and click confirm.
Before withdrawing your money, you will need to have entered the following details for the bank account of the card you connected to Chip:
Beneficiary Name
Account Number
Sort Code
Any withdrawals to your bank account you make before 5.50 pm on a weekday will be processed to your bank account the same day.  In other instances, it will be the next working day.
If you don't connect your bank and want a withdrawal to your card, this may take 3-5 days.
Chip Saving Goals
Most people use the Chip App to save up for specific savings goals such as
Holidays
Christmas
Rental or even house deposit
Car
Experiences
You can literally use it to save up for whatever your goals are.
"Goals" are at the centre of the menu navigation at the base of the app.  Tap that and you'll be offered the option to "Create goal"
Tap "Goals"
Create and name Goal
Enter the target amount you want to save up
Select Save allocation
Select End date if you want a continual indication of whether on track
Once set up, the save allocation % will be put towards your goal
You also have the option to set an end date, Chip then gives you indications as to how achievable reaching your goal target is with a Status reading.
PayDay Put Away
The payday put away feature offers you the ability to set a specific saving amount on the day you get paid every month.
It's a great idea and one of the key personal financial rules of success is to Pay Yourself First.
The best time to do this is the day you get paid.   Be that:
The Last day of the month
The last Friday of the month
A custom date
Select an amount to save.  You can change it at any time.  You'll also see a 12-month projection of how much you'll save which will surely act as motivation.
Does Chip Pay Interest?
Chip pays 1.25% interest on balances up to £10,000.  Once your balance is over £2000 there is a £1.50 fee every 28 days to take into account of which reduces the returns quite significantly.
You won't earn any interest on balances over £10,000 up to the maximum saving limit of £85,000.
Related Post: Have you ever wondered how much interest you could earn on a million pounds?
Chip E-Wallet Closing
The original free autosaving E-Wallet account is closing for all customers from 21st September 2021.
If you have an existing E-Wallet account it's important to close it as soon as possible because from 20th July 2021 Chip will start charging an admin fee of £5 every 28 days.
This is one of the reasons that put me off these types of apps as I'd much rather save and forget, than forget for months and realise I've incurred charges because of significant changes they have made to how everything works.
Yes, they send email notifications, they can easily be missed, especially if unsubscribed or signed up via email you barely check.
Chip App Pro's and Cons
Advantages
It makes saving easy for those people who generally struggle to save anything at all.
It's quick and easy to use.
Disadvantages
I'm a big advocate for getting your money to work for me as soon as possible, even in a small way.  Otherwise, the value of your money is effectively devaluing at an interest rate below inflation let alone 0% interest.
However, if it's money you wouldn't have even saved if it was not for the App you'll still be ahead.
You could, of course, transfer the money to an interest-paying account at a later date.
E-money funds are not covered by the Financial Services Compensation Scheme, which we would mean they would be lost if Barclays went into administration.
Which Is Better Chip or Plum?
Plum is better for most people because it offers free autosaving, so you can benefit no matter how small the amounts you save.  If you can start saving with a lump sum, Chip+1 will be better because although it charges a small fee this is more than offset if you can save over £2000 or more.
Further Information
Chip has a very comprehensive FAQ section within the App itself.
You can also find more info about the Chip Mobile App, including faqs on the official website, where there is also a Chip Community forum where you can keep up to date with the latest developments or discuss any issues.
Conclusion
The Chip App certainly makes saving easy & fun (if you like memes and emoji's etc ) for those people who generally struggle to save anything at all.
However, not paying interest is no incentive to keep your savings with them, so you may be best off periodically moving to a savings account that does.
Have you tried the app, or interested in trying it?
Feel free to let me know in the comments what you think and if there are any better options out there too.