Webull is an American stock trading app launching in the UK and is currently offering one of the highest free money offers right now and all you have to do is sign up and deposit $5 to buy $5 worth of stock to be rewarded with 20 shares worth at least $3 each, so $60 in total which works out at a minimum of £50 profit.
However, it could be much more because each of the reward shares could be worth up to $2000 each!!
Admittedly, the odds of getting  $2000 share are slim, but there's also the more likely possibility of getting $10 to $100 shares as rewards too.
Just for the minimum $60, this offer is well worth doing and you can easily convert your $'s to £s as part of the process for a profit of £50+
Read on to find out how to easily claim your $60/£50 profit and how to make even more by referring up to 10 people for a possibly £550 (inc your own sign up bonus).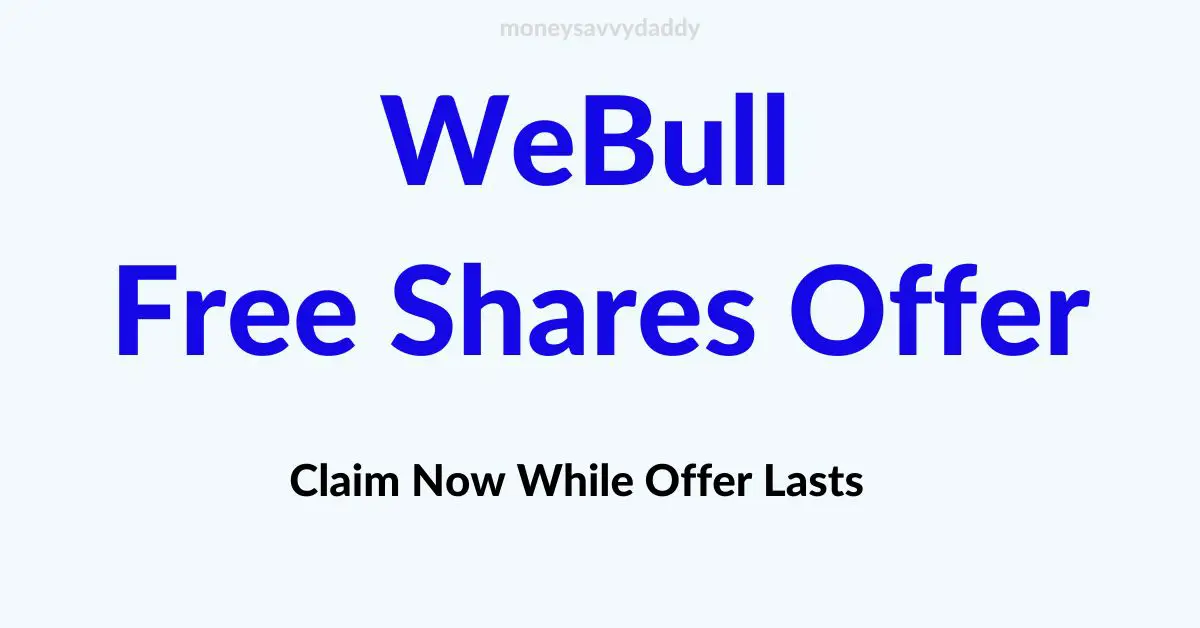 Disclaimer: This post may contain affiliate or referral links that earn me some commission if you sign up through them.  However, this is at no extra cost to you.  Read more here.
How To Claim Your Free Shares on WeBull
Sign up via Special Invitee Referral Link
Complete signup questions (name, address, mobile number, and ID )
Await account to be verified and opened (a couple of hours)
Deposit $5 (for first 10 free shares)
Buy $5 worth of stock (for next 10 free shares)*
Claim Free Shares from "Menu" My Rewards"
Refer friends and family for another 20 free shares for each one.
I bought $5 of the Dow Jones which is one of the main American stock markets, you can see below as an example of how, whether you want to do the same of choose another index or stock of your choosing.
Your free shares can be sold and claimed within a few days and you can cash out.
If you have any issues use the screenshots and instructions below to complete any of the steps after the signup.
How to Deposit on WeBull
Depositing on WeBull is straightforward once you know where to look.
Below I've highlighted with screenshots exactly where you need to tap to quickly and easily find the deposit page.
To make your first deposit on Webull tap the middle Webull menu icon as highlighted in the screenshot below with an arrow pointing to it.
This will take you to the screen you see below where under Funds you can see the option "Transfer" circled in yellow.
Tap "Transfer" and this will take you to the Transfer menu for depositing and withdrawing funds.
Simply Tap or Click "Deposit" as highlighted below and you'll then easily be able to make a deposit to qualify for the offer.
How To Withdraw From WeBull
Withdrawing from Webull is much the same as depositing, you just select the option to "Withdraw" and enter the amount you wish to withdraw.
Simply:
Select the Webull icon  Menu option
Select "Transfer"
Select "Withdraw"
Enter the amount of funds you want to withdraw
How to Sell Stocks on WeBull
Select the stock you want to sell from your list of stock assets.
In the screenshot below I highlight that I will select Apple shares
Upon selecting the asset, you'll be taken to the assets pages where you can opt to buy or sell.
Select the red sell button

The sell details should be automatically filled with the full amount of your holding as you can see in below screenshot I had 0.72 of a share and opted to sell all.
To adjust the amount you want to sell simply use the + and minus options to change.
Select sell to confirm, simply tap the large red sell button at the base of the page.
As you can see, the sell transaction fees are minimal, just 0.02 cents in this instance, there are no large minimum fees eating into your profits.
Refer Friends
Once you've signed up and completed the offer start making more by signing up friends and family.  Even just signing up your partner would be another $60 each to a household, as you'll both get a reward.
You'll get a reward for each friend who completes the sign-up up so get referring people for more.
If you have any questions feel free to ask me anytime.