Turn your smartphone into a money-making device downloading a range of apps that will pay you!
If you have an iPhone or Android smartphone you can literally make money wherever you are.
For example, if you are out and about perhaps fit in and complete some Mystery Shopping like tasks such as taking a photo of a shop display or billboard.
If you're sitting at home or as a passenger in a car or on a train, maybe complete a couple of easy surveys or get paid for completing levels in an app game.
You also just get paid for walking and purposely not even using your phone!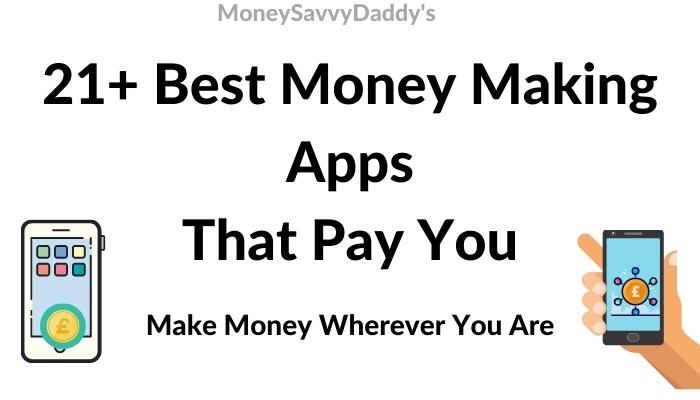 Apps That Make Real Money
I've split the best money making apps into various categories so you can focus in on the most relevant apps for you right now.
Individually they may not earn you a fortune, but collectively they can earn potentially earn you £100's a month (in some cases lockdowns permitting).
I've included download and review rating links so you can click and see the very latest opinions on the app, as well as download those you want to start earning money from.
It would be easy to include more options, but I've focused only on the best paying apps, therefore you can concentrate your efforts towards the highest earning rates.   I've also considered the reputation of the company, reviews and real-life reports of people using and reporting earnings online.
Disclaimer: This post may contain affiliate or referral links that earn me some commission if you sign up through them.  However, this is at no extra cost to you.  Read more here. Thank you if you do use them as they help to support my blog.
What Are the Best Apps To Make Money?
My intention with this post is to provide only the best apps to make money.
However, individually the best apps for you might be different to someone else.
For the record, my favourite is No 18.
In part, this will likely depend on things like where you live and the number of local task opportunities available.  With survey apps, some tend to offer more opportunities to certain demographics of people.
Also, some apps may fit more naturally around some peoples daily routines than others.  For example, if you are often out and about shopping anyway, or take a lunch break in a city centre, its easier and less time consuming overall to fit in a 10 minute Mystery Shopping task, compared to someone who would have to get into town in the first place.
Easily Start Making Money With Online Apps
To make it super easy for you to get started earning money with these Apps I've included download links from both the Apple App and Google Play stores.   Feel free to bookmark this page and come back to complete the downloads.
I've also included the review ratings, so you can see at a glance which Apps are more highly respected in terms of actually making money for the users.
Of course, I've left out any sub-par apps with questionable issues so you can just focus on the best money making apps in each category.
Combine The Money Making Apps Earning Power
These money making apps work better as a collective.  No one individual app is outstanding above all others.  It's best to check a few and cherry-pick the best opportunities that each one offers at a particular time.  It will vary.
Let's say you head into town in order to complete some specific paid tasks.  If circumstances allow you could maybe complete a couple of surveys on the commute.
Best Tasking & Mystery Shopping Apps
Many of the jobs offered on Task Apps are very similar to those that full-on Mystery Shopping Companies offer, but typically on a smaller scale.
These mini-tasks are ideal if you are often out and about, perhaps on a lunch break and within the vicinity of lots of food and retail outlets.  Especially if in town and city centres, where you can expect more job opportunities.
Often the tasks take just 5-10 minutes and earn a good few quick £'s.
Do bear in mind with lockdown restrictions, there might well be fewer task opportunities than normal times.
However, if you are in the habit of using and checking these options often when more jobs become available you'll be more likely to take advantage of them before they are filled.
Even with lockdowns and restrictions, I've seen people report earning £100+ a month.
#1 BeMyEye (Formerly Task 360)
A popular task/app which was formerly known as Task 360, but taken over by BeMyEye is 2018.
As the name suggests BeMyEye pays you to take photos of shop displays and counters.   It's paying you to effectively act as the eyes in the stores.
There's usually, a large number of jobs available which it highlights are nearby based on your current location.  Although plenty of jobs pop up, they can go quick.
Once you accept a job you have a set time in which to complete it.
Tasks are generally quick and easy to complete.  For example, taking and submitting a photo or uploading a receipt.
Expect to earn £4-£6 per task, but they can typically range from £1-£12.  Each task typically takes 5 to 10 mins so the earnings rate is pretty good.
BeMyEye also awards you with experience points referred to as XP points for the more tasks you complete or friends you invite.  As your total XP increases, you move up levels.  You can also lose some XP if for example you take jobs on but don't complete them.
The higher level you are, you are rewarded with longer times to complete missions, book more missions at a time and request more frequent withdrawals.
You can also earn £1 per friend you refer to the app.
Optional BeMyEye Referral code: oddg9ez (for UK residents only) will earn you an extra £1 after completing your first instore mission.
Minimum withdrawal is £5 via Paypal or £20 to your bank account.
Download & Review Rating:
2# Field Agent
Field Agent is another Mystery Shopping like app, similar to BeMyEye.
After downloading you will have to answer a few questions to before you can get started.
This app offers a range of tasks such as taking photos of shop displays or counting products on a shelf.
The tasks are generally pretty quick and easy to complete and you can expect to earn £4-£10+ a time.
Download & Review Rating:
#3 Roamler
Roamler is Mystery shopping type app for which you'll need to get an invite in order to sign up and take part.  You can look for these online.
During the sign up they let you know what is required from you as a Mystery Shopper.
You will be given instructions for a job and then asked to complete a short questionnaire to make sure you understand the task correctly.
Initially, you will have to complete a relatively easy test and do 1 task for no pay before they will open up the paid opportunities to you.
Roamler typically offers a good number of job opportunities and most tasks typically take just a few minutes to complete.
Thereafter you earn XP points per task and the more points you have the more jobs will be available to you.
Pay is typically around £2-5 a task but they only take a few minutes and there may be few available in an area at any one time.   Occasionally there are higher-paying tasks available in the £10-£20 range.
You get paid via Paypal once you have a minimum of £5.
Download & Review Rating:
#4 Mobeye
Mobeye is a typical task app like those above where you will be required to check retail promotions and stock levels.  Submit photos of your findings and answer questions.
The app also has added options for answering surveys to boost earnings a little more.
Download & Review Rating:
#5 GigWalk App
Gigwalks offers you quick jobs, known as Gigs, that you can complete based on your current location.  Often the Gigs will be brand and retail display related with you acting as the eyes reporting back on visibility and accuracy of details on display etc.
When you spot a Gig click to Apply.  Upon acceptance, you'll be your instructions for completing the Gig.
The customer that posted the Gig reviews your submission before approving.
There's a wide range of possible Gigs ranging from £3 upwards, to possibly £70+ according to some reports. Time input for each task can also vary accordingly.
How many Gigs are available will ultimately depend on whats opportunities are available in your specific area, but it's one to keep an eye to see what pops up.
Once your submitted Gig is approved it is automatically paid to your Paypal account.
Even with lockdowns and restrictions in place, one reviewer on Google Play October 17th stated they had reached level 5 and made over £1000 from January to October 2020.  So shows even in restrictive times it can be a good money earner in the right locations.
Download & Review Rating:
#6 SmartSpotter
Become a Spotter with this Mystery Shopping App SmartSpotter.
See the jobs or "Spots" as they call them available on a map in your local area.
Tasks range in value from £5 to £15, perhaps more if you are lucky.
Earnings are paid into your bank account.  You can request a free withdrawal once you have £20 or more.  You can also request lower amounts, but you'll incur a 50p fee.
Download & Review Rating:
#7 Shepper
A no skills task app, where you act as a "Shepherd" for the app
Check the map for job opportunities in your current location.
Tasks include such things as checking: Supermarket displays, Bus Stops, Billboards and Car Parks and all kinds of other various mini-jobs.
How much you can earn will totally depend on what's available in your location.
The app is considered easy to use and even directs you to the job location.
Earnings are paid straight to your bank account.
Download & Review Rating:
Get Paid to Play Games
#8 Swagbucks
Swagbucks is a popular way to earn a few extra pounds by completing all kinds of tasks that I've covered fully in my Swagbucks UK Review.
Although there are many ways to earn on the website,  via the app it's mainly surveys and cashback.
However, one of the ways (amongst the many) Swagbucks offers rewards is for downloading and playing apps.  Some of the highest rewards are simply for reaching certain levels on fun game apps.
So even though not directly via the app, you could earn Swagbucks by playing the app games.
You can withdraw rewards as cash via Paypal, or at slightly better rates via gift cards, including Amazon.
I've also covered 3 more options to get paid playing games that you might be interested in.
Best Survey Apps UK
Put the survey apps in their own folder on your phone.
Whenever you get some spare time, hit them in order of your top-earning apps first.
I've excluded survey apps that had too many complaints about buggy performance and surveys which can be extra annoying if a survey closes halfway through you doing it, as well as apps that have set the cashout limit too high (with exception of YouGov).
What's the best survey app for you might not always be best for everyone, so move them around when you notice which is earning you the most money.
I've tried to put the below survey apps in the best order to get you started, but overall, they work better as a collective so I would suggest downloading them all if you are going to get into the habit of doing them.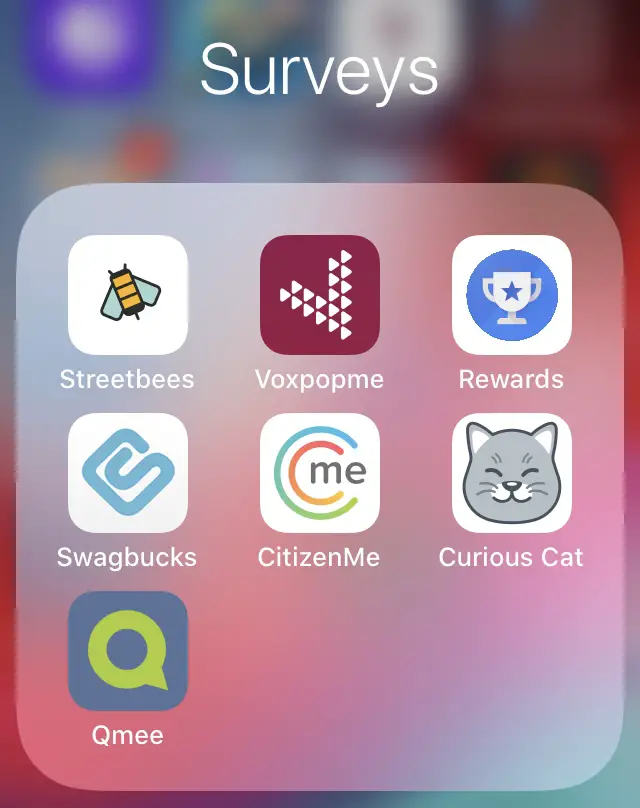 #9 Streetbees
Streetbees introduces a bit of fun into what is essentially a bit of a mix between a task and survey type app.
You sign up to become one of their "bees".
It's not primarily a task app, but it does have some jobs available that you might be able to pick off if you are out and about.  Such as taking a photo of purchases or of a food menu and completing a short survey,
It also offers surveys on its own, which it calls "Stories".   Expect these to take 2-5 minutes and to be a mix of opinion polls, photo and video responses.
Expect to get paid £1-£5 per task or story.
Pays fast with no minimum payout and you can withdraw via Paypal.
Download & Review Rating:
#10 Voxpopme 
Voxpopme is a paid video survey app.   It's a very clear and easy app to use.
Questions appear in your stream and you'll see clearly what's involved, so choose to do the ones you deem worthy of your time.
Instead of typing your answers you simply record a video of you answering the questions.  If anything it's quicker than typing and if it's new to you you will soon get used to it.
Your videos answers will be short, generally 60 seconds or less.
Although the pay per video is quite low, they are quick and fun to do.
To unlock more video surveys complete the short non paying surveys in your stream.
Voxpopme minimum payout is £10 which you can withdraw via Paypal.
Optional Referral Link for an extra £1 reward when you submit your first approved video response.
Download & Review Rating:
#11 Citizen Me
Get paid for answering short surveys about yourself and your opinions.
They say you will remain anonymous.  All your data and responses are held on your phone, so you are in control of that data.
Typically expect to earn in the 10p to 50p range per survey with higher-paying options available every so often.
With no minimum payout limit, you can withdraw earnings instantly to your Paypal account.
Download & Review Rating:
#12. Qmee Surveys App
Qmee is a popular little app that pays you for surveys as well as offers a range of other ways to make a little extra, including cashback.
You can boost earnings outside the app by installing the Qmee browser extension and getting rewarded for online searches.
Payment can be requested instantly to Paypal, with no minimum limit on the amount you can withdraw.
Optional: Referral link for an extra 50p on joining.
Download & Review Rating:
#13 Curious Cat App
Curious Cat rewards you for quick and easy surveys.
They pay in points, typically 20- 200 points per survey, with a 100 points equalling a £1.00.
You can redeem your points via Paypal once you have 100 points.
Download & Review Rating:
#14 Google Opinion Rewards
A fairly low paying app based on the low number of opportunities available.  However, it is a popular one and reliable too with it being by Google.
Surveys are generally very quick paying out about 20p to 60p a time.
The minimum payout is £2.00
Download & Review Rating:
#15 YouGov App
YouGov is a well known public opinion company.  You may have heard of them in reference to national polls.
A popular survey app that should provide you with money earning questions daily for which they will reward you in points.
The only downside is that the minimum payout is £50.  This could take a long time to cash out, especially if you don't get in the habit of doing it often.
Download & Review Rating:
Best Receipt App
There are various reward receipt apps, but here I'll just highlight the current best one.
#16 SnapMyEats
If you buy 2 items of food anywhere, whether eating in somewhere, a takeaway or even buying food items in a supermarket and taking them home to eat you can scan the receipt and earn money towards Amazon gift cards.
You get £1 per 3 receipts and can earn up to £5 a month.
It's up to you whether you then combine with scanning the same receipt on the other best receipt apps to earn extra money too.   I personally leave receipts by the kettle and quickly scan them if ever I find myself just waiting while it's boiling for my cuppa.
Passive Income Apps
Passive income is one of the best forms of income no matter how small, simply because once set up you continue to earn with no or absolute minimal effort.
#17 Slidejoy (Android only app)
Slidejoy is a free lock screen app that pays you for advertising and displaying trending news on your Lockscreen.   You care basically renting them your lock screen.
You can still use your phone and lock screen as normal.  There are no extra for viewing or engaging with any of the content so you can totally ignore it and not interact with it at all.
Rewards are in carats and can be redeemed as cash via Paypal as well as plus other options including free amazon gift card codes and Google Play.
#18 Airtime Rewards
Airtime Rewards is not active money earning app as such, but if you spend money, like most people on any form of bank debit or credit card that you link to the account it can potentially earn you passive income towards paying off your mobile phone bill.
The best thing is, you simply set it up with your bank cards and forget about it.  If you then go shopping at any of its wide range of partners, you will automatically earn the rewards.
This could be anything from a Butlins holiday, or shopping at Boots, Morrisons or Primark etc.
Taking Morrisons as an example, at the time of writing (November 2020) I was getting 10% cashback on spending over £30!   What awesome value if I'm shopping there anyway.  Even at 1-3%, it's worth it.
I have a referral code to get you started with a bonus.  See my Airtime Rewards Review & Promo code post for more info on how it works.
Promo Code: HFRVKYUJ for 50p to start you off and an extra £1 if you use it within 7 days.
#19 HOLD APP
The HOLD app might seem as if going against the grain for this best money making apps page because it actually rewards you for not using your phone!  This is fair enough if it stops time-wasting activities when you aren't in money-making mode.
There are times we all get distracted by our phones when really we should be focusing on something else.  Well with the HOLD app we can even get rewarded for such times, perhaps when you need to study.
You'll be rewarded 10 points for every 20-minute interval you avoid using your phone.
Points can be redeemed for coupons for things like cinema tickets.
Plus not only will you be rewarded, but you'll also be more likely to achieve whatever else it is you need to focus on.
Download & Review Rating:
Best Get Paid to Walk Apps
These might not pay much, but if you can simply download them and forget about them and you'll effectively be earning a passive income.
#20 Sweatcoin 1900
Download and get paid for walking.
You can also boost your Sweatcoins earnings by doing the quick daily bonus options and perhaps referring friends.
Don't expect to earn much, but because it's so passive and doesn't seemingly have any negative effect on my phone I've included it.
Consider using my Sweatcoin invite to get you started.
Best Selling Apps
When it comes to making money it's easy to overlook the obvious, which is – sell stuff you no longer want or use.
Quite often this might net you more money in a quicker time than many of the apps above.
Selling items you no longer use is a great habit to get into.
As well as the best options below, if you have any unwanted clothing to sell I have a post specifically on the best clothes selling apps.
Some of the clothing apps are more specialised and should get you higher prices than these more general selling platforms.
Do you still play your old DVDs? If not, check out the best sites to sell old DVDs for cash while they still have some value and declutter in the process.
#21 eBay
Whether selling your own unwanted items to raise some cash or perhaps sourcing to flip for a profit, eBay is an ideal money-making app.
There are many more selling apps that are suited to specific niches.  But eBay is the most well known all round on which you can buy and sell anything.  So if you are new to this it's a great place to start.
Download & Review Rating:
Bonus Option:

Free Shares Apps – (possibly £100's)
Did you know there is a range of fee-free share dealing apps which offer free shares as new customer sign up incentives?
While they are not an actively ongoing method of making money, it's still possible to make a few £100's if you are lucky to be given the higher value shares.  Also once signed up you have the option of referring friends and family and both be given free stocks!
If you are new to investing and worried about getting started, don't be.  The apps are all really easy to use and in some cases, you only need to deposit a £1, so what can go wrong?  Not much.
If you are totally new to investing you might also be interested in checking out the best investing apps for beginners in the UK.
Check out my full reviews for more info:
Claim a freetrade free share worth £3-£200
I've also covered more free stock options in my how to get free shares in the UK post.
If you are fortunate enough to get some stocks that pay dividends it could be the start of a new source of ongoing passive income.  I love receiving dividends no matter who small they start out.
Which Money-Making Apps Pay Instantly?
If you are looking for quick payouts of your earnings these apps payout instantly.
GigWalk (Task App)
Shepper (Task App)
Streetbees (Surveys)
Citizen Me (Surveys)
Qmee (Surveys)
How Much Can You Make a Month With These Apps?
How much you make will totally vary from person to person.
However, assuming normal (non-lockdown times) it's feasible to make £150-£200 a month from the tasking apps alone.  Perhaps more if you are in the right place at the right time to take advantage of the higher-paying opportunities.
Obviously, if you live in the countryside and away from towns and cities, it's going to be much more difficult to make that amount.
With survey apps, you could aim for £50 a month.  People who dedicated time to the best survey sites, as well as the above list apps, aim for £150-£200+, so £50 should be achievable from apps alone.
Other Ways to Make Money Via Your Phone
Check my best ways to make money from home post or more methods that you might be able to utilise from your phone.
For example, if you already make money from Matched Betting (not gambling) you could consider incorporating easy opportunities that can be completed anywhere without much thought, such as daily casino spin offers into your routine.
There are also some extra options in my free Paypal money post, all of which offer payouts to a Paypal account.
The final option is to make free money from sign-ups, of which we have put together a list totally £100's.
Conclusion
Whether out and about or at home, maybe even in front of the TV, there are a variety of ways to make money from apps on your smartphone.
Download as many as you want and consider putting into folders as I have shown above.
What's your favourite money-making app?
Have I missed any good apps for making money?
If so, feel free to let me know and good luck! 🙂