Have you seen the option to pay with Clearpay and wondered what it is and whether it's worth considering?
We take a look at how it works as well as the pros and cons of using it.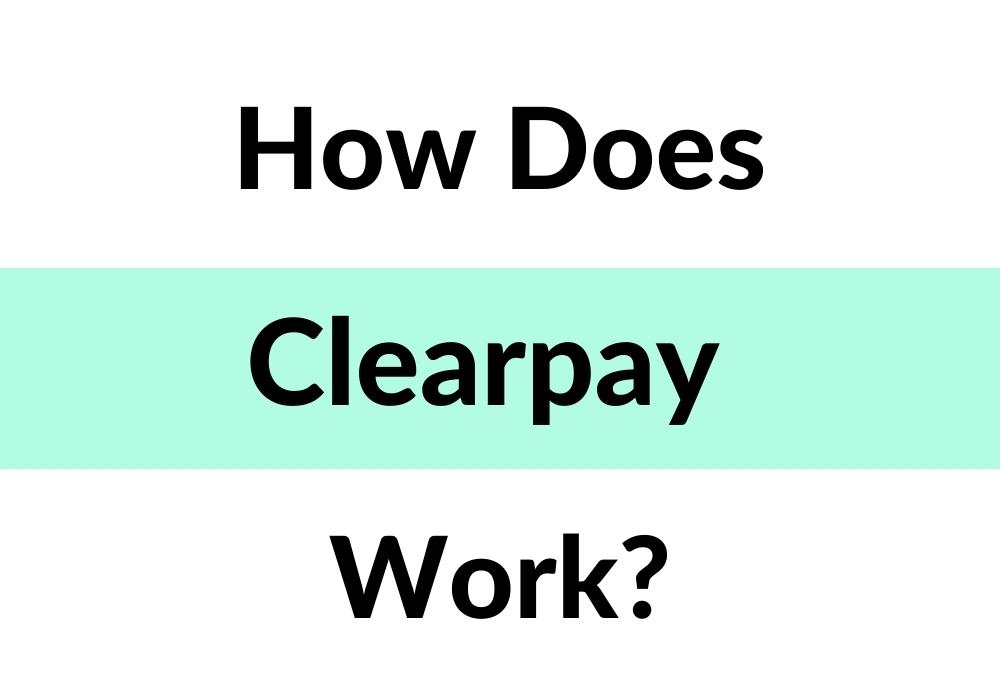 What Is Clearpay?
Clearpay is a buy now pay later service which has partnered with a large number of well known UK retailers.
Clearpay is very simple in that it offers just one type of payment plan which we cover below.
To use the service you need to be over 18 years of age.
How Does Clearpay Work?
Choosing the Clearpay payment option at the checkout allows you to split your total bill into 4 equal payments, so 25% each.
The first instalment is paid off immediately.  The following 3 payments are taken from your bank account every 2 weeks.
First payment is taken at the time of purchase
2 weeks later the 2nd 25% instalment paid from your bank account
4 weeks later 3rd instalment paid from your bank account
6 weeks later the final 25% paid from your bank account
Effectively via choosing Clearpay on the day of your store purchase you pay the retailer the first 25% of the checkout total.  Clearpay pays the retailer the remaining 75% of the balance. 
You now owe clearpay the remaining 75% and therefore have to pay Clearpay back that money in three remaining 25% instalments over the following 6 weeks.
How To Use Clearpay
You can only use Clearpay at retailers with whom it is partnered.
When you go to checkout you will see if the option is available, as per the example in the image below.
When you choose the clearpay option you will be presented with the following screen.
Whether you want to log in or set up a new clearpay account simply enter your email address and then click "Continue" to proceed.
If you are new to clearpay you will be asked to enter your mobile number in order to create your account.
On entering your mobile number and clicking "Continue" you will be asked to verify your mobile number by entering a 6 digit number sent to your phone.
Next, you will be asked to enter the following details:
Legal First Name
Legal Middle Name
Legal Last Name
Date of Birth
Residential Address
You will also be asked to set a password for your account.
The next step will be to confirm you wish to pay the first payment due today, as in the following image: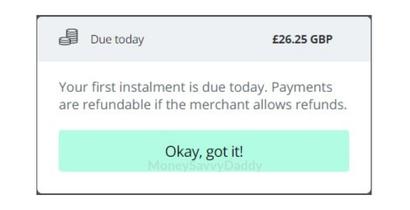 Click to confirm, and depending on where you are shopping and your purchase value you will see something like the next screen: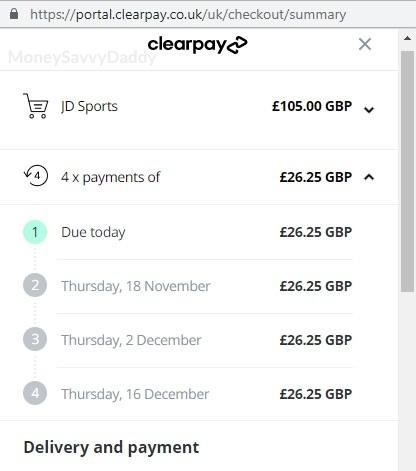 In the above example, you can see the checkout total at JD Sports is £105.00.
Clearpay allows me to split this amount into 4 equally sized payments of £26.25 each.  If you click this it will show you the split of the payments and the dates they will be due.
First payment 4th November (date of purchase
Second payment 18th November
Third payment 2nd December
Fourth and final payment 16th December.
Finally, lower down on the same screen, as well as confirming delivery details and address, you will need to input payment details.
You can use either a debit or credit card.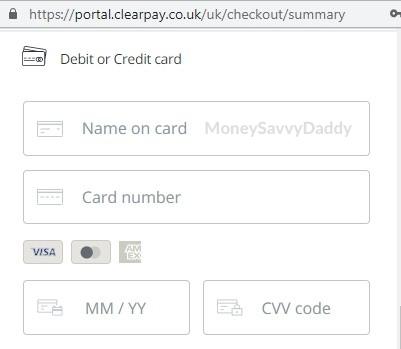 The payment details you enter will be the source of funds from which your first and subsequent 25% payments to Clearpay will be taken.
You have the choice to use a debit or credit card as long as they are either Mastercard or Visa.
Payments by bank transfer or prepaid cards are not allowed.
Finally, tick the box if you agree to the current terms and conditions and click "Review My Order" for the final double-check and to complete the purchase.
Who Accepts Clearpay
Clearpay is accepted at over 3500 retailers in the UK.
Some of the most well-known retailers include:
JD Sports
Boohoo
Foot Locker
ASOS
Marks and Spencer
PrettyLittle Thing
Urban Outfitters
Down Your High Street
LOOKFANTASTIC
Nasty Gal
The Hut
Hi Smile
iWOOT
Missy Empire
BoohooMan
Get Trend
Smiggle
Zavi
and thousands more.  You can find all stores here.
How Does Clearpay Make Money
The most obvious way clearpay makes money is from the late fee charges on customers who don't make their repayments on time.
However, what if everyone paid back on time and clearpay does as it says and encourages everyone to pay back on time.
Much like credit cards, clearpay will be charging the partnered retailer a small service fee for every transaction.  The more people able to keep using clearpay the more small fees clearpay will be able to collect.
How Much Does Clearpay Cost
Clearpay doesn't charge you any interest for using it and is free to use, as long as you meet the repayments on time.
Clearpay Fees
If you fail to make the required payments on time you will be charged a late fee.
For whatever reason, if you have not made your payment by the due date and your automatic payment doesn't go through, you can expect to be notified by Clearpay and to choose another option to make payment.
You will be given until 11 pm the following day after the missed payment in which to complete the owed payment.
If you fail to do so you will incur the late fee of £6.
If you still haven't made the payment within the following 7 days you will be charged another £6.00 late fee.
Late fees are capped to a maximum value of 25% of your purchase value up to a maximum of £36.
So for example, if you made a purchase of £50, the maximum fees you would incur would be £12.50.
For a purchase of £180, the maximum charge in late fees would have to pay a maximum fee of £36 which is the capped limit, which is less than the 25% value of £45.
Hidden Cost of Using Clearpay
The hidden cost of using clearpay and all the other forms of buy now pay later is that you may well end up spending more than you can currently afford.
They enable impulse buying even if right now you don't have the money to buy the item outright.
Compare this to someone who saves up to buy in full the items they truly want.  In some instances, just a slight delay in purchasing or the feeling of having worked a bit harder to save up will make you a little warier of how easily you are willing to part with your money.
Is Clearpay Legit?
If Trustpilot reviews are anything to go by, customers of clearpay seem very happy with the service.
Scoring an excellent 4.9 out of 5 and with 95% of reviews rating it Great to Excellent it seems users are very happy with the service.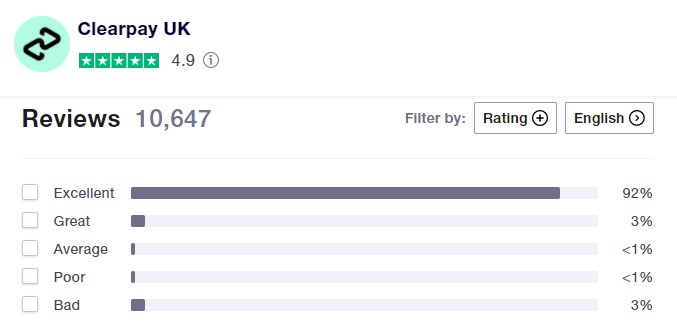 Is it Worth Using Clearpay?
The aim of clearpay is to allow some people to make purchases which they others wise might not be able to afford in full at the current time.
It is a form of debt.  All forms of debt are a risk.
If you can't afford to make the repayments on time you will start incurring quite hefty fees in relation to the value of the product.
Don't forget, even if you think you can afford the instalments, do you have extra money available elsewhere to cover any potential unexpected expenses.
Check out my post on how much emergency fund do you need to save.  It's one of the key pillars in shoring up your personal finance foundation and building upon a life away from all forms of consumer debt.
Clearpay V Klarna
Clearpay simply offers one payment plan which splits your bill into 4 equal payments, the first of which you pay on the day of purchase.  It charges no interest but does charge late fees.
Klarna offers 3 different payment plans, pay later, pay later or pay in 3 instalments.  Klarna is interest-free and will also never charge a late fee.
The Klarna "Pay Later" option is a popular choice for shoppers who want the option to buy clothing and have the time to try the items on before being charged anything.
Clearpay is a more favoured option for shoppers who want to spread the cost of repayments over 4 smaller payments compared to the Klarna 3 repayments option.
Clearpay v Zilch
Zilch (explain how different, digital MasterCard) has the advantage in that it offers you the option to gain rewards which can be put towards purchases if you pay for the full cost of the item upfront.
If you don't intend to use that option and purely want the Buy Now Pay Late option, then Clearpay is the more straightforward option to use at checkout.
You can read more here about how Zilch works as well as claim an instant £10 at no cost and with no money down.
Zilch can be used as a payment option at a lot more retailers including the likes of Amazon, Next (including the popular Next Sales Dates) and John Lewis sales.
Frequently Asked Questions
Can Clearpay Affect Your Credit Score
As you are borrowing money each purchase you make through Clearpay will appear on your credit report.
If you ever miss a payment or don't fully repay a payment your credit score will be negatively affected.
This is turn could well affect your future ability to get larger loans and a mortgage for a house.
If you are using any forms of debt, even if paying them off on a regular basis it is always a good idea to keep an eye on your credit score if you ever intend to get a mortgage or remortgage your current deal to a much cheaper one.
You can read more at Which! here, where they quote Experian as saying:
>"if used properly, these schemes won't hurt your credit rating, and in some cases could even strengthen it."
This is because if you use the service responsibly and pay the money you borrow back on time, this shows other possible lenders your good behaviour and they will have more confidence you will pay their debt back should they be willing to lend you any money.
Do You Pay Upfront with Clearpay?
When you use Clearpay you pay the first 25% upfront.  The remaining balance is paid 25% a time every 2 weeks thereafter.
How Many Times Can You Use Clearpay?
If you are using clearpay for the first time you will only be approved for one order.
Your payment history goes towards building your eligibility to pay for multiple orders at a time in the future.  So if you keep up repayments on time clearpay will more likely approve you for more orders at a time.