Have you heard of Zilch the no interest, no hidden fees buy now pay later app?
We take a deeper look into how it works, how it makes its money and whether it is legit.
Plus there are details of an easy no money down free £5 to claim.  Literally takes a few minutes.

Disclaimer: If you use my refer a friend link I will also receive a reward at no extra cost to you.  Thank you if you do use it as it helps me to continue building the site.  No financial advice is intended.   Always do your own research.  The information below is subject to change at any time.
I discovered Zilch after taking advantage of the no money down  Free £5 refer a friend deal which only took 10 minutes to complete.
If you'd like to take advantage of that offer now, here's my Zilch referral link.
What is Zilch?
Zilch is a London-based Buy Now Pay later app that allows you to pay off your purchases over time.  Repayments are split into 4 payments over 6 weeks.
It charges no interest and has no hidden fees.
You pay Zilch in interest and charges, hence the name.
Zilch takes into account what you can afford by linking to your bank accounts with open banking.
You get a virtual Mastercard to spend with, which comes with the same protection as any other credit card would offer.
How Does Zilch Work?
Zilch gives you the use of a virtual MasterCard for which you can select a store to make a purchase.  This allows you to pay for goods with the payment being split into 4 equal amounts paid over 6 weeks incurring no interest or hidden fees.   The first payment is taken at checkout.  Subsequent payments are taken thereafter every 2 weeks.
Zilch links to your bank account via open banking, assessing your affordability and letting you know how much you can spend on your next shopping trip.
Anything you then buy with your virtual Zilch Mastercard (see image below) will be split into 4 payments, over 6 weeks.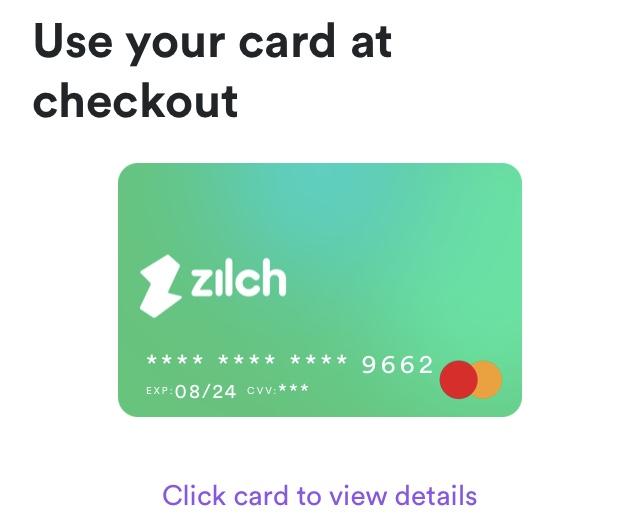 When you pay for your shopping, the first 25% of the value of your purchase is paid towards the balance, plus any extra amount you have used via the Zilch Boost feature.
After two weeks, another 25% is paid and so on every 2 weeks until the balance is cleared.
Zilch works by splitting payments as follows:
1) You pay 25% at checkout, plus your Boosted amount if you have used Zilch Boost
2) Pay the next 25% after two weeks
3) Pay the next 25% after four weeks
4)Pay the final 25% after six weeks.
Zilch Credit Limit
New users start with a  £200 credit limit.  If you have used some of your credit you will be able to see how much you have remaining when you select a shop.
Your zilch credit limit will increase over time depending how often you use the service and how much you have previously paid back on time.
My own Zilch maximum credit limit is now £500.
What is Zilch Boost?
Zilch Boost allows you to make transactions for amounts above your available Zilch balance by splitting the first payment into two separate transactions. The first transaction will be equal to 25% of the purchase price up to the value of your available Zilch balance.
The second half of the transaction will use the debit card you have registered with us to make the remaining payment over and above the allowable 25% using the positive balance in your bank account.
What is Zilch Anywhere?
Zilch Anywhere is designed to help you shop at stores that do not offer the Zilch service for free yet.
When you enable a store for Zilch Anywhere you will be notified that you will be charged a fixed fee of £2.50.
Personally, I think that defeats the whole point of the app, so I would avoid using to avoid the charge.
Does Zilch Have An App?
Zilch has apps available in both App stores:
You can also access your Zilch account by logging in from a browser such as Chrome or Safari on mobile.
Is Zilch Legit?
When it comes to customer satisfaction and looking at reviews can users experience can give us a good indication of whether a company is legit.
Zilch Reviews
Zilch has a very respectable review rating via Trustpilot with a score of 4.7. from over 21,000 reviews.

As you can see below they have an 87% of reviews as Excellent which is a good sign users are happy with the service.
In terms of the Free £10 refer a friend offer, Zilch was totally legit and I purchased a free £10 Amazon gift voucher with no money down and completed it within a matter of minutes.

Where Can I Use Zilch?
You can use Zilch anywhere you can use a Mastercard.
There are over 5000 stores on the platform with whom you can shop for free.
For stores that don't accept Mastercard or haven't partnered with Zilch, you can use the Zilch Anywhere feature, however, there is a charge for this option.
Zilch Shops UK
To highlight some well-known examples, you can use Zilch at the following:
Amazon
Asda
Aldi
Tesco
eBay
Iceland
Morrisons
Uber Eats
Just Eat
Deliveroo
ASOS
Boohoo
Sports Direct
JD Sports
Wickes
Ikea
Superdrug
LloydsPharmacy
Odeon Cinemas
Ticketmaster
EasyJet
Thorpe Park
and thousands more!
Is Zilch Safe?
Firstly Zilch is fully licensed with the Financial Conduct Authority (FCA).
Zilch is safe because of its partnership with Credit Kudos, an open banking provider.
Open banking provides safe transactions by linking with your bank. It has the same features as traditional online banking systems but gives you enhanced security because it doesn't store your personal information or bank account details on its servers. This way, even if the company's system is hacked of getting access to your sensitive data.
Also, the opening banking connection means they can assess your affordability and help you make sure you are spending responsibly.
How Does Zilch Make Money?
Zilch makes its money in more ways than one.
The main way Zilch will make money is from the retailers, as they pay a small fee for every transaction that takes place.
This means Zilch can make money without charging any interest or fees to the customers, who enjoy the privilege of spending over time.
Although you can shop at over 5000 stores for free, for other places when using Zilch Anywhere you will have to pay an upfront fixed fee of £2.50, which you will be warned about beforehand.
Will Zilch Save You Money?
Zilch will save you money if you are someone using it as an alternative option that would otherwise incur you interest or fees.
If however, Zilch enables you to impulse buy and spend money you don't yet have available to buy things you want rather than really need, it could indirectly be costing you money.
Zilch Rewards
If you use the Zilch Pay It All Now option instead of paying in 4 instalments you can earn 2% back in Zilch rewards.
You can then use these rewards later when spending with any other retailer.
Is Buy Now Pay Later Good or Bad?
The advantages of buy now, pay later are that you don't have to worry about saving for a purchase. You can simply shop and then pay it off little by little each month.
The disadvantages are that Buy Now Pay Later more often than not tempts you into spending more than you can really afford. You are possibly spending money you don't currently have.
This can add up and may cause you to fall into debt, especially if you don't even have enough to save an emergency fund, because you are always in the habit of spending money before you even have it.
The Alternative – Save Up and Pay in Full
Ideally, the best thing to do is save up and buy the items in full. This way you know you can truly afford it.
Plus also you know for sure you really want it and it's not just an impulse buy.
Frequently Asked Questions
How to use Zilch?
You can use Zilch by logging into your account via an online browser or you can download the app from the relevant app store.
What Is the Zilch Credit Limit?
The Zilch Credit limit starts at £200.  If you use the app responsibly over time this can be increased.
Does Zilch Credit Limit Go Up?
If you use Zilch responsibly, your credit limit will increase from the starting limit of £200.   The more you use the service and make timely repayments the more likely you are to get a higher credit limit.
Does Using Zilch Affect My Credit Score?
On joining Zilch, they do a soft credit check which shouldn't show up on your credit file.  This should not affect your credit score.
However, if you are late with repayments, even though you won't be charged fees, it will potentially have a negative effect on your credit score.
Zilch also gives you a Zilch credit score which helps them determine the Available Spend you can have with them. This Zilch credit score doesn't affect your Equifax Credit Score.
What happens if You Miss a Payment?
Zilch does not charge late fees.
However, if you miss any payments they will be reported to Equifax and this will negatively affect your credit score.
If you miss a payment, Zilch will retry, but should you continually miss payments you may not be able to continue to use the service.
If you have any payment issues the best thing to do is to contact them as soon as possible and work out the best way to move forward.
What Fees Does Zilch Have?
Some stores aren't available on the platform where MasterCard isn't accepted or that store's supplier has not enabled the service yet.
In this case, you have the option to use Zilch Anywhere instead and pay a fixed fee of £2.50 which will be charged at the conclusion of your loan term directly from Zilch.
What is the Zilch Minimum Spend?
When you select a store you will see a minimum spend if there is one.