Can you get free Amazon gift card codes in the UK?  Yes, you can and there are multiple ways to do so which I'll be outlining in this post.  Some you can get by earning, while others you can get without doing anything.
Combining many of the options together could net you £100's a year.  Some people manage to make £50-£100+ a month in Amazon vouchers consistently.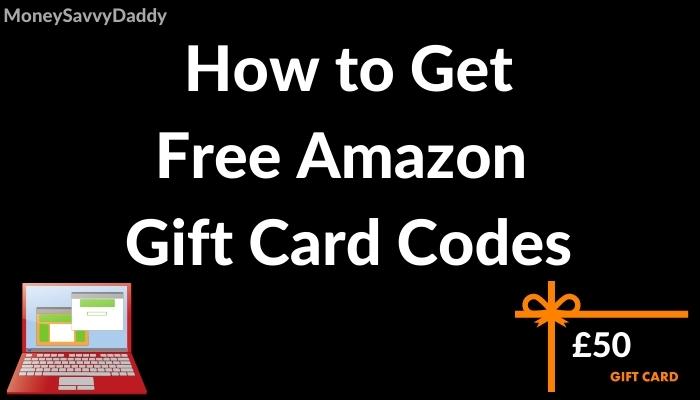 Disclaimer: This post may contain affiliate or referral links that earn me some commission if you sign up through them.  However, this is at no extra cost to you.  Read more here. Thank you if you do use them as they help to support my blog.
How to Get Free Amazon Gift Card Codes in the Uk
There are multiple ways to get free Amazon gift card codes.  Have a scan down the list and choose the best options for you.
In no particular order, your options are:
0. Zilch (Time limited opportunity)
You can get a £5 Amazon gift card in 10 minutes without spending any money simply by signing up via my Zilch referral link.
Follow my Zilch free £5 referral instructions. and see exactly how I claimed my free £10 amazon gift card.
If you have one, refer your partner and it could be a quick £30 earned for your household in 20 mins.
Act now while the offer lasts.  It really is that quick and easy!
1. Swagbucks
Swagbucks offers a whole range of options to earn Swagbucks (SB) that you can redeem towards Amazon gift cards for higher values than redeeming the same amount of SB for cash.
It's probably the most well know GPT site (Get Paid to).  These type of online sites offer you a range of tasks and reward you for completing them.
Here's some example of how to earn on Swagbucks:
Doing surveys and polls
Downloading & playing games on apps
Cashback offers
Searching the net
Daily bonuses
Promo's like Swago Boards & Swag Codes
You can get started here with a 300 SB Swagbucks bonus when you easily earn your first 300 SB (within 30 days), so with the bonus, you'll have 600 before you know it.
At the time of writing you could redeem the following SB amounts for Amazon gift card values as follows:
480 SB for £3.00
700 SB for £5.00
1300 SB £10.00
So as you can see, if you build your balance before redeeming, you get more value for your SB.   Although this isn't always the case for even higher values.
Check out my full Swagbucks review for more tips.
2. InstaGC
InstaGC is a similar get paid to do reward website like Swagbucks, although the lesser known of the 2.
You can earn points by completing various online tasks including:
Surveys
Watching Videos
Web searches
Promo codes
Taking out free trials
and similar.
InstaGC offers various ways to cash out and includes the option to redeem as Amazon gift cards.
3. Snap My Eats App
Snap My Eats is an Apple and Android app that you can use to scan your receipts or take screenshots of online takeaway orders with 2 or more food and drink purchases.
It's one of the best scan for money receipts apps at the moment.
You get £1 for every 5 receipts.   So 25p each, but it literally takes just 1-2 minutes to scan each one.
It's a really quick process, scan and answer just 2 questions and submit.
You can earn a max of £5 a month.
Redeem via Amazon gift card code when you reach a balance of £10.
4. Shoppix App
Shoppix is another receipt app that offers the option of taking rewards in Amazon gift cards.
You can only scan one receipt a day, for which you'll earn 4-5p a time depending on whether it's the day of the transaction or not.
You can earn a little extra from quick surveys and scratch cards which reward you in tokens.  3000 tokens equal £5.
Obviously, it's a bit of a slow burn, but if you are using other receipt apps it only takes a few seconds to open the app, scan and submit an already laid out receipt.
5. Topcashback 
If you aren't already, you could be earning cashback on nearly all your online purchases including utility bills if like me you constantly take advantage of switching to cheaper new customer deals.
All you have to do is remember to visit Topcashback first, and from there to wherever you want to spend your money.
Once it becomes a habit it's almost a form of passive income.  I've earned £100's in cashback over the years doing barely anything.
Cashback can be withdrawn as cash, but if you take as an Amazon e-Gift card you can usually get a little more for your money.  Even if 2% extra is still worth considering.
Have a look at my Topcashback review to see how I earned £100's and you can too.
6. Quidco 
Quidco is another one of the best cashback sites and works much the same as Topcashback.
Sometimes they have different offers or exclusives, so it's worth being a member of both.   Although if choosing just one, I prefer Topcashback.  It typically has ever so slightly higher cashback rates.
Again, if you withdraw your cashback via an Amazon gift card you should get a premium payout bonus compared to taking as cash.  Effectively boosting your cashback earnings even further.
See my Quidco review for more tips including ways to look for opportunities to actively make extra money.
7. Surveys Apps
There are multiple survey apps you can use to tally up some points and £'s to redeem as Amazon Gift cards.   I won't go into detail on each one as they are fairly similar and some people prefer to get Amazon gift cards with no surveys.
So if you like them I would suggest hitting them all and focusing on ones that personally work best for you.  If you don't you can focus on other options in the post.
Appinio (App Store & Googleplay)
YouGov
8. Survey Sites
Although low paying, for some people survey sites are an easy way to earn Amazon gift cards.  All the sites are fairly similar.  It's not possible to know in advance which will be the best for you as everyone's demographics is different and this affects the surveys you will be offered or screened out of..
List of Survey sites that pay in Amazon Gift Card Codes in the UK:
Answerpoints
Branded Surveys
i-Say
Lifepoints
Maru Voice
Opinion Outpost
PaidViewpoint
Panel Champ
Pinecone Research
PointClub
Surveyeah
TGM Panel
Toluna Influencers
Univox Community
Valued Opinions
Many of the above options also allow yo to cashout via PayPal, which if you have an account you might be interested in more ways to get free PayPal money.
9. Feature Points
FeaturePoints is a popular Apple and Android app.
They pay you for various tasks, including surveys.
They also pay you for downloading free games and apps.  All you have to do give the game and try for a few minutes and you'll earn your points reward.
You can earn Feature points by:
Surveys
Downloading and playing apps for a couple of minutes
Scratch and win offers
Cashback
10. Earnably
Another for of GPT site and apart from surveys, also allows you to earn amazon gift cards watching videos and downloading apps.
You can earn by:
Completing online surveys
Watching videos
Copy & pasting released promo codes
Downloading apps
Your earnings are in points which you can start cashing out from £1 upwards.  Although you get more for your points if you save up for higher-value Amazon gift card codes.
11. InboxPounds
InboxPounds is an all-around Get Paid To (GPT) site that offers a multitude of tasks.
The rewards are generally pretty low and the minimum cashout for your Amazon Gift Card is £20.  So it may take a while.
Methods for earning include:
Surveys
Playing games
Searching the web
Completing mini-tasks
Web s
Cashback for offers and free trials
Reading emails
12. MobileXpression
MobileXpression is an easy way to typically earn £10 – £20 in Amazon gift card vouchers.
You simply download it to your phone and it will monitor how you use your mobile phone.   Just leave it passively working in the background.
It will collect all kinds of data, including your internet browsing, use of functions like the camera, apps etc.
The app is known to payout, but there are mixed reports in the reviews on it doing so long term for individual customers.  But at the same time, perhaps they are putting on second phones which they are barely using.
Obviously only keep it on your phone while collecting the Amazon gift card rewards.
13. Youspotproperty 
Youspotproperty.com  is admittedly an opportunist option, but nevertheless an interesting and potentially lucrative one.
If you live in London or the Home Counties this website offers you the opportunity for getting paid to do property spotting.
How it works is, you let them know if you spot any empty or derelict properties within the region.  If you do, you fill in a form and submit some photos.
If it turns out you are the first person to have submitted the property and it meets their criteria you'll be rewarded with a £20 Amazon gift voucher.
There's also the added bonus that if ever the company buys the property you will be rewarded with 1% of the purchase price.  Now that could be something.
14. Prize Rebel
Prize Rebel is a GPT site.  Predominantly users make money from surveys for which it pays an okay rate.   However, it does offer a number of other options to make a bit extra towards your Amazon gift cards.
The various money-making options include:
Surveys
Watching videos
Taking out free trials and other similar tasks
Competitions – raffles, sweepstakes etc
15. Mobile Apps that Pay you to Play
There are 3 known options that pay Uk residents to play games on your mobile.
MistPlay
Coin Pop
Play Spot UK
Earn points and coins and redeem as Amazon gift card codes.
Find out more about each option as well as other ways to earn money playing games.
16. Amazon Top Ups
Keep an eye out for gift card offers by Amazon themselves.   Sometimes they have Top Up deals whereby if you top up your gift card balance they will add to it so you get more for your money.
17. Amazon Mastercard – Reward Points
Often Amazon has more than one credit card deal available at any one time.  Some reward with Amazon points every time you spend, with higher rewards when using Amazon and less for other purchases.
They usually offer a gift card reward on joining.  At the time of writing, there were £30 and £25 Amazon gift card options but the exact offers vary over time so I won't go into specifics.
The Amazon Mastercard was offering £30 Amazon gift card to new customers.  On a successful application, your new card automatically becomes the payment method of choice on Amazon.
This ensures you earn:
1.5 reward points per £2 spend on Amazon
3 reward points per £2 spend on Amazon for Prime members.
Every 1000 points get you a £10 Amazon gift card.
Obviously, if you are constantly utilising purchases with Amazon gift cards this is of less benefit.  But for times you do use, it's currently a good rate of reward for any credit card.
You can find the best current MSE Amazon reward card deals here.
Remember: A credit card is only a saving if you don't end up spending more than you otherwise would.   Also, it's never worth going into debt, the interest payments can be crippling over time.
How to Get Free Amazon Gift Cards Without Completing Offers
If you want to get free Amazon gift cards without actively doing anything to earn them you have to choose the passive earning options.
MobileXpression
As part of a bonus offer on Amazon tops ups
Amazon reward credit card
Use cashback sites like Topcashback
Every other option you are going to have to do at least something, even if it's taking a matter of minutes scanning receipts.
How to Get Free Amazon Gift Cards with No Surveys
If you dislike doing surveys, it's best to stick to the GPT sites which also offer a range of other options for earning towards your free Amazon Gift Cards.  You can earn them instead of doing tasks like watching videos, reading emails, taking free trials and various other tasks types.
These options would be:
Swagbucks
InstaGC
Prize Rebel
FeaturePoints
Earnably
InboxPounds
How to get Free Amazon Gift Cards Fast
To get your Amazon gift card codes fast you need to start taking action as soon as possible.
Download the apps and start completing tasks.  Keep a record or notes as regards which apps are the highest-earning for you.  This is because what works well for one person, isn't always the best for another.
Whenever you get a few spare minutes hit the tasks in your apps or via the web sites in the order of whats providing the best-earning rate for you.   If possible try and run multiple tasks at the same time.
For example, use one device to play a video. While on another device you are completing a cashback offer or survey.
Another tip is to focus on options that have the lowest payout values in Amazon Gift Cards.
Other Ways to Get Free Amazon Gift Cards
You can ask friends and family for Amazon gift cards for birthdays and Christmas or any other special occasions.
Another option is to keep an eye out or actively look for competitions to enter that include Amazon gift card prizes.  I often see them in social media prize giveaways.
How to Redeem Your Amazon Uk Gift Cards
To redeem your UK Amazon gift cards visit the Amazon Redeem your Amazon Gift card page.
You should see something like this:

Click the "Enter your code" button and you'll be taken to the following page to insert your code.   Simply enter the code without the dashes.  Click the "Apply to your balance" and the value of your gift card will be applied to your gift card balance.

Are Amazon Gift Card Generators Real?
In your searches you may have come across Amazon Gift Card Generators and wonder what they are and whether they work.  Well, you probably won't be too surprised to know they are fake.  Just clickbait to get you to click and visit websites or watch Youtube videos.
The tools themselves work in that they generate codes that look like they could be genuine Amazon gift card, but they aren't.  If it did by any slim chance generate a valid code, you could effectively and unwittingly be using someone else's real code and leaving them out of pocket.  Albeit unlikely.