The ASDA George sale takes place on a regular basis through the year so it's not one you have to wait to long for until the next one starts.
Here we keep you up to date with the latest sales and upcoming dates.
We also provide some excellent tips to save you even more money you your  ASDA clothing bargains.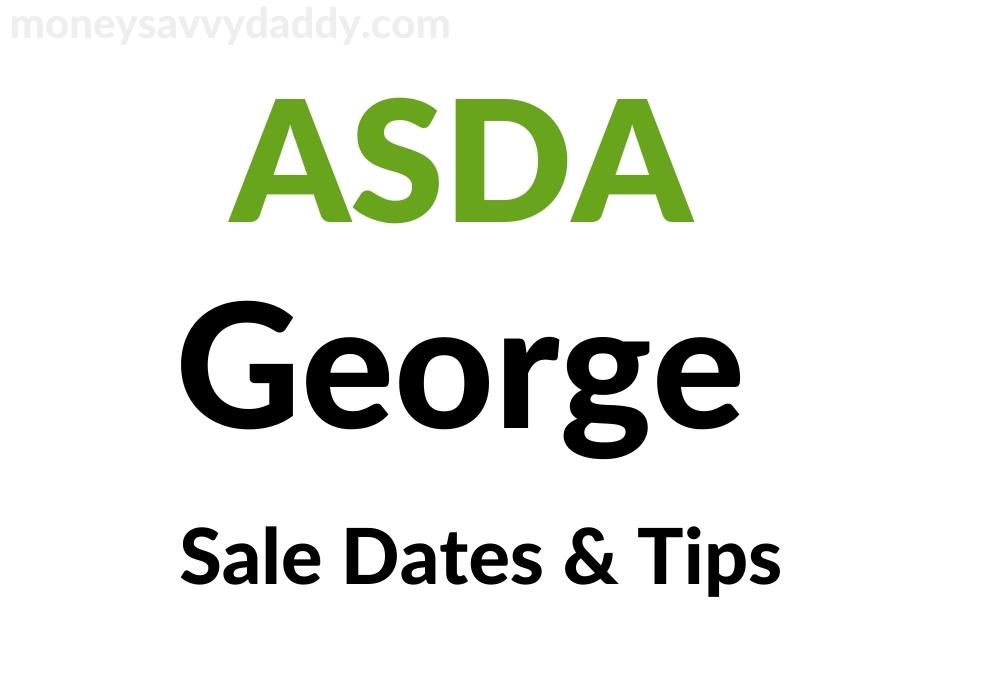 ASDA George is a popular and affordable clothing range suitable for the whole family.  For avid bargain hunters, the best time to shop is as soon as the latest sales start.  Often prices are marked 25% off with some lines as much as 50% off.
When is the Next ASDA George Sale Start Date 2023?
The next ASDA George sale is predicted to start on Monday, 13th March 2023.  This prediction is based on last years sales dates which you can see below as well as tips to save more!
We wil update this information accordingly as soon as the official date is released.
Past Sale Dates
ASDA George sale dates run on a fairly regular basis throughout the year and follow a similar pattern each year.  Therefore we can use past dates as a guide to predicting when the next upcoming ASDA George sale event might take place.
Often the online and in-store sales have the same start date, but sometimes they the online sale starts a few days earlier.
Therefore we have split the sales dates accordingly so you know when to look out for dates based on your preferred way to shop for the bargains.
Past Online Sale Dates 2020, 2021, 2022
Thursday 22nd December 2022
Friday 1st July 2022
Monday 6th June 2022
Monday 14th March 2022
Thursday 27th January 2022
Monday 20th December 2021
Saturday 9th October 2021
Monday 9th August 2021
Saturday 24th April 2021
Thursday 5th March 2021
Thursday 28 January 2021
Monday 21st December 2020
Past Instore Sale Dates
Friday 1st July 2022
Monday 6th June 2022
Monday 14th March 2022
Thursday 27th January 2022
Monday 20th December 2021

Saturday 9th October 2021

Monday 9th August 2021
Monday 26th April 2021
Monday 9th March 20201
Monday 1st February 2021
Monday 21st December
What's in the Asda George 25% off Sale?
The ASDA George covers a wide range of clothing categories including:
Women's Main Clothing Categories:
Clothing
Lingerie
Maternity
Nightwear and Slippers
Men's Categories
Kids
Baby Clothes for boys, girls and unisex
Boys 1 to 6 years and 7 to 16 years
Girls 1 to 6 years and 7 to 16 years
Toys and Character Clothing
Sixth form college wear for boys and girls
School Uniform
What Brands Are In the Asda George 25% Sale?
As well as their own label ASDA George offers a wide range of well-known brands for sale in the ASDA George sales.
We list some of the most popular below.
Popular Women's Brands:
Brave Soul
Dorina
Girls On Film
G21
In The Style
JDY
La Senza
Lee
Mamalicious
Missguided
Noisy May
Pieces
Sian Marie
Wrangler
Popular Mens Brands:
ADAPT
Brave Soul
Lee
Threadbare
Wrangler
WRKOUT
Groom
Latest Sale Offers By Department
ASDA George often has sales of some sort across many of its departments.
You can check here for any current department sales.
ASDA George 20% Off School Uniform & Shoes
The ASDA 20% off school uniform sale is one category of clothing sale, in particular, that is highly anticipated by many parents as new terms approach.
ASDA George offers a wide range of school uniforms for boys and girls including:
Coats & Blazers
Jumpers & Sweatshirts
Trousers
Cardigans
Gingham Dresses
Pinafores & Dresses
Polo Shirts
Shirts & Blouses
Shorts
Skirts
Underwear, Socks & Tights

PE Kits and Sportswear
As well as a range of school uniform colours and school shoes.
ASDA Home, Electricals and Toys
The ASDA George isn't just for clothes you will often find 25% off or more on home and garden products, electrical appliances and even toys.
ASDA Clearance Sales
ASDA George online is usually clearing some lines of stock even when a sale is not officially on.
One of the things you can do is to visit the shopping categories of interest and set the filter to show the lowest priced items first and see if there's anything you need.
Returns
One of the best things about the ASDA George range which stands them apart from the clothing ranges offered by the other main supermarkets is their 100-day Satisfaction Guarantee.
This guarantee entitles you to return your unwanted purchases anytime within 100 days.
Delivery Charges
If you are ordering online you will have to pay for delivery as follows:
Standard delivery from £2.95
Next day delivery from £4.50
You can check the latest delivery charges here.
Click and Collect
There's also the free option of click and collect which should be available the next day.
Previous Sales Examples
For an idea of what to expect in the ASDA George in-store sales here are a couple of videos.  Obviously, the ranges will be different but they give a quick idea of the offers and products in the sale, there's more than just clothes.
March 2021 Womenswear Sale
This quick video highlights some of the bargains you can find with various 70% off clothing items.
Septemeber 2021 Instore Sale
If they are bit slow, just set the speed faster, x 1.5 to 2.0 just to get a quick idea.
Other Popular 25% Off Clothing Sales
If you leave a bargain, ASDA George is not the only 25% off sale worth checking out.
Here are some of the best of the rest:
Save Even More On Your ASDA George Shop`
As much as we love a good sale we also like to get as much extra money off as possible.
Fortunately, there are a good few options available for ASDA George.
George Rewards
Make sure you are making the most of the ASDA George Rewards loyalty card scheme including the 3 ways to be rewarded for your loyalty when you shop at ASDA.
ASDA Savings Club
Secondly, the ASDA Christmas Savings club offers some great bonuses as well as helps spread the cost of Christmas. Again our link features tips to maximise your bonus in the best possible way.
Cashback Options
Topcashback
Topcashback is typically my go-to of the best cashback sites.
At the time of writing, they were offering 5.5% cashback for online purchases which is an excellent rate.
Although not, this rate changes often so may be different in the future, but always worth claiming.
If you haven't already, you can sign up to Topcashback for free here.
Or check out my Topcashback review and see how I've easily made £100's back.
Zilch (2% to 5%)
Zilch offers two options to make payment, either by buy now pay later (which we don;t recommend) or pay it all now and earn cashback rewards when you do so.  Currently, the rate is 5% but might go back down to 2%.  Even so, its easy money back.
<<See how to claim Free £10 Zilch Referral or just sign up directly to Zilch here.
Or have a look in a little more detail as to how Zilch works and you can use to save money.
Airtime Rewards (2%)
The best thing about Airtime rewards is once you quickly and easily set it up with your debit and credit card the rewards are collected every time you use them, without needing to remember to log in to the app.
You can get started with a free 50p to £1.50 promo code: HFRVKYUJ
Or read my review Airtimes Rewards review to see how easy it is.
Combine Options (up to 7%)
The best thing is you can combine some of the options depending on how you pay.
Go through Topcashback first to earn the referral cashback of 5% and then for example pay with the card in Airtime Rewards for another 2% for 7% off on total.
Bonus Savings  Tip
Remember a bargain in a sale is only a bargain if you were going to buy the item anyway.  If you find yourself buying because an item is 50% to 70% off the marked price, remember you save 100% by not buying it at all.
Pre-load Shopping Cart
If you know what you want to buy before the sale goes live, add the items to the shopping cart the day before.   If the items get reduced buy them at the reduced price before they sell out.
Frequently Asked Questions
How Do I Return ASDA George Online Order?
You have 100 days in which to return your unwanted ASDA George items for free.
To return any items from your online order simply login to your online ASDA account and go to your order page.   From here you can select the specific items you wish to return by clicking on the return link.
You'll need to print the label and a returns form.
You have the option of choosing a delivery service for your returns or you can take them to a store drop box or hand to a member of staff instore.
For more returns information see here.
Is ASDA George the Same as Asda Direct Online?
The ASDA online store used to be known as ASDA direct.  Although it still has the same website address (direct.asda.com) the online ASDA store is referred to as ASDA George.
Can I buy Groceries from ASDA George?
You can't buy groceries from ASDA George.
If you are looking for ASDA groceries you need to go to https://groceries.asda.com/.
Is the ASDA George Sale online?
The ASDA George sales are both online and in stores.  Usually, the start dates of each sale are staggered by a few days with the online sale sometimes starting earlier, but not always.