Make the most of the ASDA Christmas Savings card and you could get a bonus of up to 5.3% if you save the right amount just in time for your Xmas shopping.   Check out our tips and loopholes to maximise and boost your bonus to the max.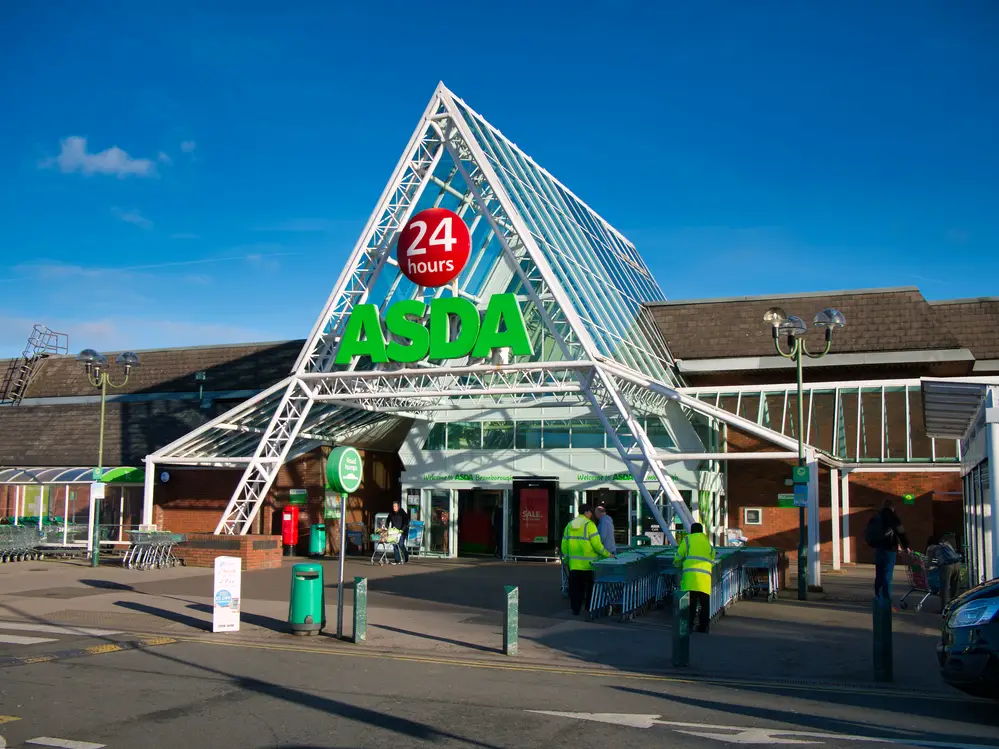 What is the Asda Christmas Savings Card 2023
The Asda Christmas Savings card is a form of savings loyalty reward offering you a bonus of between 1.2 to 5.3% depending on how much you save.
Bearing in mind ASDA doesn't have an all-encompassing loyalty card for all stores, this is currently one of the best ways to be rewarded for your ASDA loyalty.
How Does the ASDA Christmas Savings Card Work?
The ASDA Christmas savings card is very simple and easy to use.  Simply apply and register your card.  Add or top-up funds as and when you can with the idea being saving towards your Christmas shop.
It's a very flexible saving scheme allowing you to spend money you have saved at any time.   The key is to aim for maximum savings just before the bonus date to qualify for a bonus reward of between 1.26% to a maximum of 5.3%.
Here are the Christmas savings bonus reards you can earn, with the bonus rate percentage in brackets.
Save £30 to £79 for a £1 bonus  (3.3% to 1.26%)
Save £80 to £129 for a £3 bonus (3.75% to 2.3%)
Save £130 to £179 for a £6 bonus (4.6% to 3.3%)
Save £180 to £229 for a £9 bonus (5% to 3.9%)
Save £230 to £279 £12 bonus (5.2% to 4.3%)
Save £280 for a £15 bonus (5.3%)
Save £281 to £485 for no extra bonus (0%).
How to Maximise Your Bonus Rewards
If you want to maximise your rewards bonus it often pays to have more than one card.
For example, if you expect to save somewhere between £30 and £79, with one card you would only earn a £1 bonus.
However, if you have 2 cards, you could save £30 on the first card, and £30 on the another and you'll get a £2 bonus.
To work out your own % bonus rewards on the amount, you have to save simply divided the bonus amount by the amount by the total balance of savings.
Once you are over £280 for the maximum reward bonus if you can save any more it pays to do so on a second card as you won't be earning anything on the next £205  up to the £485 maximum.
This extra money could instead be put towards qualifying for another £9 bonus in the £180-£229 range on a separate card.
How To Register Your ASDA Christmas Savings Card
Sign in to your ASDA Gift cards account.  It will be the same as your online ASDA account if you have one.  If not, simply create a new one. It's just a matter of inputting your name and email address
Login to your account and look for "My Gift Cards" and or a link button to "Add a new gift card". It will vary a little depending on what device you are using.
When you click "Add a new gift card" you should get the following pop-up:
Simply type in your gift card number and your gift card PIN and then click "Register gift card".
You'll find the gift card number and PIN on the back of the card.  For the PIN you will have to scratch off the covering to reveal it.
Here's what you should see: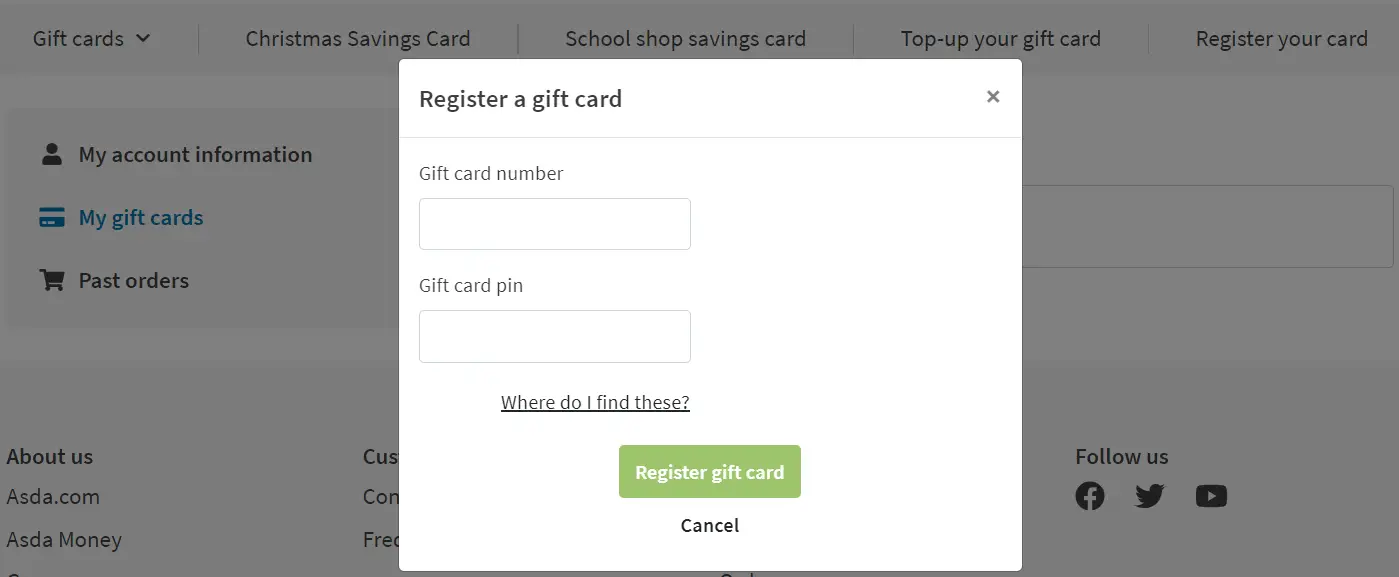 How to Check Your Christmas Savings Card Balance
To find out how much is on your Christmas Savings card you can check your balance in stores at the tills.
Online you can check your balance on the ASDA Christmas Savings page.
For a quick check look at the top of the page where it says "Quick Balance Check" and you'll be presented with the following pop up: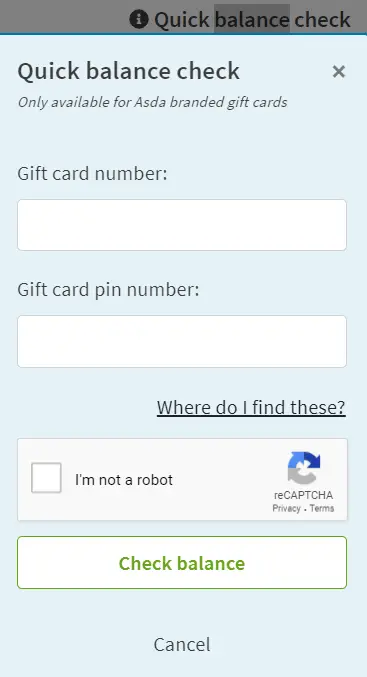 Click the link and type the following into the above pop up:
Your gift card number
Gift card PIN
Tick the box to confirm you are not a robot
ASDA Savings Card Bonus Date 2023
The bonus payment date is November 2023and the bonus will be paid automatically to your card savings account.   No specific date has yet been set but in past years it has been around the 21st.
This is the key time to make sure you have as much money saved as possible to qualify for the highest bonus possible.
You could even add or top up your savings money the day before the bonus date and still qualify.
Consider setting up a reminder on your phone or your calendar to add funds just before the bonus date so you don't miss out.
ASDA Christmas Savings Card Tips
Here is a round-up of the key tips to make the most out of the ASDA Christmas savings card bonus.
The optimal amount to save is £280 for the £15 bonus which works out at 5.3%.
It's only the balance on the bonus date that earns the reward
You can have as many savings cards as you want.
Unspent savings can carry over to the next bonus year
You also might want to check out our tips to help people who can't afford Christmas.
Frequently Asked Questions
Where to Get Your ASDA Savings Card
You can pick up a leaflet in-store or apply online here.   Make sure to register it online in order to protect your funds should you ever lose or damage the card.
When Can I Use My Asda Christmas Savings Card?
You can spend the money on the ASDA Christmas Savings card at any time, this includes before the bonus payment date as well as after.
This allows you to flexibly save in advance, but if you need to spend the funds beforehand you still can.
If at all possible try and put the savings back or as much as you can just before the bonus date and you can use them again straight after the bonus is paid.
Can You Use Your ASDA Savings Card Online?
You spend your ASDA savings card funds online at ASDA Groceries via groceries.asda.com and George.com.  As well as in stores.
Do You Need a New Card each year?
You can use the same card or cards every year if you have more than one.  If you don't spend all the money and keep it in savings the balance will qualify for the following years bonus too.
Does ASDA still do Christmas Saving Stamps?
The ASDA Christmas savings card replaces the older form of Christmas savings stamps.    This is the modern alternative to the former ASDA Christmas stamps way of saving for Xmas.
What if you lose the Christmas Savings Card?
Make sure you register the card as soon as possible.  If ever you subsequently lose the card simply login into your account and cancel the card to protect your funds.
Is the ASDA Christmas Savings Card Worth it?
If you shop at ASDA on a regular basis the Christmas Savings card is a great deal paying far higher than you could get in a bank.