As one of the best clothing brands in the UK, the next Tu 25% off sale is always eagerly awaited by many.
Find out the next sale dates as well as a range of tips to save you even more on your Tu clothing purchases.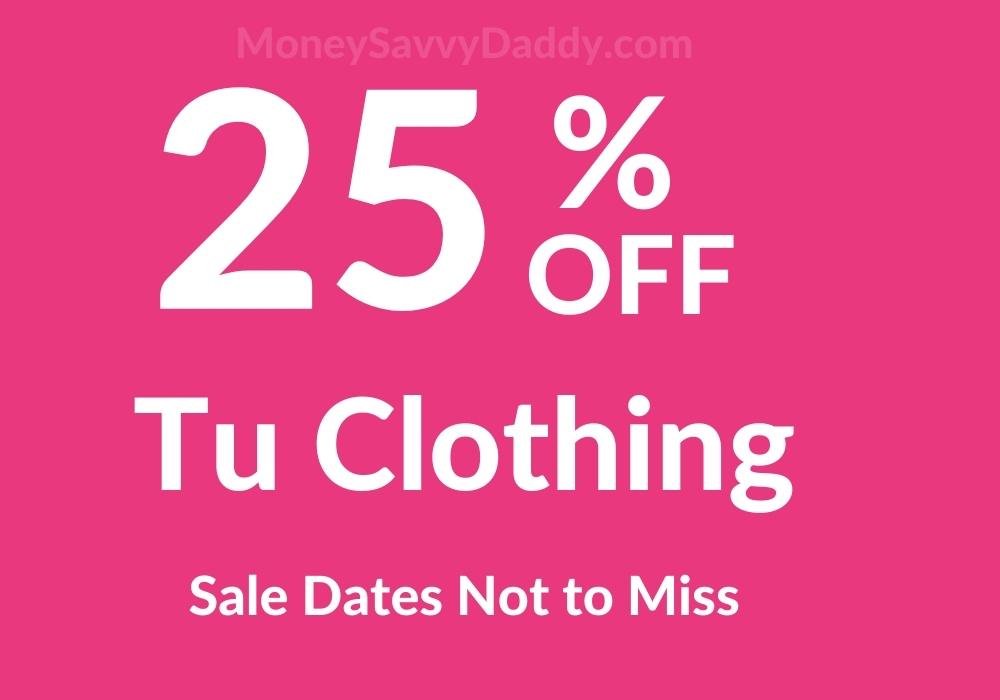 With a local Sainburys store and a wide range of clothes available, it's always worth us personally looking out for the Tu clothing 25% sale, which in normal years is usually held  5 separate weeks of the year.
When is the next Tu 25% off Sale 2023?
The next Tu 25% off sale date is expected to be May or August 2023.  No official date has yet been confirmed and they don't tend to be released until very near the launch date
It is possible there may not actually be a 25% off sale, as was the case in the last 2 years.
In previous years  when the sale went ahead, it was held in
November / early December
October
August
May
February
We will update this page as soon as we get any notifications of future Tu sale dates.
In the meantime, Sainsbury's do periodically other smaller sales on select items with the Tu range, so keep an eye out for those.
Tu Sales Dates 2022
Unfortunately, there were no 25% off Tu clothing sale dates in 2022.
Tu Sales Dates 2021
2021 being a year of continued countrywide disruption has seen no Tu 25% off sale dates.  Hence there is plenty of anticipation for the next one.
So far the February and May 2021 Sale events have been cancelled.
In the meantime, you can check the site for selected sales up to 50% and other ways to save as outlined below.
Past Years Sale Dates
Although the exact sale dates change every year, they are usually launched around the same time so past dates can act as a guide to future sale dates while you are awaiting confirmation.
Tu Sales Dates 2020
Tu sales in 2020 typically ran Tuesday to the following Monday, with the exception of the November sale which ran Wednesday to Tuesday.
2020 was a year of disruption all around the country and saw 2 of the sales dates on selected lines only rather than the whole range.
25th November to 1st December 2020 – (Wed to Tuesday and on selected lines only)
20th October to 26th October 2020
11th August to 17th August 2020 (selected lines only)
19th May to 25th May 2020
11th February to 17th February 2020
Tu Sales Dates 2019
All Tu sales dates in 2019 ran from Tuesday to the following Monday.
In total there were five 25% off sales:
26th November to 2nd December 2019
22nd October to 28th October 2019
13th August to 19th August 2019
21st May to 27th May 2019
12th February to  18th February 2019
Tu Sales Dates 2018
All Tu sales dates in 2018 ran from Tuesday to the following Monday.
In total there were 5 of the 25% off Tu Clothing sales:
20th November  to 26th November 2018
23rd October to 29th October 2018
14th August to 19th August 2018
27th March to 2nd April 2018
13th February to 19th February 2018
While you are waiting to buy some new clothes in the next sale why not have a clearout and raise some extra money selling your used clothes online for cash.
What is The Tu Clothing Range?
Tu Clothing is a clothing range sold by UK supermarket Sainsbury's.
It is considered to be of good quality at a fair price.
The Tu Clothing range is available in most UK Sainsburys stores, as well via Sainsbury's online and Argos, which is now owned by Sainsbury's.
Tu Premium range was launched in 2016 and uses better quality fabrics.
In 2021 it was the 10th largest clothing range in the UK, with 300o lines.
The Tu Clothing range offers:
Womenswear
Menswear
Kids Clothing
Baby Clothes
School Uniform (ideal for back to school)
Footwear
Is Tu Clothing Any Good (or  Worth it?)
As one of the best selling ranges in the UK, Tu Clothing is considered good quality among the supermarket clothing brands.
Some might say it is a little pricey compared to its supermarket competitors, which is why the 25% off Tu sales are so popular.
The clothing is typically good quality and lasts well.  It generally washes well in the washing machine.
A related post you might be interested is the question Are designer clothes worth it?
Ways to Save on Your Sainsbury's Tu Clothing
Whether the 25% sale is on or not there are also other ways to save money on your Tu clothing shopping.
Up to 50% off Tu Clothing Sales
Whether the 25% sale is on or not it's always worth checking the online Tu clothing store to see if they have any sales on.
To find them, click "Sale" in the site menu as you can see in the desktop example.  Mobile will look slightly different.
Tu Clothing Cashback
When you make an online purchase of Tu clothing it's always worth seeing if you can get cashback.
Quidco have had cashback offers, at the time of writing they were offering 1.6%.
All you have to do is sign up as a free member of Quidco.
Search the retailer you wish to spend with and once on their cashback page, as in the example below for Tu clothing, you simply click "Get Cashback".
The "Get cashback" link will take you directly to tuclothing.sainsburys.co.uk and from there you make your purchases as normal.  The sales will track and you earn the cashback in your Quidco account.
Once a Quidco account is set up it's like earning free money.
Another option that is very similar is Topcashback.  I check both sites, but in the case of Tu, I've only seen at Quidco.
For more information see my Quidco review – how it works and is it worth it?
Nectar Points
When you register with Tu clothing online make sure you register your Nectar card to earn points on every purchase.
Nectar points are added to your account with 28 days.
You can't currently use Nectar points to pay for your Tu shopping via Sainsbury's online but you can at Argos.
Every year there's a Sainsburys Nectar Double-Up event that's worth considering to double your points up to the value of £100
For more information on your Nectar Points Worth and calculator.
Argos Tu Clothing Sale
Sainburys took Argos over in 2016 and subsequently launched the Tu Clothing via Argos online and stores in 2018.
Advantages of Buying Tu Clothing from Argos over Sainsbury's
This means you can order your Tu clothing by 2 pm and get next day home delivery as well as free click and collect from over 1000+ Sainburys and Argos stores in the UK.  Tu clothing orders placed from 2 pm Fri to 2 pm Sunday will be delivered Monday.
This Argos delivery is quicker than the Sainsbury's delivery which takes 3-5 days.
Argos also offers free click and collect on any order size, whereas Sainsbury's only offers free click and collect on orders over £20.
The Tu Clothing range can be seen here at Argos.
Save More on Your Tu Clothing Sale at Argos
As well as some advantages on delivery charges by ordering from Argos over Sainsbury's there are also some other ways to save on Tu clothing at Argos.
You can easily ink your Nectar card to your Argos account and earn and redeem points when you spend.
How Much Does Argos Charge for Delivery of Tu Clothing?
For smaller orders such as items from the Tu Clothing range expect Argos to charge a £3.85 delivery fee.
How to get an Extra Discount on Tu Clothing as Argos
The advantage of buying your Tu Clothing from Argos is that you can sometimes get extra cashback on your purchase.
Cashback offers change often, sometimes they are across the whole store, other times they are on selected ranges.
Again I always check:
Just quickly visit each site and type "Argos" into the search bar.
If there is no cashback available at the above 2 cashback site try Kidstart.co.uk.  The last time I checked they were offering 1% on most online purchases for home delivery.
Airtime Rewards Argos
Another great option to save money on your Argos Tu shopping and other items is to link your debit and credit cards to the Airtime Rewards app.
It's really simple and easy to set up and you'll earn cashback rewards which can be used to pay off your mobile phone bill.
Once your cards are linked you don't even need to remember to use them, the linked cards track your transactions.
Although subject to change Airtime Rewards was currently offering me 2% rewards on my Argos purchases.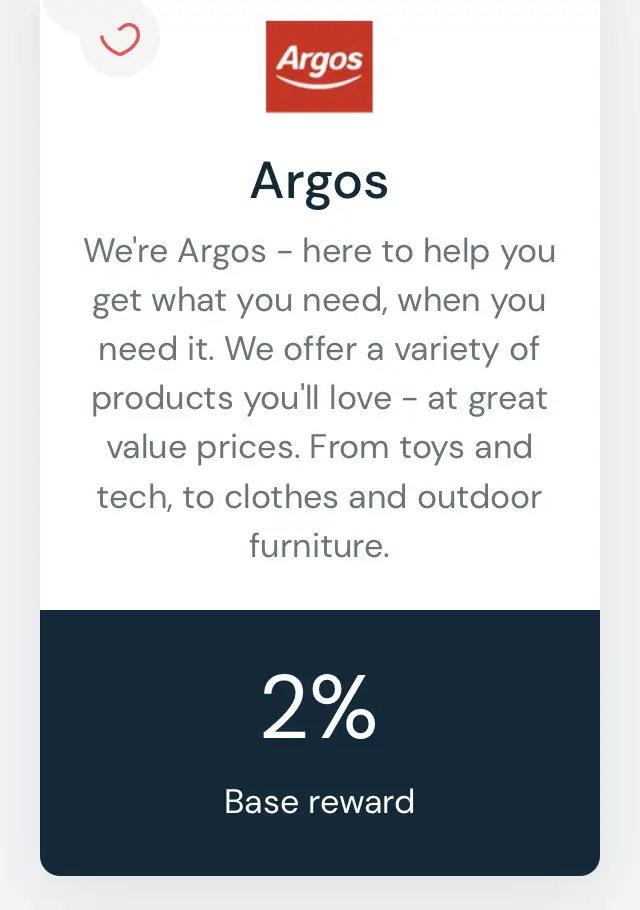 For more information on this great money-saving app see my full Airtime Rewards Promo Code and Review post.
In theory, if they are all available you could use all of the following Argos discounts on your Tu clothing:
Visit Argos online via a cashback site (Topcashback, Quidco or Kidstart)
Pay via a card linked to Airtime Rewards
Use a cashback or reward credit card
Make sure you claim your Argos Nectar points
When it comes to Sainsbury's it's a lot harder to make further savings as they don't appear as often on the cashback sites and I haven't seen them on Airtime Rewards.
You can see more ways to save on your Argos shopping via my Argos Toy Sale page.
Tu Clothing Sale Tips
With the 25% off Tu sale being so popular it can be a shame to miss out on your items if they are sold out.
A great tip is to visit the website before the sale starts and fill your basket with the items you'd most like to buy.
Set an early reminder to log on and complete your purchases.
Frequently Asked Questions
Can I order Tu clothing online?
You can order Tu clothing via https://tuclothing.sainsburys.co.uk/ which is a subdomain of the main Sainsburys online store.
How long is the Sainsburys 25% off sale?
The Tu clothing sale runs for one week, typically from Tuesday to the following Monday.
Can I return Tu Clothing Orders in Stores?
You can return your online Tu Clothing orders to both Sainsburys and Argos Stores.  You also have the option to return the order by posturing the label provided for the current charge of £3.50 which will be deducted from the refund total, unless the items are faulty.
Returns should be unused and in original packaging.
What does Tu stand for in Sainsbury's clothing?
Tu means "you" the same as tu mean in French.
Related Sales Posts:
>>Next Sales Dates & How to get VIP slot
>>25% off supermarket wines dates
>> Schuh Imperfects for cheap shows
To use these offers is actually one of my 82 Frugal Money saving tips to help save £100's a year.