The main annual Argos toy sale is still a highly anticipated event, and here we keep up to date with the latest sale dates.
We also offer some tips to check you are genuinely getting a good deal and ways to save even more money on your bargains.
Disclaimer: This post may contain affiliate or referral links that earn me some commission if you sign up through them.  However, this is at no extra cost to you. Thank you if you do use them as they help to support my blog. Read more here.
Argos has always been a favourite of ours when it comes to buying toys.  I, like many, grew up using the catalogues to create a wish list for Christmas.  Now we can see all the products online for our kids.
The Argos toy sales cover everything most people ad kids could ever want.  They stock all the well-known toy brands and the latest current trending toys, and what better time to buy them than when the prices are slashed to half price.
I've even got some tactics to get them even cheaper for you.
Argos Toy Brands
Argos stocks all the best and most well-known toy brands, including:
Barbie
Chad Valley
Disney
Fisher-Price
Lego
LOL
Marvel
Paw Patrol
Pepper Pig
and so many more.
Argos has toys for all ages, from 1 to 2-year-olds, right up to teenagers and possibly some adults.
When Is Next Argos Toy Sale 2023
The next big Argos toys sale is predicted to be the Wednesday 28th September 2023.
Read on to find ways to get extra discounts on your Argos shopping, even in sale!
Plus see how to do a quick price comparisons and price history to check to double check you are getting a bargain.
Half-Price Sale
The main Argos sale event is now a half-price sale on selected items.  The half-price sale usually starts at the end of September to early October each year.
Other Argos Toy Promotions
Argos also offers two toys for £15  or 2 toys for £30.
You can mix and match toys from the ranges to get discounted prices.
On selected lines, you should also be able to take advantage of any Argos Toy Codes.
Argos Toy Sale Code
Even when Argos has a toy sale with 1/3 to 1/2 off of the recommended price, they sometimes also highlight a code for further saving.
The discount code may be applied to other promotions and discounted items on selected lines, which I illustrate further down below.
Currently you can get 25% off selected lines using the current toy sale code PLAY25 (expires 1st March 2023).
Argos Discount Stacking Example
Although the specific promotions may change over time, make sure where possible you are stacking the promotions.  By this I mean, taking advantage of more than 1 promotional offer at the time.
I'm sure some people overlook these, perhaps not applying the money off codes at checkout which is why they run the promotions this way rather than offering the products at a cheaper discounted price in the first place.
In the example below, I choose 2 toys from the 2 for £15 category.
The Lego Stars Wars Mandalorian Battle Pack was £13.00 and the Meccano 3 Model Set was £10 for a total price of £23.
The 2 for £15 discount code was applied, and you can see that where it says "Special Offer Savings" -£8.00.
I then saved another £3 by applying the TOYS20 promo code at checkout.
(Make sure you check my other ways to pay and save even more!).
Tips To Save Even More On Argos Toys
There are various ways you can save on your Argos shipping, many of which can be combined to get even your sale items much much cheaper.
Zilch – Save 2 to 5% 
Zilch is a buy now pay later digital MasterCard. However, it also has the option to "pay it all now" and will currently reward you 5% for doing so.
The standard pay it all now rewards rate was initially 2% across all stores but has been boosted to 5% on all spending.   Be aware the rewards rate may change back to 2%. Even so, that is still an extra discount worthwhile for many purchases.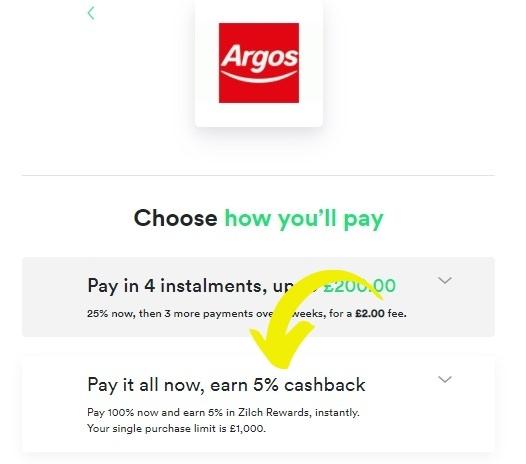 >For more information on how Zilch works & also a quick and easy step by step option to claim a free £10 Zilch referral on signing up without spending any money.
Topcashback
Topcashback cashback rates vary over time.
At the time of writing, it was offering a flat 2% on all purchases.
However, it often has particular product category offers, for example, because these rates will change constantly:
Examples of non-toy related purchases::
Jewellery and Watches 15%
Small domestic appliances 9%
Tu Clothing 10%
Sign up to Topcashback here and start saving on almost every online purchase.
Airtime Rewards
Airtime Rewards is an additional option that can also be used jointly with Topcashback for a double discount (if you use it with a cashback credit card, it could be a triple saving!).
In short, you set your spending cards up in the app, and anytime you use them with partner retailers, you earn rewards you can put towards your mobile phone bill.  There are some great offers such as Boots 5% and Morrisons at times has been 7-10%  which is an excellent discount rate for a supermarket.
For Argos, it's currently 2%, but subject to change.
Once you've set up your payment card in Airtime Rewards, you don't even need to remember to use the app. It will automatically track all purchases at qualifying retailers.
Argos Price Comparision
One of the most important things about making purchases in a sale is to make sure you are actually getting a reasonable price and not just getting caught up in all the marketing hype.
When shopping at Argos, this price comparison is significantly helped by a site dedicated to providing a price history of Argos products, including all the toys.
Pricehistory.co.uk shows us examples of how to use to check to get a good deal.
The Argos Price History site shows the following as illustrated in the screenshots.
In the top half of the page, you can see the details of the toy, in this case, a Lego IDEAS Central Perk Friends TV Show Building Set.
We can see they have been tracking the price for nearly two years and have a low price of £43.00 and a high price of £65.00.
Further down we can see the dates of the past price changes.
Notice how the price increases in early November to be shown as a discount when the 1/3 off toys sale starts and over the same time period as the Black Friday sales.
Although offered in the Black Friday sales at discounted £43.00, it is the lowest price it has been. There are numerous other weeks of the year the Central Perk Lego set could have been purchased for just pennies more.
Finally, pricehistory.co.uk also shows past Argos Toys promotions that each particular product may have been in.  I'm not sure how accurate this is regarding every Argos toys sale event, but it is worth considering.
Argos Nectar Points
Remember, you can both claim and redeem Nectar Points on your Argos shopping.
For full information, see Argos Nectar Points on how to earn and tips to save even more.
If you haven't already, you can see how to link your Nectar card to your Argos account.
Frequently Asked Questions
When is the next Argos 3 for 2 Toy Sale?
The Argos 3 for 2 toy sale event was very popular, but sadly this promotion hasn't been running for the last couple of years and isn't looking likely to either.
Although there is still a 3 for 2 pages on their store dedicated to the offer, it just says, "We've tidied away our 3 for 2 offer (for now)", so perhaps there is some hope it will return one day.