Aside from Sainsbury's, Argos is one of the most popular stores in the UK to collect and redeem Nectar Card points.
Since Sainsbury's brought and took over Argos they have been integrating it more and more into their Nectar card scheme.
If you haven't linked your Nectar card already it's well worth doing and in this post, I show you 2 clear ways.
Typically you will earn 1 Nectar point for every £1 you spend in Argos.    Each point is worth £0.005p (half a penny).
Occasionally this rate is boosted with double and triple points promotions.
You can check out the points value using my very own Nectar Points Worth Calculator.
To get even more value from your Nectar points be sure to check out when the next Sainsburys Double Up Nectar points event is.
There are 2 ways to link a Nectar card to an Argos account.  The first option is to do so online via your online browser.  The second option is to link to your nectar card from within the Argos App.  Both methods are quick and easy. Follow the illustrated step by steps actions for either method so you can start collecting and redeeming your points right away.
How to Link Nectar Card to Argos Account Online
Linking your Nectar card to Argos is really easy.
Firstly you need to have an Argos account, so whenever you log in you can access your saved details.
To link your Nectar card simply follow these steps:
Step 1
Login to your Argos Account.  If you don't have one simply create one with an email and password.
Step 2 
Click the "Account" option in the menu.  On a desktop, you'll see a little human icon right above it.
Step 3
On the Account page look for the "Ways to Pay" Box as you can see below: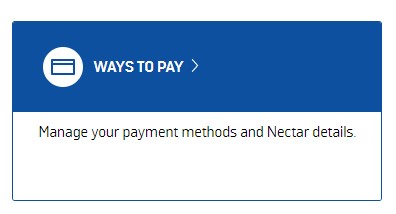 You can see it says "Manage your payment methods and Nectar details".  Click the box.
Step 4
On the "Ways to Pay" page, you will clearly see a box saying "Link Your Nectar Account".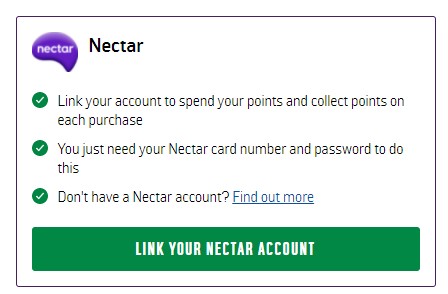 Click the green button and you will be taken to the next page to enter your Nectar Card number and your Nectar account password as you can see below.
Submit the information by clicking the purple "Continue" button.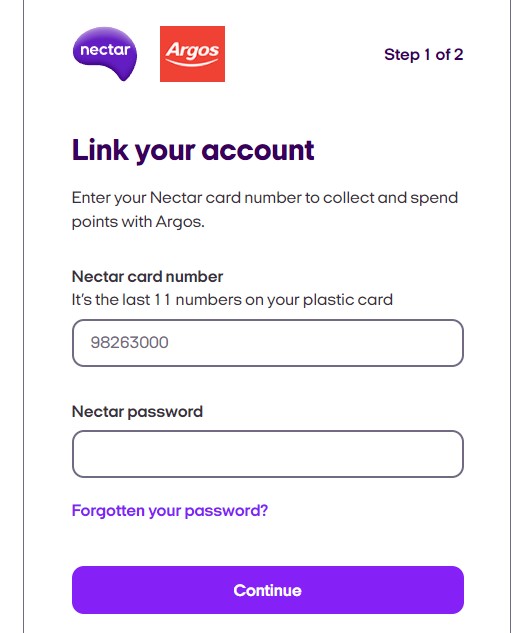 Step 5
Your Nectar card will show as linked ready for the next time you shop, to both earn points and give you the option to spend the points at checkout when you have enough to redeem.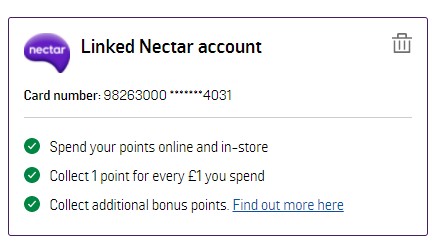 To unlink your Nectar card account from your Argos account for any reason, simply click the Bin symbol in the top right-hand corner.  This will produce a pop up asking you to "Confirm" or "Cancel" removing the Nectar Card, click confirm to complete the action.
How to Link Nectar to Argos Account via App
An alternative way to add your Nectar card to your Argos Account is via the Argos app.
Step 1
First, you will need an Argos account.
Once you have set that up log in to the app with your:
Step 2
Once logged in, at the base of the app tap the "More" menu option, the one with the 3 dots above it.
You'll then see the following menu of options and halfway down is the link to "Nectar".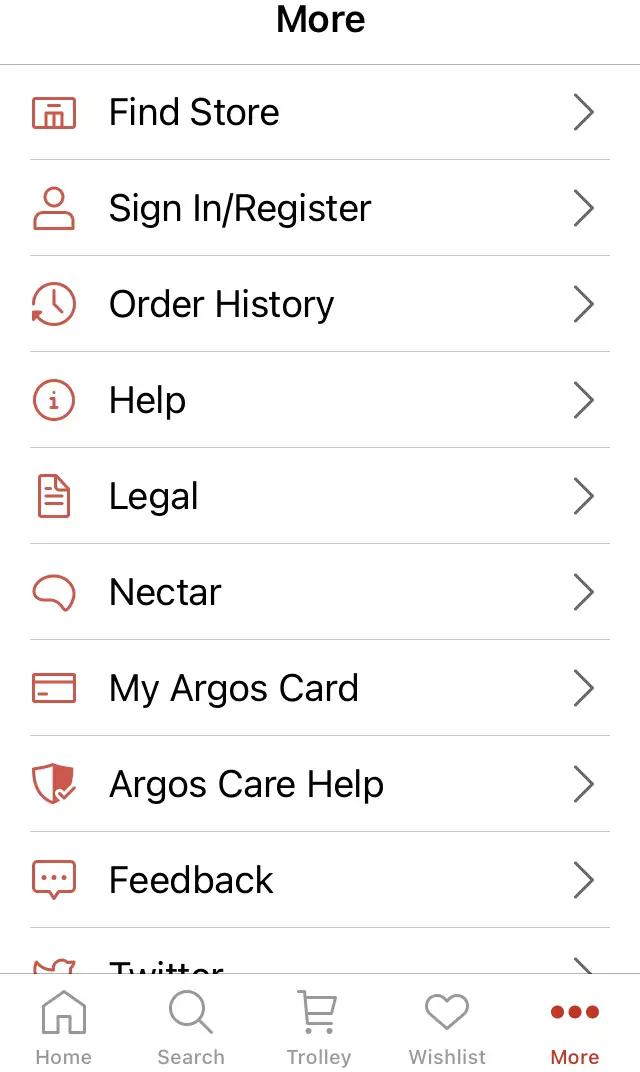 Tap on the Nectar menu option from the menu above and you'll be taken to the following screen:
Step 3
Simply click on the "Manage Nectar account" green button.
When you click the green button, even if logged into your Argos account you will need to log in again using your Argos account email and password.
Step 4
Once you've logged in again you'll see the following screen with the Green button "Link to your Nectar Account", the same as you see for step 4 in the first method.
Exactly the same as above simply link your account by entering your Nectar Card number and Nectar card password.
Click the big purple "Continue" button and you are all set up.
Argos Nectar Points
You can earn Nectar Points when you spend both in-stores and online with Argos.
For every £1 you spend you earn 1 point which you can save up and redeem against future purchases once you have at least 500 points worth £2.50.
Conclusion
Whichever method you choose it will only take you a couple of minutes.
You are then set up to make the most of the Nectar card loyalty scheme from your Argos account.
As previously mentioned if you are interested in maximising the value of the Nectar points you warn from your Argos purchases be sure to check out the Nectar Double Points events.