When the first dreaded gubbed email arrives out the blue it can feel like quite a blow to your new-found Matched Betting side hustle which should be making you a decent tax-free income.
However, it's not necessarily the end of the road for that particular bookie account. There are still a number of ways you can continue to profit from some bookmaker accounts and still use them to make money from home for many more months.
In fact, most of my biggest profits have come from gubbed accounts.
In this post, I'll share my 3 simple rules to avoiding a gubbing and show you how it's still possible to make huge profits from gubbed accounts.
For some accounts, a gubbing can be just the beginning of bigger profits.
What is the meaning of Gubbed or a Gubbing?
The term "gubbed" is a Matched betting term used for a bookmaker account that has notified you that you will no longer qualify for free bets and related promotions.  The bookmakers do not actually use the term themselves.
When your bookmaker account is gubbed, it is often referred to as a gubbing.
How Will You Know if Gubbed?
Typically you will receive an email notification.
Here's an example of a Paddy Power Gubbing Email: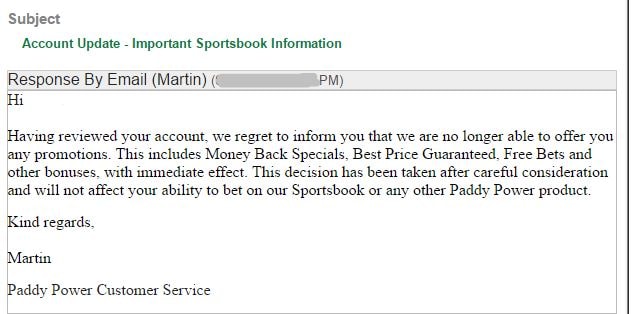 Basically,  the email will be informing you your account is no longer eligible for a range of sportsbook promotions.
What If You're Owed a Free Bet?
It is quite often the case a gubbing email arrives after you have attempted an offer.  Therefore it is possible you may still be owed an outstanding free bet.
In my experience, these are still worth chasing via live chat or email as they do tend to pay them out upon request.
How Bad Is Your Gubbing?
Gubbings vary from bookmaker to bookmaker and person to person. It might well depend on the reason you were gubbed in the first place.
Some gubbings are pretty light and will let offer you a range of options to continue matched betting without free bets.
Partial Gubbings
Some bookies won't give you an outright gubbing, they may just not offer you all offers. When you look the promo page, you simply won't see the full range of offers available to you.
Restricted Stakes
Even before you are officially gubbed, a bookie might start restricting your stakes on your sports bets. Some Matched Bettors do account health checks by comparing their max bets on a specific event and odds. If your max bet allowed is lower than other members, it's a sign your account is not looking too healthy. You can participate in this via the forum at Outplayed , which if you're new to, read our Outplayed Review with Free Trial.
If you are gubbed, it's highly likely your stakes will be restricted to some degree. Usually more so on higher odds bets and sometimes more on certain sports.
If your stakes are restricted down to £1.00 or even 0.01p then the sportsbook part of this account is practically useless. In some severe instances, your account may be closed and funds returned.
However, this isn't often the case. The bookies want to restrict your use of offers, but for you to still use them for some of your bets.
How To Avoid Being Gubbed
This is a tough question because no one knows for sure and every bookmaker treats customer accounts differently.
If you want to avoid a gubbing my primary tip would be to stick to high profile events with lots of money in the markets at the exchange.  Plus never arb.
Here are a few examples of why I think I was possibly gubbed at certain bookmakers, although obviously, I can't be sure.  All 3 bookies are reasonably strict and if I had my time again I'd stick to high profile events.
Paddy Power Gubbing – came within hours of mug betting on an ordinary weekday horse race (very little money in the market) and the odds quickly fell at the exchange after I placed my back bet so maybe looked like an arb.
Betfred Gubbing- I started doing a Greyhound offer for a £25 free bet, very little money in these markets until minutes before a race.  I mugged bet too but was still gubbed.
Boylesports  Gubbing- I typically bet on high profile football and had the account over a year, but lost not long after betting on a horse race, an each-way arb, again little money in each way market
I was gubbed at other bookies as well, but those reasons were probably more general.  I was just taking full advantage of making money from them.
Tips How to To Avoid A Gubbing
I have 3 simple rules to for how to avoid being gubbed:
Stick to high profile events (Premier League, ITV Big Event Race Days)
Never arb (Bets with rating over 100%)
Don't go too high odds on your free bets, stick to 4-8.0 range
If anyone else in your household is Matched Betting, make sure they are partner-friendly bookies and that you don't do the same offers, as this could result in a gubbing for both of you.
Mug Betting – Is it Worth It?
Some people advocate mug betting to maintain account health and avoid a gubbing.
The more experience I've gained with Matched Betting, the more I think mug betting is a waste of time and I've since ruled it out totally.
Mug Betting:
Wastes time (Doing it and any record-keeping)
Loses money in qualifying losses
Not proven to work
Mug betting by taking close matches is still offering very little value to bookies who profit more when the odds are much more in there favor than the true odds of an event available at an exchange.
So if anything, mug betting can weaken your accounts and actually result in a gubbing.
True mug betting like a real punter would result in much bigger qualifying losses if you were to back and lay them.  Many of the likely bets a punter places can't even be layed at an exchange.
How to get Ungubbed?
A full ungubbing is extremely unlikely.
Coral is one bookie that seem to gub sometimes for a relatively short amount of time. They may then open up more offers to you a month or so later.
After I was gubbed I Arbed and Dutch bet the account at high stakes quite a few times.   Coral then emailed me an even harsher gubbing, I was literally not entitled to any offers, even BOG.  I still used the account for occasionally Dutching and a year later I received a text offer and my account was fully ungubbed.
Another example is SkyBet.  Initially, when I was gubbed my stakes were restricted to pennies for Price Boosts.  I only used the account a couple of times using for Dutching.  Yet a year later I found I could get decent stakes on price boosts.
Other ungubbings have been heard of but are few and far between. Whether it's worth trying to get ungubbed, is totally your decision.
I assume you would have to mug bet like a punter and those mug bets are not going to be all on close matches, so each bet will be costing you money or profit. Quite likely there will be nothing at the end of it.
If it's a partial gubbing, giving the offers a rest for a while and placing some mug bets might improve your account health
7 Ways To Make Money From A Gubbed Account
All gubbings vary, so it will totally depend on the bookie in question and the severity of your gubbing as to whether you can still make money.
However, a gubbing is not the end and there are multiple possible ways you can profit from an active account.
Sometimes though you will still be able to bet a few pounds. Normally the lower the odds, the more you can stake. Also, the higher-profile the event, the more money the bookie may accept from you as a stake.
For example, you may be able to bet £120 max on a premier league event at odds of 1.5, but only £3 on a horse at odds of 12.0 on any old non-high profile race. Maybe even less
1. Price Boosts
It's totally bookie dependant as to whether you can profit from price boosts with a bookie that has gubbed you. Some bookies restrict your stakes extremely low on price boosts, so they are simply not worthwhile.
However, there are bookies that will let you do price boosts and at quite large stakes from which you can make a decent profit.  Known examples of are Coral and Betfair Sportsbook.
Price boosts are one of the quickest and easy ways to make a profit.
The best time to take advantage of these is these is when there are Horse Racing Festivals on and the price boosts are announced every morning. Betfair Sportsbooks is certainly one gubbed account you can make very good profits from.
Outplayed has a specific forum thread for Price Boosts, for which you can set up alerts every time a price boost is posted.
2. Extra Places
For more experienced matched bettors, Extra Place Matched Betting can be some of the most lucratively profitable offers.
Basically, these offers are when the bookie pays out an extra place on an Each Way bet, which is the place bet.
For example, paying out for a horse if it finishes in the top 4 or 5 places, whereas normally, they would only pay out if it finished in the top 3. The exchange lay bet will be the same as normal, in this instance only paying out if the horse doesn't finish in the Top 3.
What you can do is back and lay the each-way bet, if the horse finishes either 4th or 5th, you win the bookie bet and the exchange lay bet. This can result in a significant profit because you are winning outright both bets and getting both your stakes back.
Extra Place Offers are usually found on horse races but also other sports such as Golf Tournaments.
3. Dutching Bets
Dutching is when you bet on all outcomes of a sporting event at different bookies and no matter what the outcome you make yourself a profit.
For example, you might bet on a  football match having Under 2.5 goals in a game at Bet365, and bet on Over 2.5 goals at Coral.  A profit regardless of the end result.
Outplayed has a Dutching Tool which finds the Dutching bets currently profitable and suggests the stakes. You can round the stakes so the bets look more natural.
You'll be surprised how often you can make a profit and sometimes a decent amount at relatively low odds, so therefore you can put a decent-sized stake on. Plus you have the advantage of making this kind of profit without requiring large liabilities in exchanges etc.
4. Early Refund Offers
This no longer works on Gubbed Paddy accounts, but it's still an option to look out for on similar promotions offered by other bookies.
Some bookies do Early Payout Offers. This is when they pay out your back bet before the sports event has finished. Therefore there is time for the result to change and the possibility of you winning your lay bet too!
However, you don't have to wait for the result to definitely change in order to make a profit.  Although I would recommend waiting until you have received the payout before taking action just in case for whatever reason you don't receive it.
Paddy Power did an offer whereby they paid early if a football team went 2 goals up.
If the team you back and layed did go 2 goals up and you've seen the Paddy bet paid out in your account, you now have multiple options to profit from the lay bet still in play, because the game hasn't finished.
You could:
Cash-out or offset your lay bet immediately for usually a small profit.
Wait to see if the other team scores a goal and increases your cash out odds for more profit
Wait to see if the other team change the result and totally win both bets, for a much bigger profit.
Whatever you do, it's profit from a gubbed account. Not only that, sometimes if the results go in your favor they will potentially be some of your largest matched betting profits.
Paddy Power has run these type of "Early Payout" offers on multiple sports, including Tennis, Rugby and even Donald Trump for President, which was one that actually paid out on to those who bet Hilary Clinton!
5. Best Odds Guaranteed (BOG)
Best Odds Guaranteed is when you bet on an event, typically horse racing. If the odds lengthen and the horse wins, the bookie will pay you out at the higher odds. For example, you back at 3.0 but the odds drifted to 4.0, and the horse won, the bookie will payout at odds of 4.0. That's extra profit in your pocket.
BOG is a very minor way to profit, pretty much an extra lucky outcome. It's not something you would particularly aim for.  However, when you do get lucky it does increase your profits.
You might hit it if, for example, you bet each way for extra places offers or maybe you're mug betting in hope to improve account standing.
6. Casino Offers
Normally sportsbooks and casino accounts are run separately. So if you are gubbed by the sportsbook, chances are you will still be fine doing casino offers.  I've made £1000's from risk-free and low-risk casino offers.   Use the search bar to see past income reports.
So it can be worth keeping your bookmaker accounts open just for the casino offers.
Some of these casino offers can be very lucrative.  It only takes one lucky spin to win big.
Plenty of the offers are risk-free. The best ones are free spins with no wagering.
Simply log in, spin and keep your winnings.
7. Arbing Gubbed Accounts – Last Resort – But Lucrative
For those that don't know, an arb is when the bookie offers higher back bet odds than the lay bet odds on the exchange.
So for example, you back at the bookie at odds of 3.5 and lay at the exchange for 2.9. Instant profit.
As you can see from the example below, nice £9.55 profit, literally made in less than 5 minutes.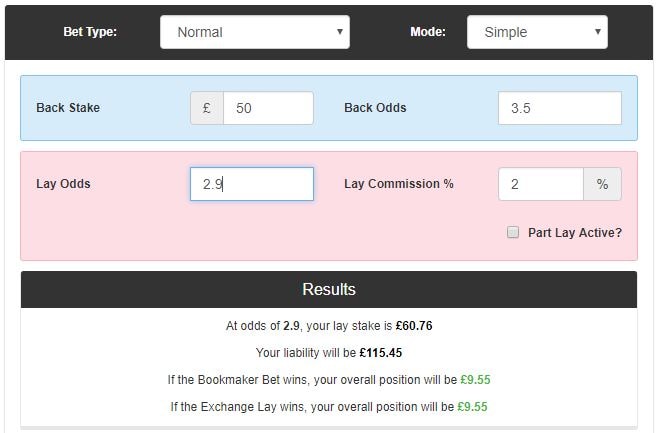 At lower odds you can sometimes put stakes of hundreds or even thousands of pounds.  Usually the difference n odds will be a lot closer than the above example, but stakes much higher, especially on high profile fixtures.
Quite often matched bettors think it's game over when they are gubbed at a bookie. Some immediately take the attitude of getting the last bit of profit out of the account by arbing it.
This is all well and good, but I'd first check you can't profit from the account in other ways listed above.
However, since the introduction of 0% commission, this has opened up a wide range of every day arbing opportunities that previously didn't exist but now offer great opportunity to profit.
Membership to Outplayed is worth it alone for the 0% commission deal.
I've gone on to make £100's a month some months, as you can see from monthly totals in this how much can you make from this matched betting post.
Look at all these arb opportunities showing up highlighted in red with the ratings over 100, just on football and at a random moment in time. Plenty of money in the exchanges especially if some of them have bots that top-up the availability when it's used up.

As an example, a Bet365 gubbed account still usually offer unrestricted stakes so you can start to arb them.
Even if they do start to restrict stakes on some sports you can still usually get a good few pounds on often enough to make it worthwhile arbing them.  They have good arbs on some high profile football.
Set up a specific filter in the Oddsmatcher.
Check out my Arbitrage Betting post, which shows you have to find these money-making opportunities daily, as well as how to best profit from Dutch bets too
FAQ's
Can You Get Gubbed from Betfair Exchange?
It is highly unlikely you would get gubbed by the Betfair Exchange because it doesn't offer anywhere near as many offers as the Betfair Sportsbook.   If they do have an offer that too many people start taking advantage of they tend to pull the offer completely rather than gub individual accounts.
Conclusion
As you can see, being gubbed is clearly not as bad as it first seems and there are plenty of options to still make a significant profit from your gubbed bookmaker accounts.
Do you know of any other ways to profit from gubbed accounts?
What's been your experience of being gubbed or even ungubbed.