Outplayed is the Uk's leading Matched Betting service.
I've been a member for over 4 years and have personally used it to help me make over £40,000+ in tax-free income.  It's certainly one of the best ways to make easy money here in the UK.
In this Outplayed.com review, I share tips I used from the start to make extra money from the start and how I set myself up to maximise profit from my membership.
Disclaimer: This post may contain affiliate or referral links that earn me some commission if you sign up through them.  However, this is at no extra cost to you.  Read more here. Thank you if you do use them as they help to support my blog.
Outplayed Review
For new and existing members alike, this post will hopefully be useful in making sure you are making the most of the membership's key aspects and also tips on maximizing profits that even some existing members may have overlooked.
Disclaimer: This post contains affiliate links for which I may receive a small payment at no extra cost to yourself.
What Is OutPlayed?
The purpose of this Outplayed.com review is not only to highlight all the site's key features but also to show you how to use to maximize profits even if you are an existing member.
If you weren't already aware, Outplayed  (formerly known as Profit Accumulator) is the UK's largest and most popular Matched betting site.  If you haven't previously heard of Matched Betting, it's a method of exploiting bookmakers and online casino promotion for profit.
Initially, new members start by making money from bookie-free bet offers, but there are multiple ways to make money without free bets once you get into it.
It's important to realize from the offset that Matched betting is not gambling.   It's about making a profit.
The Training Center and support are second to none, in my opinion making Outplayed ideal for beginners.
Is Outplayed Legit?
Outplayed is a legit way to make extra money providing the training and tools to profit from bookmakers free bets and similar offers.
If you are new to the concept of Matched betting, sites like Outplayed can initially seem like one of many possible money-making scam sites that promise profits and turn out to be some form of gambling, trading or just a total waste of time.
Matched betting is a legit way to profit.  I myself have made many thousands of pounds.  As have many others.
See my post about how much you can make from Matched Betting which details my first 44 months of Matched Betting income.  For many months I consistently made over £500+ in tax-free profits.   Just as a side hustle.
I even went full-time for a couple of months and made a lot more.
I set the most relevant forum threads "Watch" so I receive notifications of offers that are posted by members through the say and evening.  From time-sensitive price boosts to free spins that last a few hours or the day.  It's these kinds of forum threads some members overlook and miss out on.  It's also a great advantage of Outplayed because they have a huge number of members, so more people are sharing the offers.
Is Outplayed a Scam?
Outplayed is not a scam.  It's been running for many years now and has thousands of members.
I have personally used the site for 4 years to make tax-free extra money whenever I wanted.
However, don't just take my word for it, check out the review scores at Trustpilot, 4.8 with 90% rating Excellent 5 star.
As far as I know Ive never seen them offer incentives to leave top reviews.  These are genuine reviews and ratings.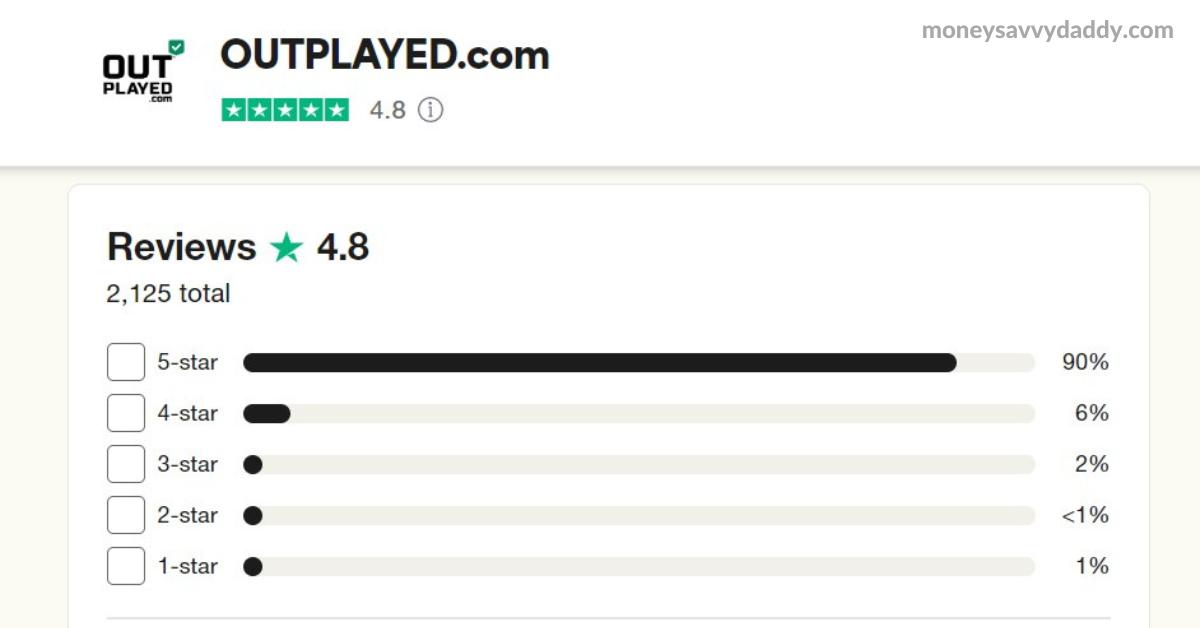 Realistic Expectations
Although I've had a very profitable last few months I don't want to give the impression these amounts are easily achievable.
For many months I made £500+  It was only with experience and exploring every option going, plus importantly making use of constantly increasing my Matched Betting bank every month, that I managed to make these higher sums.  October itself was my best month and totally down to one offer, the likes of which I've never seen before.  Plus I had some fortune in getting the winnings, even though plenty of value was on offer and many people made £00's and some £000′.s   I don't expect those offers to come along again but I'll spot them if they do.
I'd say Matched Betting is an ideal option for anyone who wants to make an extra £100 to £500+ a month.
Matched Betting Basics – It's a Legit Way To Make Money
Read my Beginners Matched Betting guide to find out more.   The basics are you place 2 bets which cover all outcomes.  A bookie bet which covers one outcome and a lay bet which covers all other possible outcomes.  See my lay betting page.
Once all the initial free bets sign-ups are complete there is a multitude of what are called Reload offers.   Reloads include a wide range of different offer types.  Including free bets, but also including refund attempts, early payout and extra place offers which can both result in winning both the bookie and lay bets, and range of risk-free and low-risk casino offers.
How Much Do I Need To Start Outplayed?
To get started Matched Betting you will need about £60-to £100 to start.
You don't spend this money, instead, you use it to place bets at the bookies and cover them at the exchange.
You can start Outplayed with a totally free no tie in's free trial.  Have a look.
You'll be walked through 2 offers with clear beginner friendly step by step instructions and accompanying videos.
Once you have completed the totally free trial correctly you should have made £40+ profit.
It's up to you then if you want to spend some of that on a monthly membership or if you have extra funds an annual membership that works out cheaper per month, which is the option I chose as I knew straight away this was an awesome way to make a consistent form of real extra income.
You can make the cost of the monthly membership back in just one offer.
Outplayed Sportsbook Sign Ups
Sportsbook sign-ups is where you start your Matched Betting journey.  The first couple of offers you do as part of the free trial come complete with step by step video and written instructions should give you a clear indication of whether you want to do more of the same.
Typically there is 50-60+ sign up offers to work through and profit from.  You can keep working through as many as these are you feel comfortable doing.  Once you are ready you can start taking a look at Reload Offers, and these are where the money is made long-term.
Every offer has a "Discuss Offer on the Forum" that is for the particular offer you are working on.  It's well worth getting into the habit of always having a quick look at these.  See how other members are getting on.  Maybe pick up some valuable tips.  Share your own experience or maybe tag admin if you need support.
Outplayed Reloads
Reloads are new offers offered to the existing bookmaker and online casino customers.
A common initial misconception is that Sign Ups are where the money is and once they are complete, that's it.
New reload offers are released every day.  Many are ongoing, for example, in the form of a refund and you can attempt them every day as part of an ongoing promotion.  Or it might be a weekly bet club promo you can do every week.
All offers are Rated on a 1-5 star basis.  This is an ideal way to prioritize the offers you do on a daily basis until with experience you develop your own personal preferences of which offers you prefer to do.
Other features in the Reload category include:
Bookie Filter: Quick way to find offers by a particular bookie.
Gubbed Filter:  Filters out bookies at which you've been gubbed, so their individual offers aren't shown.  Helps you focus on the offers you can do.
It's worth noting, there are still many ways to profit from gubbed bookmaker accounts so make sure you aren't missing out on those opportunities.
Outplayed Casino Offers
Casino offers can be a great source of profit.  Typically members start on the Sportsbook sign-ups and move onto Casino Sign Ups and Reloads around the same time.  
Often you can get sign up offers to the casino section of a bookie you have already signed up to the sportsbook for.  Sometimes you can even get separate offers for the "Vegas" or "Games" sections of casinos.
For beginners building their pot, there are risk-free offers.  Once you become more experienced you might want to try low risk offers where typically you have to wager for example £10-£20 and for doing so receive a bonus or free spins.   You might lose some of the £10-£20 but hope to profit more from the bonus.
At the time of writing, there are over 60+ casino sign up offers.    Some are certainly excellent value.
If you already have some Matched betting experience and are looking to increase your profits check out my How to Make Money from Risk-Free Casino Offers and Online Bonuses.
Extra Tip:  Whenever you do a casino sign up, see if you can get extra cashback on top via the best cashback sites – namely Topcashback or Quidco.  I've made £00's extra by doing this.  Always double-check cashback terms and consider the cashback an added bonus just in case you don't get.
Outplayed Matched Betting Tools
Matched Betting has come on so much the last couple of years.  Outplayedis constantly making and improving tools to help us Matched Bettors more easily take advantage of offers.
OddsMatching Tools
Outplayed has the very latest software tools for Matched Betting.  You will use the  OddsMatcher from the beginning, and the other tools over time as and when you start doing the relevant offers.
OddsMatcher:  Find close matches for over 90 bookies.   Put in order of "Rating" for qualifying bets and "SNR" for your free bets.   Currently, it has 12 columns of data.  You can toggle on and off which columns you want to show.  Oddsmatcher auto-refreshes.  Set filters for offers.
Match Catcher: Find matches for horse racing offers really easily with this software.  Real-time odds prices.  You can filter for specific races as well as bookies and exchanges.  Set audio alerts for close matches so you can leave it in the background and not miss out on opportunities.
Acca Catcher: This software makes Acca's easy (much easier than the days of spreadsheets).  Finds the best value Acca's.  Can be used for Acca's qualifying bets and price boosts.  Stores the data so you just open up and continue where you left off.
Dutching: – Instead of backing and laying you can Dutch bets, which is placing and covering all outcomes at different bookies.   The Dutching tool finds the closest matches for various spots.  Both 3-way and 2-way results.   Click the calculator to workout required stakes.  Use the round stake feature to make them look more natural bets.
Each Way Catcher:  Each way betting on horses is 2 bets, one to win and one to place (finish in a predetermined position for a payout, e,g top 3).  Use the Each Way Matcher to quickly find low qualifying losses for the lucrative Extra Place Offers.
Profit Tracker – Software to help you keep track of your profits.  You also have the option of tracking your balance sheet, deposits, withdrawals.
Outplayed Calculators
As with all tools, all calculator come with full training guides.  Some very offer specific, but usually for some of the potentially most lucrative and profitable offers, for example,e Extra Places or Bet365 2Up early payout.  You may not need to use some of these calculators, but they are there and very helpful and time-saving when you do need them.
As well as the main Matched Betting Calculator that you use from first starting Matched betting Outplayed also has a wide range of other useful calculators.  Some help fix mistakes, others are useful for specific offers.
Calculator – Standard calculator which has a standard and advanced mode for an underlaying, overlaying options.
Matchbook Calculator – Specifically for Matchbooks unique commission.
Advanced Calculators
Beginners don't need to worry about all these calculators.  I haven't used them all myself and some I've forgotten how to use.  However, each one has a training guide instruction and in many cases a video which explains in simple terms how to use each of them.
Fixabet Calculator – Part Lay function for fixing part matched lay bets at different odds.  Cash-Out function for fixing if you have laid the wrong match or laid too much.
Bonus Lock-In Calculator – for locking in profit from a potential bonus of refund.  Has both Win and Lose modes.
Refund If Calculator – Use to lock in offers whereby there's a refund if a certain event happens.
Early Payout Calculator – Used to lock in profits for offers like 2UP without waiting for a full turnaround.
Dutching Early Payout Calculator:  For locking in profit when you have Dutched your early payout qualifying attempts.
Dutching Calculator – To work out the stakes you need to place for 2-way or 3-way dutches between different bookmakers.
Each Way Calculator – Ideal for Extra Place offers, calculates the lay stakes for the "To Win" and "To Place" lay bets.
Rule 4 Calculator – for horse racing when there have been non-runners.  You can calculate for "Back with laying" or "Laid without backing".
Enhanced Offers Calculator – for locking in profits when the winnings or odds for an offer are enhanced.  Includes how winnings are paid, cash, or free bets.
Odds Converter and Probability Calculator – Converts fractions into decimal odds.  Work out the implied probability for single bets and multiple bets up to fourteenfold.
EV Calculator: To work out the Expected value of any casino offers you come across, for example via email.   You can use this calculator to work out the EV and therefore whether they are worth you doing.  Adjust calculations for a range of offer types, including whether it's wagering deposits, free spins or sportsbook bets.
Blackjack Strategy Calculator – can be used instead of looking at a spreadsheet of actions.
Outplayed Forum –

A Goldmine of Info 
I would pay the Outplayed membership fee for the forum alone.  Even as a more experienced Matched Bettor, I pick up tips and insights all the time.   Let alone all the extra free spins, price boosts, close matches on sports that aren't in the Oddsmatcher.
Most members are helpful.  Some I even DM and they have often given good advice or tips.
The Forum is one of my key tips further below for maximizing profits.
I've included the number of forum threads (August 2019) so you can see the value in member activity, which is far above any other Matched Betting site.
To find each one, follow this path Forum Index/Offers Posted By Members/ and look for the highlighted thread below
Price Boosts Thread (NO CHAT/NO QUESTIONS) (18500+ posts)
Casino Offers Thread (NO CHAT/NO QUESTIONS)  (7400+ posts)
Arbing Discussion Thread (23,900+ posts in just first 4 months).
As you can see, over time that's thousands of extra money-making opportunities.  Every prie boost, free spin or arb opportunity that might not be on an OddsMatcher coming your way.
These are just the tip of the iceberg, there are so many more valuable threads.  Some of which you'll see linked from the above threads all providing you money-making education.
Arbing is a Huge Opportunity with exchange 0% commission deals:  Done correctly and on the right bookie accounts, Arbing is an excellent way to potentially make huge profits. Check out my Arbitrage Betting guide here to get started and the key do's and don'ts.
There's also a separate Arbing Thread No Chat / No Questions, although in generally Arber's like to discuss Arbing so most are posted in the Arbing discussion thread.
Plus you'll see first-hand hundreds of other members making money!
Training Center
Outplayed provides training as you work through the offers.  So you will be provided with instructions and videos that teach you all kinds of aspects of Matched Betting as you go.  The best thing is you are typically earning money as you go too.
All training guides are also easily accessible from the Training Center.
Currently, there are 47 guides.  Outplayed is really good at explaining all aspects of the very basics.  No prior betting knowledge is assumed.  They are ideal for beginners and certainly helped me get started as much of the information was totally new to me.
Help and Support
You can contact Outplayed in a number of ways.  most often will be via the Forum if you need to ask questions about a particular offer.  Many members are also extremely helpful.
If you need more personal help and support you can tag the admin team Ollie or James (at the time of writing).  Both are superb and very helpful. You can also submit support requests via email, phone, submit a support ticket.
Offers Calendar
The calendar is another way of reviewing reload offers.  You can filter for "Daily" or "Weekly"
Mobile Notifications
Free mobile notifications are available for reminders and alerts.  You might want a reminder to lay the next leg of an Acca.  Or receive an alert when a post is made to a specific forum thread that might be posting offers or close matches.  A full guide is provided on how to implement.
Constantly Improving
Since I've joined, new features and calculators are constantly being added and improved.   When I first joined 3 years ago, some of the more advanced offers required quite complex spreadsheets or calculations.   Now we have a multitude of software tools that are constantly being updated and improved.
How Much Is Outplayed Membership?
You can take the free trial and complete the first offer totally for free.  No tie in or time limit.  Only when you've completed the offers in your own time do you decide whether to continue making more money.
Currently, Outplayed offers two memberships:
Platinum Standard – £29.99 a month or £250 a year
Diamond Standard – £49.99 a month or £450
As you can see the annual prices work out much cheaper, so while you may not be able to afford a full year membership, once you are in the habit of making money monthly the annual plans are well worth considering.
Plus once you are a member, you may occasionally be offered an even bigger discount plan.
When starting out the Platinum Plan is all you need.
How To Cancel Membership
If you need to take a break at any time or no longer want to use Matched Betting as an extra source of income, it is easy to cancel.  Just go to "My Account", click the tab "Update/Cancel billing" and cancel.  You can rejoin again anytime in the future.
You are not tied into the free trial so there is nothing to cancel.
Referral – Extra Income For You
Once you start to understand Matched Betting and making some money you might want to recommend it to some of your friends or family  Maybe you can Matched bet together and share tips etc.    It might also be suited for sharing on your social media if followers might also be interested.
For each Refer a Friend you get £10 and a £25 bonus for every 5th referral, so effectively £35 for the 5th referral.
Outplayed Tips – How I Use To Maximise Profits
Working through the Sportsbook sign-ups, Casinos and Reloads is just the start.
Once you begin working on the Reloads you will have a number of bookies and maybe some casino accounts open.
The Reloads are the main offers typically open to all customers who have accounts open.
However, there a variety of other offers that are released every day and often posted on the Outplayed Forum.
You can set these threads to "Watch" so you receive alerts when anyone posts.
For example, at various times when I want to concentrate on them I set to Watch" the following forum threads:
Free Spins and Casino Offers
Price Boosts
Close Matches for certain offers
Reloads Posted by Members
With such a large active membership there are new posts in these threads all the time.
Some of my most profitable offers have been ones uploaded in the "Offers Posted By Members".  Even if the offer was every week, if it was only sent to people via email it wouldn't show under the normal "Reloads".
Other threads worth checking out
Monthly Profit Threads are always good for motivation and seeing where other  members are making money
£1000 a month thread – good to see how it's possible from Reloads alone
How to Make £300 a month PART TIME – offers you can do even if limited by a 9-5 pm job
Horse Racing (multiple threads) goldmine of info if you are new to horses and promotions
Plus plenty more posts to educate or motivate you to make more money.
If you want to do Matched Betting seriously, it is well worth having a look in the forum every day and bookmarks the best threads.
TIP For Long Term Profits – Build Your Bank.  As you complete offers and making profits, keep building your bankroll, the money you have available for offers.  By all means, spend a portion, but if you can keep building a bankroll then you can potentially keep making decent money long time or make lesser amounts much more easily.  There are so many profitable advantages to having a bigger bank.
Repeated Tip: Cashback – Some sign-ups for bookmakers, casino and even bingo will offer cashback.  Check the terms but often you'll on the cashback site and if the offer is the same or similar then do the offer after sign up through the cashback link. 
I made £100's extra doing this using both:
For more info see my Topcashback Review and Quidco review.
Conclusion
I hope yo have found this Outplayed review useful, and in particular, the tips to make extra money from the start.  Every bit of extra profit really helps when starting out, especially if you start with a smallish bankroll that you want to build on.
Have you taken the free trial, watched the videos and made any money?  If not what's stopping you.
Did the tips help?
Do you have any of your own?
Id love to hear, so feel free to share in the comments.