If you have already started Matched Betting, have you ever wondered how to make money from arbing bookmakers?
For some bookie accounts it's the only way to make a profit after the sign up bonus.
The best thing is arbing is so simple to carry out and make a profit, you can even use the arbing software you have in your Outplayed accounts.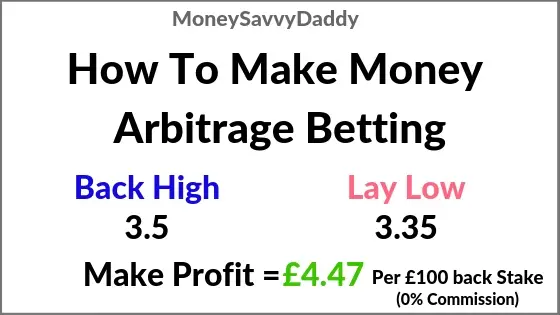 Disclaimer: This post may contain affiliate or referral links that earn me some commission if you sign up through them.  However, this is at no extra cost to you.  Read more here. Thank you if you do use them as they help to support my blog.
Arbitrage Betting Intro
Arbitrage betting or "arbing" as it is commonly known, is a way to make money simply placing 2 bets with the intention of making yourself a guaranteed profit no matter what the outcome.
If you are new to arbing and looking to make some extra money, my Matched Betting Guide with profit-boosting tips is more than likely your best starting point.
However, if you have already been Matched Betting for a while and want to boost your monthly profits, arbing could well be the answer.
In this post I will show you how to find and profit from these arb opportunities multiple times a day.
Now is a great time to take advantage of arbitrage betting because of the current 0% commission deals (at time of writing for Outplayed Members) on offer by select betting exchanges Smarkets and Matchbook.
0% commission really does make a huge difference to the profit you can make so now is the time to take advantage.
I've made £100's a month arbing the last few months, so let me show you the tips and tools you might have overlooked to considerably boost your own tax-free profits.
What Is Arbitrage Betting?
The meaning of arbitrage is to near-simultaneously buy and sell in order to profit.
Arbitrage is commonly associated with financial trading where opportunities arise to buy a financial asset at one price and immediately sell it for a higher price.
Or another slightly longer winded approach is that of buying products from one shop to sell online as in the case of retail arbitrage.
Is Arbing Legal?
Yes, arbing is perfectly legal.  You are simply placing a bet at the odds offered by the bookmaker.  They might not like it, and may even take action to gub or restrict your account but it not illegal.
How Does Arbitrage Betting Sports Work?
In the world of betting this arbitrage opportunity opens up with odds differences offered by the bookies and betting exchanges.
If you can back bet (the equivalent of buy) high odds at a bookie and lay bet (the equivalent of sell) the same event outcome at lower odds at an exchange, you can potentially make a profit, as long as the difference covers any commission.
When you find an event where the back odds are higher than the lay odds this is often referred to as an Arb.
Therefore is you are actively looking for and trading arbs, this is referred to as Arbing or sometimes as sure betting, sure wins or miracle betting.
Arbs come about for a number of reasons.
Usually, it's because the bookie is too slow to update their odds.
Betting exchanges react instantly to market news, such as a key player being announced fit to play or a player on opposing team left out or injured.  These announcements would immediately affect the exchange prices.
Bookies do react to this news as well, but occasionally, especially if the back and lay odds were close already, the opportunity to arb arises.
In some instances, it sometimes blatant that an outcome is an arb, for whatever reason, the bookie offers a higher odd price than the exchange.  Sometimes for quite a while.
Arbitrage or Matched Betting
Matched Betting is a term that covers all methods of profiting from bookmakers offers. It's one of the easiest ways to make money from home the Uk without any previous experience or even sports knowledge required.
However, after a while, the bookies can restrict offers available to your account.  This is known as a gubbing or being gubbed and you won't be entitled to free bet offers anymore.
It's still possible to profit from a gubbed bookmaker account because you might still qualify for some non-free bet promotions such as price boosts or extra places etc.
In general, it's best to focus on Matched Betting from the start.  Over time as accounts get gubbed, you can consider introducing all aspects of arbing outlined in this post as part of your money-making strategy.
Arbing is much simpler than Matched Betting and it's multiple different types of promos, some of which require you to watch the result like Bet365 Inplay Free Bets or 2 Up promos.
Arbing is simply backing and laying for profit, over and over.   Easy money.
Never Arb The Best UnGubbed Bookie Accounts
Whether you arb an ungubbed account is totally up to you.  Some bookies have a sign-up and thereafter very weak Reloads or none at all for most of the year.
Certainly some ungubbed accounts you should never arb until heavily gubbed.  Just because you might be unable to make money from free bets does not mean the account is worthless.
There are multiple ways to profit from matched betting without free bets may have overlooked an option like price boosts.
For example, never arb an ungubbed Bet365, William Hill, Paddy Power, Unibet, Sky Bet type quality Matched Betting bookies.  You would generally make more from Matched Betting the offers and resort to arbing when you eventually get gubbed.
How Much Can Be Made Arbitrage Betting?
Arbs can be found daily.
How much you can earn from arbing will depend on varying factors.
Bankroll: The bigger your bank the bigger stakes you can place and the more arbs you can do.
Restrictions: Most bookmakers restrict at some point, whether it's across the board or just on certain sports.  Depending on which bookies and how severely you're restricted will obviously impact profits.  However, you just rule these options out and focus on where you can find arbs.
Experience: As with most things, experience pays off.   The more you arb, the quicker you'll find ways to find and act on arbs faster and the more money you'll make.
As members of Outplayed know, with Smarkets 0% commissions you can make £100's a month arbing.  Sometimes if the opportunities are there you can make a lot more.
How To Find Arbitrage Bets
There are multiple ways to find arbing opportunities.
Other arb opportunities might be for events not in an OddsMatcher you have, but if you know they arise you may want to manually search for your own free arb bets.
Of course, there is advanced arbing software that would find them for you much more quickly.
Use Odds Comparision Software
If you already use a Matched Betting service, you should have access to there Odds Matcher software.
Any matches over 100% Rating, as you see in the centre column in red below, are arbs.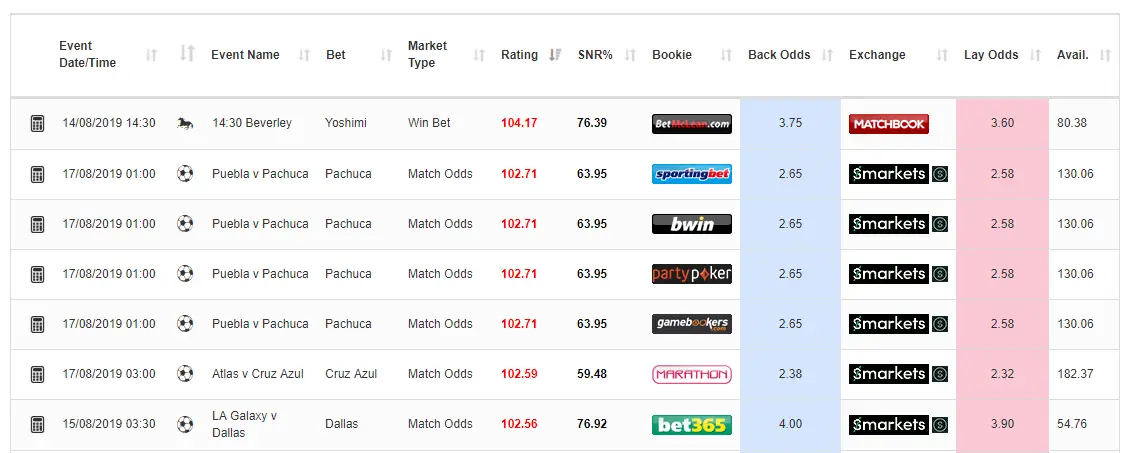 The Outplayed OddsMatcher updates without refreshing so you could just leave this open in your browser and check on it periodically.
You can use filters to set the bookmakers you want to look out for.
How much you can arb will depend on how much money is available in the exchange market that you see in the far right column.
Some betting exchanges do top up availability via bots when it's used up, so sometimes there is more available.  This is something you will need to test out.
The events listed in the above Oddsmatcher screenshot, although arbs, aren't necessarily ones you would bet on.
Find Arbs Via An Arbing Community
One of the best places to start arbing is Outplayed Forum and in particular the "Arbing Discussion Thread" and the "Arbing Thread No Chat No Questions"
You can find them both following the following forum thread paths:
Forum Home/ Reload Offers / Offers Posted By Members/ Arbing Discussion Thread
The advantage of such a large membership and active forum community means plenty of valuable information is shared.  Particularly useful for beginners to arbing.  At the time of writing, there are over 21,000+ posts in just 4 months on the discussion thread.   Many of the posts are actually arbs as well as how to arb.
You can set the forum thread to "Watch" and be notified of any posts as soon as they are posted.
The activity and experience here far outweigh any I have seen anywhere else, is worth the Outplayed membership alone.
I pay the annual rate which after year with the loyalty discount is just £125 a year.  Bargain.
Manually Search For Arbs
The most basic way to find arbs is to manually search for them yourself.
This is time-consuming, and using some arb software is far superior.
One obvious example is horse racing.  The odds change so quickly in the 5 -10 minutes before the off that even if the OddsMatcher updates every minute you will always be out of time.
It's far better to set yourself with split-screen browsers or multiple screens and be ready to act in an instant.
Arb Examples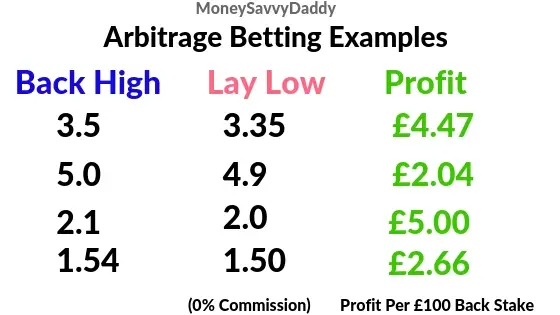 Other Arbing Examples:
Typical arb: Betuk Morocco to win v Ivory Coast 2.40/2.32  £8.62 profit per £250 back stake
Heavily restricted Betfair account still allowed £400 back stake for £7.77 profit on Italy to win v Lichenstein 1.05/1.03
Large stake profit example: Tottenham to win v Man Utd 2.3/2.2 stake £2000 for £90 profit.
Some arbers would place much higher stakes, either in one go or via multiple stakes if they get the opportunity before the bookie odds are cut.  The potential can be huge.
Other Types Of Sports Arbitrage Betting
There are more ways to arb than just the commonly found bets in the Oddsmatchers.
The more creative you are with your arbing the more opportunities you will come across and profit you can make.
Dutching Bets For Profit
Dutching bets are when the odds prices at 2 bookies on an event guarantee you a profit if you can place bets on both of them.
Dutch bets work best on 2-way bets such as Both Teams To Score Yes or No and Over/Under Markets etc.  Plus any two player or team sports with 2 result outcomes.
You might also see some dutch bet opportunities for 3 way result sports like Football.
Dutching Calculator
Typically your Matched Betting Dutching software that highlights Dutch bets will also have a calculator as you see below.  This example is for a Both Teams To Score Dutch bet found on Outplayed.


In the top right, you can see "Total Stake", here I inputted £195.   I play around with this figure until I get individual bet stakes I'm happy with.
To the left, you can see I ticked the "Round Stake" box.  This just makes the bet amounts more realistic.
So in this instance, a £100 and £95 bet seem pretty natural.
Placing both these bets would guarantee me a profit of at least £4.50.
I could of course try and place higher stakes.  But even £4.50 is a very good quick and easy profit.
For the record, the exchange lay prices for both these bets were higher than the back odds, so these were not arbs in their own right.
Extra Place Dutching On Horses
You can even Dutch bet horse racing.
Risks When Dutching
Often you don't know how much stake you will be allowed to place at each bookie until you go to place the bet.
Some bookies show you max stake, either by clicking "max stake" or if you submit a massive bet amount they will then show you max allowable.
For this reason, it's worth bearing in mind the relevant exchange prices as a backup or a list of bookies that offer the same odds.
Be aware of having a get out, even if it means making a small loss.
You can also bet smaller amounts to test the waters.
Each Way Arbs
You can use the Outplayed Each Way Catcher tool to find your each way arbs.
It's sometimes thought these arbs float under the bookies' radar, but don't kid yourself.
They are an option for extra profit but you're not going to typically get big stakes on them.  However, if you concentrate on them for certain accounts you can pick up multiple each way arbs every day.
They are ideal if you can combine with an Extra Place offer, but then you have to question whether you should be arbing that account anyway.
Exchange to Exchange Arbs
Generally, these are quite rare, but while long-running 0% commission promotions are running they do sometimes show up in the Odds Matchers.
Do not do an exchange to exchange arb, e.g back on Smarkets lay at Matchbook or vice versa.  The exchanges won't like being taken advantage of like this and you will potentially lose your 0% commission deal.
What is Sharbing?
Another option is sharbing, which basically stands for shop arbs.  It's also used for any matched betting offers where the bets are placed in a shop and layed off at an online betting exchange.
If the coupon odds available in the shop are higher than the exchanges you can profit.
Bookies coupons are printed a few days in advance of the matches.   Exchange odds are moving all the time and opportunity can arise.
However, it's not always as simple as that, because some bookies will cut the odds.  They also might not accept large stakes.
However, it's still an option to have available if it's of interest and you are in close proximity to a few well-known Bookies.
Best Sports For Arbitrage Betting
Arbs can be found on all sports and events.  However, some are more commonly seen than others, plus you need the market to be a reasonably popular one so that there's enough money in the exchange for your lay bets.
Football Arbitrage
High profile football, such as Premier League, La Liga, Serie A plus any Champions League football are great opportunities for arbs.
Being such high profile matches there are often hundreds if not thousands of pounds available in the exchanges.
Plus it possibly won't stand out as much to the bookie because lots of punters will be betting on the high profile matches.
However, if you take an arb on an obscure Mexican or Russian League game, expect them to notice your account much sooner.
As you can see in the screenshot below (click to enlarge), football arbs offer plenty of opportunities to profit.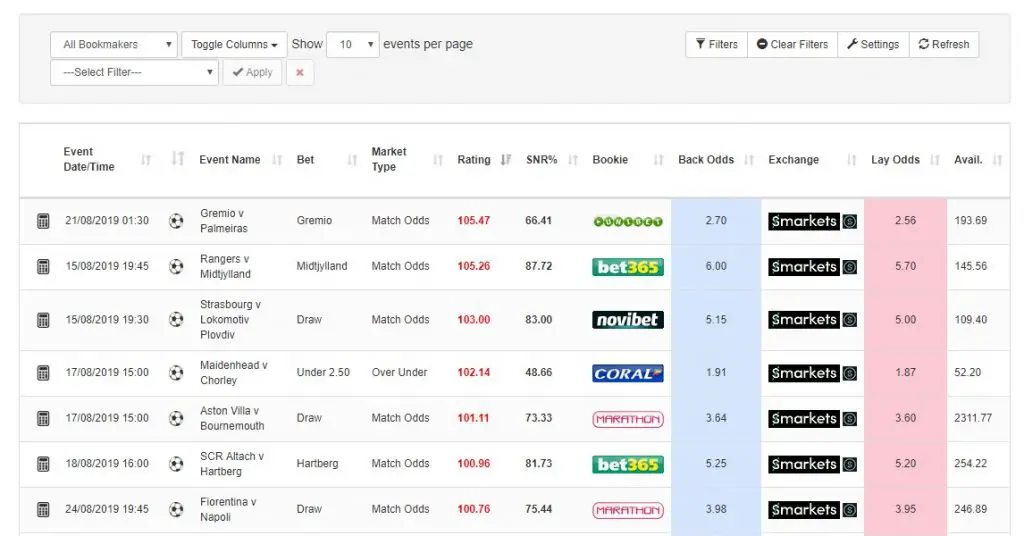 Horse Racing & Minimum Bet Guarantee Arbing
On big race days, there can be lots of money available in the exchanges for horse racing.
The odds move quickly at times.  Anywhere from an hour to 15 minutes before a race starts can be a good time to spot movements.   Any closer to the off and the moves can be wild.
The advantage of horse arbing is the quick turnaround of your money.  You can arb race after race on a good day.
Also sometimes even on a gubbed account, you might still get BOG (best odds guaranteed) which is always a nice bonus.
Minimum Bet Guarantee or Lay to Lose Arbing
A few bookies offer a minimum bet guarantee on certain horse races daily.
This can, therefore, present opportunities to all punters regardless of whether gubbed or restricted on other events.
If an arb opportunity arises, you can take advantage of it.
During 2019 Skybet had a "best price offer" on the horses and there were some huge arbs (so good that some people were using ungubbed accounts).
Tennis Arbitrage
Arbs can be found on tennis, and I've often seen them in-play.
At one bookie the odds would freeze during break periods and if the odds changed at the exchange an arb sat there.
These are the kind of things to look out for in all your bookie betting activity.
If you arb tennis, you must make sure the bookie rules match the exchange rules.
Basketball Arbs
Basketball games don't always show up in Oddsmatchers, however, the NBA matches are huge markets and while completing Matched Betting offers I have often seen arb opportunities open up.
This may well be the same for other US sports too with large exchange markets, especially nearer the event start time, which is usually late at night for us here in the UK.
Inplay Arbs
While completing Matched betting in-play offers you come across your own in-play arbs on certain bookies and sports.  Therefore they may be worth checking on at other times.
Sometimes they are posted on the Outplayed forums, which although you might miss at the time, you get an idea of which bookies and events they are occurring on.
Best Betting Exchanges for Arbing
When 0% commission deals are in place, (which you can access by being a member of Outplayed the best 2 betting exchanges are those that offer zero commission:
Smarkets – Good all-round exchange.  I like the auto-adjust stake if the price falls and you match lower.
Matchbook – Good for horse racing and basketball.  Possibly other US sports too.
It pays to have funds in both exchanges to take advantage of the lowest lay odds at the time of the arb.   Or, as is often the case, only one exchange is offering an arb opportunity.
Arbing Tips and Hints
Although arbing is relatively easy, when you start placing high stakes bets you need to be aware of a few things.
Arbing Stakes Size
When arbing with big stakes, you need to make sure there is enough liquidity in the betting exchange.
If other people are also arbing the same event, the money available in the exchange could soon be used up.
The price of the lay odds could change, it may still be well in profit, but the odds change will mean you will need to recalculate your lay stake.
Sometimes just using bigger stakes than normal can make you feel out of your comfort zone.   You need to make sure this doesn't lead to a mistake.
In my experience and from what I've seen being a Matched bettor for over 3 years, is that even normal small stakes matched betting, not taking any arbs can result in a stake restriction.
Therefore small stakes arbing is and does in some cases result in restrictions, therefore my strategy is to arb with as big a stakes as I feel comfortable.  Make the profits while I can.
Sometimes it's surprising how much you can get away with and for how long.
Stake Restrictions
When the restrictions come in, sometimes they are still at worthwhile levels.   If you have enough of these accounts you can arb them all day for multiple small profits.
On an unrestricted account, you can typically bet thousands.  Even if you don't choose too.
Usually, the restrictions come in stages and gradually you can place less and less.
However, sometimes you can offset this to a degree by only betting on very low odds opportunities which allow larger stakes.
Arbitrage Bank Size
A bigger bankroll has multiple advantages:
The more money you have:
The money arbing you can do.
Larger stakes you can place
Have funds in multiple exchanges and take advantage of the lowest odds
Not have to wait for withdrawals
At certain times, you can't have a big enough bank, there are so many opportunities.   £30-£40,000+ could be placed across bookmakers and exchanges.   I've posted an arb in a forum and been thanked because someone bet £20,000 on it.  It was very low odds, so not much would be needed in the exchange.  They also made a very good profit.
Accessible Money
Always make sure you have enough money in the right places.
If an opportunity arises at a bookie, say you get an alert and jump into action, always make sure you have enough money available in the exchange, or the bank if you need to top up.
These are all things that come with experience.
Best Bookies for Arbing
Generally, don't arb any bookie that hasn't gubbed you.
Free bets and promos can go quiet for weeks or even months at some bookies and then they come out with something awesome.
With experience, you'll know which bookies pretty much were useful only for the signup offer.
If you get involved in watching the forum threads you'll pick up tidbits of info too.
Arbing Risks
As with anything involving money, there are going to be risks.
Also as with most things, the more experience you have backing and laying will help you avoid and fix most problems.
Fixing Mistakes
If you make a mistake, usually with the lay bet, can you fix it?
Outplayed has calculators and easy instructions and often with videos that show how to use them.  Well worth familiarising yourself within them in advance though.
Best Arbitrage Betting Software
If you already Matched bet you may well already be a member of either of the two leading Matched Betting subscription sites.  They both offer ideals tools to use as arb bet finders.
If you aren't already on 0% commission, either site is worth joining just so you can claim that.
Outplayed's OddsMatcher updates automatically which means you can leave it open in a browser and keep an eye on it for opportunities.
They also have Dutching and Each Way, Extra Place tools which you can also use plus a range of calculators with easy to follow tutorials to help you fix any mistakes with confidence.  Plus the forum for arbing is very useful as I highlighted just one arbing thread had over 21,000+ posts in just its first 4 months of being re-set up.
Read full Outplayed Review.
Frequently Asked Questions ABout Arbing
How Do Bookies Know You Are Arbing
Bookies monitor the exchange odds at all times against the odds they are offering.  When you place a bet at the bookmakers the exchange odds will also be recorded.
Sometimes you will see an arb and be restricted from placing a bet.  This might be because a number of other arbers have also placed a bet in a relatively short space of time and the bookie has temporarily blocked all bets being placed rather than your specific account.  Often you'll notice the odds get changed relatively soon after.
Does Arbing get you gubbed?
It is highly likely that arbing will get your account gubbed.  You should not be arbing a a healthy ungubbed bookmaker account.  You are much betting off using Matched Betting tactics to profit from the bookie account first and leave arbing as a last resort.
Why do Bookmakers dislike Arbers?
Bookies are typically not making a profit on arb bets.  They are just being used by non-gamblers to make a guaranteed profit.   The arb is taking value from the odds at the bookies expense.
Can you make a living Arbitrage Betting?
You can make good money from arbitrage betting, however, it's unlikely you can consistently make a full time living from arbing alone.   Some bookmakers will inevitably restrict your accounts.
Sometimes there are amazing opportunities with certain bookies and sports, however, they seldom continue for many months at a time.
It's certainly possible to make very good money, and the Outplayed Arbing forum thread is full of members who have been arbing for years.  I myself made £100's even £1000+ some months.
Personally, I would combine with other side hustle ideas.
Conclusion
Now I'd like to hear from you.
Do you have any extra tips for arbing?
Do you have any gubbed accounts you would consider arbing?  Or a bookie account you are not sure about?
Have you tried arbing?  What has your experience been?
I'd love to hear, so please comment.
Also, if you found this post useful please share 🙂