Have you ever wondered how to make money from the free bets offered by bookmakers?
Well, if you have, you'll be pleased to know it's possible, and best of all you can lock in the profit so it's not a win all or nothing situation.
Even better all profits are tax-free.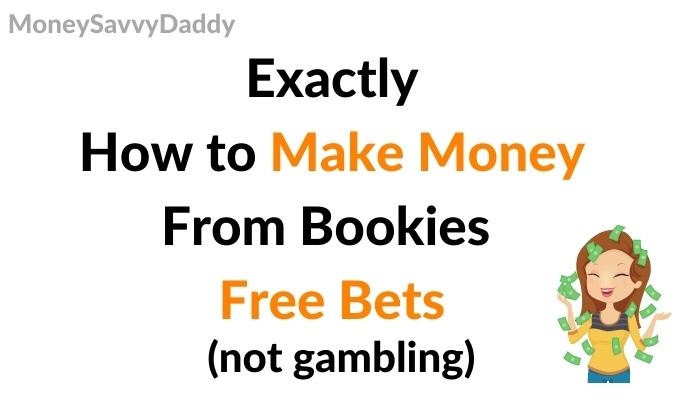 Disclaimer: This post may contain affiliate or referral links that earn me some commission if you sign up through them.  However, this is at no extra cost to you.  Read more here. Thank you if you do use them as they help to support my blog.
There are multiple ways to make money Matched betting, but the main way to get started is to make money from bookmakers new customer free bet sign up offers, of which there are usually 50 to 60+ opportunities available.
And those are just the start.
Brief Overview of Matched Betting With Free Bets Works
The majority of bookmaker new customer sign up promotions offer free bets as the main incentive.
Typically, you place a qualifying bet and when the event completes you receive the free bet in your account.
You would then profit from this free bet by placing both back and lay bets using the "Free SNR" calculations on the Matched Betting calculator.
Once you have completed many of the sign up offers you move on to what are commonly known as Reload Offers.
Again many of these reload offers will be similar to the signup offers.
You will place qualifying bets either to directly receive a free bet or in the hope of an outcome that earns you free bets.
Note on Odds: When Matched Betting, to compare odds we use a decimal format rather than the more traditional fractional format.
For example:
2/3 = 1.67
5/4 = 2.25
8/1 =9.0
Odds formats settings can be changed at the bookies, and betting exchanges use decimal anyway.
How to Profit From Free Bets
To understand how profiting from free bets works I have broken down every aspect.
What is a Free Bet?
A free bet is a form of bookmaker promotion giving you a free opportunity to bet on a sporting outcome.
Typically they are stake not returned free bets, so if you win, you don't get the stake back as you would with a real money bet, you just get the winnings you would have won had you used a real money stake in the first place.
Qualifying Bet
So exactly how do you profit from a free bet?
First, you have to qualify.
A qualifying bet is a bet that meets the criteria set by the bookmaker for you to be entitled to the free bet.
For example, the offer might state you need to bet above certain odds, on a certain sport and within a certain time frame.
For example:
Bet minimum £10
On any sport
At odds over 1.2
Now we don't want to place a bet and risk losing our £10, so what we do is place a qualifying bet at the bookies and an opposing bet at a betting exchange which between them both covers all possible outcomes.
Therefore, if the bookie bet loses, the exchange bet wins.
If the exchange bet loses, the bookie bet wins.
Whatever the result, one of the bets will win.
However, you will make a small loss these bets due to:
The difference in the odds at the bookie and exchange
Exchange commission
Exchange Lay Bet 
Using a betting exchange you can act as a bookie.
This enables you to accept a stake bet on the same event outcome you just placed at the bookmakers.
The two most well-known betting exchanges are Betfair and Smarkets.
Keep Qualifying bet cost low
Now you don't just want to place any old bet to qualify, you want to qualify for the free bet as cheaply as possible.
To keep your qualifying bet cost low you need to choose sporting events where the odds at the bookie and exchange are very close, for example, 1.78 and 1.82.
Lets take a simple example to see why:
Example: Football Match England to win v Germany.
Let's say the odds for England to win are 3.0 at the bookmaker.
If they are also 3.0 at the exchange, we can bet £10 on England to win at the Bookmakers and completely offset that by effectively acting as a bookmaker at the exchange and accepting a £10 lay bet at odds of 3.0
Assuming the exchange commission is 0%, this means you would lose nothing, no matter what the result.
If England won the match you would get £30 back from the bookie and lose £30 at the exchange.
Should England have lost, you would lose your £10 at the bookie, but win the £10 lay stake you accepted at the exchange.
Your qualifying loss would be £0.00.
I've used a break-even example, so you can see that back betting at the bookie and laying at the exchange on the same outcome is effectively doing the same thing and each bet cancels the other out.
Here's how it would look in the Outplayed Matched betting Calculator.  (Qualifying bets are under Bet Type mode "Normal").
In reality, you will always make a small loss, because Bookies prices are nearly always higher than you can find at an exchange, and they wouldn't want to be offering lower odds.
If they did, people could simply profit by placing arb bets, which is simply profiting from betting at the bookie and laying at the exchange.
Also, sometimes betting exchanges charge a small commission, but for long periods of time Outplayed.com members have been able to activate a 0% commission offer for months at a time.
While there's a time and a place for arbing, as a beginner it will soon get your accounts gubbed (not entitled to offers), so don't do it unless you fully understand why you are doing it and only at bookie accounts its suitable for.
Profiting from the Free Bet
Once you have your free bet sitting in your account, you can look to place it for maximum profit.
Typically we would aim for 75-80% profit of the free bet value.
So for example:
£10 free bet aim for £7.50 to £8.00 profit
£30 free bet aim for £22.50 to £24.00 profit
If you're accepting less profit than this, you are potentially leaving money on the table.
However, there are always exceptions, for example, if you are really limited on what you can place the free bet on, you may have to accept less.
Higher Odds for Free Bets
Whereas with the qualifying bet you are looking for odds matches as close as possible via the OddsMatcher, with free bets you are looking to extract maximum profit.
You can do this better by betting on higher odds outcomes.
Taking our £30 free bet example I'll use these 2 extreme examples to illustrate the point.
Example 1 £30 Free Bet 
Back Odds 1.8
Lay Odds 1.82
Commission 0%
Profit £13.18
Free Bet Retention 43.95%
As you can see, even though you've found a very close match, the profit is just £13.18, which as indicated on the Outplayed calculator is a very low 43.95% retention.
Now if we go for higher odds, even if they are not as close:
Example 2 £30 Free Bet
Back Odds 6.0
Lay Odds 6.3
Commission 0%
Profit £23.81
Free Bet Retention 79.36%
This time, although the odds back and lay odds are a lot further apart and you'd never use them as a qualifying bet, they are ideal for a free bet and give you a 79.36% profit retention.
Here's how it would look in the Outplayed Matched betting Calculator (Free bets are calculated under Bet Type "Free Bet (SNR)").  Snr means no stake returned.
The amount of profit you make is important, because both bet examples take the same amount of time, so you may as well be maximising the profit for your time input.
Generally, you always want to be aiming in the region of 75-80% free bet retention.
Examples of Different Free Bet Offers
There are various different ways to qualify for free bet offers.
Some offers enable you to guarantee yourself the free bet, whereas others are dependent on a certain outcome.
Bet and Get Free Bets
With Bet and Get free bet type offers, you know that if you follow the qualifying bet instructions, you will get the free bet to the value that the offer states.
For example, if the offer is Bet £30 get £10 free bet, and the instructions state "Bet £30 on any sporting event at odds over 1.5" and you do that within the required offer timeframe, you will qualify for the £10 free bet.
Examples of Bet and Get Free Bet Offers:
Bet £50 get £50
Bet £50 (£10 x 5 bets) to get £10
Bet £20 get £5 free
Bet £10 accumulator get £10 free Accumulator bet
Some offers are more specific in when and what you can bet on.  For example, you'll be able to make money from the best Bet365 free bet offers, often up to £50 but for a specific Champions League football match.
Here's an example of £50 Inplay Free Bet offer for existing customers from 2020, which should give you an easy £30-£35 profit.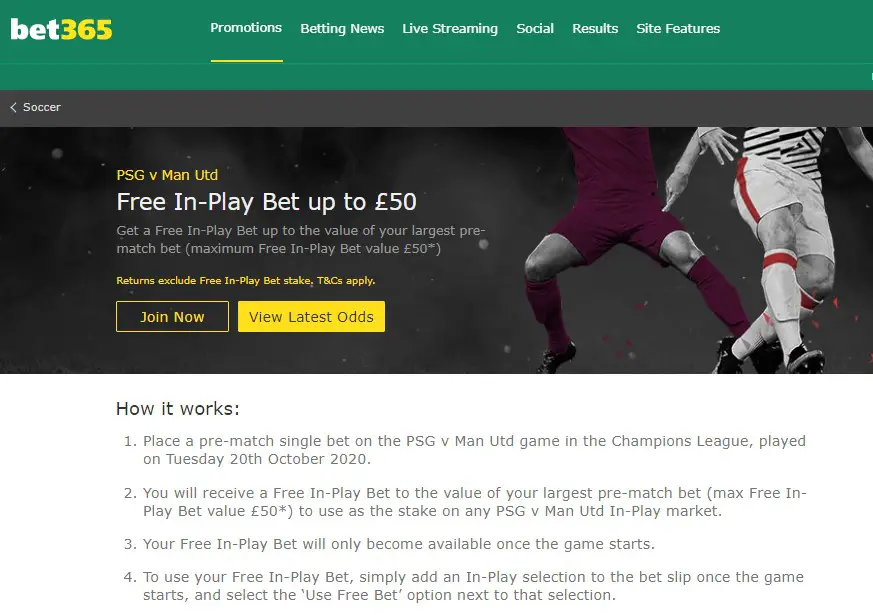 Refund if Free Bet Offers
"Refund if" type free bets offer differ in that you aren't guaranteed to receive a free bet.
You only get the free bet if a certain criterion is met.
Therefore you still have to place qualifying bets, but sometimes you won't actually get the free bet.
With these type of offers you generally will be aiming to keep your qualifying costs low, so will be sticking to very close match opportunities.
Examples of Refund If Free Bet Offers:
High 5 – if the horse wins by 5 lengths of more get 25% extra winnings in free bets
£10 free bet if horses finishes 2nd
£10 refund if the bet loses but team hits the crossbar
Bet £20 get £5 free bet per goal your team scores
and many more variations.
If you keep an ear in the Outplayed.com forum, you will tune in to when there's a buzz around particular good current offers, as they change over time.
You'll find all these types of offers in the Reloads section of Outplayed.com.
Many offer you daily opportunities to profit, for example, the same offer every day on horse racing.
Although, in general, it's better to stick to when the main events and not overdo it too much on any particular bookie account.
Where to Find Free Bet Offers (With Full Instructions)
You'll no doubt be keen to know where to find all these free bet offers?
I use the site  Outplayed.com and have done so for 4 years now.   In my first 3 years I made approximately £30-£35,000+  and posted some income reports on the blog which you can find in the search or via links in my Matched Betting Guide.
If you are interested in starting out and making your first free bets profits, consider taking the Outplayed totally free trial which will walk you through completing 2 offers.
After completing the 2 offers you'll then have actual experience and a fuller understanding of how the process works and approximately £40-£45 profit. 
From there you can then decide whether to sign up and complete more free bet offers.
New Customer Sign Up Free Bet Offers
Initially, once you sign up you will focus on free bet sign up offers.
Outplayed.com typically offers newbies a choice of at least 50-60+ sign up offers.
Once you have completed all the sign-ups you wish to do, (which might not be all of them, depending on the offer type), you move on to Reloads.
Reloads – Existing Customer Free Bet Offers
Reload offers are offers to existing customers in order to keep the customer betting and hopefully depositing more money.
It's a common misconception that you can only do matched betting on the signup offers.  Nothing could be further from the truth and the signup offers are just the beginning.
You'll find all kinds of free bet offers and many other types too in the Outplayed Reloads section.
Emails/Forum
As soon as you sign up to bookies they may start sending you emails for free bets offers.
At first, it's best to ignore them, because until you are more experienced, it's best to just follow the instructions for the signup offers.
If anything looks particularly enticing and you are unsure how to do it, check the Reloads section of Outplayed.com as it will highly likely appear in there if it's an offer open for everyone to do.
You can also find or even post email offers of your own in the relevant Outplayed forum thread as well as discuss how to do them if they aren't on the site elsewhere.
What to do if your Free Bets aren't Credited?
The vast majority of the time you will get your free bets credited to your bookmaker account.
Make sure you read the offer instructions in Outplayed.com, which will state the date and time free bet will be credited by.
If the free bet is not credited and you are sure you did everything to qualify correctly and the sporting event completed, simply go onto live chat or email support.
Tips for placing Qualifying & Free Bets
As a general rule, I would always recommend as best possible to stick to main sporting events
If placing bets on Football, stick to the Premier League and the main European leagues, such as the Spanish La Liga and Italian Serie A.
Don't start betting on obscure Turkish, Danish or Russian leagues, which typically real punters aren't betting on either.
If betting on Horse racing, stick to main racing events, for example, those televised on ITV Race days.
Never arb a qualifying bet.  If the bookie odds are higher than the exchange avoid.  Although you would make a small profit on the qualifying bet, bookmakers frown heavily on arbing as its an easy way for punters to profit from them.  They will likely swiftly gub your account so you won't be entitled to free bets.
While arbing is a strategy in its own right, it should only be used on certain accounts, and ideally ones you've been gubbed on 9not entitled to free bets and that you have no other way of extracting value from.
Free Bets Are Just the Start
When it comes to Matched Betting, free bets are just the start.
There are multiple other ways to make money from bookies without free bets.
It's best to focus on the profit from free bets first and gain a basic understanding of how Matched Betting works and just add the other offer types to your repetition over time.
It really won't take too long once you get started and seeing how it all works, and best of all see the profits mounting.
Conclusion
Hopefully, you can see how easy it is to profit from bookmaker free bets and why Matched Betting has become such a popular side hustle in the UK.
Not only is it easy for anyone to start, because a complete novice can following the Outplayed.com clear step by step instructions, but the profit is also all tax-free.
All the money you make is yours to keep.
If you have any questions please ask.