Interested in making up to £400+ from the best refer a friend scheme? Possibly a lot more if you recommend multiple friends to the same scheme, some of which pay £50-£100 a time.
Without even realising you might already be sitting on an ideal way to either reduce your house bills and or earn some decent extra cash, simply by recommending them to friends on social media.
I think of it as referring my bills away and I have personally made £100's a year doing so.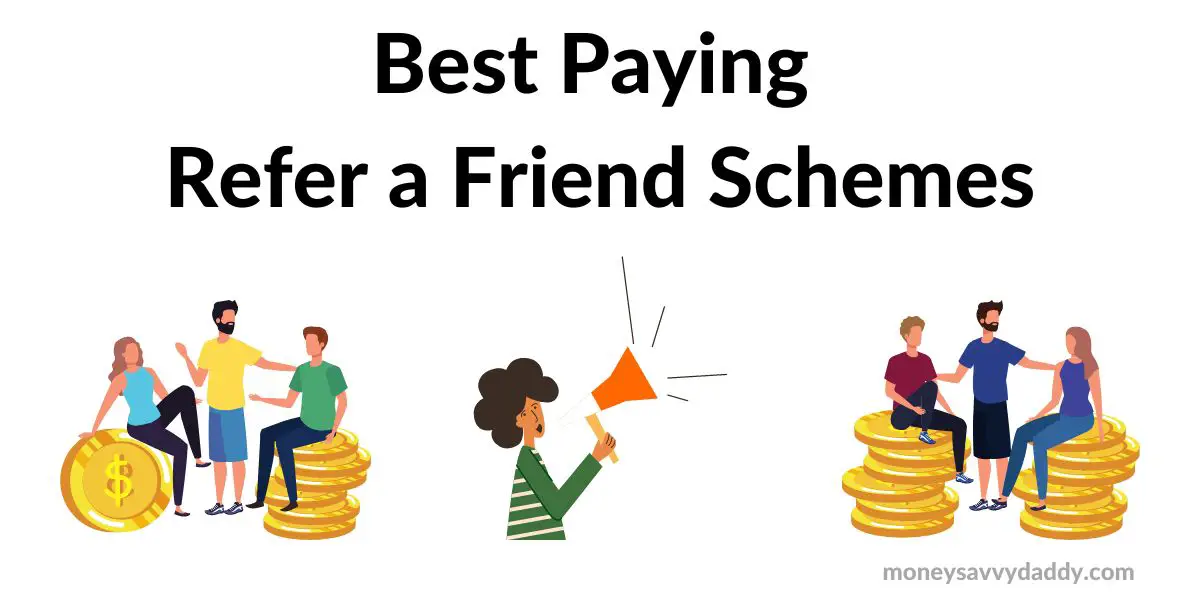 Disclaimer: I've used refer a friend and some affiliate links within this post.  This has no effect on the price you pay.
Often with a refer a friend scheme, you and your friend can benefit in 2 ways.
Firstly you can both take advantage of a good refer a friend deal, saving and making you both money.
Secondly, you have the option of then referring your own friends for even more income.
We all have those friends who aren't afraid to keep sharing their latest MLM offering on social media. So don't be shy about mentioning any good deals you can offer to your friends and family, especially if the savings or rewards are quite large.
In some instances, you could be doing them a massive favour, such as saving them £200-300+ on their energy bills just for spending a few minutes switching energy providers.
You might also be interested in this post:
Best Refer a Friend Schemes 2023
Below I've split the best current refer friend schemes up into categories.
Please note: all referral schemes are subject to change at any time.  If you spot any changes please feel free to let me know.  Terms and conditions will apply to all these offers.
Household Bill Recommend a Friend Schemes
If you run a household, chances are you could well be sitting on an opportunity that offers a recommend a friend scheme and giving you the chance to make some extra money and often save your friends and family money at the same time.
Eon Next

Refer a Friend Sky Get £50 each
Switching energy companies is easy these days.   Eon Next offers 100% renewable energy and cheap tariffs to match.
Follow this referral link and simply input your postcode to get a quote to see how much cheaper it is than your existing tariff.
Complete the switch in matter of days and get a free £50 credited to your account.   You can then refer as many friends as you like to make more.
Get free quote here: Eon Next £50 Referral link
Here you can read the full Eon Next Refer a Friend and Review.
Sky Tv, Broadband and Mobile

Refer a Friend Sky Get £100 each
As a Sky customer, you can invite friends to join and both receive up to £100 each in the form of a Prepaid Mastercard.  The exact amount depends upon the service the friend takes out.
You can use our Sky Friend referral link here to claim your discount
Check out our full guide and tips on our  Sky Recommend a Friend for up to £100 post.
Virgin Media

Refer a Friend and Get £50 Cash Each
Existing Virgin Media customers can introduce friends and both receive a £50 cash reward.
Find out more about Refer a Friend to Virgin Media.
Mobile Phone Refer a Friend Cash Rewards
With the kids all of the age to have mobile phones, as well as the adults of the households, mobile bills can soon add up.   So take advantage of the many friend referral schemes available from mobile phone companies.
Giff Gaff Refer a Friend Get

£5 for you and £5 credit for a friend
I use Giff Gaff for Sim Only deals on most of the mobile phones in my household.  I've found them to offer great value.
If you would like to get started here's my Giff Gaff referral.
You can convert the payback to credit, cash out via Paypal or donate to charity.
Find out more on the Giff Gaff spread page.
Three Mobile Refer a Friend Get

£20 to £40 each
Three mobile offer a range of options and rewards for referring your friends.
Pay monthly phones £80  (£40 each if you split)
Sim only £40 (£20 each if you split)
Mobile broadband £40 (£20 each if you split)
As part of the referral, the person referring can choose the split.   Either keep it all, split 50/50 or give it all away.
If you would like a 50/50 referral please feel free to contact me or Dm me via social media profiles.
More on the Three Refer a friend scheme.
O2

Recommend a Friend £25 Amazon Voucher Each
Both receive a £25 Amazon gift card voucher when you qualify for the tell a friend scheme referring a friend to buy a mobile phone, tablet or mobile broadband on O2 Refresh.
Vodafone Refer a Friend Get

25 Amazon Voucher Each
Refer a friend to Vodafone on a Pay Monthly or SIM only contract over £10 a month and you'll both get £25 in Amazon Vouchers
Vodafone Friend Referral details here.
If you are particularly interested in Amazon, have a look at how else to get free Amazon gift cards.
Food Refer a Friend Bonuses
HelloFresh Refer a Friend

–

£25 credit (varies)

If you subscribe to HelloFresh you can refer friends and get £25 a time, although the amount varies.

You can get this even if you are not currently a subscriber.  If you haven't tried HelloFresh its sometimes available at hugely discounted rates and on occasion I've claimed a the equivielnt of a free box and free money on top from a cashback site.

You can find out more here: Is HelloFresh Worth it & Refer a Friend info.
Money Making Referral Schemes UK
If you are looking for ways to make extra money in general, then these moneymakers might be of interest.  Or you might already be signed up but not aware of the referral scheme.
Outplayed

Refer a Friend and Earn £20 Each Referral + Friend Gets £20
I'm a huge fan of making extra money from side hustles.
One of my absolute favourite ways to make extra money is via Matched Betting.  In short, it is exploiting bookmakers and online casino offers for profit.  These offer literally hundreds of ways a day to make some extra money.
Outplayed.com* is one of the leading Matched Betting subscription sites with thousands of members.  They provide all the sign-up offers and daily reload offers to profit from.   You can read my Outplayed review to find out more.
Once you are a member they offer you the opportunity to refer friends for £20 per sign up.  Your friend will benefit from discovering Matched Betting as a legit way to make extra money whenever they need to.  All profits are tax-free too.
Oh My Dosh

£5 & friend gets £2
Oh My Dosh  you can earn money per individual task you complete.
Tasks vary from completing a survey to getting paid to complete a sign up.
You can start your friend off with a £2 referral and earn £5 in the process.
To find out more read my Oh My Dosh review.
Swagbucks –

300SB & 10% of earnings
Swagbucks is a money-making site that pays users for all kinds of easy tasks.  From completing a survey, being rewarded searches or offering cashback and lots more.
It's not a massive earner, but it's one of the most popular of its kind.
For friends that you refer, you can earn 300 SB (Swagbucks) and 10% of their earnings.
For more information, including tips and tricks to boost earnings, read  Swagbucks UK – Does it work and is it legit?
Free Shares (Up to £100-£200)
There's a new breed of share dealing apps that offer you the opportunity to buy and sell shares with no trading fees.  This is huge because over time these fees can really eat into your overall investment returns.
They also offer other advantages:
Fee-free share dealing
To get started buying really smallholdings
Offers the option to buy fractional shares in companies you might not otherwise be able to afford, e.g the Tesla when the share price is U.S$ 800  or Warren Buffets Berkshire Hathaway U.S$ 273,844 per share.
Some of the shares pay dividends, so if you keep the shares you'll periodically get small extra payments.
Freetrade

– Free Each Share up to £200
For more info see my Freetrade Review (Message me if you'd like an invite for a free share)
Trading 212

– Free Share up to £100
My Trading212 Review – includes referral links within the post to or feel free to message me.
My highest so far has been a share in Nike worth over £76 and in total over £200's in free shares.
You can find more options for claiming free stocks and shares worth £100's in the UK.
Banking Refer a Friend Schemes
Making money from Bank switching in its own right is a way to actively make extra money. I've made a good few hundred pounds over the years.
Nationwide – Promotion currently paused
TSB – Promotion currently paused
However, in addition to common bank switching options are bank refer a friend scheme.
You can find the latest bank referral and switch bonuses here.
Money-Saving Cashback App Referrals
Cashback sites or apps are one of my favourite ways to save money.  Primarily because they are so easy to use and the savings really do add up over time, often into the £00's of pounds.
Sometimes you can even use them to actively make some extra cash.  For example, getting £50 cashback for opening a bank account.  Or if you do Matched Betting you can sometimes get cashback from a bookie or casino sign up offer in addition to the profit you make from the offer.
Both the main cashback sites offer Refer Friend deals, although the amounts change quite often.   Currently at the time of writing they were:
Topcashback

Varies typically £5 to £20
Topcashback is the site I use the most often, be sure to check out my Topcashback Review if you don't already use it.
Topcashback – Once you've had your free account, click on "Account" and then "Tell a Friend"
Quidco

Typically £7.50 to £10
Well worth having an account with in addition to a Topcashback account, as between them they almost always cover every opportunity and the best value offers available.
Quidco – Login and loo for "Refer & Earn" in the menu.  Currently, it's £10 each, sometimes it's £7.50.  Varies.
Your friend will have to use the cashback site and earn a small amount of cashback, around £5 for you to both qualify for the offer.
If you are new to cashback sites, and Quidco Review.
Conclusion
As you can see this range of refer a friend bonus schemes offer the potential for either direct savings on your bills or a decent direct income.
Do you know of any other good friend referral schemes?
If so, please feel free to share details in the comments.