Make the most of Now TV Free trials and cheap deals for existing customers to slash your Sky Tv bills by more than you can imagine!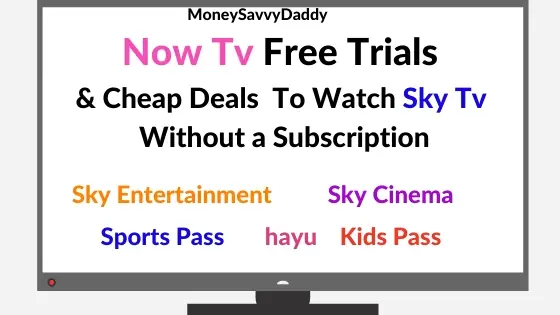 Did you know Now TV lets you watch the best of Sky TV with no setup fee, long term contract or any hidden fees?
Plus you can pick and choose from a range of channel package passes that are available on a monthly basis.
Best of all, all those advantages at a much cheaper price than a Sky TV subscription.
That's before we take advantage of free trial offers and cheap deals for existing customers.
There are even cheap options to turn your existing TV into a Smart TV using Now TV.
So let's take a look at the possible options for you and how much you could save.
What Is Now TV?
Now TV is a flexible online streaming TV service that offers users a contract-free way to watch SKY TV, which actually works out to be a much cheaper option too.
Although it's contract-free, the monthly passes are on a rolling subscription, so you will keep getting charged until you actually cancel, which is easy enough to do online and for which I've included a video of below.
Much like Sky, the content is split into category bundles known as Now TV passes. These give you the further option to pick and choose which monthly Passes to pay for and which you can start and cancel whenever you like. This flexibility is handy if ever you want to tighten your budget and cut back on bills for a bit.
Who Owns Now TV
Now TV is a totally legit option to replace SKY TV and is actually owned by the same Sky parent company that owns SKY TV.  It was set up to service customers who don't want to be tied into lengthy and expensive contracts.
How to Watch Now TV
Being an online streaming service you need a device on which you can access Now TV via a web browser or an App.
Some Smart TVs may already have the Now TV app installed.
If you don't already have these requirements there are a couple of good value solutions, especially when combined with purchasing Now TV Passes.
Internet Speed – WiFi or Broadband
You don't need a satellite dish for NOW TV but you will need the following minimum internet speeds:
Broadband speed of at least 2.5Mbps.
Mobile 3G or 4G devices minimum speed of 450Kbps.
Any lower and you may experience buffering.  If in any doubt, just test it out on a free trial below.
How Many Now Tv Devices
You can watch Now TV on up to 4 devices per Now TV account.  You'll be able to stream to 2 devices at the same time.
How To Make Your TV Smart
If you don't have a Smart TV you can't benefit from Now TV, but fear not as there are two very good value options available which effectively and cheaply turn your TV into a Smart Tv.
Both options will also give you access to some Now TV free channels via on-demand Apps including
4oD
BBC iPlayer
ITV Hub
My5
Plus the Youtube App which is also free.
NOW TV Smart Box
A NOW TV Smart box allows you to plug the Now TV box into your Tv and play your chosen content through your broadband.
A Smart Box is around £45, however, you can get some great deals with passes.  These passes will start incurring a monthly fee once you start using your box so make sure you cancel the monthly passes that you don't intend to keep using.
The Now Tv Smart Box is really simple to set up.
You simply
Connect the box to the TV via the HDMI port
Plug the Box into mains
Pair the remote
Connect to Wifi – Box will scan for your WiFi and you'll need to enter the password.
Sign in or create your new Now Tv account
Now TV Smart Stick
The Now TV Smart Stick is another even cheaper option.
You simply plug the Now TV smart stick into your compatible TV.
The Now TV Smart stick set up is very similar to that of the smart box.
You just:
Connect the stick to the TV via the HDMI port
Pair the remote
Connect to Wifi
Select TV display type
Sign in or create your new Now TV account.
Cashback Option: Topcashback and Quidco both usually have cashback deals on both Now Tv Devices.
I have a review of Quidco here if you are new to it.
Now Tv and Netflix
Having a NOW TV Smart Box or Stick will also give you the option of signing into your Netflix App via your Now TV device.
It doesn't need to be a choice of Now Tv or Netflix, you can have both and rest both subscriptions at any time you choose.
Recording Now Tv
You can't record Now TV but you can watch most shows, later on the catch-up service until the final viewing dates allow.
How Much Is a NOW TV Pass A Month?
One of the best things about Now Tv is how cheap it is by comparison to SKy TV plus it's on a flexible rolling month by month payment that you can cancel anytime.
These are the current individual pass prices.
Entertainment Pass £9.99 a month

Sky Cinema Pass £9.99 a month
 Sky Sports NOW TV passes:
24-hour Day Pass £9.99
Month Pass is £33.99 a month
Mobile Month Pass is £5.99 a month
hayu £4.99 a month
Now TV Boost £5 a month
You can pick and choose whichever pass you like, you don't have to start with an Entertainment bundle before buying any others like SKY TV force you to do.
Entertainment Pass Includes channels such as Sky Atlantic, Sky one and more.  Plus the box sets. With Game of Thrones setting the benchmark high for quality modern TV, many other of the best TV shows, especially those by HBO are shown on these channels.  Big Little Lies, Chernobyl, Catherine the Great, are just some of the prime examples.
The Kids pass as been merged with the Entertainment pass and includes Nickelodeon, NickToons, Nick Jnr, Boomerang, Cartoon Network, and Cartoonito.  Children will also be able to access Freeview channels such as  CBeebies and CBBC and others on demand.
Sky Cinema – 1000's of movies available and new ones added every day. Sky Cinema gets some of the best new movies months before the likes of Netflix and Amazon Prime.  The price is pretty similar to Sky TV if you get their discount.
Sports Passes – Now TV offers Day, Week and month sports passes with current prices around.   The day and week passes won't need cancelling. hayu is for lovers of US reality tv shows including the likes of The Real Housewives & Keep Up With The Kardashians.
There's also a Sky Sports Mobile Month option which gives unlimited access on your smartphone to 5 Sports channels for just £5.99 a month.
You get Sky Sports:
Premier League
Action
Arena
Racing
News
Now Tv Versus Sky Tv

Price Comparison
Bearing in mind Sky Tv Bundles usually start with a £20 set up fee and a minimum monthly price of £25 a month and tieing you into a minimum 18-month contract.
That's without adding any of the extras like Movies or Sport.
Which of the following option would you choose?
Sky TV Entertainment + Sky Cinema £31 a month
Now Tv Sky Entertainment + Sky Cinema £20.98 a month (cancel either anytime)
Over the course of 18 months, this is how the prices compare
£558 Sky TV
£377.64 Now Tv A saving of £180.36
That's without taking advantage of any cheap Now Tv deals which allow even more of a saving.
It is possible to reduce your Sky Tv bill as they easily give discounts to renewing in-contract customers, but the prices are already significantly increased and you only get the discounts if you ring up or haggle online.  Many existing customers carry on blindly paying the inflated prices.
For an existing Sky customer, the Sky Entertainment package might be increased to £27, so they discount to £20 and then you have to pay for every little add on, like box sets, kids, HD, etc.
Sky will make out they are giving you a great 42% discount on Sky Cinema which has a starting price of £19, they offer a discount to £11 so you think it's a great deal, this is one top of the required £20 basic package.
Now Tv Free Trials 
Going direct to NOW TV you will be offered 7 day free trials for:
Entertainment Pass 7 day free trial
Kids Pass 7-day free trial
hayu 7-day free trial
You just need to choose a pass and set up a NOW TV account and you'll be able to watch on whichever devices you choose to.
It's a rolling monthly contract, so set a reminder to cancel if you don't wish to continue.
Possibly Get Paid To Take NOW TV Free Trial
These options will only apply to new customers.
OhMyDosh is a site that is set up to help people actively make money from cashback type offers and free trial type opportunities.  See full OhMyDosh review if you're interested in making a few extra pounds.
For example, they were offering a 30 day free trial to hayu, which you could cancel after 7 days and earn £2.50.
Now TV Free Pass Deals Via Email
Once you are signed up to Now TV, whether you continue to use it or not, look out for free Now Tv deals in your email inbox like this one I received:
They offered me a totally free month of Sky Cinema:
New Customer Deals
As well as free trials there are also other options worth exploring.
Cashback Site Deals
Two of the best cashback sites, namely Topcashback and Quidco have a range of offers for new Now TV customers.
Bearing in mind these cashback deals change often, here are some examples for New Customers:
£12 cashback on Sky Cinemas Pass
3 months of Sky Cinema for £23.99 and get £12 cashback
3 months of Entertainment for £17.99 and £6 cashback
Even without the cashback some of them are great offers.
Now TV Deals For Existing Customers
If you are already set up with Now TV, you may be looking to find the cheapest Now Tv passes or vouchers for existing customers. 
Where To Buy Now Tv Gift Cards
Here are a couple of examples, if you click through you may be able to find more suitable deals offering different timeframes.
Examples of deals, just this 2-month pass would save £4.48, a 24% saving!
Now TV Sky Movies pass save £2.97 if buying 3 months, better deals may be available, click through and have a look.
Now Tv Voucher Hack – Boost By 10 %
Back to the cashback sites again.  Another reason I like them so much is you can boost your previously earned cashback on withdrawal but opting to take your cashback in the form of vouchers or in this case NOW TV Passes.
You can read more about this in my Topcashback review
In this case, Topcashback was offering the option to withdraw the cashback via the Reward Wallet and then via a NOW TV Pass and get an extra 10% bonus.

They have the same for Entertainment pass too.
Tesco Club Card Points
Now TV has joined Tesco Cub so you can now triple up your card points and spend as a credit on any NOW TV product, including NOW TV passes.
So for example, if you've accumulated £10 worth of points you can buy £30 worth of passes.
How To Cancel 
Cancelling Now Tv is pretty straight forward.
However, you do need to confirm you want to cancel more than once, and there's a chance some people might just click it once and not be fully cancelled.
This video highlights the cancellation process.
The  Now TV cancellation process
Click My Account
Sign in to your account
Go My Account
Click on Passes and Vouchers
Locate Pass and click "Cancel Pass" of the one you want to cancel
Choose a reason for cancelling (

Tip*

choose "I can't afford at the moment)
Next page, click "I still want to cancel"
Another page again click "I still want to cancel"
I've highlighted this process just so that anyone cancelling makes sure they do actually fully cancel.
It is a little long-winded, but as the video highlights, its a pretty quick process.
Trigger Offer Cancel Trick / Hack
Tip*:  If you chose the option for cancelling "I can't afford at the moment".  Sometimes at this stage, you may be offered a deal to stay.  Some people do this just to see if they get an offer even if they don't want to cancel.
Even if you do want to cancel it may trigger a more suitable email promotion.
Conclusion
Not only is Now Tv a cheaper alternative, as I've shown in the post there are plenty of ways to get it even cheaper and on occasion for free.
Whether a new or existing customer, I hope you found an ideal option for you.
What do you think of Now TV?  Did you use it to make a saving?
If you have seen any great deals or offers please feel free to share in the comments.