How to make money as a teenager is a question I was recently asked by teenage daughter, who's eager to make some of her own cash.
So I decided to do a little research and find as many options as I could for making money in your teens.
It turns out there are numerous ways for 13 to 17 years to make money online as well as in the real world.   
From instant earning, get paid to do tasks, such as watching videos, playing games and completing surveys, through to starting your own online income streams by various means. 
 Let's look at the options now.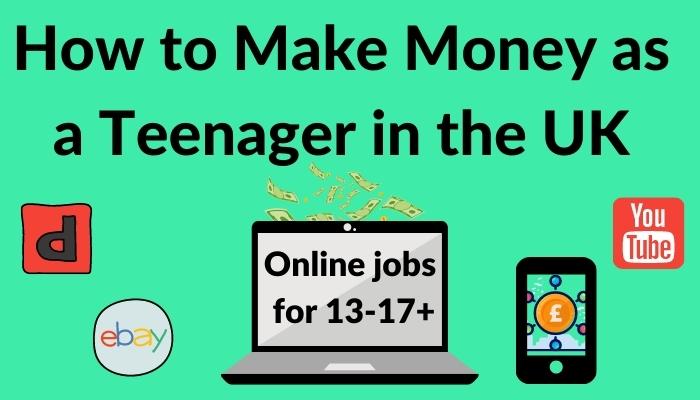 Disclaimer: This post may contain affiliate or referral links that earn me some commission if you sign up through them.  However, this is at no extra cost to you.  Read more here.
Working Under 18 and the Laws
Whatever form of work you undertake, make sure when and what you are doing is within the UK Child Employment Rules.
It covers points like:
Locations are hours of the day you are not allowed to work
Maximum hours you can work in term-times
School Holiday rules
Differences in the hours you can work based on your age 13-14 or 15-16 years old
Local laws
It's a fairly simple read and well worth a quick look.
Paypal Age limit
A number of ways to make money for those under 18's will require a Paypal account.   Paypal's user agreement states, "you must be at least 18 years old".
Please don't get any ideas about opening one up under 18 as there's the very real risk of having your account limited or suspended down the line, even when you are over 18.  As this 27-year-old found out 10 years after opening his account when he was 17.
Online Safety
When you are doing anything online please be aware of your own online safety.
While you will have to give some personal information if you sign up to money-earning sites, you should do this under the supervision of an adult.
In general, and particularly on social media or any platform in which you interact with strangers, please bear your own safety in mind.
Here are some basic guidelines:
Don't give away your personal details, name, address
Be careful of what photos or videos you post of yourself
Don't give out passwords
Let a responsible adult know what you are doing
Have a quick scan of these easy to ready tips for staying safe online.
Fast Ways to Make Money Online For 13 to 17-year-olds
These options are ideal for making quick money if you are at least 13 years or older.
Although bear in mind some may still require the consent of a parent or guardian over 18.
They are also good options if you currently have no money so you can't start off the ideas that require some money to get started, or you are undecided on what else to try and do and just want to get started earning as quickly soon as possible.
I say "fast" and "quick". What I mean by this is you can pretty much sign up and start earning straight away.  Although will usually take a while for you to earn enough to cash out.
However, they are much quicker than options like setting up a Youtube channel.
I've put the online list in order of age limits, but note there are more opportunities further down the page for various age ranges.
Don't think the older age options offer better-earning potential than the younger age limit options.
In fact, two of the best options for teenagers as well as adults in this field are the top 2 I've listed, Swagbucks and InstaGC.
These are typically online surveys or get paid to do small tasks, like watching a video.
Although low paying, many are tasks you can do while doing something else, like watching TV/Youtube etc.
I've included review ratings to give you an idea of which might be the most suitable options.
1. Swagbucks
Age: 13 and over, but encourages you to seek parent or guardian's permission.
Swagbucks is the most well-known and best-earning online survey and task sites.
Rewards are paid in Swagbucks shown as an SB value for each task.
There's a wide variety of mini earning options available including:
Watching videos
Rewards for searching the web
Surveys
Referring Friends (300SB)
Example of Swagbucks £98+ worth of offers for playing games:

I checked the casino apps and they were age rating 12, so in theory, with just these 4 apps alone there's 11,338 SB's on offer, which is £98+ in cash value.  Plus there's plenty more, and this is just one area of the site.
Imagine £100 from playing games up to a certain level within a timeline, e.g 14 days.
If you think your friends would also like to earn some money, for each one you refer you'll not only get 300SB, but also 10% of their earnings.  So if they also did just the top 4 games you'd get the equivalent of over £10 for doing nothing.  This could quite possibly be your first time earning a passive income?
Collect your Swagbuck rewards in form of cash via Paypal vouchers or for the likes of Amazon.
The value of the Swagbucks will vary over time depending on the UK£/US$ exchange rates, as basically 1000 SB is US$10.
For residents in the UK the amount varies  a little depending on the reward type you choose, but to give you a guide at the time of writing the following reward redemptions were available:
1300 SB for £10 Amazon gift card
1450 SB for £10 to Paypal
If you are under 18 you won't be able to earn from every opportunity on Swagbucks (for example switching energy suppliers etc), but there is still plenty of things to do.
You can set a daily target, which will not only get you a little extra but will really get you in the habit of earning.  Work out a little plan of what to target and what sections of the site to check for offers.
I have more tips and tricks to increase your earnings in my Swagbucks Uk review.
>>Start earning right now with Swagbucks here.
Trustpilot Rating: 4.3 (17,000+ reviews)
2. InstaGC
Age: 13 and over.
Is a fairly popular GPT (Get Paid To) site with additional online survey site for adults, so it was pleasing to find it's also suitable for over 13's.
You can earn points by:
Online surveys
Watching videos
Completing tasks
If you have more than 1 device type you will be able to watch different video playlists.
Video tasks are great because you don't need to actually watch them, just leave them running.  I the meantime be doing something else, perhaps completing a survey on a different device.
You can cash out your points via the likes of Amazon, Argos, Asos and others.
Here's a fab review of InstaGC with an overview of what's available.
Trustpilot Review Rating: 3.7 (100 reviews)
3. Slice the Pie
Age: 13+
Slice the pie offers you the opportunity to review and give feedback on music and fashion.
It won't necessarily be mainstream chart music.  It will more likely be music from artists you haven't heard of.  Who knows, you might actually discover music you wouldn't otherwise have.
You'll be required to submit a mini-review subject to minimum word count requirement of 60 words.   You earn a few pence per review, but you can expect to earn a little more for a longer review.
If you find it worthwhile, you could boost your earnings by referring friends.
Trustpilot Review Rating: 3.0.  Recent reviews seem okay.
4. iPoll
Age: 13+
iPoll is a survey site, which via its app version also offers a few extra ways to earn some money.
Via a web browser, you can complete surveys, typically in the region of 50p to £2 a time.
The app offers more earning options including
Shopping task & related mini-survey
Taking photos or video
Occasionally there are higher-paying jobs.
You can redeem your earnings via Paypal or a range of gift cards, including Amazon.
Trustpilot Review Rating: 1.7 stars   Recent reviews look very poor.
5. LifePoints
Age: 14 and over
Lifepoints is an online survey site.  Formerly known as "Global Test Market".
Collect Lifepoints for completing qualifying surveys.
Once you've built up enough Lifepoints they can be exchanged for rewards.
No skills required, just a matter of sharing your opinion.
Trustpilot Rating: 4.6 11,900+ reviews.
6. Qmee
Age: 16 and over.
Get paid small amounts for searches you make online via Google.
Offers surveys too.
Rewards are cash.
Trustpilot Review Rating: 4.6 (900+ reviews)
7. Valued Opinions
Age: 16 and over.
Valued Opinions is a UK online survey site.
It says you can earn up to £5 per survey, but in reality, expect to earn between 50p-£2 a time.
If you like sharing your opinions on all kinds of topics, such as the latest fashion, movies, as well as specific products and brands you find in everyday stores.
You can cash out your rewards via vouchers to various well-known stores including Amazon, Argos, M&S, Sainsbury's and Topshop.
Trustpilot Review Rating: 3.7 (1700+ reviews)
8. YouGov
Age: 16 and over
YouGov is a well-known polling company that conducts all kinds of polls, from politics to brands and other topics of general interest.
You will receive notification of the survey via email.  Expect them to usually take 5 to 10 minutes to complete.
Once you have earned 5000 points you can cash out £50.   Although this can take quite some time to achieve.
Trustpilot Review Rating: 2.7 (220+ reviews)
9. ySense 
Age: 16 and over in the UK.
Formerly known as Clixsense.
Offers a range of surveys and mini get paid to do tasks.
If it works for you, you can also make extra referring friends and earn up to 30% of what they earn.
Daily and weekly bonus opportunities are on offer.
Rewards can be withdrawn via Paypal or you can take as Amazon gift cards amongst other options.
Trustpilot Review Rating: 2.5 from 49 reviews.
10.Userlytics
Age: 16 and over
Userlytics is a user testing platform that pays people to test such things as websites and apps.
Trustpilot Review Rating: 2.9 (6 reviews)
3 Tips For Teens Earning Money Online
Extra Tip:  Before signing up to any of the below options, consider setting up a new email address. I would recommend Gmail, which you can open from the age of 13.
I would generally recommend using an email address that doesn't give away your real name and age, or any personal details.
This will help you get organised with each site and prevent opportunities from getting lost amongst your other emails.
Surveys: These can be frustrating at times, as you may find you get started on one, but then get screened out.  Don't worry though, as this is totally normal.  Just try something else.
Consistency: With some of these fairly low paying online sites, one of the keys to cashing out rewards is consistency.  Some sites will even reward you a little extra just for logging in each day.  
Work out a list of the sites working best for you and login into those as many days a week as you can.
It's also worth pointing out that some of them may reset your account balance if you don't log in for long periods of time.  So don't leave an account for 6 to 12 months and expect your balance to be there waiting where you left off.
Make Money Selling Online
There are various ways teenagers can make money selling online.
Although I've counted general ways to make money selling, I've also specifically highlighted some of the best platforms in their own right.
10. Sell your stuff online
This is a great lifetime habit to get into from a young age.  Constantly selling your own stuff that you no longer want.
Do you have any old bikes, clothes, books, collectables, Xbox or PS4 games etc
You could consider selling some of these types of items while they are hopefully in fashion before they get  damaged or packed away for what will end up years
Sell stuff – if you hold on to stuff for the sake of memories, consider taking some photos of it to remind you in the future.
Ask your parent/guardian to list items for you on Facebook Marketplace, eBay or any other selling platform they might have access to.
11. Sell Other Peoples Stuff
Does your household have a packed garage or loft etc?
Perhaps you could offer to sell things for your parents/guardians.
Or offer to sell for friends and relatives.
Once you get used to putting items online, it's pretty easy, you just need good photos and a description.
12. Flipping / Reselling
If you are old enough to go shopping in your area you could visit local charity shops or maybe car boots and local fairs if the opportunity arises.
Look for items that you know you can sell for a profit.
Try and find your own niches and ideally areas of interest.  You could become a mini expert in that field.
Go with what works and discard what doesn't.
If you are selling some of your own stuff you be surprised by some of the prices you are getting or maybe you spot some nices areas of high demand and low supply.
People flip all kinds of items.
Clothing
Brands
Video Games
Board Games (Ideally sealed, better price and you know complete)
Second-hand books
Branded Trainers
Chances are if it's something you are interested in you'll know better than many what a good price is.
13. eBay
If you haven't already heard of it, eBay is the world most well-known marketplace for buying and selling.
You have to be 18 to open an account, but with permission, you can use an existing account holders account.  See the eBay Underage User Policy.
Extra Tip:  You can use the "Advanced Search" option within eBay to see what previously sold listings have sold for.
Use as a guide as prices can vary quite significantly on the condition of what you are selling.
Plus not every sale legit goes through, so go with an average price trend rather than one-off outstanding sales figures.
14. Depop
Age: 13+
Depop is ideal for selling clothes and the platform primarily appeals to a younger age group.  You have to 13 to have your own account.
15. Etsy
Age: 13 and over but you'll need a parent/guardian over 18 to open an account and accept payments.
Etsy is an online marketplace that specialises in the buying and selling of handmade items and crafts, plus vintage items.
It's potentially an ideal option if you are more creatively inclined.
Arts and Crafts
Jewellery
Sewing/Crochet/knitwear items
Bags
Clothing
Home décor and furniture
Toys
Pretty Printables and budget planners etc
Personalised Goods
An example of personalized goods would be selling custom pin badges. There are a number of manufacturers like Pinbadges.co that will provide design and production assistance to make it so that all you have to do is give ideas and they'll take it from there. By going this route, you can make your own pin badges. Then you can resell the pin badges to whoever will buy them.
Ways For Teens To Make Money From Social Platforms
With any social media, be fully aware of what personal information you are putting into the public domain.
16. Youtube
Age: You need to be 13 years old to run a Youtube channel, although 18 to monetise it directly via Adsense, although you could work with an adult to sign up with.
Youtube offers a wealth of potential.
Check out your fav YouTubers.  Now you might think you could never do what they are doing.
But often where they are now, is nothing like how they started out.
What I always do is looked at their videos and sort by Oldest First.
You can see how they have grown and developed.  Often from very normal everyday humble beginnings.
The first videos are really basic and amateur.  Yet you can see how they improve over time and what can be achieved.
16. Twitch
Age: 13 and over.
Although the age limit is 13, in the Terms of Service it states you should only watch Twitch with adult supervision.
Twitch is a live stream platform, primarily for Gamers but has expanded over time.
The other main element is "Just Chatting", which is like Youtube Vlogging, but live streaming.
Streamers on Twitch can earn money in 4 ways.
Donations from your followers while you are streaming.
Monthly Subscriptions to one of up to 3 tier levels.
Adverts via an "Ad button" option
Sponsorships – Deals you can strike if you build up huge followings.
Once the love streams are over you could possibly repurpose some of the best content on a related Youtube Channel.
Trustpilot Review Rating: 1.8 (243 reviews)
17. TikTok
Age: 16 years and over.
You can make money from TikTok live streams once you have over 1000 followers.
Users can buy coins and send gifts to you when you are live streaming.
Whatever the gift cost the buyer, you get half the value of.
18. 21 Buttons
Age: 12 and over.
Is a social fashion marketplace that allows you to upload photos of your outfits.
Each item is then linked to the store at which it can be purchased.  It is essentially an easy form of affiliate marketing, whereby if anyone likes your outfit, clicks the links and purchases, you would receive a commission of around 4-6% of the value of the item purchased.
If you don't want to post your own photos, one tactic is to find photos of celebrities and find cheaper versions of what they are wearing and post those.
I found an example of how it works by Hayley who made £110 on 21 Buttons.
More Ways to Earn Money as a Teenager
19. Fiverr
Age: 13 and over.
Fiverr is potentially one of my favourite options to suggest.
It's a marketplace which offers over 300 categories of digital services, referred to as Gigs.
These are generally one-off type micro-tasks.  However, if you offer good service you'll improve your rating and attract repeat as well as new customers.
The minimum gig price is $5, but you can charge a lot more.
If you have a look through the platform, you'll discover multiple ideas for how other people are earning money offering to complete all kinds of paid gigs.
If you don't see anything suitable for your current skill set, look for gigs that you might be interested in learning.
You might need to practise a skill a while before you get good enough to offer as a service, but if its something you enjoy that's a bonus.
Here are actual live ads by real teenagers offering voice over services.   As you can see, they all have high 4.8+ star ratings and in brackets, it shows the number of reviews, so you can see they have all earnt money through this platform.

Here are some more examples of the broad services on offer:
Graphics and Design
Writing content
Mixing and mastering music
Video editing animations
Web programming and coding
Translating
Social media marketing
Even if you don't end up using to directly offer your own services, it's worth keeping in mind if you need for any of you other money-making ventures. Perhaps you want a logo for a blog or intro/outro videos for a Youtube video etc.
Fiverr would be the first place I'd look for those kinds of tasks.
20. Coin Hunting
Admittedly this is a bit of a random idea, however, I've included it to highlight money can be made in the most unexpected ways.
Did you know some coins in circulation are worth more than their face value?
Take a look at the values of some of the rarest 50p coins, with people paying more to complete their sets of Olympic Games 50p's or the ever-popular Beatrix Potter 50p collection.
As you will see, if you come across a rare 50p or £2 coin etc they could be worth a good few pounds more than their face value.
What some people do is get change from their local bank.  Or perhaps you live in a location where you can get money changed into change for free.   Or get friends family to keep a lookout either for specific coins or change checking opportunities.
Once you have the change, simply search through the coins for the rarities and sell them on eBay for example.
Some people have even made popular Youtube channels doing just this. so it may also appeal to users of other social platforms too.
If coin checking isn't your thing, just be aware, if someone else can make money from this, what other unusual opportunities are out there potential more suitable to you.
21. Mystery Shopping For Under 18's
Age: 16+
Although most of the best Mystery Shopping companies require you to be over 18, there is one that specifically makes use of under 18's.
It's Serve Legal, which is potentially ideal for students aged 16-19 who live in a large town or city as there will more likely be plenty of opportunities.
The tasks are specifically age-related, for example, purchasing:
Cigarettes and alcohol
Age rated cinema tickets
Lottery tickets
a bookmakers bet
You would have to keep a record of whether you were asked for ID etc.
Money-Making Apps For Teens
Perhaps you can earn money from your phone?
Many of the online options outlined above like Swagbucks will also have apps you can earn from.
However, money-earning opportunities are app only and I've outlined these below.
22. Sweatcoin
Age: 13 years old and over.
Sweatcoin is an app that rewards you for your steps.
It's easy to set up and it just works in the background.
If you want you can log in daily and collect the Daily Bonus.
Plus you can get rewarded for referring friends.  Here's my Sweatcoin referral link to get you started.
It's not a big earner by any means and the rewards you can claim vary, but if you walk a lot its basically free money.
More Ways to Make Money In Your Teens
It's quite possible you can make money from offline options generally considered for adults.  You'll just have to adjust them to your age.
For example, maybe you can't babysit for just any stranger, but perhaps offer babysitting services to close family.
You might not be able to use electric garden tools, so just offer simple weeding and leaf clearing.
Here are some examples of side hustles that might be most suitable:
Household Chores/Cleaning
Car Washing
Dog Walking
Sewing / Knitting
Garden Services
Baby Sitting
Cleaning
Painting
Fixing Bicycles
Feel free to check out the full list of:
>>67 Side Hustle Ideas for the UK 
Earn Money From Your Money
Once you have some money, you then have the option of earning more money from the money you have.
If you can do this without doing any extra work, it's known as passive income.
Again you won't be able to utilise all of the ideas if you are under 18, but certainly some you can.  Even if it's earning interest from your money in a bank account.
Remember, it all adds up over time.
Don't Be Afraid to Try or to Fail
If you try something out and it's not working for you, don't be afraid to ditch it and try something else.
The worst thing you can do is not give it a go.
Some of the lower-paying options on this page might be all you can start with, just to get you a starting pot for something bigger.
Pay Yourself First
It's great you are looking to earn some extra money.  However, if while you are here, if I can take this opportunity to offer you one of the best and most simple personal finance tips that could transform your life (no exaggeration) it's this:
Hopefully, it's obvious why.
If not, look at it from this angle.
Think of older people you know that are always struggling with money.  How much money have they earned/received in their lifetime so far?
Where has it all gone?
If only they had saved 10-20%.
In time this 10-20% will grow on its own and given enough years you may not "have to work" purely from this simple "pay yourself first rule".
Ultimately it's up to you.
Conclusion and Comments
Whether you choose the fast money options or the more progressive but potentially more lucrative options, please let me know how you get on.
It would be interesting to know what kind of monthly earnings you can achieve.
If you know of any other options to help teenagers under 18 to make money online, please also mention.
Good luck and all the best with whatever options you focus on.