Do you still have a whole load of DVDs and CDs that you never watch or listen to?  Are you looking for the best t place to sell DVDs for cash?
When people are looking for ways to make extra money, but starting with no money, one of the best ways to raise some cash is to look at what your currently own and no longer need and sell it.   It certainly works when it comes to selling used clothes.
Well, I've had a clear-out and tested the best DVD-selling apps to see how they fare on the prices they offer and minimum order values to find out if it's worthwhile using them.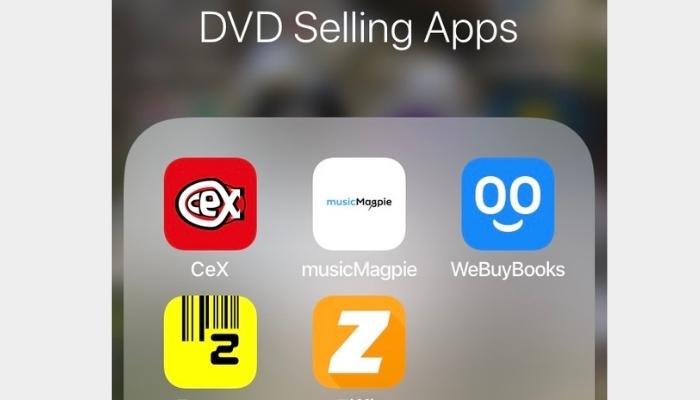 Best Places to Sell DVDs Online for Cash
There's a range of sites that specialize in buying second-hand items including DVDs, books, CDs, and games.
In this post, we specifically take a look at whether they are a good option for selling your old DVDs to them.
We personally have loads of old DVDs we no longer watch so I thought I'd have a good look at which of the sites offer the best prices in 2021.
Each site has its own app which makes scanning and pricing much easier and really quick to get prices.  All you typically need to do next is package them up and use a free postage label to ship them off and wait for the money to be paid into your bank or whichever other payment option you might have chosen.
Do you still have shelves or draws full of old DVDs like the below?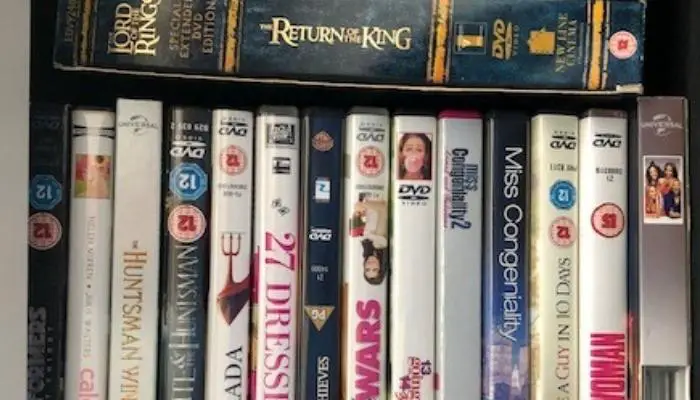 Even if they are packed away, it's still worth considering clearing them out while you can still get a few pounds for them.
How the Dvd Buying Sites Work
All the sites that purchase second-hand DVDs basically operate in the same way.
You just need to download the relevant app, which will enable you to scan the barcode of each item to be offered a price at which they will pay to buy it off you.  If you accept the price, simply add it to the basket and continue scanning more items.
Alternatively, there's always the option to key in the barcode online.
Once you reach the minimum buy order, amount, you'll then need to pack up the order and send it off to the given address.  You can normally do this for free postage.
When your order has been received and the conditions checked, you can expect to be paid to your Paypal account.  In some instances, you will be offered a voucher for a little more value than cash which you can use for purchases from the online store.  Usually, this isn't worthwhile and your better off claiming the cash.
Some of the apps have a minimum trade deal, a value of goods you'll need to meet in order to send them in.  I've included this information in each of the overviews below.
CeX / WeBuy
Simply download the CeX app.
At the top of the first page of the app, you will see "Start New Search", click that and you will be given the option to scan the barcode via your phone camera.
For each item that you scan you will be shown 3 prices that show what:
Cex sells for
they buy for cash
what they pay via voucher
For example Prison Break Box Set Series 1-4
CeX sell for £6.00
Buy for £0.90 in cash
Pay £1.50 via voucher
With no minimum sell trade value, CeX is the best option if you have less than £5's worth of DVDs to sell.
Minimum Sell Trade: £0
Trust Pilot Review Score: 4.3
App Store Reviews  Download Links:
Cex App Store 4.5
Cex Google Play 4.6
musicMagpie
The Music Magpie app is quick and easy to use so you can start scanning your items straight off.
Once the scanning has read the barcode an offer price flashes up and the item is added to your basket.
Music Magpie doesn't accept multiple copies of the same title.
Minimum Sell Trade: £5
Trust Pilot Review Score: 4.7 (from over 180,000+ reviews).  Very respectable score.
WeBuyBooks
The WeBuyBooks app explains very clearly how it works from the off, just slide through the screens to see that you can simply:
Scan your DVDs (plus books, CD's, Blu-Rays and games)
Browse the catalogue for prices of items with no Barcode/ISBN
Review valuation offer
Box up and post for free (or submit for collection)
Get paid the day after they receive and review the items
At the time of writing, they were also offering a 10% voucher on your first trade if you submitted your email address.
As you scan items you'll be presented with a red circle with a white cross in the centre if it's an item they do not currently want.
Minimum Sell Trade: £5
Trust Pilot Review Score: 4.6
Zapper
As well as buying second-hand DVDs Zapper also accepts books, cd's and games.
They state they also take items that have no value to be recycled.
You can choose to be paid out via bank transfer or Paypal.
When you have scanned all the items you wish to sell you can opt to complete the trade and receive a confirmation email and labels for your parcel.
Parcels can be taken to the nearest Collect+ drop off point.
It's worth noting that Zappers review scores in both App Stores were quite poor.   Recent 2021 seemed quite positive in Google Play store, but there were very few reviews in the Apple Store and the last ones being 2018.  Saying that the app worked fine for me.
Minimum Sell Trade: £5
Trust Pilot Review Score: 4.3
Zapper App Store 2.6
Ziffit
Ziffit works much the same as all the above site, simply scan the items and add to the basket those you would consider selling for at the offered price.
Once you have reached the minimum trade and packaged it up, you can drop it offer at a nearby local Collect+ store, or if Ziffit estimates your package to weigh offer 5kg you can opt for a courier to pick it up free of charge.
Payment can be made directly to either your bank or Paypal account.
Minimum Sell Trade:  10 items or minimum value of £5 in value.
Trust Pilot Review Score: 4.5
DVD Prices Offered Comparision Table
Below is a selection of 17 DVD's I have scanned to get an idea of the prices offered.
I have chosen a mix of Box Sets, including limited and special editions.   Plus a mix of mainstream movie titles and a mix of other less common titles which might not easily be found via paid online streaming services.  These include comedy, workout and sporting events DVDs.
DVD Title / Prices
CEX
Music Magpie
WeBuyBooks
Zapper
Ziffit
DVD Box Sets
Downtown Abbey Series 1-3
0.10
0.22
N/A
0.27
N/A
Prison Break Seasons 1-4
0.90
N/A
N/A
0.39
0.37
Planet Earth - Complete Series
N/A
N/A
N/A
0.26
N/A
Merlin Series 2
0.10
0.24
N/A
0.29
0.40
Blockbuster Movie DVD's
The Amazing Spiderman
0.01
N/A
N/A
0.01
N/A
Suicide Squad
0.10
0.17
N/A
0.01
N/A
Harry Potter Deathly Hallows Part 1
2 Disc Special Edition
0.10
0.14
N/A
N/A
0.38
Chronicles of Narnia - Prince Caspian
Collectors Edition
0.01
0.11
N/A
N/A
N/A
Stand Up Comedy DVD's
Micky Flanagan - The Out Out tour
0.01
0.12
N/A
N/A
N/A
Chubby Brown - Outrageous Stocking Filler
0.01
0.27
N/A
0.34
N/A
Chubby Brown - Bad Taste
0.01
0.17
N/A
0.01
N/A
Chubby Brown - King Thong
0.01
0.15
N/A
0.01
N/A
Fitness DVD's
Rodney Yee Ultimate Power Yoga
0.10
1.50
1.90
N/A
0.35
Rodney Yee A.M Yoga
0.10
2.25
N/A
N/A
0.50
Rodney Yee Power Yoga Total Body
N/A
0.60
N/A
0.65
N/A
Sports DVD's
Boxing Classics
Sugar Ray Lenoard
0.50
2.25
3.24
N/A
1.60
Boxing - The Fab Four
Duran, Hagler, Leonard, Hearns
0.01
0.59
0.89
0.71
N/A
Which Site is Best Prices for Selling DVDs?
Combining the prices offered for all 17 DVD's gives us the following totals, so in terms of prices offered the best DVD selling apps were:
Music Magpie £8.78
We Buy Books £6.03
Ziffit £3.60
Zapper £2.95
CEX £2.07
In my chosen sample of old DVDs, Music Magpie clearly came out as the winner for offering the best overall prices.
The only other site for which I would have achieved the minimum sale value would have been We Buy Books, which although only offering prices on 3 DVDs offered by far the best price in each instance.
Selling DVDs on eBay
As an alternative to quickly and easily selling your old DVD's on the above sites you could get higher prices yourself by selling the DVDs individually on eBay, or perhaps even categorizing them and bundling them up and selling them as a job lot.
Certainly, some of the above sites buying the DVDs will actually be going on to sell some of them via eBay.
As a rough guide, I checked some recent sold prices for the same items from the above table to see how the prices compared.
Downtown Abbey Series 1-3 Box Set £4.00
Prison Break Series 1-4 Box Set – £1-£6.00
Planet Earth Complete Series £1.00 – £12.00
Rodney Yee Ultimate Power Yoga is around £4.30
The Fabulous Four Boxing Dvd £4.04 (this was actually sold via MusicMagpie)
Mickey Flanagan Out Out DVD £0.99 – £1.80
Prices are just a guide and would vary depending on the condition.
Also, note the cost of fees would need to be deducted.
Tip: If you have a sealed box set you may well get a much better price than from one of the DVD buying apps.
Dvd's and Cd's to Consider selling Individually
Limited Editions
Box Sets
Still in Original Plastic wrapping
Bundling up bulk collections of old DVD's didn't appear to attract much better prices on eBay than selling to the DVD buying sites above, but it's still an option to consider.
Tips for Selling Old DVDs
If you sign up to the email lists of some of the above DVD-buying sites you may occasionally be sent promotions or promo codes offering you an overall higher price on any DVDs and other items you may wish to sell.
Sell sooner rather than later.  Over time the prices of DVDs is continuing to fall, the best time to sell them is now.  If you keep leaving it and years end up passing by, chances are even more will become totally worthless.
Be sure to compare your own prices between the apps.  Like you can see in the table some sites offer x10- x35 and more compared to others.
If an app offers over 50p to a £1 or more, consider checking it on eBay, especially if it is sealed
Package your order securely, and add padding inside the box to reduce movement in transit so nothing gets broken.
Post your order as soon as possible.
Advantages of Selling Sites
Although the prices offered for most of the DVDs is relatively low it is still a relatively quick and easy way to sell them.   Even a few pence is better than nothing.
Plus if nothing else, it declutters your house.
Alternative Option: Recycle or Upcycle
Whatever you do, think about not letting your old DVDs simply end up in a landfill.  As Zapper state on their recycling page, the DVDs contain minimum and polycarbonate plastic and can be ground down into plastic pellets to be reused again.
They can also be used by gardeners and even in some form of artworks created by artists.
Perhaps you have an artist street?
On sites like Etsy and eBay I've seen such things as:
DVD cover wall art displays
Using the Shiny DVD side to create arts and crafts
Frequently Asked Questions
Which is the best app for Selling DVDs in the UK?
According to my own price testing, Music Magpie worked out to be the best site to sell my DVD's too.    Out of 14 titles, they offered prices on 14, and none of those was for 1 pence prices as offered by some of the other sites.
MusicMagpie also came out top for the highest Trustpilot review score.
The best for the lowest minimum trade value is CeX which will buy your sell orders for under £5, so if that's all you have at least you can still get something.  Albeit it offered me the lowest prices.
Is it worth trying to sell DVDs?
If you have a large and ideally diverse collection of DVD's then it can certainly still be worthwhile selling your DVD's.  In my recent test sample, I achieved an average of almost 50p per DVD.  If you have 100 DVD's that could be £50 in your bank for a relatively small amount of effort.  Plus you benefit from a tidier house and more space.
Should You Keep Old DVDs?
There's little point in keeping old DVDs.  Nearly all films can be streamed online.  Much of the bonus DVD extras can also be found online via the likes of Youtube.   To play the DVD you still need a DVD player or games console.  Even if you can play them while playing, the DVDs can still freeze or jump.
Often the quality of high Definition streaming is better quality than an old DVD.
Ultimately, if you aren't ever going to play them, why keep them?
How Much Do DVDs Sell for at Car Boots?
You really aren't going to get much for old DVDs if you try selling them at local car boot sales.  If they sell at all expect around 10 to 20p each at best.  If you have any box sets, especially if still sealed, you may get £1-£3 if you are lucky.
Often you'll find yourself bringing them back home again.