Did you know you could be entitled to £20 in Nectar Points from the Daily Mail Rewards Club?
Every print newspaper gives you the option to enter it's unique number via the online MyMails site.
Find out how to do it as well the best way to maximise your Nectar points worth.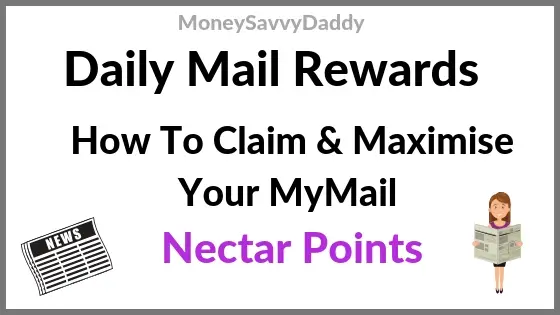 Below I share some extra tips on how you can benefit to the max from your Daily Mail Rewards Club, otherwise known online as MyMail Rewards.
Find out not only how to get free nectar points as well as bonus points, but also how to collect further points from the Mailshop and get cashback on top.
Plus claim extra offers and sometimes total freebies.
Here we take a look at what's involved with MyMail and ways you can boost savings further.
What Is the Daily Mail Rewards Club?
The Daily Mail Rewards club is also referred to as MyMail and has been running for many years, but only partnered with Nectar in 2017.
It's a loyalty scheme that rewards your daily purchase of the Daily Mail with Nectar Points that you have to claim.
Anyone who buys a print copy of the Daily Mail or Mail on Sunday can claim Daily Mail online rewards in the form of Nectar Points via the MyMail website.
Typically selling in the region of 1 million copies a day, there's a good chance you may be a reader and not have realized you could be taking advantage of these free nectar points on a regular basis.
How MyMail Rewards Club Works
Every printed Daily Mail newspaper has a Unique Number.
You can sign up for a MyMail account and simply enter in the daily unique numbers and watch your Nectar points build up.
It's really easy to set up as this 1.10 minute 10 video highlights.
Where To Find Your Daily Mail Unique Numbers
You can find your own Daily Mail Unique Numbers on the back sports page of every print copy of the Daily Mail.  At the bottom you should see a little section headed "Enter Unique Numbers at www.dailymail.co.uk My Mail in partnership with nectar" and beside it the Nectar logo.
Under the header, you should see a date and beneath that a row of 12 numbers.
Here's an example: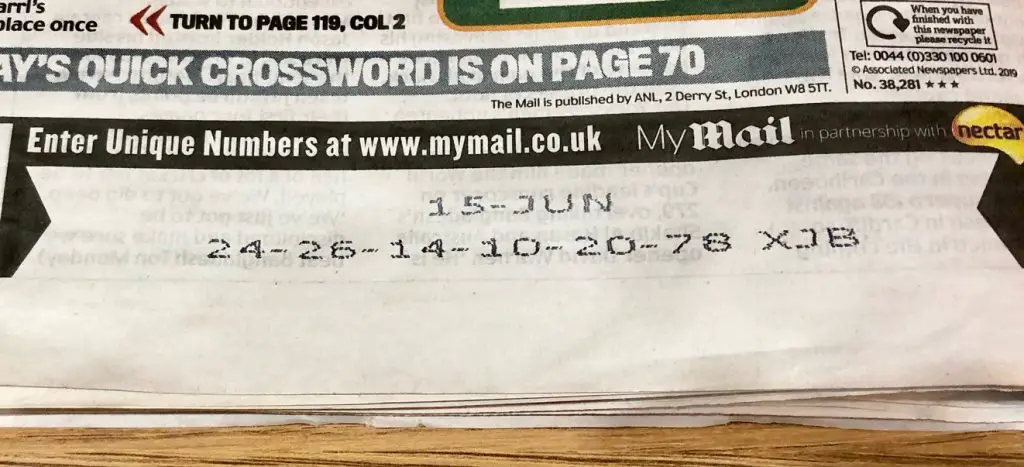 As you can hopefully see in the photo above on June 15th, 2019 my 12 digit numbers  were:
Creating Your MyMail Rewards Account
Creating your MyMail account couldn't be easier.
Simply click the "Sign In" link at the top of the page or the "Getting Started" links on the homepage.
Choose an email address and then provide the following info:
Name
Date of Birth
Address
Mobile Number
You can also choose methods to receive offers.  I always deselect all options as I don't want the temptation nor a constant flow of emails.
How to Link your Nectar Card to My Mail
Once signed up to MyMail the first question you will be asked is whether you have a Nectar Card.
If you click "No" you will be presented with a link to "Get A Nectar Card"
Click "Yes" you'll be asked "Is your Nectar card already registered at nectar.com? Unsure on this, just click NO."
Next, if your card is already registered simply click "Link Nectar to MyMail Account" which will redirect you to the Nectar site where you will login with last the 11 digits of your Nectar number and your password.
If No, you'll just have to click "Register Your Nectar Card".
Do note, linking the Nectar Card to MyMail may not all go through at the first attempt if there is a high volume of requests.
Where to Enter MyMail Unique Numbers
Once you are logged into MyMail.co.uk at the top of every page under the made headers you will see the 6 boxes in which to enter your unique numbers.

You have 4 days in which to enter your numbers.
Set A Reminder to Enter My Mail Unique Numbers
It's easy to forget to log in to enter the unique numbers.  Therefore a good idea is just to set a reminder every few days on your phone, at least until it becomes a habit or part of your routine.
You may well also have other regular money-saving or daily money making checks you make, so you could simply add this to part of that regular routine.
What If The Your Paper Is Missing The Unique Numbers?
On occasion, it's bound to happen, part of the newspaper might go missing, chewed by the dog or just unreadable.
As you can see in the image above, on the right-hand side of where you enter the unique numbers it says "Missing Unique Number?". Click that link.
You will just need to follow these 3 steps:
1st Step: Confirm the date of the paper
2nd Step: Reason why you don't have a number
3rd Step: Answer a question about that day's newspaper
A quick and simple process to prove your purchase.
How Many Nectar Points Do You Get With the Daily Mail
The standard daily points offer is 5 Nectar points per weekday, with extra points at the weekend and a bonus on top if you collect all 7 days of the week.
Here's the current points system (subject to change):
Monday to Friday 5 points per day
Saturday 10 points
Sunday 15 points
Collect all 7 days 30 Bonus Points
Collect the Mymail nectar points every day of the week and you'll have a total of 80 Nectar points by the end of it.
How Much are MyMail Nectar Points Worth?
Each Nectar Point is worth 1/2p, so 2 Nectar points are worth 1p.  You can collect 80 MyMail Nectar points a week which is 4160 a year.
Calculate your Nectar Points worth via this Nectar Points calculator:
Here you can find out more on how to boost your Nectar Points worth in this post.
Where to Spend MyMail Nectar Points
You can spend your Nectar points at well over 300+ different brands.  You can find them all within your Nectar account.
Examples of well-known places you can spend your Daily Mail Nectar Points:
Argos
Cafe Nero
eBay
Sainsbury's
Vue Cinema
Is Daily Mail Rewards Club Worth It?
If you're buying the newspaper anyway, then it's worth considering to claim these Nectar Points on a regular basis.  Whether you do so or not is up to you.  It's free after all, so you just have to judge whether the time it takes is worth it.
It takes just a couple of minutes to sign in and link MyMail and your Nectar card.  You just then need to remember to login in every 3-4 days to enter the last few day's unique numbers.  Again, this takes just a couple of minutes.
Especially when you combine collecting Nectar points by other methods, for example shopping at Sainsbury's, then they will soon mount up.
What Other "Fabulous MyMail Rewards" Can You Get?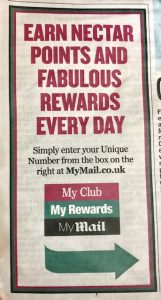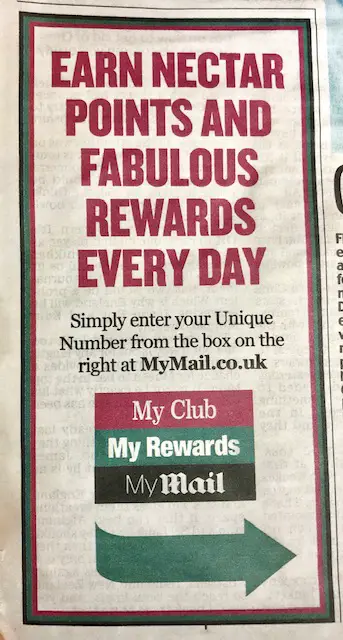 As you can see on the left, on the back of the newspaper it says "Earn Nectar Points and Fabulous Rewards Every Day".  So what exactly are these other potential rewards?
You can earn 2 Nectar Points for every £1 spent in the Mailshop.co.uk. If you don't already know the Mailshop offers a huge range of products.
Categories include:
Homewear and Furnishings
Furniture
Cooking and Dining
Audio and Vision
Gardening
Health & Fitness
Much More
Mailshop will offer members exclusive offers.
Whether these are really good deals, only you can decide at the time.
Bonus:

MailShop Saving Tip
If you do ever decide to buy anything from the MailShop, on top of your Nectar Points above you make also be able to get cashback.  If you're new to how cashback works see my best cashback sites post.  A free and easy money saver.
All you need to be is a member of Topcashback and or Quidco.  For an example of how they work read my Topcashback Review.
I recommend joining both as usually if one doesn't have a cashback deal the other one does.
The deals on offer change all the time.  At the time of writing, Topcashback didn't have a cashback offer, whereas Quidco was offering 5% cashback for all MailShop purchases.
Vouher Offers In The Daily Mail
Always keep an eye out for other offers in your Daily Mail Newspaper.
As you can see in the example below, a nice £5 off at Lidl when you spend £20, is a great saving, especially if you shop there anyway.  If not, if you have a local branch they are certainly worth checking out.
Some people would buy the paper purely for this offer, a nice easy £4 profit if you shop at Lidl anyway.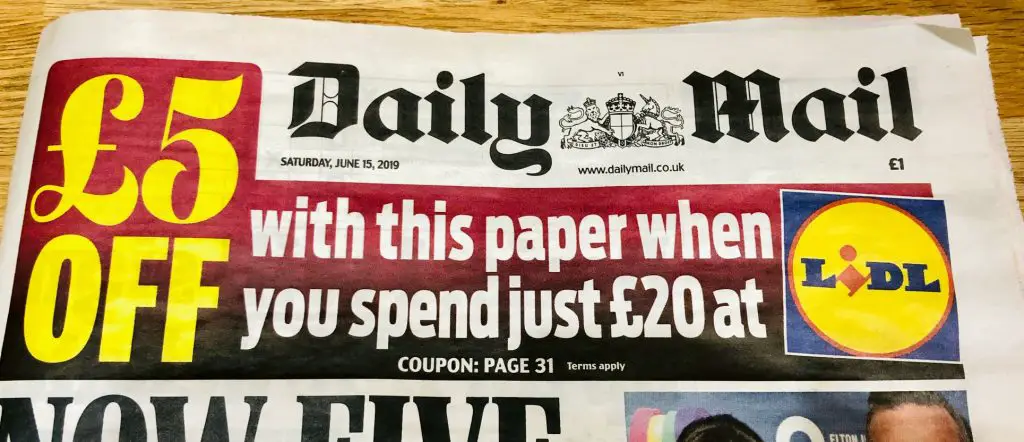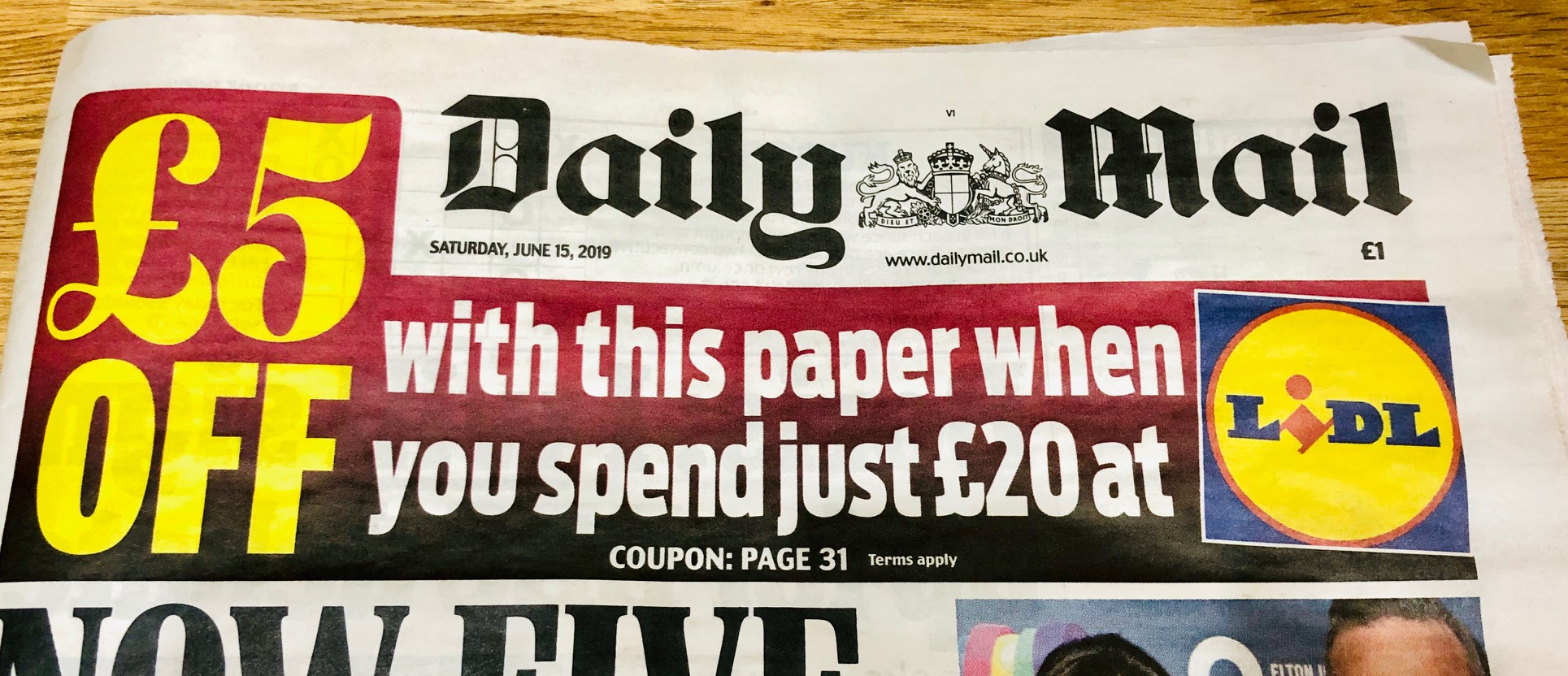 Conclusion
If you buy the Daily Mail on a regular basis, claiming your Nectar points is certainly worth considering.
I hope this post has made it clear how easy and simple it is to start collecting them.
What's your experience of the Daily Mail Rewards Club?