Find how to take advantage of tastecard offers including free trials and cheap £1 discount offers to save on your eating out bills with 50% off and 2 for 1 meal offers in this tastecard review.
tastecard is the Uk's most widely used restaurant discount card and a potentially great money-saving option for you if you regularly eat out.
Is tastecard Worth It?
Whether the tastecard is worth it will depend on a few factors personal to you.
The key factor will be the price you pay, so the better deal you get the more likely it is to be worthwhile.
How often you eat out
Where do you like to eat (do you use the restaurants listed?)
Your location – are tastecard discount restaurants are near to you
When do you eat out (will you get peak time discount?)
Of course, if you are really trying to save money or pay off debt, then not eating out at all is the best option.
tastecard Review 
Whether it's worth it at full price for most people will depend on when, where and how often you eat out.
However, there are always a number of opportunities available for free trials and really cheap discounts that do totally make it a worthwhile option.
Find out more about tastecard and tastecard plus, and be sure to take advantage of the best deals:
Free tastecard Offers 
Claim a 3-month tastecard free trial via this link after which you will be charged £4.99 a month, but you can cancel anytime before being charged.
Or the 2-month tastecard free trial option which currently renews at £34.99 but you can cancel before it does.
Alert: If you take a free trial or cheap £1 deal, make a note of when it ends otherwise you will be charged more subject to the auto-renewal terms of the offer.
What Is tastecard?
tastecard is the Uk's most well-known restaurant discount card.  It claims members can get 50% off food or choose to have 2 for 1 meals 7 days a week.
However, peak times at specific restaurants are excluded from the deal.  Often Fridays and Saturdays, and sometimes the whole of December!
Typically side dishes and extras are not included.
How Does tastecard Work?
When you are ready to eat out you simply search your current location and you will be presented with a list of local restaurants.
Make your choice of restaurant and ring and book a table.  Bookings should be made by the tastecard account holder.  Mention you are using tastecard, just to be on the safe side and avoid any misunderstandings as to whether the discount will be accepted (for example if it turns out it's peak time or they've left the tastecard partnership).
Finally, enjoy the 50% or 2 for 1 discount when it comes to paying for your bill.
Take your card with you or make sure you have access to the digital version via the app.
How to Use The tastecard App
Download the free tastecard app.   It's really easy and smooth to use.
Search for local tastecard restaurants by either:
the restaurant name, cuisine type or cinema
your location, city, town or street
You will then be presented with a list of restaurants in order of close proximity.
As you can see in the images below the app will show:
Distance to restaurant
No. of diners who can qualify for discount
Peak time acceptance status of tastecard via ticks and crosses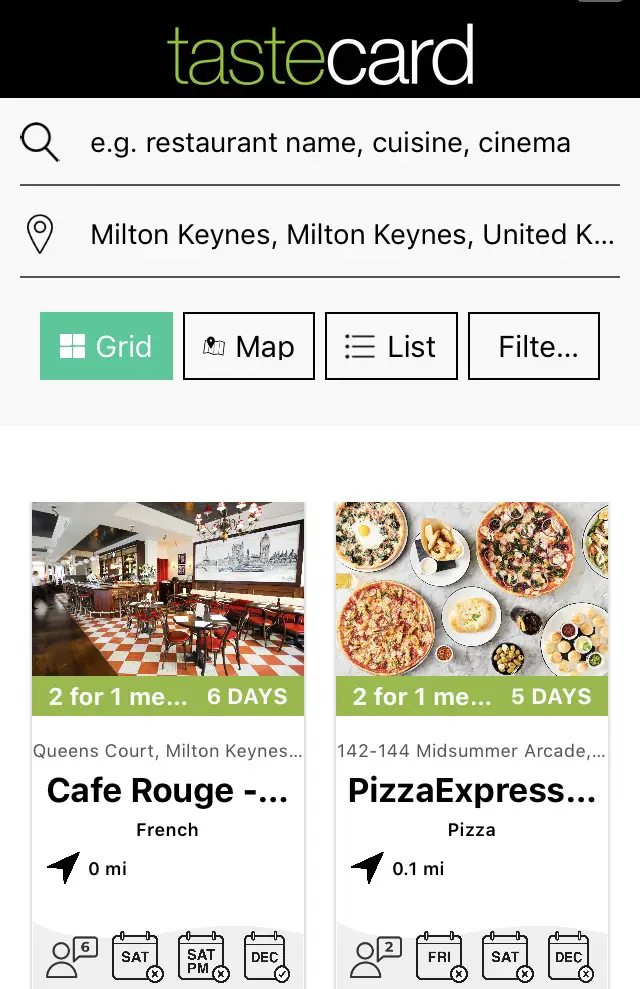 In the first example above, for Cafe Rouge you can see:
Discount available to max 6 diners
tastecard not accepted Saturday
tastecard is accepted during December
For Pizza Express:
Discount available for a max of 2 diners
tastecard not accepted Fridays, Saturdays, and all through December
Next, you can filter your dining preference as per the options below: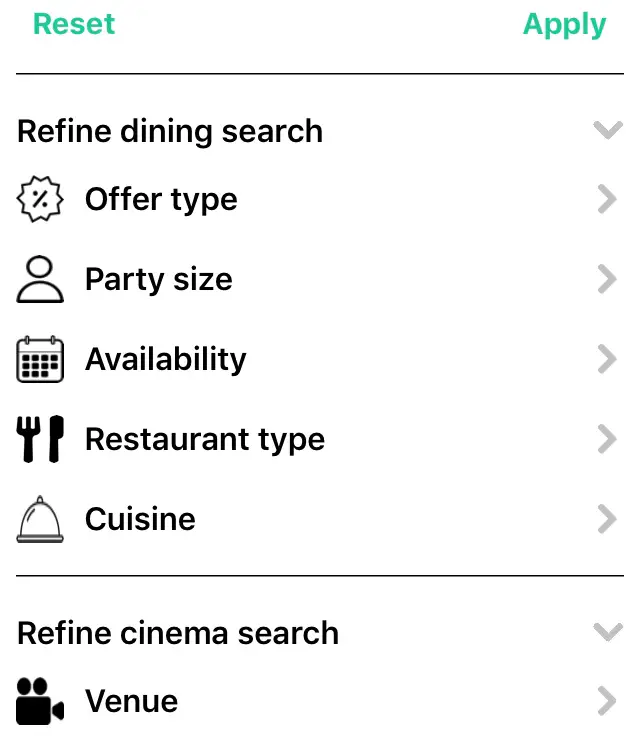 Filter options:
Offer type
Party Size (handy if there's a group of you)
Availability
Restaurant Type
Cusine type
tastecard plus – cinema search by venue type
For more in-depth restaurant or cinema information, tap your choice.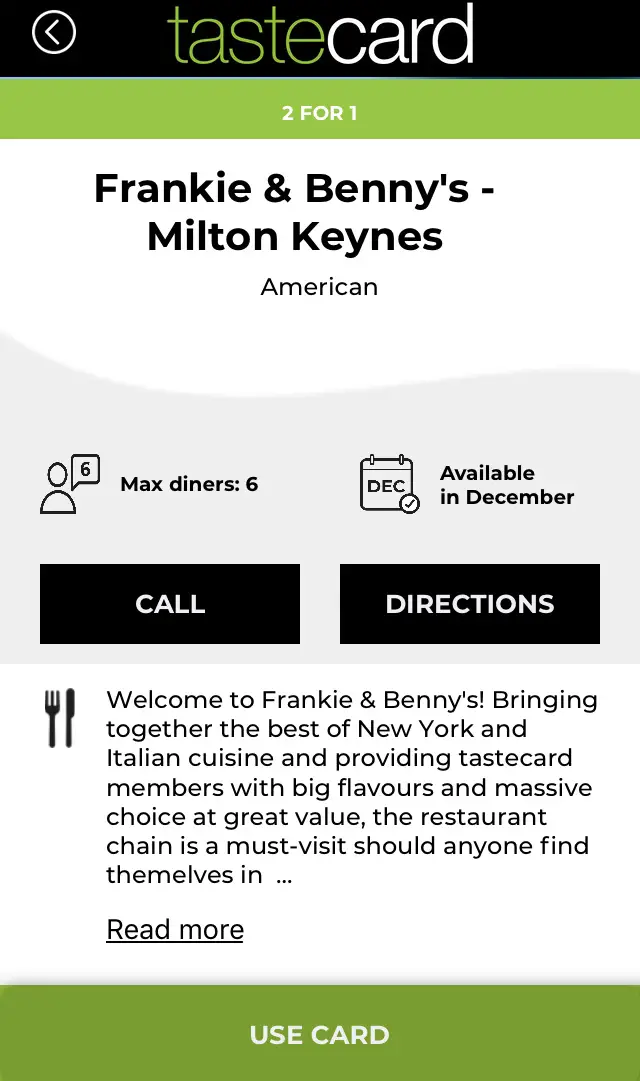 Above is an example of tastecard Frankie and Benny's.
From this page, you can directly call the restaurant and book your table and click "Directions" to activate your Maps app to provide you with the way to get there.
Check The tastecard Offer Terms
If you are choosing a particular restaurant primarily to save money using a tastecard, the last thing you inadvertently want to do is unwittingly overspend thinking it will all be half price when it won't.
Here are some of Frankie and Benny's terms as an example of what to look out for.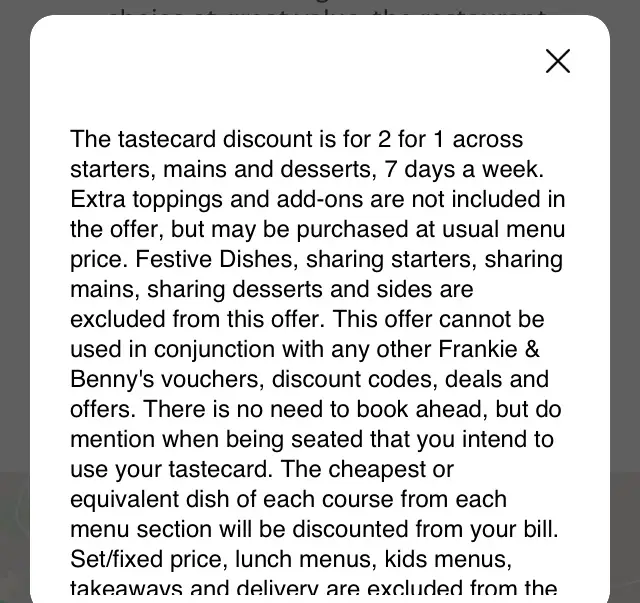 As you can see the following are excluded from the tastecard offer:
Extra toppings and add ons
Festive Dishes
Sharing starters mains, desserts and sides
Set/fixed price lunch menus, kids menus, takeaways and delivery
Also worth noting:
it's the cheapest dish that will be discounted
No use of any other voucher, discount deal or offer
Which Restaurants Accept tastecard?
tastecard boasts over 6000+ partner restaurants including some of your local restaurants.
Always double-check the apps as partners are subject to change, but these were the current restaurant's chains that take tastecard at the time of writing:
Absurd Bird
All Star Lanes
ASK Italian
Azzurro
Banana Tree
Barcelona Tapas
Belgo
Bella Italia
Cafe Rouge
Chino Latino
Chiquito
Coal Grill and Bar
Coast to Coast
dim t
Domino's – London
Domino's – Yorkshire
Ed's Easy Diner
Feng Sushi
Filling Station
Fire & Stone
Frankie & Benny's
Friendly Phil's
Garfunkel's
Giraffe
Harry Ramsden
Jamon Jamon
Joe's Kitchen
La Tasca
Marco Pierre White
Pizza Hut Delivery
Pizza Hut Restaurants
PizzaExpress
Prezzo
Prime Burger Co
rbg
Richoux
Tiger Tiger
Villagio
Wildwood
YO!
Zizzi
Sadly, no Nando's or Wagamama's on the list, but other than those 2 prominent restaurant chains, pretty much all the best ones are covered.
What Is tastecard Plus?
tastecard plus is an extension of the tastecard discounts although it's not always clear whether specific tastecard offers, trials and deals are for just the tastecard or tastecard Plus.   When you have signed up, check, see if you have access to the tastecard Plus offers.  Often you will have.
The tastecard Plus entitles you to discounts off:
Cinemas
Hotels
Fine Dining
Entertainment (limited offering of Theatre, live music and comedy)
Days Out up to 50% off at select partners
tastecard plus Cinema Discount Partners
tastecard plus members are entitled to 40% discounts off a range of cinema chains which is where the real value of the membership is.
You can claim discounts at the following cinema partners:
Odeon
VUE
Empire Cinemas
Picturehouse Cinemas
The Light Cinemas Experience
Showcase Cinemas
Cineworld is not currently listed.
How Much Is a tastecard?
If you were to pay full RRP  for tastecard it would typically cost:
£6.99 a month
£79.99 a year
Although the majority of the time you would expect to get these much cheaper, say £4.99 a month and £39.99 a year.
Other tastecard Deals and Discounts 
Topcashback (it's free to join) often offers members cashback opportunities for tastecard membership, sometimes including the free trial.
Exact offer details change over time, but at the time of writing they were offering:
Annual membership £11.20 cashbook
Annual gift membership £7.00 cashback
Free 3-month trial membership £4.20 cashback
Quidco a similar cashback site was offering £3.50 for a £1 trial for 90 days.   Which although not as good an offer, you can also get a £10 sign up bonus once you've earned as little as £5 in cashback.  So you'd only need another £1.50.
Offers change all the time, so both cashback sites are worth checking for the best offer.  I se both the main sites all the time and have made hundreds of pounds back in cashback.
For more information:
tastecard with Natwest and RBS Bank
Some Natwest and RBS (Royal Bank of Scotland) customers have the option of choosing tastecard membership (over Amazon Prime student membership or National Express Coachcard)
Silver
Platinum,
Student
Graduate
Don't lose the card though as a replacement will cost you £15.
How to Cancel tastecard
Whatever your option you sign up for, make sure you set a clear reminder in your phone or on your calendar to cancel the card to avoid further charges down the line.
There have been reported issues in the past with cancelling tastecard and subsequently being charged.
I've cancelled my own with no problems.
To cancel, visit the tastecard cancel page, then simply fill in:
First name on card
Surname on card
tastecard membership
and click/tap "Find My Membership" and proceed from there.
Check your email for confirmation of cancellation.
Alternatively, contact tastecard to cancel on 0800 567 7241, Monday to Friday 9.00 am to 5.00 pm.
Conclusion
The free trials are certainly worth considering, especially if you earn a bit of cashback on top.
Have you used tastecard, what has your experience been?
Let me know in the comments below.