The Lidl Baby Events always delivers when it comes to offering a wide range of bargains on well known branded goods as well as their own brands.
Find out the next Lidl baby sale dates as well as tips to save more.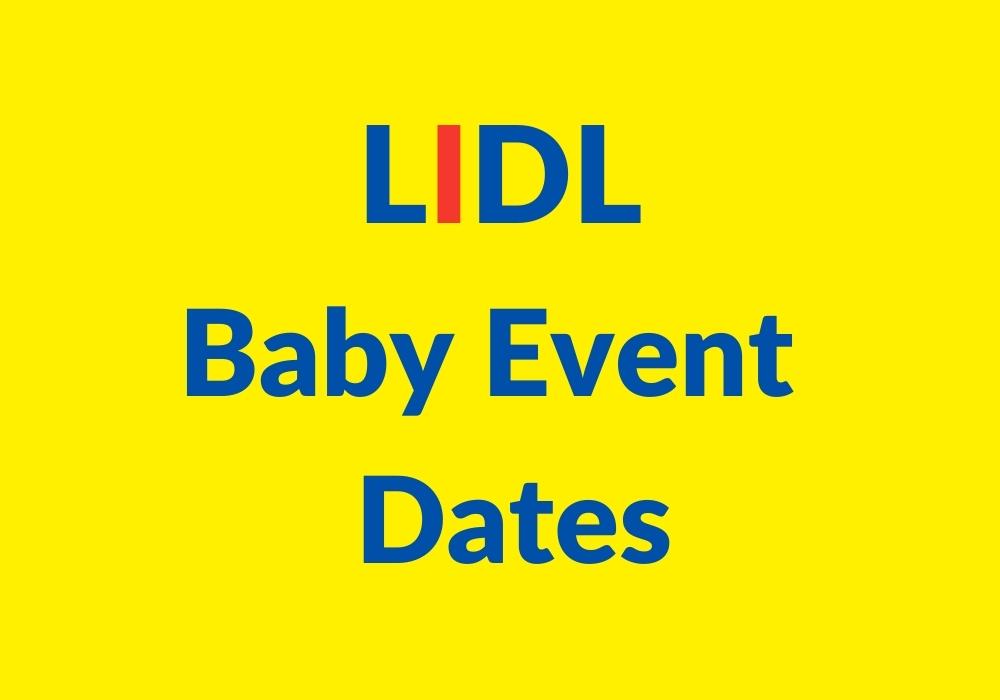 The Lidl Baby Event is hugely popular and well worth planning ahead for if you have young ones.
It's usually held 3 times a year, although there were only 2 events in 2021.
The Lidl Baby Event is only available in-stores, not online.
As a parent of twins, I know how helpful when it comes to saving money these kinds of baby event sales can be for parents of babies and toddlers.
When is the Next Lidl Baby Event
As of yet, there is no confirmed date for the next Lidl Baby event sale.  If previous years sale dates are anything to go by, as you can see below, we can confidently predict the next Lidl Baby Event Sale will be around Thursday 7th September 2023.
We will add the confirmed date as soon as it is released.
In the meantime be sure to make sure you are taking advantage of your Lidl Loyalty.
It helps to know the start date as many items are available while stocks lasts.  So the sooner you can get to the sale the wider choice of bargains you will have.
Related Post:
Past Lidl Baby Event Dates
We include past Lidl Baby Event Dates as a guide to when future sales might be expected while we await confirmation of dates.
2023
So far in 2023 there has been on Lidl Baby event at the start of the year:
2022
In 2022 there were 2 Lidl Baby Events:
Thursday 6th September 2022
Thursday 20th January 2022
2021
In 2021 there were 2 Baby event sales.  This year there was no summer sale as per the previous 2 years.
Thursday 9th September 2021
Thursday 21st January 2021
2020
In 2020 there were 3 Baby sale events.
Thursday 22nd October 2020
Sunday 14th June 2020
Thursday 16th January 2020
2019
In 2019, there were 3 Baby sales:
Thursday 17th October 2019
Sunday 21st July 2019
Thursday 17th January 2019
What You Can Expect From The Lidl Baby Event
For mums with babies and young toddlers there's a wide range of discounted products to choose from.
Even for mums to be there's bargain price maternity wear available at great prices.
The sale is typically held 3 times a year, so the next one is never too far away.
Items can be significantly discounted often in the range of 20 – 60% off more the recommended retail prices.
In the build up to the event look out for an instore magazine featuring all the current offers.
Expect to see large discounts on accessory items such as:
Bibs
Blankets
Baby Bottles
Bowls
Car Seats
Care Kits
Carriers
Cots
Monitors
Nightlights
Safety Gates / Stair Gates
Strollers
Swing Chairs
Expect to also see clothes items including baby grows, body suits, sleepsuits, tops and bottoms and jackets.  As well as much needed muslins.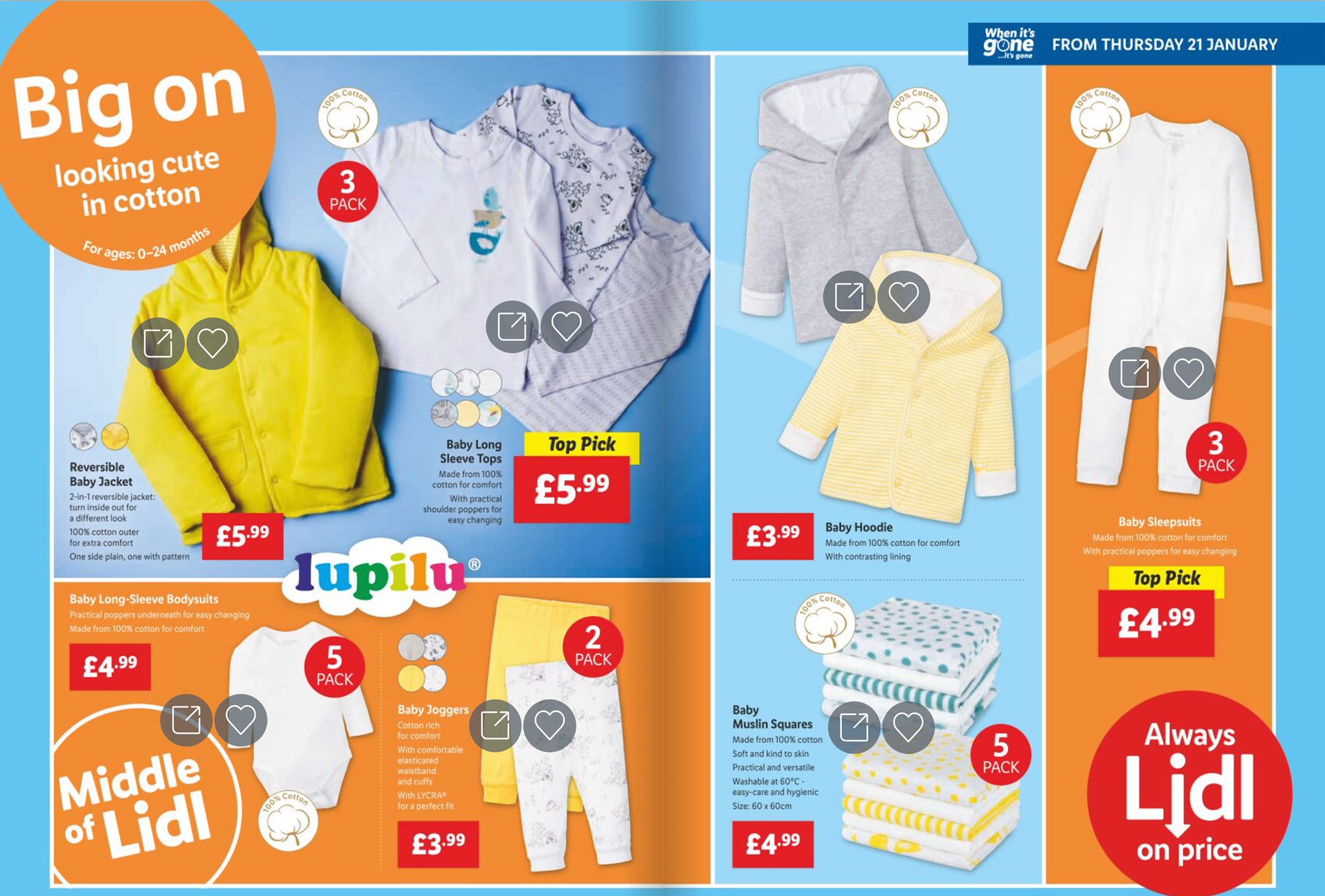 As well as baby clothes you can expect to to see items of clothes for toddlers as well as maternity clothes for pregnant mums.
> Related post for parents who might be looking for free baby clothes many of which might be available in your local area.
Also expect a range of baby toys offers:
Rattles
Bath toys
Wooden play toys
As well as books, including in the past fun hand puppet books.
Whether food or toys, you can expect to get discounts on the following baby branded products:
Bright Start
Chicco
Cognikids
Cow & Gate
Fisher Price
Graco
Haakaa
Joie
Motorola
MyBabiie
Next2Me
Tommee Tippee
Lidl Lupilu Baby Range
Lidl has its own baby brand Lupilu which covers nappies, wet wipes and baby lotions.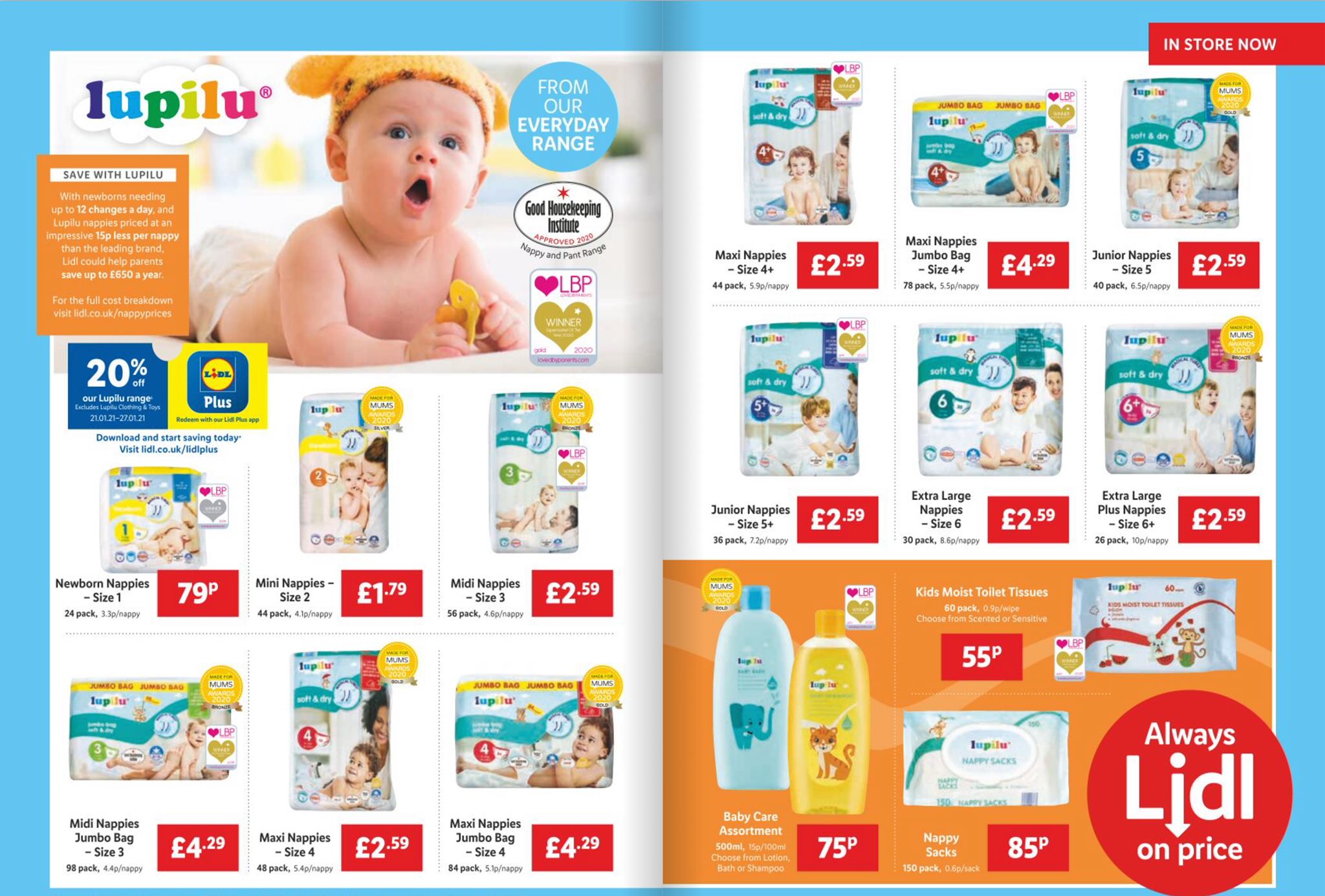 For a quick and closer look at the award-winning Lidl Lupilu range watch this 50-second video.
You can find more information about Lidl Baby products here.
Lidl Baby Event Ireland
Lidl now hold the Baby Event in Ireland.
The offer items were very similar to the above items but obviously priced in Euros.
Pick a leaflet in-store or view the leaflet online
Lidl Baby Event Ireland Dates
The dates for the Ireland sales differ slightly to the UK sales so we keep track of them separately.
Based on previous sales dates and the last sale starting on the first Thursday of the New Year we predict the next Lidl Baby Event in Ireland to start on January 6th 2022.
Past Lidl Baby Event Ireland Dates
2021
Previous Sales Dates:
Thursday 13th May  2021
Thursday  7 January 2021
Keep Up to Date With Offers
The best way to keep up to date with the latest Lidl sale events is to download the Lidl Plus App.
You can read here about how the Lidl Plus loyalty scheme works.
Within the app you can set reminders, so you'll never miss out again.  Plus you can take advantage of Lidl saving vouchers.
You can also keep an eye out in stores for the latest Lidl instore magazines.
Other Baby Event Sales
If you like the Lidl Baby event you might also be interested in the Aldi Baby and Toddler Event which is held much more frequently.
Frequently Asked Questions
Is the Lidl Baby Event Online
The Lidl Baby Event is only available in stores.  It is not available online because Lidl doesn't sell online.
You will find many of the baby event products in the popular middle aisle.
Conclusion
If you are a mum or mum to be the Lidl Baby Event is not to be missed if you have a store local to you.   It could save you £100's, especially if you can save up in advance and take advantage of the cheap offer prices.
Do you shop in the Lidl Baby Event?
What do you think of the prices and their own brand products?
Feel free to share your thoughts in the comments it's always interesting to know.