There seems to be no end of free baby stuff being given away by all kinds of brands wanting to sign you up to their baby club mailing lists.
But much-needed free baby clothes are much harder to find. However, we kept looking to come up with as many options as possible.
We hope we have found at least one source of free baby clothing for everyone.
I've had 3 daughters, including twins the second time around, so we needed 2 of everything even though we still had some baby clothing saved from our firstborn.
There's no doubting the cost of baby clothes soon adds and that's before they start growing out of them.
How to Get Free Baby Clothes
There are various ways to try and get free baby clothes.  Some will be easier than others depending on your personal circumstances and local options.
Quite often you will also be able to get other baby stuff with the clothes as well.
Find Free Baby Clothing and Stuff Near You
There may well be people in your local area actively giving away baby clothes for free via social media and other local selling sites.
Facebook Marketplace 
Facebook Market place can be a great option for finding local offerings of free baby clothes.
There's a whole range of used baby clothes for free being given away all across the country.
Here's some example of totally free baby clothes giveaways within a 5km radius or a relatively small town.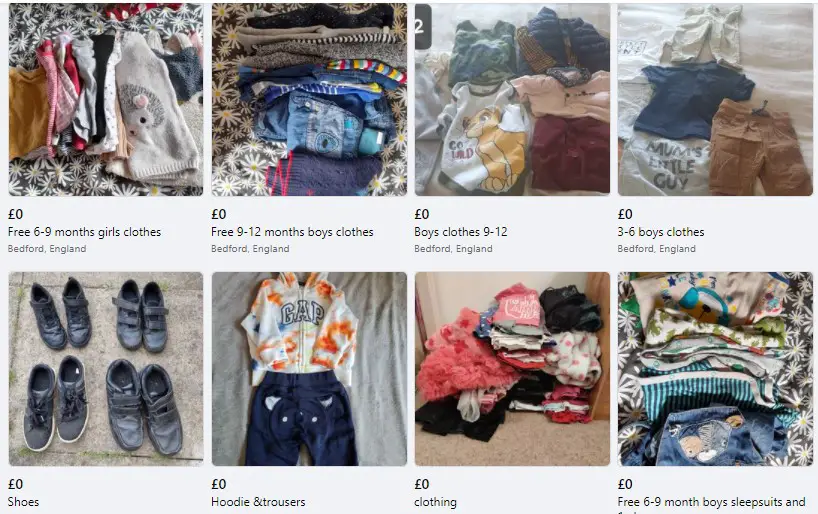 Here's how to find free baby clothes in your local area on Facebook Marketplace:
Filter by:
Location and distance you are willing to travel to pick up
Set max price to £0
Item Condition – All, new or used
You can then filter down into the "Clothing category" and from there you can keep filtering down to
Baby Clothes
Baby Boys Clothes
Baby Girl Clothes
Baby shoes
Read the brief description.  Some people will post the price as £0, but when you look it will say something like "Not free inbox for price". Ignore these.
One way I found to spot them was that they were the listings that had professional-looking photos for brand new items.
More often than not real looking selections or bundles of clothes were genuinely free.
Other Local Sites to Try For Free Baby Clothes
You could also check out:
Freecycle – just type "baby clothes" into the search bar at top of the page
Gumtree – use filter to set price to £0 and see what's in your area
There weren't many options available in my area, but it's still worth checking in yours.
In addition, try joining local selling groups and parent groups on Facebook, as quite often on people on these donate unwanted baby items.
Free Baby Clothes for Low-Income Families
Baby Banks
There are over 150 baby banks in the UK run by Little Village which is an organisation run like a food bank but for instead providing clothes and other items for children up to the age of 5.
To get the help, they provide you will need to be referred by a midwife, health visitor, food bank or mutual local support group.
You can check the baby banks map and see if there is one near you.
The baby banks have strict guidelines and will only accept good quality donations.
Local Pregnancy Support Organisations
Many local pregnancy support organisations offer quality clothing to help support those in need in the first year of pregnancy.
Each one is run differently and it's not always clear whether they provide baby clothes, so do get in direct contact with them to see if they can help.
Here are some examples:
There will be many more, search for your local pregnancy support and see what is available.
Here's a list and map of known Pregnancy Support Centers
Join Local Groups and Ask/Swap
If possible try and join mother and baby support groups.  Antenatal and or post natal classes.
Circulate amongst other mothers in the same position and ask around if they may know of anywhere locally you could get free or really cheap baby clothing.
Perhaps suggest swapping clothes.  In some cases, you may be getting too many of one type of item, or the wrong sizes of perfectly good clothes ideal for a swap.
Local Charity Stores and Children Centres
Pop in at places that receive donations of clothing for babies and children and ask if they have any free baby clothing options
If not free, they are still potential good sources of cheap clothing and you can always try and get free items added to any purchases.
Friends and Family
Many people hold on to all kinds of baby clothes and other stuff just waiting for the opportunity to give it away to someone who needs it.
Directly ask your friends and family, in person or general post on social media if they have or know of any baby clothes for the little one.  Another option is to ask friends if they know anyone who might have some clothes they no longer need.
If you have a newborn or a birthday coming up for your baby's first birthday, actively let people know you'd like clothes or clothes vouchers rather than random baby stuff you might not need as much right now.
Free Baby Box (Scotland only)
If you live in Scotland and have a newborn baby you are entitled to a free baby box from the government which contains a whole range of essentials including clothes from newborn up to 6 months in size.
Here's an example of everything laid out that's included in the box
Our baby box came.

In Scotland, all babies receive a box from the government, full of essentials.

The box itself is all ready to be coloured in by your wee one when they're a bit older and is ready to be
1/ pic.twitter.com/lCtFGqSh7l

— Heather the Mace Daddy Clown🎨Ⓥ🦊 (@heather_chips) July 10, 2020
How amazing is this?
The box itself can be used as a bed for the baby and comes with mattress and protector sheets.
You can register for it with your midwife sometime between your 18 to 28-week antenatal appointments.
See here for more info on Scotland Baby Boxes
Host a Baby Shower
Consider asking a friend or family (if no one offers) to host a baby shower.
A little fun get together to celebrate the new baby.  Find a way to let people know in advance it's clothing that would be most greatly appreciated.
Handmade 
Do you have anyone in the family who enjoys crocheting, knitting, or any other method of making clothes?
Suggest or ask outright if they would be interested in making anything for your baby, some people will only be too pleased to make you something.
There are literally hundreds of free baby clothes patterns you can find online.-
Baby Clubs Giving Away Free Clothes
There's a whole range of baby clubs ready and willing to give away free baby stuff, however, hardly any of them included items of free clothing. Some appeared to but it turned out you just might have to win it as part of a giveaway.
Still, the baby clubs may be worth checking out to see if any include items of clothing or just for collecting samples of free baby stuff you might need.
For example, the  ASDA Bounty Baby pack appeared to offer a free ASDA George jumpsuit.
Of course, in return, these baby clubs want your personal details so they can market to you in future.  I would recommend setting up a new email account purely for signing up to these clubs and nothing else, just to reduce marketing emails and spam from entering your main personal email addresses.
Related Posts
If at any time you accumulate more clothes than you need, either for yourself or your babies, be sure to sell any excess.
Conclusion
Do you know of any other methods or sites that are a good way of sourcing free baby clothes?
If so, please let us know in the comments.