Are you wondering how rare the Mr Jeremy Fisher 50p is and how much it might be worth.
While it not one of the rarest 50 pence pieces, it is still rarer than standard 50ps and in the right conditions can be worth many times more than face value.
Mr Jeremy Fisher 50p Coin 2017
The Mr Jermey Fisher 50p coins was released in 2017 as part of the second series of commemorative coins to celebrate the author and illustrator Beatrix Potter.
The design features a large upper body portrait of the frog character with his name "MR JEREMY FISHER" inscribed above him.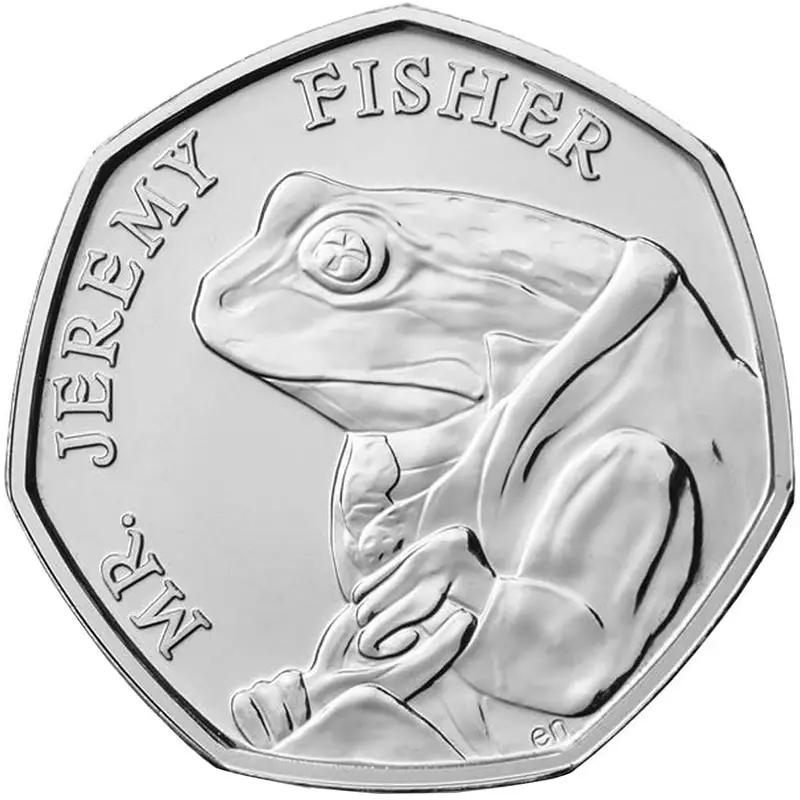 How Much is the Mr Jeremy Fisher 50p Worth 2023?
The Mr Jeremy Fisher 50p is relatively common and the third highest mintage of the Beatrix Potter collection. It is still worth higher than face value in very good to excellent condition.  The highest value version of the coin is one in uncirculated condition.
Estimated Prices are as follows:
Average circulated condition 50p
Very good to excellent circulated condition £1.00 to £2.00
Uncirculated condition £3.00 to £5.00
How Many Mr Jeremy Fisher 50p Coins are in Circulation
According to The Royal Mint there were 9,900,000 copies of the coin minted in 2017.
Is the Mr Jeremy Fisher 50p Coin Rare?
The Mr Jeremy Fisher 50p is not considered that rare.  It has the third-highest mintage of all the Beatrix Potter 50p coins.  Although it is rarer enough to have a high value than its face value of 50p if it is found in your change and still in very good to excellent condition.
Is it Worth Selling a Mr Jeremy Fisher 50p?
The circulated values of the Mr Jeremy 50p coins are quite low, but people do still go to the effort of selling them individually.  There are always some examples to be found on eBay.
Who is Mr Jeremy Fisher?
Mr Jeremy Fisher was the main character of Beatrix Potter's The Tale of Mr Jeremy Fisher, published in 1906.
The story was actually a revised version of a letter Beatrix had previously written to a child friend many years earlier.
Mr. Jeremy Fisher is a frog who was inspired by frogs Beatrix had kept as pets.
In the story, Mr Jeremy goes fishing with the intention of catching enough minnows to invite friends over for dinner. However, not all goes to plan and he nearly gets eaten by a large trout.