Are you taking advantage of the Marks and Spencer Sparks Card loyalty reward club?
With over 650+ food stores, and over 950+ stores in total, M&S or Marks and Sparks as it is often referred to, is still on of Britain's favourite high street stores, even if it has suffered a decline in recent years. The brand has a strong following by many.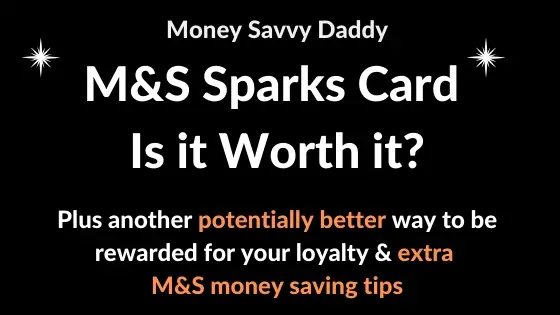 Did you know there is another way to reward yourself Mark and Spencer loyalty points and at the rate of 1-2 points per £1 you spend where the points actually are worth money?
That's on top of any cashback deals you can also take advantage of.
What Is the Marks and Spence Sparks Card?
The M&S Sparks card is an exclusive members club for Marks and Spencer customers.
Unlike most other loyalty card schemes, the idea is they give you exclusive tailor-made offers.  The more you use the  Sparks card the more data M&S will have on you and therefore be able to provide you with more suitable offers and deals across their ranges of food, fashion, home and beauty products.
How Does a Sparks Card Work?
It's totally free to apply for a Sparks card instore by picking up one of the leaflets or applying online.
Once you have the Sparks card or have activated it within your M&S app, every time you shop at Marks and Spencers you will earn Spark points.  You'll also be rewarded points for other transactions with M&S outlined later.
The idea is you accumulate the points over time and upon meeting certain thresholds you are entitled to more benefits as well as presented with more suitable offers based on your past spending.
Card Already In Use
One issue that crops up occasionally for some new members, is when you go to activate your card you get a message saying your sparks card is "already in use".  If you get this you will need to contact the M&S Sparks loyalty card team on 0333 014 8423, lines are open 8 a.m to 8 pm.
What happened to Sparks Points?
Pre-July 2020, the Marks and Spencer Sparks loyalty scheme rewarded customers with sparks points.
There are various ways to earn Spark points:
Every time you shop you get 10 points
For every £1 you spend you get 10 points
If you write a review you get 25 points each time
Every shwop get 50 sparks points
The minimum spend to qualify for Sparks Points is £1, for which you received 10 points.  After this, you earn 1 point per 10p spend.
Refunds
If you return any refunds your Sparks points will also be reduced accordingly unless the item is faulty.
What does Shwop mean?
To shwop, means to buy something new and at the same time donate something old or unwanted on the same store visit.
Since 2008, Marks and Spencer in conjunction with Oxfam have been offering Shwop bins in stores, in which you can donate old or unwanted clothing.  The idea being, when buying something new within M&S, you donate something unwanted, therefore swapping while you shop, hence Shwop and get rewarded with Sparks points for doing so.
Ultimately the aim is to stop clothes from being thrown away and ending up in a landfill too soon.
£5 M&S Voucher from Oxfam
When you make donations to Oxfam, if it includes at least one item of M&S labelled clothing (shoes, hats, belts, scarves, handbags) or soft furnishings you should be given a £5 voucher which you can use in Marks and Spencers when you spend over £35.  You can check the full T&C's here.
What Are Sparks Points Worth?
Whether you have 1 Sparks Point or 1000, they are all worth 0p. Worthless in monetary terms.
You don't use the points in exchange for buying products or services.
You just keep saving them up and the more you accumulate the more rewards, offers, and benefits you are offered.
How to Check Your Sparks Card Points Balance
When you log in to the marksandspencer.com/sparks your points balance is shown in the top left-hand corner.
When you shop in stores you will see the balance on your receipt.
You can also find the balance with the M&S app and at the instore Browse and order hubs.
What are the M&S Sparks Card Benefits?
If the Sparks points are worthless, what's the point?
Well, the more points you build over time, the more suitable offers and benefits you are offered, including:
Treats and offers tailored specifically to you
Priority Access
Sparks on the Go
Charity Donation
Treats and offers
The idea of the Sparks card is to offer you deals personally suited to you.  The more you use the card the better indication Marks and Spencer will have of you and be able to provide more offers of interest accordingly.
Priority Access
Once you've collected 3000 Sparks points you will be able to enjoy fast track access to the very latest products and trends.
Hit 5000 sparks points and you are able to queue jump the M & S sales.
Sparks on the go: M & S app
The app is the best way to keep track of all your Sparks offers.
Download the M & S app and you'll have instant access to the Sparks card offers while you are shopping.
A copy of your card is within the app, so it doesn't matter if you ever forget to bring your actual Sparks Card with you on your shopping trip.
You can download the app at the following:
On both platforms, the app is highly rated with a score of 4.7, and the vast majority of reviews being 5 stars.
Charity Donation
Log in to your online account and select "Charity" to make your choice.  Thereafter every time you use your Sparks Card, 1 p is donated to the charity of your choosing.
Where Can You Use Your Sparks Card?
You can use your Sparks card to collect points and redeem offers at the marksandspencers.com online website, as well as in all Marks and Spencer stores located in England, Wales, Northern Island and the Isle of Man.
You can't redeem offers at Outlet or BP Connect stores.
What If You Lose or Damage Your Sparks Card?
If you lose your Sparks card you can pick up a new one in any M&S store and add it to your account.
Your existing points and offers will still all be available.  Once you add the new card your old card will be deactivated, so if you find it later you won't need it anymore.
How to Use Sparks Card Offers
On a regular basis, you will be allocated offers tailored specifically to you, products M&S knows you already like based on past purchases and similar items you might like to try.
You add the offers to your card, in one of the following 3 ways:
Online simply view the offers you have available and click "add to card" for the ones you want to add to your Sparks card.
If you are out and about, you can add offers via the M&S app, visit the Sparks section to view your offers and follow the prompts.
In some stores, offers can be added via instore "Browse and Order" hubs.
Now the offers are on your card, you simply make your purchases.  You must remember to scan your card at the checkout, either using the physical Sparks card or the in-app card.  If shopping online, make sure you are logged into your M&S account.
Vouchers
If you receive paper postal vouchers, you can redeem these in stores by simply scanning the voucher and then scan your Sparks card at the checkout.
Birthday Treats
Consider making a note to check your offers on your birthday, as it's been known for your Spark Cards to offer members a birthday treat.
M&S 20% Off Friends & Family

 
The Marks and Spencer 20% offer vouchers are usually only available to Spark card members
However, they do sometimes offer promo codes that they encourage you to share with friends and family.
You can activate the offer within your Sparks account, either online or via the app.
Cashback On All Online Marks and Spencers Purchases
My favourite way to make savings on virtually all online spending, including most household bills is to use the best cashback sites.
While the rates of cashback and specific categories of the online store at which you can claim cashback change often, both the main cashback sites are always worth checking.
Topcashback Examples:
These Topcashback examples only (from November 2019), as they change all the time.  However, the cashback for all but one appears to be existing customers, which isn't always available at other similar stores, especially supermarkets.
Quidco had similar offers of 1-2% cashback.
Both cashback sites also had separate cashback offers for "Marks and Spencer Christmas Food to Order".
I've had over £1000+ in cashback over the years and have given examples and even strategies to actively use cashback sites to make extra money in both my Topcashback review and Quidco review.
Additional & Better Loyalty Reward Options for M&S Customers
If you are a regular shopper at Marks and Spencers, a better way to reward yourself is via an M&S Reward Plus Offer credit card.
Currently, you can get £25 in vouchers when you sign up.
In terms of loyalty you get:
First-year: 2 points per £1 you spend in M&S
After first year 1 point per £1 you spend in M&S
1 point equals 1p, so basically a 2% discount in the first year and 1% thereafter.
If you use the M&S credit on anything else you only get 1 point per £5 you spend, which is a low rate easily built via other options.
You can find more details on MSE's best reward cards and they also have a soft search eligibility checker for this card which will help protect your credit score.
You can also use the Sparks card too.
Credit Card Warning: Remember using a credit card to make loyalty savings is only a saving if you pay the card off every month and never incur excessive interest fees.  Also, even if it's 0%, it's not a saving if you end up spending more than you otherwise would have if you'd used another form of payment.  
M&S Bank Switching Deal £100 + £80 in Gift Vouchers
I will actively switch banks to make money and whether you regularly shop at Marks and Spencers or not they have a great switch offer.
£100 gift card + £80 gift card after one year
If you don't have a bank account you want to switch read switching banks to make money post for tips on how to set yourself up to take advantage of these kinds of offers.  Time-wise, this is one of the easiest and quickest ways to make some extra money.
See MSE M&S bank switch details to find out more and apply from.
Unfortunately, there are no extra ongoing loyalty perks from using the account to shop at M&S.
Stacking The Cashback and Loyalty Benefits
Individually some of the offers and opportunities may not seem worthwhile.  However, like many financial situations, when you use every opportunity in conjunction with one another and on a regular basis, the savings soon add up over the year and then year after year.
For Marks and Spencers this post shows for each transaction you can:
Collect Spark Points
Pay with an M&S credit card and receive points
Online, visit via a free cashback site and get further money back
Those options are all in addition to taking advantage of the best offers and deals when they are available.
In some instances, there may be even more options to save, for example, if you use receipt scanning apps.
Conclusion
Whether the Sparks card is worth it or not will depend on your personal views.  Let me know in the comments
However, the other options listed seem to offer better benefits, even more so when all used together.
Have you benefited from building up a number of spark points?
Do you think the offers you receive are worthwhile?
Do you make use of benefits like priority access?
Feel free to share your views in the comments below 🙂