If anyone is going to start making money from online surveys, there's no doubt the number one starting place should be Prolific, formerly known as Prolific Academic.
The pay rate is deemed one of the highest and the survey studies are actually considered interesting!
I wanted to test his out and find out if Prolific is legit and as good as people say?   How much could I earn and did they payout?
Check out my tips to earn more and be alerted to when new surveys are available.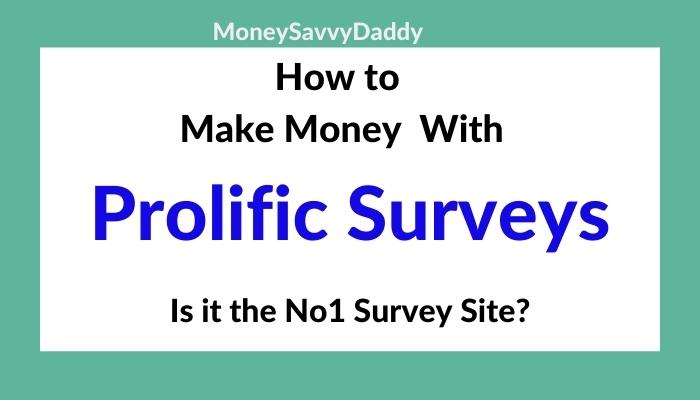 Prolific Surveys Review
While making money from surveys is ideal for some people, there are many more ways to make money from home and at a lot higher earn rate per hour.
However, surveys can be a good start for some people and a way to make money with no money to start with.  Perhaps helping you build a pot to get started with something more lucrative such as tax-free Matched Betting (not gambling).
As well as helping you realise you can actually make money online.
What Is Prolific?
Prolific (formerly known as Prolific Academic) is a crowdsourcing site matching up scientific-related researchers with potential participants like yourself to answer questions for there scientific-related studies.
It has been around now for a few years having been founded in 2014.
As a bonus, the studies related questions are generally more interesting than your typical lower-paying survey questions found elsewhere.
Is Prolific Legit?
Yes, Prolific is a legit paying survey site.  It is quite often considered the best online survey site available to UK residents as well as many other countries.  You won't get screened out of surveys and you can cash out earnings to Paypal once you have made £5.  I have tested and completed this myself and it really doesn't take much time.
As you can see below Prolific's Review rating on Trustpilot is a respectable 3.9.  Which is pretty good for a survey site.
They also answer reviews, so if you do have any issues you know they will respond.  Generally a good sign.
How Does Prolific Work?
Prolific accepts studies from researchers all over the world.  They then match up these studies with participants like yourself based on the info you provide on the About You page.
Prolific acts as an ideal way for researchers to pose questions to a specific demographic that suits the requirements of the study.
In return for participating in the study, the researchers offer a cash reward to the participants.
How to Use Prolific?
Firstly you need to sign up to register to Participate:
Studies
Once you are in you will be presented with the "Studies" page.
At first, this will be empty, with just a brewing cup of tea showing and a link to the "About You" page.  You'll need to visit this page and answer as many questions as possible.  You don't need to do them all at once, but the more you answer, the more suitable studies you will be presented with.
You can leave this Studies page open and check periodically if you like.  There's no need to refresh if anything becomes available it will automatically show up.
Submissions
In the menu is a link to the Submissions page.
This is where you can check your past completed survey studies that you have completed and see where they have been approved for payment.
If ever-relevant there's even a link to message the Researcher who submitted the study.
Who is Suitable for Prolific?
Literally, anyone can sign up to participate with Prolific.  No qualifications or particular knowledge is required.
They offer a wide range of studies suitable for a wide range of demographics.  At times there should be something suitable for everyone.
How Much Can You Make on Prolific?
How much anyone in particular earns will vary depending on the demographics you fall into that meet the criteria that the researchers want to participate in their particular study.
As you can see from the "About You" page questions below, there's a wide range of possible filters that could either include you or exclude you from taking part.
You could expect to make between £15 to £50 a month, at an hourly rate of about £7 to £8.00.
Examples of Individual Studies:
Below is an example of Studies you might be presented with the option of selecting.
Each Study shows:
Reward in £'s and pence
Average Reward Per Hour
Average Completion Time
Maximum Allow Time to complete study
Earn Rate Per Hour
Prolific say the minimum earn rate should be $6.50 an hour, which in UK money currently equals about £5.00.
However, you could just choose to focus on the higher earn rate per hour studies.
Just from the image above you can see average reward per hour rates of:
Monthly Earnings
Here's a list of real examples of monthly earnings I've recorded, all by different people:
£50.52
£12.84
£11.63
£5.13
£32.08
£12.41
£18.15
£15.47
Looking at those figures you are looking for an average of £12-£18 a month, and potentially up to £32 -£50 range.
Now, this might not seem a lot, for surveys and the time involved in earning these relatively small sums makes Prolific one of the best paying survey sites.
How to Get More Studies?
The number of studies available to any individual person will constantly vary.  In generally expect more studies to be available in University term times and less in the holidays.
The best way to ensure you qualify for the most studies is to keep your "About You" page updated as any new questions are added.
You can have more than 1 member of your household sign up.  However, as a household, you will be limited to doing any one survey once.  So even if you both qualified, if person A did the survey first it automatically wouldn't be available to person B.
Notifications
Sometimes Prolific send out emails for some studies, but they don't do this regularly.
You can also try using one of a range of Chrome Extensions to alert you to when new studies are added so you won't miss out.  Some of these may also help you for alerts on other similar sites too.
Prolific Assistant
Distill
Visualping
Never Be Screened Out
One of the best things about Prolific is that you will never be screened out of a study that you are offered.
If you do surveys on any other sites, you know being screened out can become increasingly infuriating as it's wasting your time for nothing.
One of the reasons you are never screened out of a prolific survey is because be offered suitable studies to complete you are required to fill out a number of "About You" questions.
You will have to fill out questions within 15 different categories, such as these:
In total, I counted 202 questions.
So although you won't get screened out, you will have to fill these out in your own time in order to be matched up with studies.
As you can hopefully see in the screenshot below, they are fairly easy to answer with a simple drop-down menu of answers to choose from.
Although you will never be screened out, it's important to answer all questions correctly and truthfully.
A researcher can reject a submission if they believe it was not carried out correctly and you'll receive a message accordingly.  However, this is something I've never had happen.
How Long Does it Take to Get Paid for a Survey / Study?
Once you have completed a study and submit it you will usually have to wait a few days for the reward to be credited to your account.
This gives Prolific staff time to review and approve your submissions.
If ever it takes as much as 22 days, you'll then automatically be paid the reward.
How and When Does Prolific Pay Out?
Once you have accrued £5 in earnings you can cash out via Paypal.   Cashouts are processed on Tuesdays and Fridays, so you may have to wait a few days.
To cash out, click on your Balance amount in the menu.   At the top of the page you will see something like the following:
The first time you go to withdraw, the "Cash out" button will be greyed out and you won't be able to click it.
You'll first need to link your Paypal account, which you can do by clicking "Link", which will be where you see "Edit" in the image above.
Once you have cashed out 4 times you will be able to cash out instantly thereafter, as long as you stay with the same Paypal email address.  If you change that you'll have to go back to the process days for another 4 times.
Tips for Prolific Surveys
Set up a new email address just for survey type emails
Regularly check your "About You" page has all relevant questions answered as new ones are added
Use Chome Alert extensions listed above to be alerted as to when new surveys added
Expect more survey opportunities in University term times and less in the holidays.
You can have more than 1 account per household, but it limits to 1 person per study from a household
Conclusion
Overall Prolific is a very easy web site to use.
The payments are small but a lot higher earn rate per hour than similar survey sites, that also waste time screening you out of individual surveys.
This puts Prolific right up there as one of the best survey sites.
Whether Prolific is worth it or not will come down to personal choice.
Have you tried Prolific? How much did you earn a month? How do you rate it?
Feel free to share your experience in the comments.