The Mrs Tittlemouse is one of the rarest of the popular Beatrix Potter 50p coin series. It's in circulation and one of those coins you might find in your change that is worth more than face value.
Read on to find out what it's currently worth depending on the condition of the coin.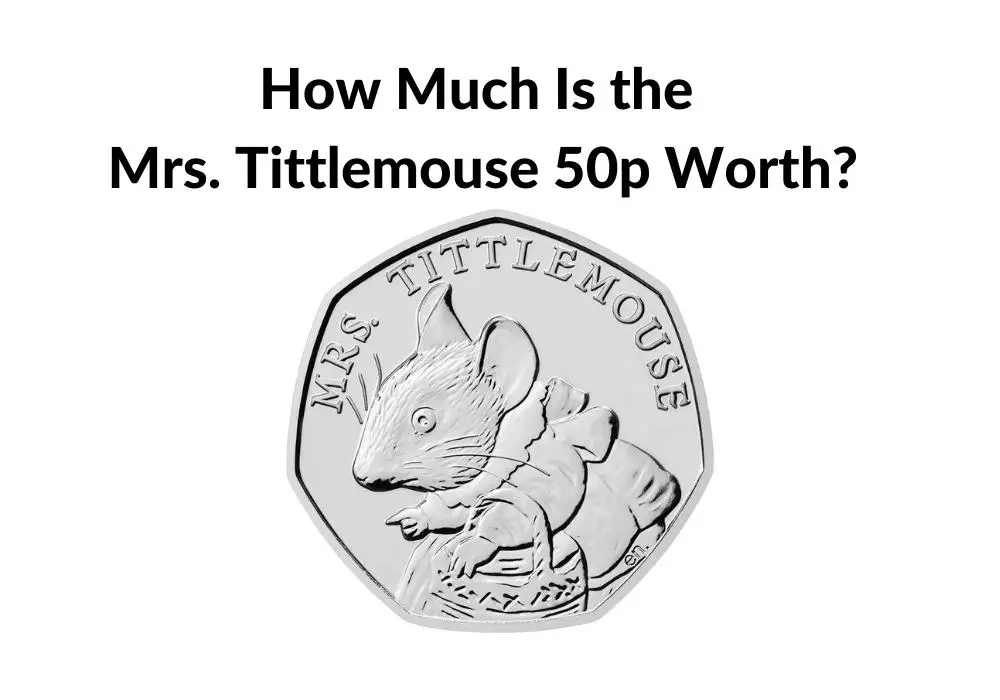 Mrs Tittlemouse 50p Coin
Released in 2018 as part of the third and last series of Beatrix Potter 50p coins, Mrs. Tittlemouse was the main character in the book title "The Tale of Mrs. Tittlemouse".
The coin design features a large-headed Mrs. Tittlemouse with "MRS. TITTLEMOUSE" inscribed around the top edges of the coin.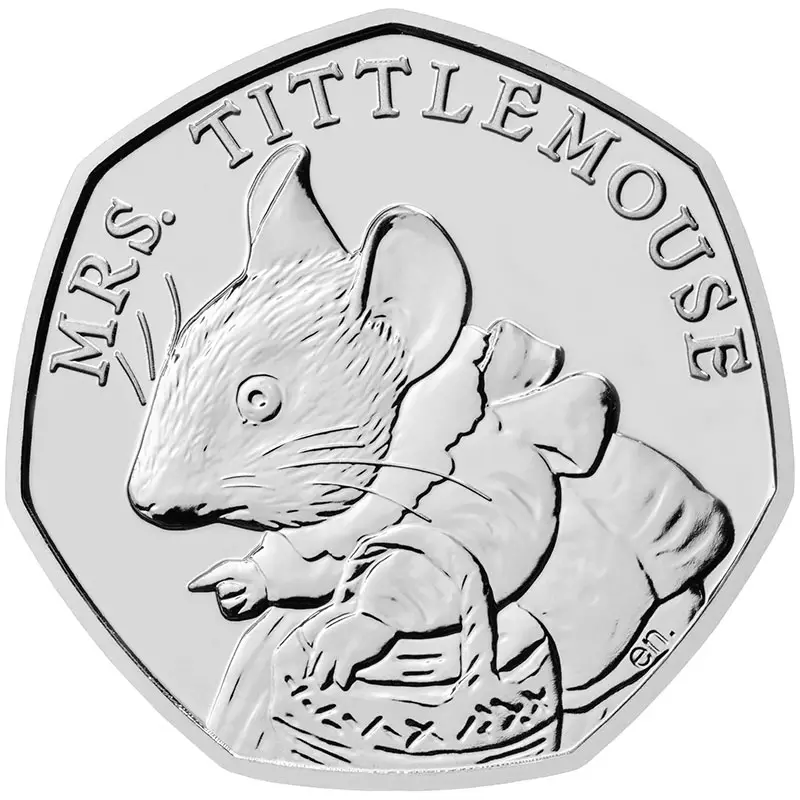 How Much is the Mrs Tittlemouse 50p Coin Worth?
The Mrs Tittlemouse 50p coin is one of the rarer Beatrix Potter 50ps coming in at a third place.  The highest value version of the coin is one in uncirculated condition.
Estimated Prices are as follows:
Average circulated condition 50p
Very good to excellent circulated condition £3.00 to £4.00
Uncirculated condition  £4.50
How Many Mrs Tittlemouse 50p Coins in Circulation
There were 1,700,000 or one million, seven hundred thousand Mrs Tittlemouse 50p coins minted for circulation in 2018.
Is the Mrs Tittlemouse 50p Coin Rare?
The Mrs. Tittlemouse 50p coin is the 3rd rarest of the Beatrix Potter 50ps.  Although quite rare it is one you still might find in your change.
Is it Worth Selling a Mrs Tittlemouse 50p Coin?
The Mrs Tittlemouse 50p coins are quite low value but you can always find people selling them individually online if there are in good condition.  So whether yours is worth selling is up to you.
Don't forget when selling via sites like eBay, you will also incur eBay and Paypal fees.
Who is Mrs Tittlemouse?
The character Mrs. Tittlemouse was created by Beatrix Potter first appeared as a character in 1909 The Tale of the Flopsy Bunnies and in the next year featured as the title character in 1910 book The Tale of Mrs Tittlemouse published by Frederick Warne & Co.
Mrs Tittlemouse is a wood mouse who lives in a funny house under the ground with many passages, storerooms and dust holes. She spends her days tidying but things keep getting out of place as some insects like spiders and woodlice leave their webs about (for example, some cobwebs on clothes as well as footprints on the floor). Mrs Tittlemouse is very house proud and tries her best to keep everything clean.
Beatrix was known to have a love of drawing and painting insects and other bugs like spiders and they feature prominently in the book's story and illustrations.
Mrs Tittlemouse was included in the 1971 ballet film, The Tales of Beatrix Potter, and she was also featured with other Peter Rabbit characters in an animated television series, The World of Peter Rabbit and Friends, in the 1990s.