One of the questions I'm most often asked is how to make money blogging as a beginner.
It's a great question because setting up a money-making blog is potentially one of the best ways to make money online.
It's cheap and easy to get started and it could even be said the income potential is almost limitless.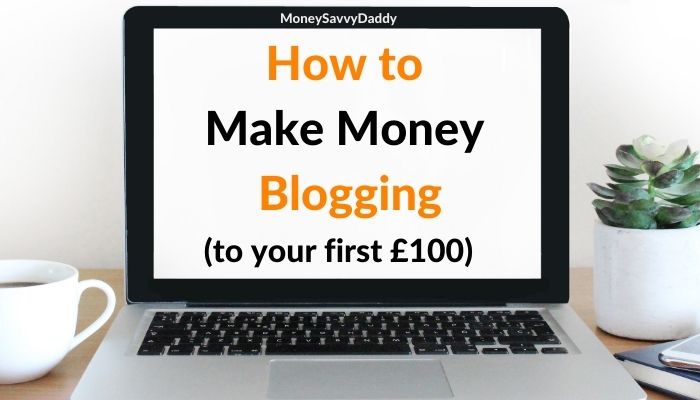 Disclaimer: This post may contain affiliate or referral links that earn me some commission if you sign up through them.  However, this is at no extra cost to you.  Read more here. Thank you if you do use them as they help to support my blog.
Intro to Making Money from a Blog 2023
As a beginner, it can be difficult to know where and how to start and even what to blog about that will eventually result in creating yourself a form of income.
In this post, I'll show you the options and various ways for how to potentially make your first £100+ blogging.
Once you have made your first money, you'll realise that just doing more of the same will make you more money.
Blogging really is one of the best ways to make money from home.  It is totally possible to make £100's of pounds a month, even £1000's, but I'll be straight with you, it isn't quick money.
This is actually an advantage because if you stick with it just long enough for the fruits to start to bare (in the form of cash) you'll be ahead of everyone else less patient who just gave up.
Below I've covered some of the topics to avoid and also various ways to make money from your blog
Some methods for making money are faster than others.  Even though I personally recommend the longer road for more sustainable and easier income, others prefer the income sooner options.
Whatever option you chose, you are on the right track.  Blogging is pretty simple if you take your time and get started at your own pace.
And of course, the best thing about blogging is that it really is a business you can start with under £100 and build into an income stream of £100's and even £1000's a month.
How to Make Money Blogging for Beginners UK
When it comes to making money from a blog, the first thing you have to do is start one.
Once you are set up you can start promoting.  It's not until you actually start to build some content, start getting some traffic that you can actually start producing an income, which I'll cover later in the post.
But for now, they are:
Affiliate marketing
Display ads
Sponsored content
Digital marketing
First, you need to start your blog.
Starting Your Money Making Blog – Step by Step
Here I'll cover step by step what you should consider thinking fro the start about if making money from your blog is your goal, rather than just blogging for fun.
The first and most important decision is regarding what you are actually going to blog about.  There are certain topics to avoid and there are others that are potentially ideal.
Once you've worked out what you want to blog about you can get on with setting up your blog.
Decide Your Blog Topic
What is your blog going to be about?  Who is going to read it?
These are key questions when you are starting a blog with the intention of making money.
A reason a large number of blogs fail or never get off the ground, (something I hope this post helps you avoid) are the following:
What to Avoid Blogging About (if making money is your goal)
It's easy to get excited about making money from a blog, but before the ideas start circulating in your head, I'll just point out some potential options I would recommend avoiding that as a beginner you might unwittingly overlook.
These won't limit most people too much, but they are common reasons some people struggle to make money from a blog and when you realise, it's easy to understand why.
Lifestyle Blogging
Blogging about your daily activities and thoughts is a popular choice for bloggers.  Although it might be fun and enjoyable to almost diarise your daily life, thoughts and goings-on, it's extremely difficult to make money from.
Unless you are already well known, most people aren't going to be interested in your blog on an ongoing basis over and above what you can already easily share and interact about on social media.
By all means, an accompanying blog may help if you want to link to it from a popular social media profile and refer people back to key posts and perhaps you just like writing.
But don't expect to get a flow of natural traffic to your blog from other sources and to easily make money from it.
One of the main disadvantages of lifestyle blogs is the content can appear so random.
It's far better as a beginner to focus your blog around topic or theme as this will help your posts hopefully attract natural traffic from Google.
Y.M.Y.L
If you are blogging with the intention of eventually making money, its worth being aware of Google's "Your Money of Your Life".
In short, unless you are proven to be expertly qualified, don't even think of starting a blog on topics for which the advice can actively affect the physical, mental and financial well being of your readers.
Therefore, unless you are an expert avoid blogs that give advice on:
Medical problems
Legal issues
Financial advice
Google is looking only to rank well known and trusted advice-giving sites in these kinds of fields.
Blog Evergreen Content
An evergreen topic is the type of content that stays relevant over time.
In comparison to content such as the latest technology which is out of date within months or totally obsolete within a few years.
For example, a post on a specific type of bread making or best cricket bat grip will still be the same over many years to come.
A site of here to today, forgotten tomorrow technology or fads, or changing promotions of offers and deals are not evergreen content.
You want to produce content that is likely to be as relevant today as it will be in 5 years time, or ideally much longer.
Especially bearing in mind, for a new blog it may take 6 to 12 months for your posts to naturally start attracting consistent visitors.
What to Blog About to Make Money?
Now I've got the what to avoids out the way, you can really start coming up with valid ideas for your money-making blog.
You can blog about anything, literally.  I recall a high traffic example that was purely about sleeping in airports.
You could blog about:
Area of expertise
Interests
Potential opportunities
Expertise
By all means blog on a topic you are an expert in, but as advised above, potentially avoid if its a Google Y.M.YL issue, where there's the required assurance need from Google that the information is legit and unharmful to readers.  For example wrong medical or health advice.
This still leaves the vast majority of "expertise" options available for you to consider to start blogging about.
Are you an expert in a particular trade, breeding a type of pet, or even growing bonsai trees?
Whatever it is, there's likely some potential there.
Interests
You don't need to be an expert.  Often just a keen interest is enough.  Sometimes it's better if you are new to a subject as you naturally have all the questions of a beginner and as you learn the answers you could blog about them to help others.
What are your interests or hobbies?
You can consider almost everything.
For example, I've seen some high traffic and great money making blogs in the following fields.
Types of blogs that make money:
Pets (including specific dogs breeds and even specific species of aquarium fish)
Travel – (not just locations, but even sleeping in airports)
Parenting – all aspects, for example, a hugely popular site specifically dedicated to breastfeeding
All kinds of arts and crafts
DIY tools
Specific types of food or drink
The list is endless.
For more ideas, think of every interest and hobby you've ever remotely been interested in.   See the Wiki Hobbies list to jog your memory.
Once you realise as I've outlined below, how you can actually make money from a blog, you'll realise the content you produce doesn't always have to revolve around selling something.
Therefore if you can provide answers to Google searches on any particular subject of interest, you can make money.
Spotting Potential Opportunities
Have you ever gone to make a purchase from Amazon, but first googled "best pressure cooker for xyx" and just not come across the answer?   Or perhaps the info you did find was just plain poor.
Well, perhaps that's the signs of an opportunity, especially if its something you would be interested in exploring further.
The point is, once you get started with a blog and gain some success you may well find you want to do more.
Setting Up Your First Blog – Step by Step
All you need to do now is to start setting your blog.  Bearing in mind making money from blogging is a slow process the sooner you start the better.
Even just buying the domain and hosting is a start.
Choose a Domain
One of the first choices you will have to make is the domain name of your new web site.
Think of it like naming a business.
What do you want to call it?
Consider Choosing:
.com if you are targeting a worldwide audience
.co.uk if your content will focus purely on a Uk audience
something short and memorable/brandable (up to 10-15 characters)
Consider Avoiding:
domain names with hyphens, such as is-this-domain.com
the use of numbers
trademarks
something too subject-specific in case you want to branch out in the future
If you are really undecided, perhaps you could use your own name.  When you think about it, so many businesses are named after the family name or part of it.   From local plumbers to well-known fashion brands, garden compost to multiple huge publically listed stock market companies.
Ultimately, it doesn't matter too much as long as you are happy with it.
You can also of course always change it further down the line if you so desire.
Set Up Blog Hosting
Once you have your domain, you need a location to upload your files to in order to present your content on the world wide web.
You, therefore, need what's known as hosting.
First Choice – Siteground Blog Hosting
I personally use Siteground, who I highly recommend.
They have 3  hosting options, but as a beginner, I'd choose either of these:
Start-Up for £5.99 a month – Ideal for 1 domain
Grow Big at £8.99 a month – for more than 1 domain (you can host an unlimited number).
Siteground offer good value quality hosting, so your site will be on fast servers and have fast loading page speed which is thought by some to be an actual Google ranking factor and is certainly better user experience for your visitors.
This is all supported by excellent 24/7 customer service, so you'll have round the clock confidence that if anything ever goes wrong with your site hosting you will be able to access support.
I have once used the support at 2 am in the morning after realising some technical changes I had made earlier that evening had resulted in my site going down (my own fault)
It was soon solved and I could sleep peacefully 🙂
They are ideal for beginners, and via the chat, you can let them know you know absolutely none of the jargon and they will help you accordingly.
Siteground has a Trustpilot score of 4.9 with 94% of reviews rating them Excellent.

Hence why I not only use myself but recommend Siteground for hosting.
Best Cheap Hosting Option – Bluehost
A cheaper option, and again an ideal option for a WordPress site is to host with Bluehost.
Bluehost is commonly recommended across the web because they pay good referral commissions, as well as being extremely cheap for the user.
They could be the best option if you are unsure about starting a new web site or blog and want to keep your costs to an absolute minimum.
However, as your site becomes more established and traffic starts to increase and you may want to transfer to a different host, like Siteground.
This is because Bluehost put many domains on shared hosting and their site speed is slightly slower.  This might not matter so much for a brand new site and someone just testing the waters of blogging as cheaply as possible.
However, things like your web site the loading speed become more of an issue as your traffic improves and you start to appear in Google over time.
Summary of blog host choices:
Siteground – Great value, fast hosting, excellent customer support
Bluehost – Cheapest WordPress hosting possible, slower hosting speed, average customer support
The choice is yours.
Both are very well known, which can make it easier down the line if you are adding plugins or ads to your blogs because third parties may have specific tutorial videos for both these well-known hosts, but perhaps not for lesser-known hosting companies.
Download WordPress
Once you have your domain and hosting you will need to set up WordPress.
WordPress is free and simple and easy to use open-source software to use on your hosting account under your new domain name.
One of the main advantages of WordPress is that because so many people use it, there is so much information related to it on the web.  Something like more than 1 in 3 websites are powered by it.
This especially helps beginners because later down the line you are looking for a plugin to do any of a whole range of tasks, a simple Google search will no doubt find you the answer and possibly a full-on tutorial.
So even if you are a complete beginner to WordPress and related plugins, you are certainly not alone.
Choose a WordPress Theme
A WordPress theme is a basic template for what your blog will look like.  You can download it and edit accordingly to how you want it to look.
You can choose from a wide range of free themes.
2 current popular themes I'd recommend are:
They are both fast loading, which is ideal going forward.
Of course, there are a whole range of other theme options you could choose if you so desire.
One way to find themes you like is to use a site like https://www.wpthemedetector.com/.
Type in the URLs of any web sites styles you like and see if and what WordPress theme they are using.
Logo
Don't worry too much about things like Logos.
When starting out, a simple text logo will be perfectly fine.
If you feel you need or want to change a few months down the line when the traffic is starting to build you could design your own using a site like Canva, or perhaps get one made cheaply on a site like Fivver.
Useful WordPress Plugins to Get You Started
A WordPress plugin is a piece of software you can install to add extra functionalities to your blog.
The vast majority of plugins are free and simple to install and activate.  They allow you to change, edit and add functions to your blog.
I won't go into depth on each of the following.  You can look into each one as you consider downloading them.
Here are some basic plugins to get you started:
Jetpack
Yoast or Rank Math (for SEO)
Askimet (to stop blog comment spam)
Yoast or Rank Math SEO plugins
SEO is short for Search Engine Optimisation.   It's a way of making it clear to the search engines, primarily Google what your content is about so it can rank your content accordingly and send you relevant visitors to your blog posts.
SEO is so much easier for complete novices these days thanks to plugins like Yoast and Rank Math.  You can literally learn as you blog by reading up on the SEO recommendations made by the plugins.
When hoping to get traffic from Google, your number one priority should be to create good quality content.  Ideally with a useful keyword in mind.
Plugins like Yoast and Rank Math act as a guide to where you can improve your content in the eyes of Google.
For example, reminding you to:
At least have a keyword in mind
Use keyword in the meta title tag
Use the keyword in alt tags
Interlink to other posts on your blogs
Note, these plugins are just a guide.
You do not need to get perfect SEO scores.
Just use the tool's suggestions to do what it makes sense to do.
For example, don't end up artificially stuffing in keywords just to meet the exact requirements.
However, these tools do act as important pointers as regards what the on-page SEO factors might be.
Start Blogging
You can now start blogging.
If it's all new to you, do not worry.
You can work on pages and posts as much as you like in the background before publishing any to go live on the internet.
Take your time and out how everything works behind the scenes for a while first.
Chances are, even if you click Publish, no one will see the posts until you actively start mentioning them to people.
So take advantage of this and take your time getting comfortable with it all.
Create Content – Finding Ideas for Blog Posts
To make money from a blog, you need to create content.
This is key if you want to build up a natural flow of traffic from any source.
Write about topics that people are actively interested in.
There are all kinds of keyword tools you can use and they will all give you different results as to how many people are supposedly searching for them.  Some will even charge you excessive monthly fees.
While keywords tools do have there uses, one of the best and simplest ways to look for ideas is to use Google itself.
When you start typing in Google, it will autofill with suggested searches.
You can be assured that if Google is suggesting keyword phrases, that people are searching for them.
For example:
To get a broad idea I could type "best cleaner for" in the search bar and I'll be presented with the following auto suggestions: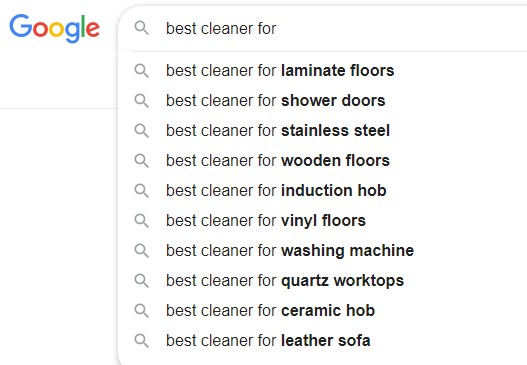 Right there you have a list of potential blog post ideas.
However, if upon looking through the actual search results you find these topics are all well and truly covered in a way that you can't really improve on, you could drill down further using the Google Alphabet Soup method.
Here's how it works.
Use a search term such as "Best cleaner for floor" but then follow with a letter of the alphabet.
As follows:
Best cleaner for floors a
Best cleaner for floors b
Here's an example using b: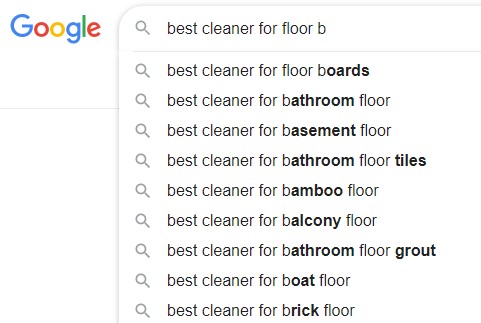 As you can see, quite a range of ideas and you can be assured people are actively searching Google for answers to these questions.
If your blog is related to cleaning you have a long list of potential blog post ideas right there.
Because these search terms are more specific and potentially not specifically answered well enough in current Google results, there are more likely opportunities for you to fill the gaps and provide info based on what people are looking for.
All you need to do is find the equivalent search terms in your area of expertise or interest for your blog.
How to Build Traffic to Your Money Making Blog
There are various ways to get traffic to your blog.
Realistic Expectations
Unless you have built a social media following, it is going to take a while to build traffic.
This is great if you are a beginner as you can focus and take your time in producing good content.
Organic Google Traffic
My preferred option is to create quality content and add to my blog and hope overtime people find it via Google.
However, with a brand new site, Google is pretty much going to all but ignore you for at least the first few months.
You may get some traffic, I just find it helps not to expect to get any traffic for at least 6 months.
This is also the same for more established blogs.  Typically the posts don't start ranking high in Google as soon as are published.  Sometimes you might get lucky, but it's not something you can really plan on doing consistently.
Tips for Google Traffic
People using Google are asking questions and looking for answers.
Your aim should be to provide good quality content that answers those questions.
To find keyword ideas, use Google itself as I outlined above.
Before you commit to creating your content, have a search in Google and see what type of results are coming up.
Ask yourself, has the question been fully answered by multiple sites or could you provide something better or answer from a different angle?
Pinterest
Once you have at least 20-25 posts you could start creating Pins for Pinterest.
Pinterest used to be really popular with new bloggers because it was easier to get good traffic relatively quickly.
Nowadays, much like Google, there is a sandbox like affect and it can take a while for Pins to bring traffic.
Pinterest is also much harder to work in some ways because:
You constantly need to be creating pins
Need to pin on a regular basis (ideally daily)
Pinterest also significantly changes what it wants and it's algorithm accordingly.
So whatever people were doing 3 months ago, might not be working anywhere near as well now.
However, saying that, there's huge potential on Pinterest and it is ideally suited to some blogging genres such as:
Arts and crafts
Parenting
Visual hobbies
Beauty
DIY
Useful Blogging Tools for Beginners
You don't really need much when starting your first blog.  Most of your content will be text.
However, good content is rarely just text and images can help make it more interesting to get points across.
Canva – free, easy to use, ideal for making images, blog headers, pins for Pinterest
4 Ways to Make Money Blogging as a Beginner
You want to earn money from your blog, but how, and in particular, how do you make that first £100.
There are various methods.  Some are active hands-on chasing income (sponsorships) others are much more a form of passive income (affiliate income and ads).
Affiliate Marketing
If you are new to affiliate marketing, I'll use one of the most well known as an example, Amazon.
As an Amazon affiliate, if you put links on your blog to Amazon products and a visitor clicks that link and goes on to make a purchase within a set time period, you will earn a & commission on the sale.
It's possible to get started with affiliate marketing from as soon as you are getting traffic to your pages.
There are all kinds of affiliate programs you can sign up too.  Some such as Awin, are partnered with multiple partners so you don't have to sign up individually with each one.
Display Ads
Ads on your site are an option once you have built up traffic.
Typically you'll need to build up to at least 10-25,000 monthly sessions.
The advantage of digital ads is that you can just add and leave them.
You don't need to worry about logging into multiple affiliate programmes or directly changing affiliate links etc.
Also, with display ads, even your non-selling informational posts can earn you some money.
Sponsored Content
Some bloggers focus on building links to their blog to build it's perceived domain authority.
They then sell sponsored posts on their blogs after signing up to sites like Getblogged.
This is potentially one of the quickest ways to make money from a blog, however, artificial link building can conflict with Google.  Although should be fine with a Pinterest strategy.
It's certainly one of the quickest ways to make a £100 and if you get your Domain Authority over 20 and into the 30's you can potentially make £100's a month and possibly over £1000+ from Sponsored posts alone.
However, it is active work.  You have to be checking emails and websites for sponsored offers. Spend time filtering out the quality offers.  Plus you don't generally get paid in advance and might find yourself chasing up invoices etc.
Digital Products
Perhaps you have some ideas for producing your own digital products down the line.
Ebooks, printables or perhaps even whole courses?
There's no doubting if you get this part right it can be very lucrative, but it's generally a more advance stage.
As a beginner, keep in mind as a potential option down the line.
How Much Can you Make a Month Blogging as a Beginner?
Well, this totally depends.  How much time and effort are you going to put in.  Are you aiming for it to be a full time income or one of many side hustles?
You can certainly make 4 figures a month blogging and as I've outlined above there are various ways to do just that.
After making your first £100, I would set making £1000+ a month your next very realistic goal.  Once you overshoot that, aim for £2000 and so on.
The first £100 is the hardest.  It might take 6 months to achieve, maybe longer.  However, once you make it, the next £100 will no doubt come along a lot quicker.
Whether you continue building your earnings from one blog, or multiple, you can just keep on building and building, making more and more money.
More Content = More Money Blogging
My main advice would be to focus on creating useful content, aiming for 50-100 posts in 6 or even 12  months.
By all means, join related groups, maybe get some of your posts mentioned or feedback on them etc.
But commit to producing good content for 6 to 12 months.
Don't worry about link building (if at all), guest posting, or collecting emails etc.
Focus the vast majority of your efforts on producing quality content.  I know I sound repetitive here, but this really is the key.
Ultimately the more quality content you produce, the more potential money you will make, whatever methods of promotion or income you use down the line.
Conclusion – Get Started – Start Earning Sooner
Hopefully, this post has helped you understand how to make money blogging as a beginner.
The No.1 thing that will slow down you earning your first £100 a month blogging, is when you start.
If this post has in any way helped you consider starting a blog, act as of now.
Buy the domain and hosting.  It takes just a few minutes and you are up and running.
Otherwise, you just risk constant delay, as as I've already highlighted, it takes long enough as it is.  But it is so worth it when you get the ball rolling.
If there's anything you are not sure of or want a second opinion on, by all means, comment below, email me or message me directly via any of my social channels.
I'm always happy to help you get started on a new money-making journey.