The main reason for this post is to provide you with the opportunity to make some free money from the Tide referral code offer which although not available 100% of the time, is periodically available often enough to warrant us highlighting it.
If you are considering opening a business bank account, tide is worthy of consideration in its own right as one of the new breed of mobile-first business banking apps and we have included more information on this as well.
If the £75 referral code is not available at any particular time we have also included details of the £100 (£50 split between referrer and person sign up).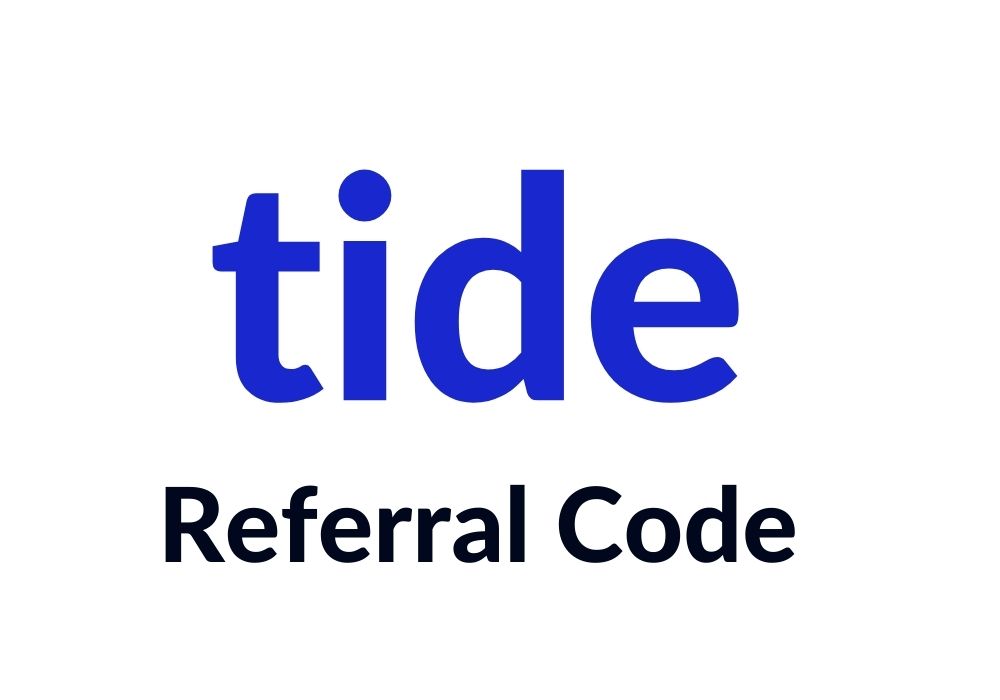 Disclaimer: Terms and conditions are subject to change at any time.  Please double-check before signing up.
How to Claim Tide Referal Code for Free £75
Follow our easy step by step instructions to claim your free £75 cash reward.
What is the Tide Banking Referral Code?
The Tide business banking app referral code is: FREE75
If you visit via the link below it should automatically track and add the code.
If not you can add it after you have signed up and then sign into the app.
Taking advantage of referral offers like this it's possible to make £100's some months.  Be sure to check out all the latest and best free money offers currently available.
How to claim the Tide referral code:
Add code if given option to *
Select "Registered company" or Sole Trader
Enter email address
Enter Full name / Date of Birth/Mobile Number/Address
Enter Business Name (Or your own name)
Enter Business Address (or select home address)
Choose Business Type
Agree to the Terms
Note for 2.  If you use the link in No.1 the code should be applied automatically and you'll see evidence of this at the top of the page in green above the "enter your referral code" image further down the page.
Later in the signup process, you will see the following to confirm the code is added and you can tap it to double-check it's the correct code, which is should be.
Download the Tide Banking App
Once you have completed the signup you will instantly receive a text to activate your Tide account and a link to download the app.
Or you can download the app store links from their site, I've put the links below as well:
Complete Signup and Verification
Next, you will need to check your email and complete the signup process.
You have 7 days in which to do this, but it's best to do it straight away.
Open the app and click "Sign Up" and simply enter the email address you used in your application.
It's on this screen you will get the option to check your referral code.
Im my instance the code was already added, but if yours wasn't you can add the code FREE75 here now
Verify Identity
Place your I.D on a Dark background and scan with your phone.
Take a Selfie
Wait for your account to be verified.  This usually takes a few minutes, but can sometimes take longer if they want to ask some questions.
Once the account is verified deposit at least £1.  You must do this to qualify for the free £75.
Wait for £75, which could take up to 8 weeks but is often paid sooner.
Who Can Open A Tide Account:
You can see the full terms here of who can open an account:
But broadly speaking you need to:
Be over 18
UK based sole trader, freelancer or company director
Valid UK Residential Address
Have a valid UK phone number
Device registered to UK App or GooglePlay store
Do You Need to Have a Business?
The offer is aimed at Business customers, but I have seen others online claim to have opened an account without having an actual business.
Tide appeals to startups, so you could just be someone starting out.
If questioned they just used an eBay account or website as evidence they were in business.
In my instance, I already had a business account, so it was just a matter of opening another one alongside it and testing it out to see if it was worth a permanent switch. Or perhaps keep both open if they each had their own advantages.
How Soon Is the £75 Paid?
You can expect to up to 8 weeks to receive your £75 free cash.  Put a note in your diary or set a reminder to check.
Although  I have seen some people state they were paid within £75.  In part, it depends when you sign up as it's possible they do payments on set dates.
Once you have the £75 you can withdraw it.
Tide Uber Eats £75 Voucher Offer
Not everyone seems to be offered this, but I will mention it in case it's applicable to some readers
During my sign up process, I was also offered a £75 Uber Eats voucher if I linked my current business account with my new tide account.  This offer was separate and in addition to the £75 free cash offer.
What might have triggered the offer was that I already had a business account with a well-known bank.  Even before my tide account was confirmed open they rang me to ask if I would like to link my account and in doing so receive a free £75 Uber Eats voucher.
Rather than commit straight away I requested an email to confirm the details and duly accepted the offer as there were no other expenses involved and I could cancel the connection down the line.
It might be an added bonus that you too could also be offered, hence I've mentioned.
Tide Refer a Friend Offer
As an account holder and assuming you are happy with the service you are getting you could also refer the bank to friends who may be interested in opening an online business bank account.
Other Tide Referral Codes
Tide offers a referral bonus of £50 cash to both yourself a the referer and £50 to the person you refer.
These are sometimes advertised by sites as £100 referral codes, but your splitting that sum 2 ways so it's only £50.
It's far better for you to get £75 unless of course you really want your friend to get £50.  But with that comes some extra terms in that you have to activate a debit card and spend £500 within a set timeframe.  The Free75 partner code is much simpler.
Currently, to qualify for a referral bonus you need to follow these steps:
Get your referral code from within the app
Send code to a friend
Friend opens an account and enters referral code
The friend needs to spend £500 within 3 months to qualify for the £50
Note this referral bonus offer may also change at any time.
If for any reason you would prefer the £50 refer a friend code (perhaps the £75 code is not currently available and you want to open an account soon)  you are welcome to use my code: Z5V7EQ
You can find out more here.
What is Tide Bank?
Tide is a UK-based fintech company that was founded in 2015 . It offers mobile banking services to small and medium-sized businesses to sole traders, consultants, contractors, and limited companies.
Is Tide Legit?
In terms of regulation, Tide is legit, with it being regulated by the FCS Financial Conduct Authority (FCA) in the UK.
Tide Reviews
In terms of offering a legitimate service to users, it also passes.
On Trustpilot Tide scores a respectable 4.1 out of 5, with the following ratings:
Excellent 68%
Great 8%
Average 3%
Poor 2%
Bad 19%
74% Great to excellent is a very good sign.
Although 19% Bad is quite high. Looking at the reviews there were many customers reporting locked and frozen accounts.
As almost 1 in 5 of the reviews, this is something to be aware of if you are keeping the account long term, especially if it is to be used as a sole business account.
Some of the bad reviews also related to an extensive onboarding process. I have seen many reports of people being approved very quickly with no extra onboarding questions.
So perhaps there are some unseen red flags with some users signing up and them getting annoyed when they don't get their own way if they are trying to game the system in any way to take advantage of the offer. Who knows?
Certain types of businesses also don't qualify for opening an account (gambling, weapons, investing, cryptocurrency, etc), which could also be a factor in some users' disappointment.
To Tide's credit, they have someone responding to every review. Whether they are really sorting issues out behind the scenes who knows.
Is Tide Bank an Actual Bank?
No, Tide is not an actual bank.
Although it does offer a business current account and a MasterCard. It does everything service wise you would expect from a bank.
There are pros and cons to both.
For example, with Tide, you don't need a credit check, whereas you would expect to have one in a normal bank.
Safety-wise you will clearly know the standing of your bank in terms of FSCS protection up to £85,000.
With Tide, it is less obvious.
Is Tide Safe, is your Money Protected?
Whether your money is safe isn't exactly clear cut.
In part, it depends on what account you have and the sort code and whether your deposits are with a Clearbank Account or PPS.
To check How Tide keeps your money safe for further information on your specific account type.
How Does Tide BankWork?
Tide is quick and easy to sign up to.
It's an online-only service so all your banking statements with be available through the app and you'll have to download what you need.
Within Tide, you can easily create and send as well as pay invoices
You can upload receipts, label transactions as you desire, and set spending limits for members of your team.
Accounting wise Tide can be quickly connected to the most popular accounting software types including
Crunch
QuickBooks
FreeAgent
KashFlow
Sage
Xero
How to Pay Cash into Tide Bank?
You deposit cash via Post Offices of Paypoint locations.
Is Tide Banking Free?
Tide offers more than 1 account type (Free, Plus and Cashback accounts).
The Free account option has no monthly charges fees.
It does charge 20p for transfers in and out of your account.
Cash withdrawals from ATMs cost £1 a time.
Related ATM Posts:
Advantages of Tide Over Other Business Banks
Tide business banking offers many advantages to your typical high street banks.
It is quick and easy to open a fully approved account, typically within hours.
Whereas this can be a long-drawn-out process with some high street banks which can often entail long phone calls and even in-person visits to the branch.
Will Tide you can be approved and set up within minutes.
How to Close Tide Bank Account
After you have received your £75 referral code reward you will have to decide whether you want to keep the account open.
If it turns out it is not for you, then you may want to close it.
To do this contact customer support from within the app.
Frequently Asked Questions
How to Contact Tide Bank
You can contact customer support from within the Tide App.
If you have any issues which you feel are better suited to email you can email them at: hello@tide.co