Do you have a Benjamin Bunny 50p and wondering how rare it is and whether it has any value above it's face value of 50p?
Well, the answer depends, so read on to find out.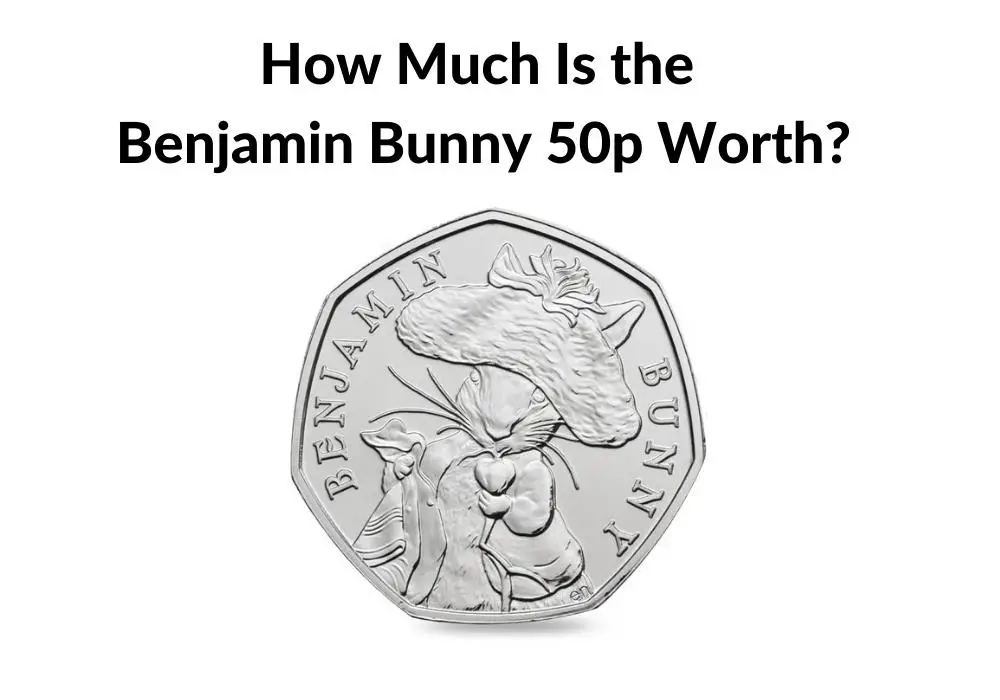 All the Beatrix Potter 50p coins have proved popular, but if there's one thing Beatrix was known for it was her Rabbit characters and Benjamin Bunny was just one of those.
Benjamin Bunny 2017 50p Coin
The Benjamin Bunny 50p is the most common of all the Beatrix Potter 50p coins issued by the Royal Mint between 2016 to 2018 to celebrate 150 years since the birth of children's author and illustrator Beatrix Potter.
The coin was released in 2017 as part of the second series of Beatrix Potter designs which have proved so popular with collectors.
The Benjamin Bunny 50p coin design features Benjamin Bunny in his coat and what's known as a tam o' shanter on his head.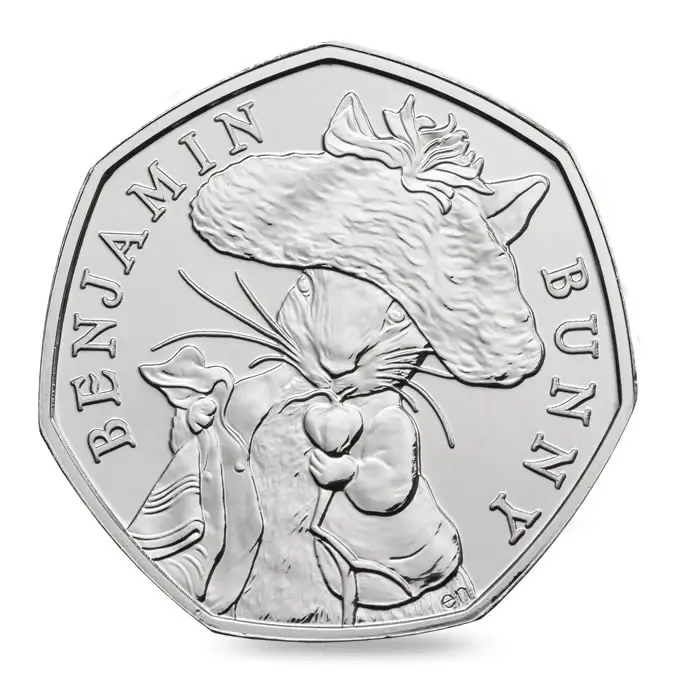 How Much is the Benjamin Bunny 50p Worth?
While the Benjamin Bunny 50p is relatively common in relation to most commemorative 50's it is still worth higher than face value in very good to excellent condition.  The highest value version of the coin is one in uncirculated condition.
Estimated Prices are as follows:
Average circulated condition 50p
Very good to excellent circulated condition £1 to £2
Uncirculated condition £3.00 to £6.00
How Many Benjamin Bunny 50p Coins Were Made?
There were 25,000,000 (25 million) Benjamin Bunny 50p coins released into circulation in 2017.
It is the most common of all the Beatrix Potter 50p coins and all the rare 50ps released to commemorate various historical events.
How Many Benjamin Bunny 50p Coins Are There?
While there were 3 different Peter Rabbit 50p coins there was only 1 design designated to Benjamin Bunny.
Is the Benjamin Bunny 50p Coin Rare?
With 25 million released into circulation the Benjamin Bunny is the most common of not only all the Beatrix Potter series but also all commemorative 50p coins.  However, in certain conditions, it can still be worth more than face value because while common it is still a lot rarer than the standard Royal Shield 50p of which there are hundreds of millions.
Is it Worth Selling a Benjamin Bunny 50p?
Whether it's worth selling individual coins in the circulated condition is a matter of choice, there are plenty of people who do sell the individual coin for a couple of pounds or even less.
To make it more worthwhile selling you could sell a few coins together or as a group lot.
Uncirculated coins fetch slightly higher prices and the better the coin can be presented and protected the higher the price you can expect to achieve.
Who is Benjamin Bunny?
Benjamin Bunny is the title character in Beatrix Potter's "The Tale of Benjamin Bunny". He is the cousin of Peter Rabbit and lived in Mr McGregor's vegetable garden.
The Tale of Benjamin Bunny was published in 1904 and was a follow-up to The Tale of Peter Rabbit.  It was a simpler story format than Beatrix's previous books and was written for younger children who were more so just learning to read.
The book's illustrations by Beatrix were drawn and inspired by the garden at Fawe Park in the Lake District where she stayed.
The Tale of Benjamin Bunny was a success and the character featured in later publications, The Tale of the Flopsy Bunnies (in 1909) and The Tale of Mr Tod (in 1912).