The 2010 Girlguiding 50p is rare, but how much is it really worth and are some really worth hundreds as once reported in the press?
Read on to find out the latest real values.
2010 Girlguiding 50p Coin
The Celebrating 100 years of Girlguiding 50p coin was released into circulation by the Royal Mint in 2010 to commemorate 100 years since the organisation was founded in 1910.
The main design is of trefoil patterns of the Girl Guides logo, with the 3 leaves of the plant representing their three-fold promise and 6 of them forming a circle representing the 6 stages of  Girlguiding.
On the outside, we see inscribed "CELEBRATING ONE HUNDRED YEARS OF GIRLGUIDING".
At the central base is the denomination 50 Pence.
The coin was jointly designed by Jonathan Evens and Donna Hainan whose initials in small lettering "JE" and "DH" and  can be seen on either side of main the central logo pattern.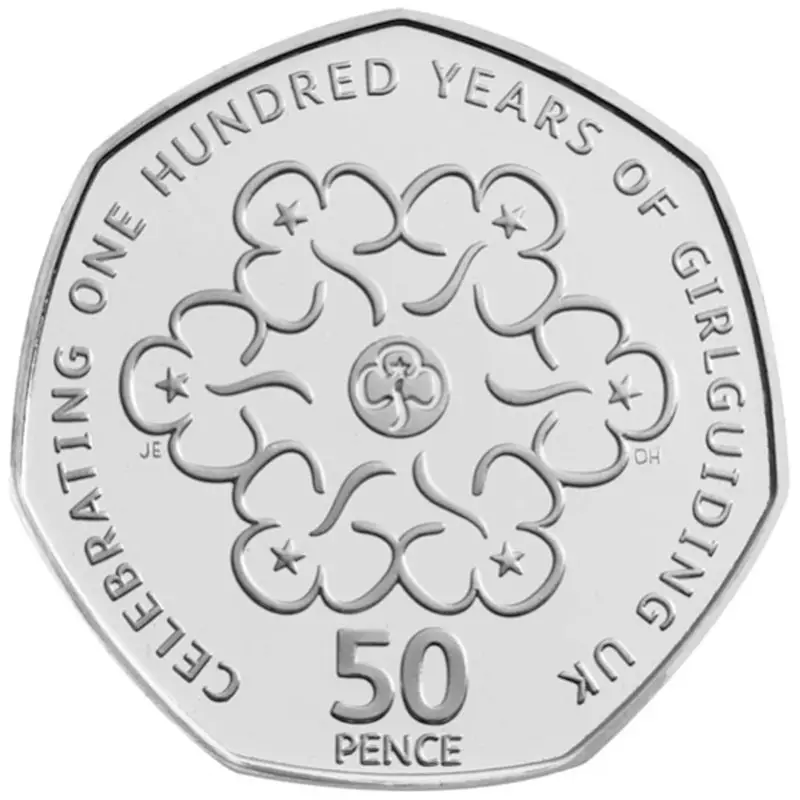 How Much is the Girlguiding 50p Worth?
The Celebrating 100 years of Girlguiding 50p coin is worth £1.70 to £4.50 depending on its condition.  It was minted in relatively high numbers but still worth more than face value.  
Estimated Prices are as follows:
Average circulated condition 50p
Very good to excellent circulated condition £1.70 to £3.00
Uncirculated condition £3.50 to £4.50
How Many Girlguiding 50p Coins Were Made?
There were 7,410,090 Girlguiding 50p coins minted in 2010.  It was the only 50p design minted in that year.
Is the Girlguiding 50p Coin Rare?
The 100 years of Girlguiding 50p has a relatively high mintage figure compared to the rarest and most valuable 50p coins in circulation.  Being over 10 years old its not one as often seen in change these days.
Is it Worth Selling a Girls Guide 50p?
The Girl Guiding 50p coin isn't that rare to be worth a fortune, but is still worth more than face value and is commonly sold on eBay, either individually or as part of bigger lots.
More About Girlguiding
As a parent of daughters who took full advantage of Girlguiding activities from a young age, I understand first-hand why it's an organisation worth celebrating.  My daughters really enjoyed and learned a lot from their sessions especially their years with Rainbows and Brownies.
The Girlguiding programme is split into age groups:
Rainbows for 5 to 7-year-olds.
Brownies for 7 to 10-year-olds
Guides for 10 to 14-year-olds.
Rangers and Young Leaders 14 to 18 years olds
The guides logo shows a 3 leafed plant which represents the guides 3 promises:
 To do your best
Serve your Queen and country
To help others